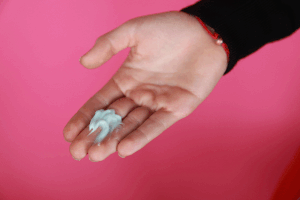 Summer comes and goes like a Tinder hookup.
And so does your skincare regimen. If you've ever wondered why you're breaking out less or more, it doesn't have to do with luck, the water you're drinking, or that pumpkin spice latte you're overdosing on. It's none of those (well, maybe it's the PSL, actually). According to dermatologist and Dove Men's+Care ambassador, Dr. Terrence Keaney, it has everything to do with the weather.
SEE ALSO: Is Cetaphil actually bad for you?
"Changing seasons means the level of humidity is subsiding, which means a decrease in sebum," he says. This abrupt decrease in oil production can have either a positive or negative effect to your skin, depending on your skin type. This is especially true with guys and our skin. We have a lot more oil and sweat production than women, have a thicker dermis, as well as more collagen. Meaning, our skin is seriously different when the weather changes. Sigh. But fret not! Whether or not you have good or bad skin, here are a few trades you can make this fall to get your best fall skin.
Trade in your moisturizer for a cream
In the summer seasons, you're using a light moisturizer since your skin is already supple with lots of humid dew. In the winter, you'll need to pack on a heavier cream at night, especially since your skin is being stripped away of that natural humidity from the weather. "In the summer, you're oilier and sweatier," says Dr Keaney. "In the fall what happening if you're getting less sebum production." The biggest change and most important is altering the moisturizer you're using, which is key. CeraVe's night cream does wonders for this.
Trade in your oil stripping cleanser for something gentle
Morning and night, you've been combating your oily skin and extra sebum production with harsher cleansers. In the fall season, this is a huge mistake. Switch it up with something hydrating or very gentle. This ensures that your skin isn't stripping itself of the little moisture it has. Try something like Missha's Super Aqua Refreshing Cleanser. It's super gentle and will actually give you a boost of beautiful hydration.
Trade in toners for something more hydrating
Have you been doing a good job and toning right after cleansing? Gold star for you! In the fall season, trade your summer toners for something with a little more hydration. All good toners are hydrating since they don't have alcohol, of course, but sometimes you'll need something more beneficial. Some have a hyaluronic acid, an acid that is extremely hydrating to the skin, like one from Hanskin. This has acids that is 1000x more hydrating than water. We also love the Whamisa natural fermented flower toner. The smell ~may~ be overwhelming for some, but it does a superb job at adding a lot of moisture deep into your pores.
Trade in your physical exfoliator for a chemical
Have you been diligent with physical exfoliators like a Clarisonic or exfoliation beads in your cleansers? Trade that in for something more effective for the fall like AHA BHA acids. It may sound really harsh, ACIDS!, but it's actually really gentle and effective at exfoliation. AHA (alpha hydroxy acids) like lactic, glycolic, tartaric, and more, exfoliate dead skin cells by them up on the surface. It does this by loosening up your skin cells that are glued together. BHA (beta hydroxy acids) is something that goes deep into the pores. It's salicylic acid that unclogs pores filled with sebum so that it decongests itself. Currently, we're loving Dr. Dennis Gross's exfoliating pads, which you use once every day.
Trade in your SPF for … SPF!
A big common misconception is that SPF is only for the spring and summer seasons. This is a big mistake, says Dr. Keaney. "You should use sunscreen all year round," he suggests. "There sunlight even in the winter that reflects. You need to protect yourself from UV rays, which are everywhere." They say that UV rays and sunlight do more damage than sun spots. Some research has concluded it also promotes acne production. So slather that skin with SPF! We suggest anything SPF 30 and above. Our favorite of the moment is from Elta MD.