Welcome to the 2022 Lightning Awards — Very Good Light's awards for the crème de la crème of beauty. We tested products fervently over this past year, taking careful note of the ones we would restock without hesitation. These products are the standouts, the ones we would easily and effortlessly recommend to a friend (like you!).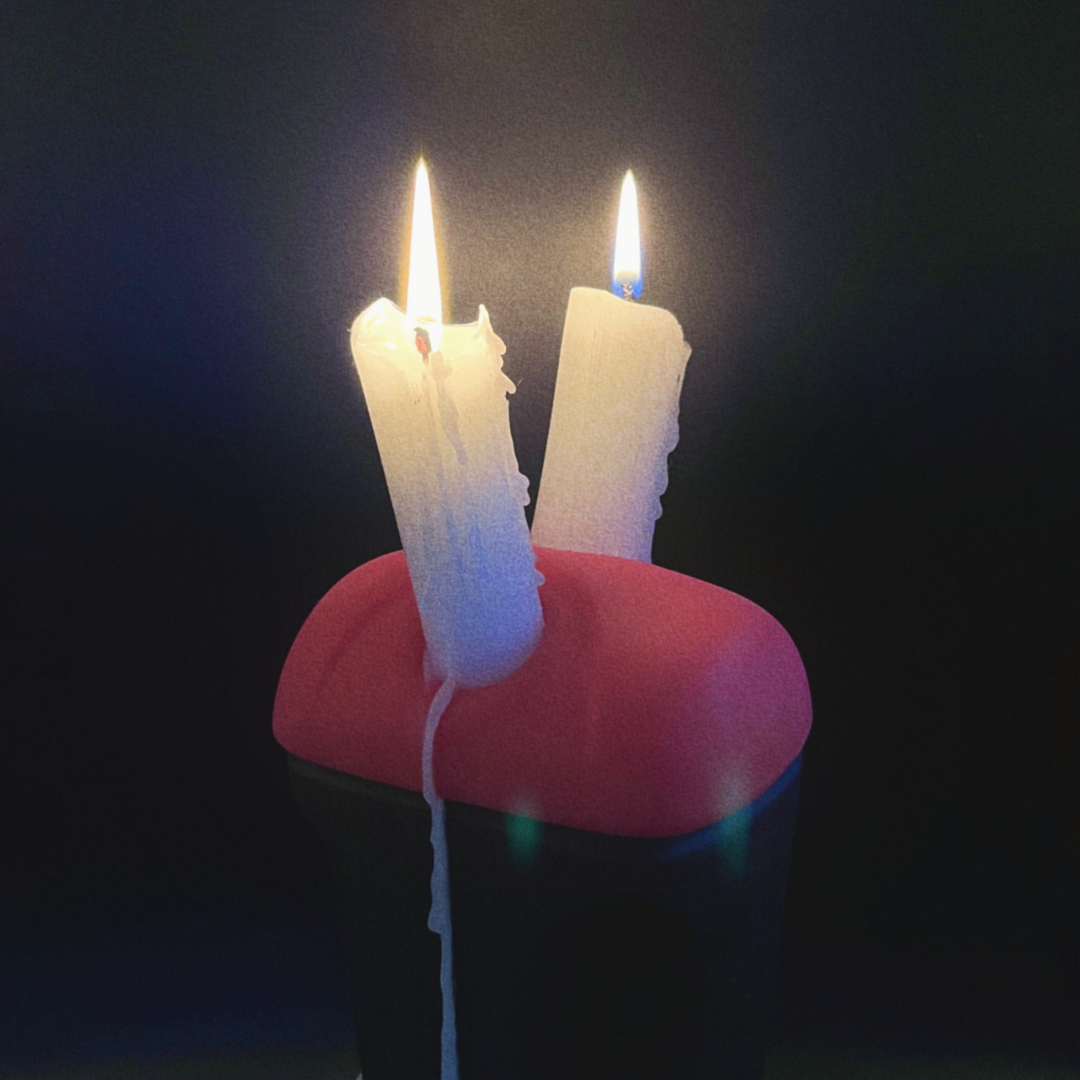 Best sex toy: Cock Block (NSFW)
There wasn't a ton of innovation going on in the insertable category of the gay sex toy market— until the Cock Block came along. This dual-opening toy provides a solution for two tops, two bottoms, a side (someone who isn't into penetration), or any couple with two penises. Using it is also simple enough: use it in missionary between you and your partner. Enter on your respective opening, and the inner channel is open, allowing you to frot with and against your partner face-to-face. You can use your imagination for what happens next.
Best brands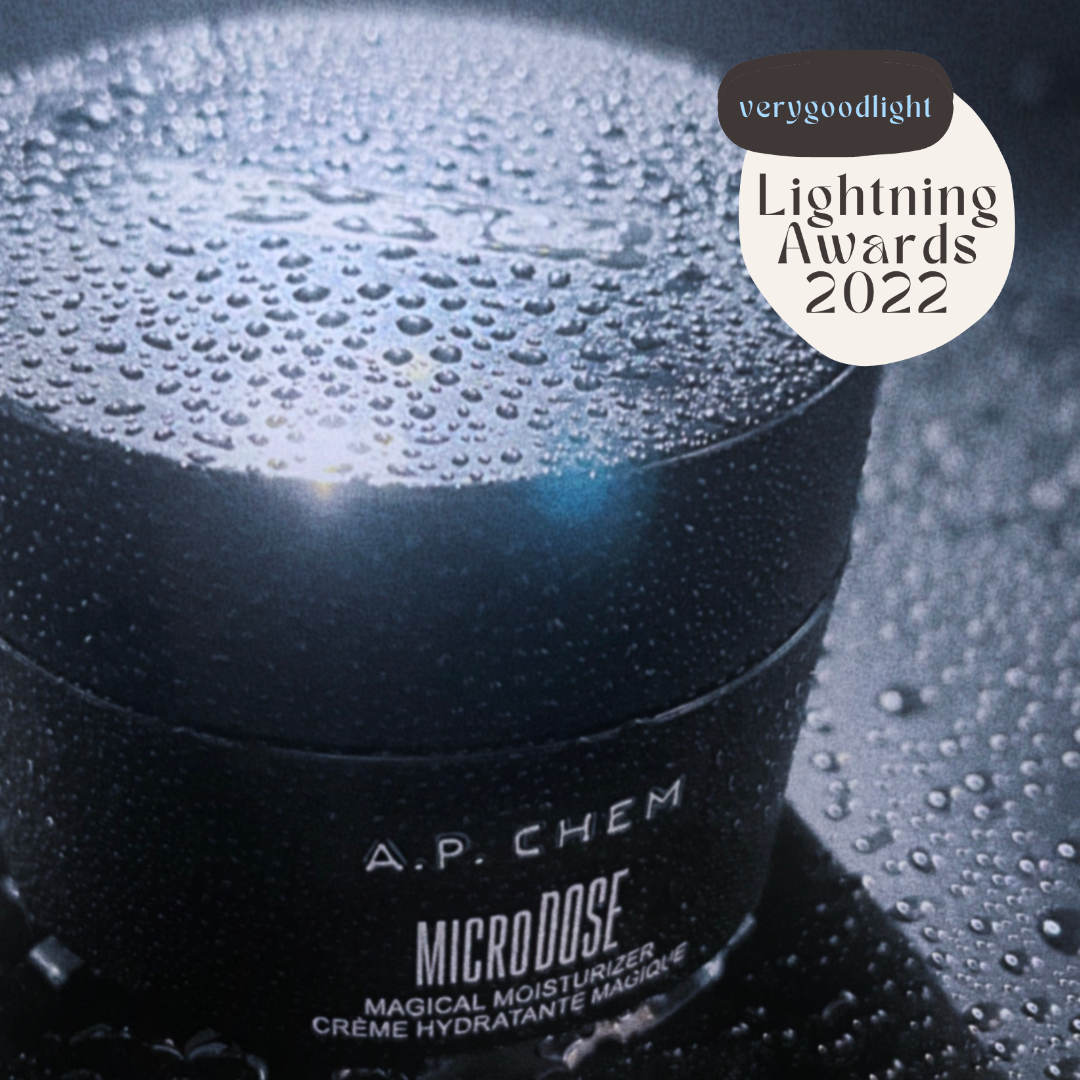 Brand to watch: AP Chem
This new skincare brand is founded by a pro-ketamine beauty exec and a board-certified dermatologist. What makes them stand out is their use of ingredients that, while clinically proven, aren't traditionally found in skincare. Polyglutamic acid, for example. This relatively new ingredient in skincare holds 10x more water than hyaluronic acid. Their first product, the microDOSE Magical Moisturizer, packs a blend of eight different mushrooms to brighten, calm, and protect. Can't wait to see what other grooviness they unleash on us in the upcoming year.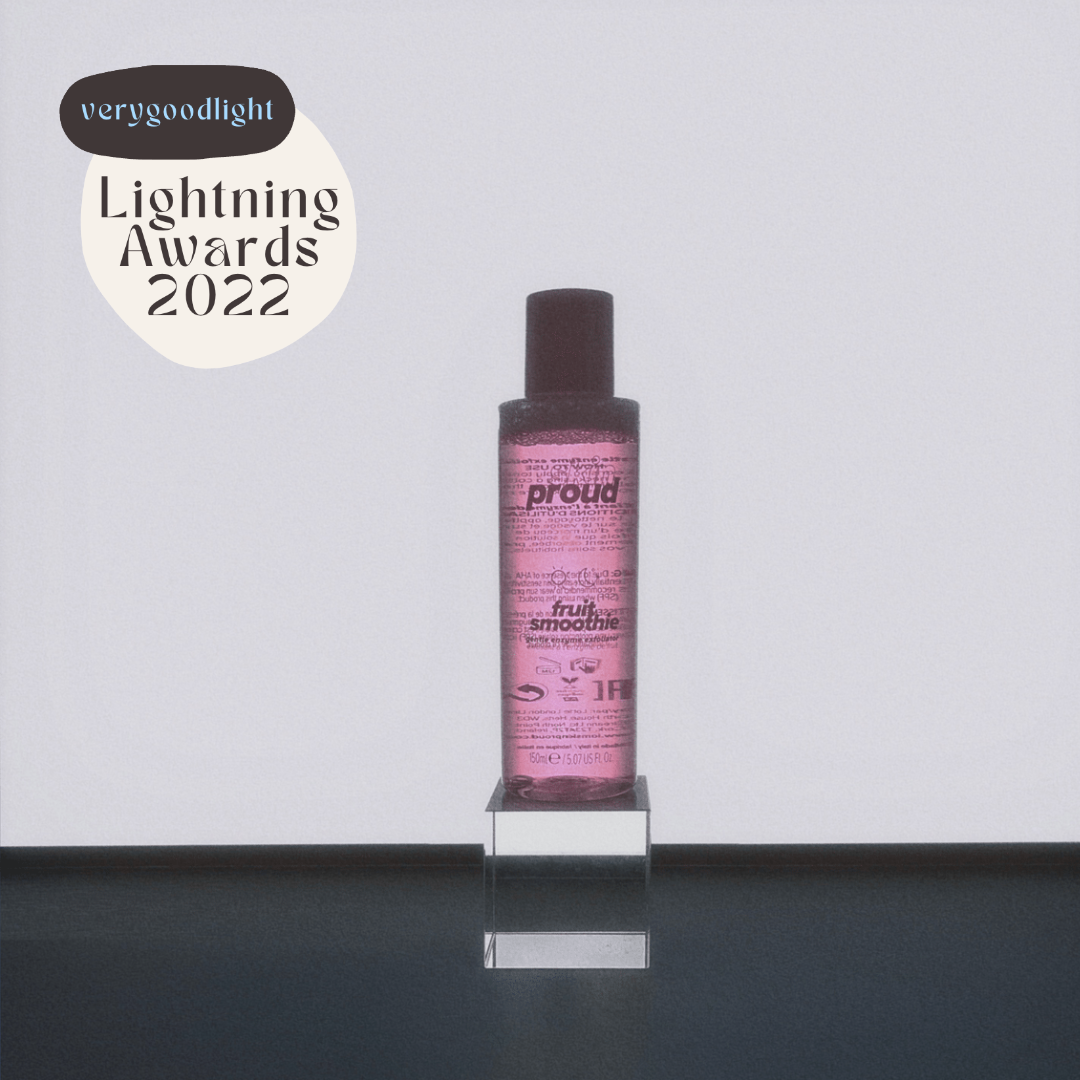 Best accessible new brand: Skin Proud
There's a lot to like about Skin Proud: affordable pricing, novel formulations, and attractive packaging. Perhaps most exciting is Skin Proud's mission for unabashed skin confidence — made even more accessible by being available at your local Big Box Retailer. Don't miss the Frozen Over Gel-to-Ice Hydrator and Fruit Smoothie Exfoliating Toner.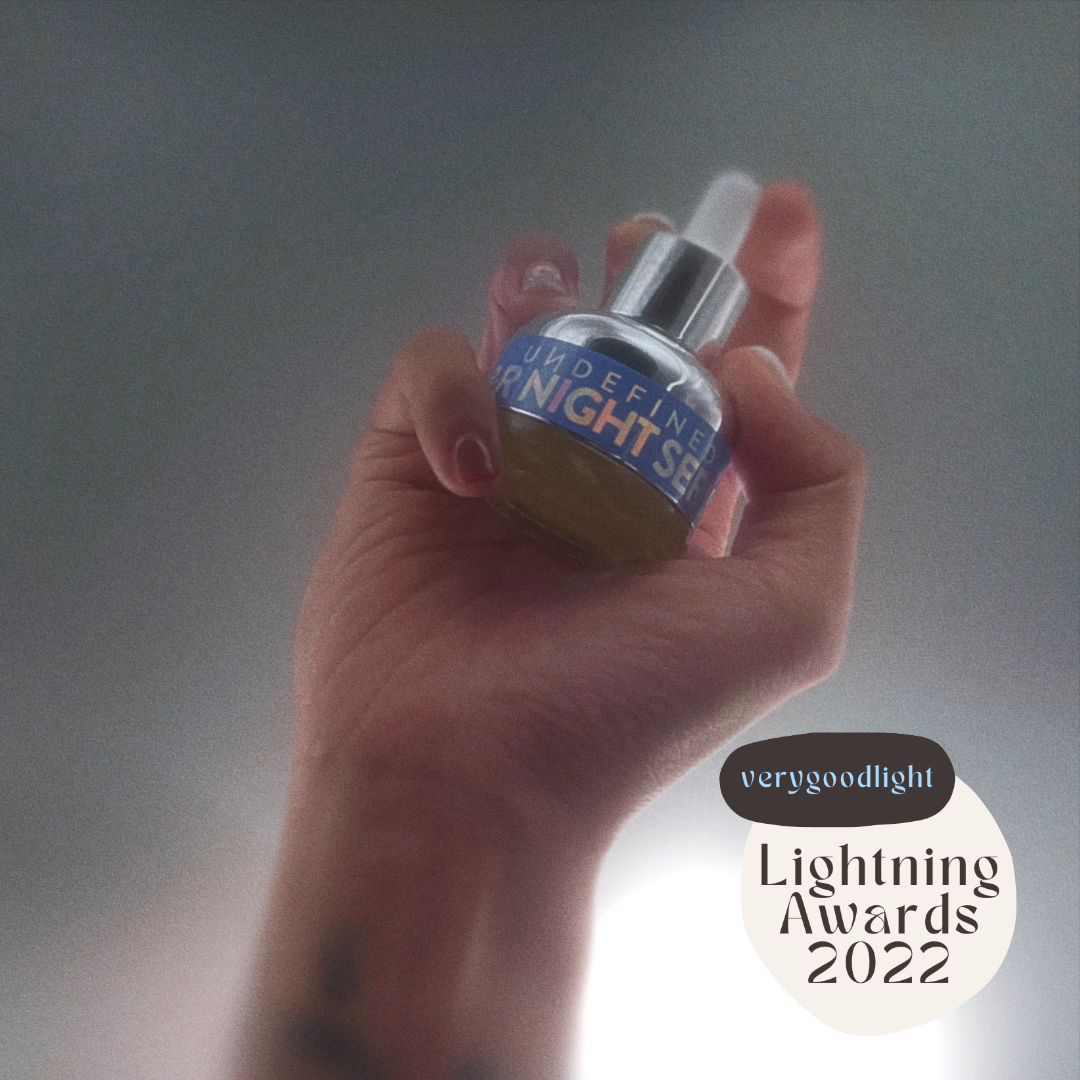 Founded by Dorian Morris, this plant-focused skincare brand looks to "undefine" beauty by democratizing it. Their formulas are intentional and cater to the skin needs of oft-underrepresented communities — like the R&R Day Serum and R&R Night Serum, which cater to the hyperpigmentation that melanin-rich skin often faces. The fact that they help support female-founded, BIPOC, and LGBTQIA+ businesses through their supply chain only help sweetens the deal.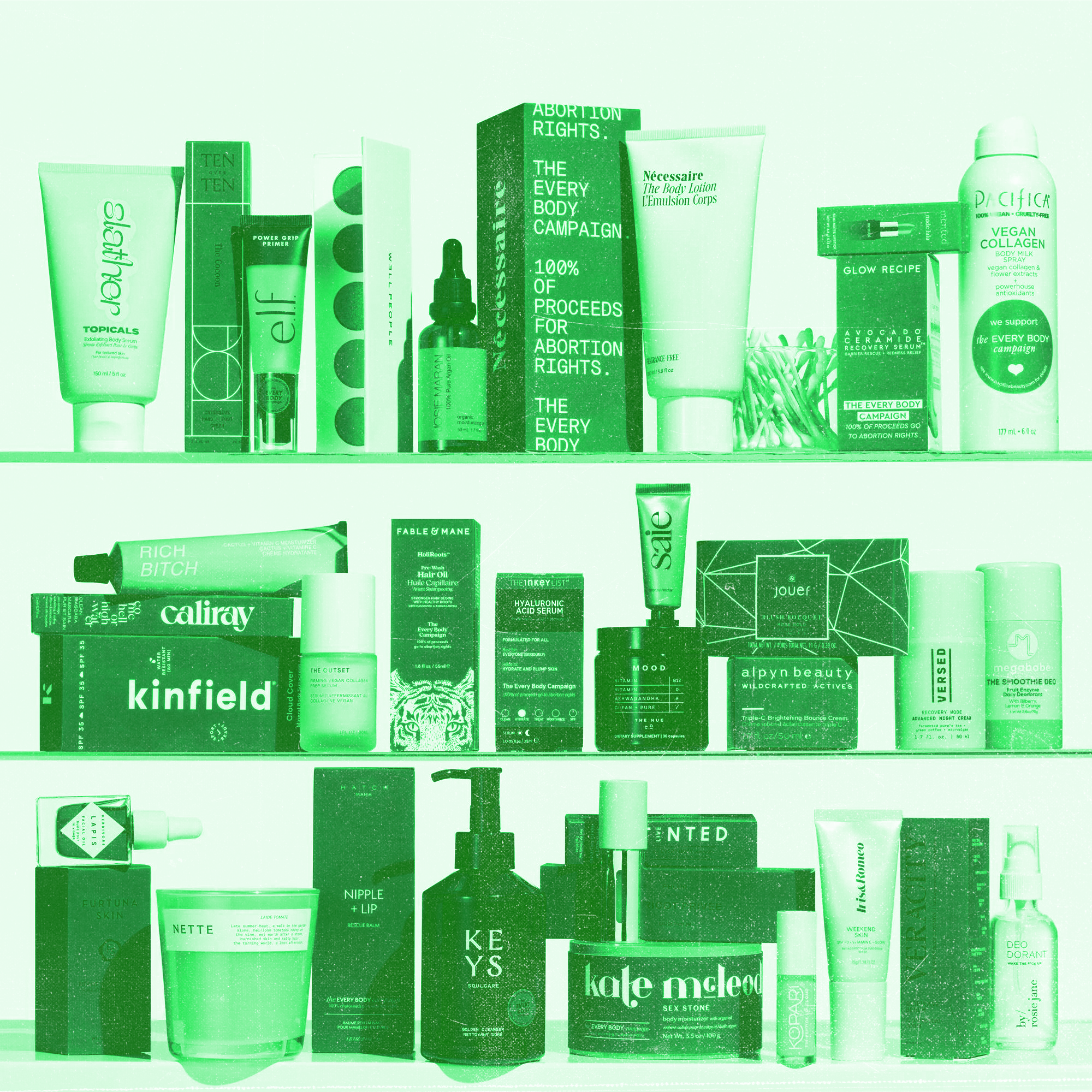 Saie created The Every Body Campaign — a collective collaboration of 35+ brands across beauty and wellness where 100% of the purchase goes to Reproductive Justice Collective SisterSong to fight for reproductive freedom. The brands include plenty of heavy hitters repackaged in a striking kelly green shade that nods to the green bandanas and smokes at reproductive rights protests.
"Saie was founded on a people and planet mission, and it's important to me that we always choose to be on the right side of history for important issues like this one... As founders, I think we all have an obligation to use our platforms for good, and I knew we could make a much bigger impact by bringing multiple brands like ours together. The beauty industry is one that is run predominantly by women, and profiting from women, so the issue of reproductive rights is one that affects not just our customers but also our colleagues."
–Laney Crowell, founder, and CEO of Saie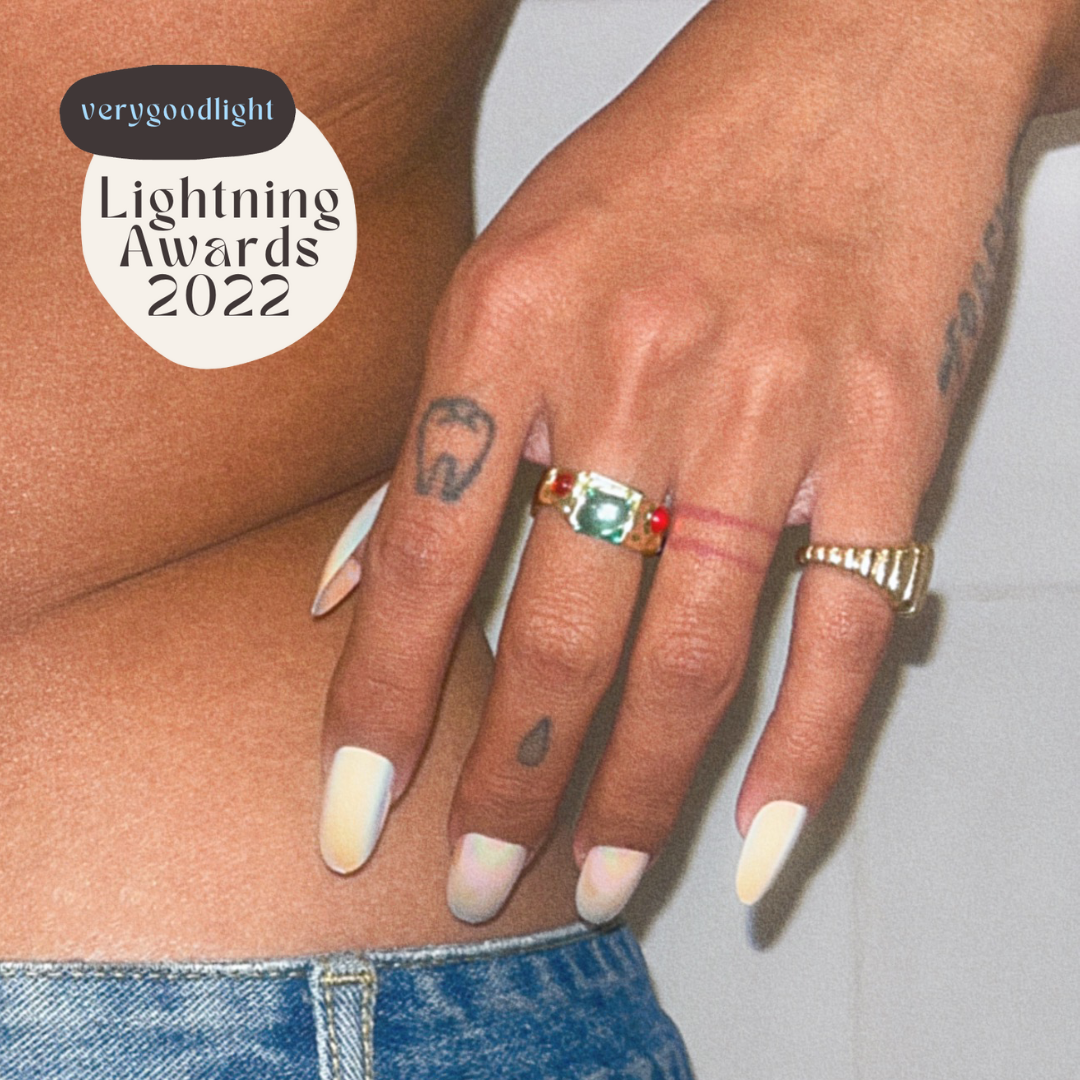 This year, everyone had glazed donut nails — a rebranding of "chrome nails" by Hailey Beiber's nail artist, Zola Ganzorigt. For several weeks, the beauty news cycle was inundated with reports of this style. In what seems like record time, brands began to peddle their version of the style in press-on form, defying everything I know about product manufacturing lead times. The style infiltrated the manicures of all four corners of the planet, having people asking for the style by name. I can hardly blame them, though. Two coats of a milky nude with a sheer, pearl chrome. What's not to like?

Thanks for joining this year's Lightning Awards. See you here next year, yeah?

Photos by Or Gotham/Very Good Light.
Additional reporting by Nicole Swiggard
---
READ MORE LIKE THIS