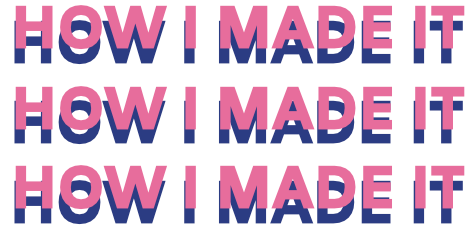 Welcome to our series, How I Made It, where we talk to beauty brand founders about their come ups, their origin stories, and how they finally, well, made it. The recurring series talks to beauty founders from all walks of life to uncover what inspires them, what pushes them, and the secret to success.
Born in Brooklyn with Caribbean roots, Loraine R. Dowdy decided to leave her high-powered job in finance to pursue her dream in beauty.
Longing for a cosmetics line that broke beauty barriers, she created Coloured Raine to encourage ultimate self-expression, unity, and invite diversity from all walks of life. The brand name is inspired by her first name, Loraine, and her love of color. As a masstige brand, customers get exceptional value and quality at affordable price points. Coloured Raine is often compared to Pat McGrath's line in its quality.
SEE ALSO: 40 Black-owned and founded beauty brands to support
The Coloured Raine founder sat down with Very Good Light to discuss her journey to success, the harsh realities of being a Black-owned business owner, and the future of the brand.
Why did you decide to take the leap from finance to beauty? Was it a difficult transition?
Leaving a secure job to rely 100% on myself can be tough, but leaving my job was a no-brainer. The pay was great but it wasn't my cup of tea since I love vibrancy. Since I was little, I loved beauty and colors, and years later it's still something I enjoy. So I've enjoyed the process of creating this business.
However, I went a good seven years without paying myself in order to reinvest any profit back into the business. I also couldn't get a loan, so I worked a 9-to-5 to provide for the business financially and ran my brand in the evenings. I learned a lot about running a business along the way.
For years, I operated with no strategic order until I sat down with a financial strategist who told me to stop operating as a family-owned business and to separate business and personal accounts. A year ago, I started looking for investors and an accounting firm. The first two pitches with investors didn't go well, but the third time's a charm. We got around to a second and third conversation.
Give us the scoop: how are Coloured Raine's products so good at such an affordable price point?
I made the decision to work with a custom manufacturer that offered traceable ingredients to be 100% compliant in quality. But it was hard to find a manufacturer willing to work with smaller brands because most of them require a minimum of 3,000 SKU product demand.
What is your experience as a Black-owned female founder?
Black-owned businesses, in general, have the stigma of being seen as not professional enough, but really that's because we don't have that mentorship from the very beginning, so we learn along the way, which inevitably leads to mistakes. We also don't have the same access to outside capital funding. And press coverage doesn't do much for us either. Even if you have plenty, investors are still dubious that you can reach a lot of customers. So in a way, the events that led to the revival of the Black Lives Matter movement have somewhat of a silver lining for us.
What was the first product you launched that propelled Coloured Raine to success?
It was all about the lips, and then in 2016 we launched the Queen of Hearts eyeshadow palette, and there was a real frenzy around that. Brands were ordering it and trying to reverse engineer the formulation. Allure even stated that it sold out in under 4 minutes—and this is pre-Kylie Cosmetics and Fenty Beauty.
With everything that's been going on lately, Black-owned beauty brands are finally getting more recognition. Is it harder though to differentiate yourself from other Black-owned brands like Fenty Beauty and others?
We have a great variety of products, but the only downside is that we have to work a lot harder to capture an audience to build notoriety and trust. With someone like Rihanna, it's easier to get a large customer base. So it's challenging for small indie owners. But you can also tell who's passionate from those who are just slapping their name on products, and Rihanna is extremely passionate about her products.
Is it more difficult, financially, to manufacture products in the USA?
Obviously the manufacturing prices are a lot more attractive in Asia, but there's just no trust factor. When I first looked for an Asian manufacturer, there were quite a few mishaps. I decided to look for a lab that was easily accessible for me so that I can control what's going on better and make sure the ingredients are compliant and traceable. I actually relocated from the East Coast to the West Coast just to be able to hop into the lab whenever I want.
Ultimately though, I want to sell my company in five years' time, because it's tiring to be involved in every step of the process from marketing, product development, and supply chains. But I need to ensure that the brand's integrity will be maintained by the buyer, and I would remove myself from all operations and just do product development.
What's next for Coloured Raine?
I'm looking to launch foundations in Spring 2021, blushes, counter powders, and also skincare! I'm now finally using more skincare because I'm getting older, but when I was younger I had no skin problems. I juice a lot so I want to do a skincare line that is based around fruits and vegetables. Oh, I also want to launch hair care serums!