I wish I never watched the Not So Pretty docu-series.
You've probably scrolled by it on the HBO Max app. I wouldn't fault you for ignoring it entirely, as the cover has all the graphic design prowess of a 2007 Kanye West album — fluorescent, high-contrast, and skeuomorphic.
I'm not sure what brought me to watch it, especially when they just added the Robert Downey Jr. Sherlock Holmes franchise. The point is that I did! And the main takeaway from the first episode is that talc — the main ingredient in the majority of powder cosmetics — allegedly has traces of asbestos!!!!! I would be doing it a disservice trying to sum it up, and to be honest, I'm trying to glaze over it, anyway.
Why? Because truth is a burden. To acknowledge that as reality makes my life as a beauty enthusiast and career as a beauty writer very difficult and taxing. I would just rather live in a world where my bronzer doesn't cause mesothelioma. Is that so much to ask for? The whole reason I'm using bronzer in the first place is to stay out of the sun and ward off the other starts-with-M-ends-with-oma word!!!!!!
I shut off the documentary because it was really bringing me down, then proceeded to look through my makeup stash, scanning for what did and didn't have talc —starting with the setting powders. I love setting powders. For a greasy little scamp like myself, it's sort of non-negotiable. I attribute much of my boyish preservation to the fact that I have oily skin, but still. I must be powdered in some way, shape, or form.
Of the six setting powders in my collection, all of them contained talc. Well, all except for one — Ami Colé's Skin Melt Loose Powder. Good thing it also happens to be the one I like the most.
I kind of watched from the nosebleeds when Ami Colé first took off. I know their Lip Treatment Oil [currently on pre-order for a mid-May delivery]  is widely revered in the beauty community for its universal tint and hydrating non-sticky formula. I just tend not to like a high-shine lip because I think it makes me look like Brian Fellows.
So, even though I'm late to the game, I'm glad that I finally got around to trying Ami Colé because, in a lot of ways, the Skin Melt is an exceptional product.
It just works well. It does everything I want a loose powder to do and nothing I don't: blur my pores and manage my shine without making me look scaly — no matter how many times I touch up during the day. There's hyaluronic acid and baobab seed extract to make it one of the more moisturizing powders I've used. That should come as welcome news to normal/dry folxs who still want a diffused, velvety finish that hides texture and pores. Plus, there's no white cast or flashback. I use the translucent formula because I don't care for coverage, but it does come in a banana shade for medium tones and a warm clay shade for deep tones.
You wouldn't typically think of a loose powder as being portable, but this is. The pot has a hinged stopper that blocks the powder from shimmying out of the package. Lift the stopper, and you'll find a "trampoline-style" mesh sifter. The bouncy cloth filter helps control the amount of product that gets on your brush without having to tip the entire damn thing into a lid. You get a metered amount of product without much effort at all.
I don't know how long my talc-anxiety (talcxiety) is going to last. So if in a forthcoming story, you see me talking about dusting my boxers with Johnson & Johnson's Baby Powder until I'm a human funnel cake, please keep that to yourself. I need to do significantly more of my own research. But for the time being, it's nice that there is a talc-free option on the market that is my favorite, either way.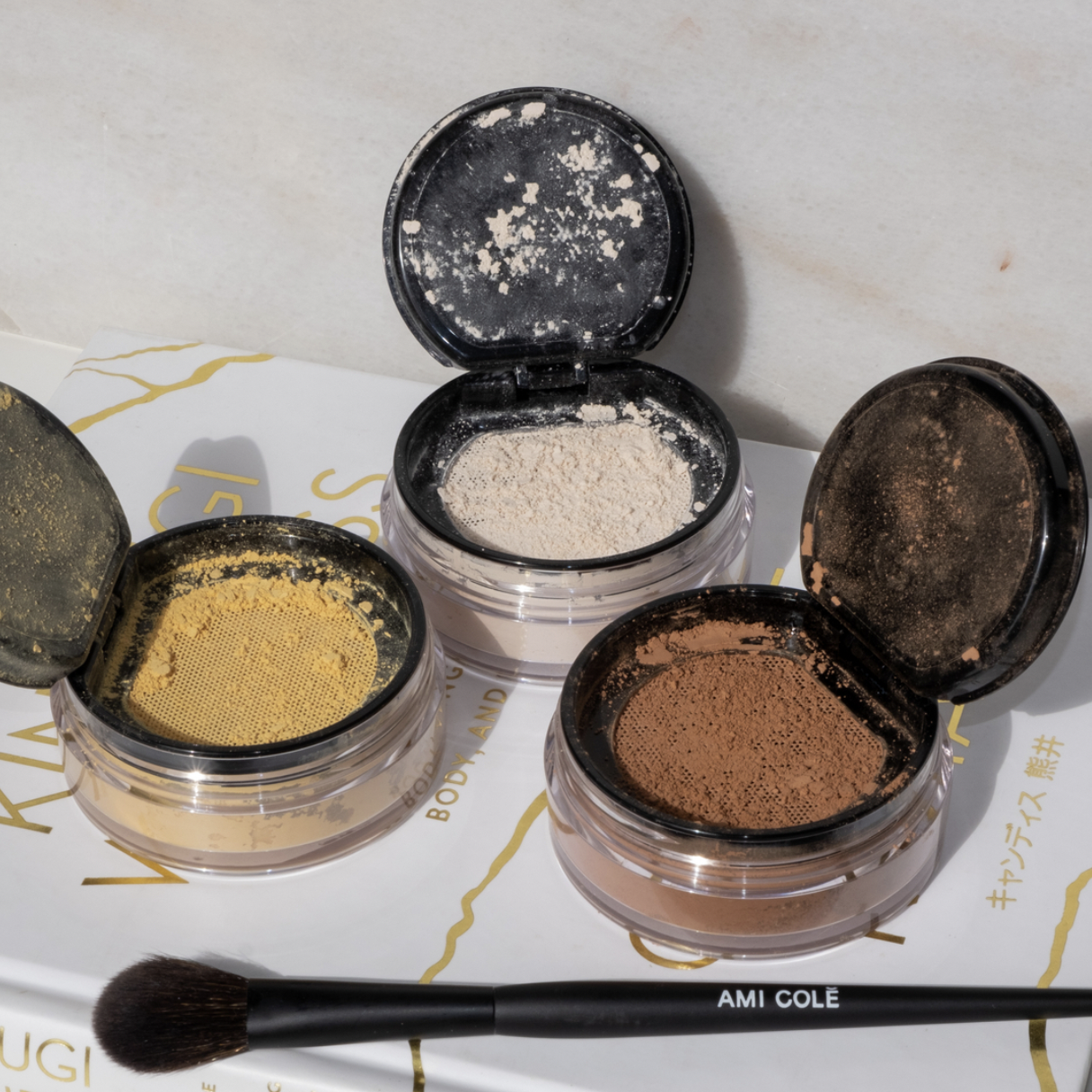 ---
READ MORE LIKE THIS