From skincare tips to mental health struggles, this influencer understands how to use his platform for good.
22-year-old Ryan Potter started his career as an influencer at the age of 15 when he launched his first Tumblr blog. Shortly after, he would go on to discover his passion for beauty while playing around with makeup looks on Halloween. From there, he began to feel more confident exploring makeup and trying new things out, such as grooming his brows and testing simple eye looks.
SEE ALSO: New men's grooming brand OffCourt launches with a new generation of body spray
How it started
After Ryan started his first Tumblr blog, he began to notice his love for connecting with people online and quickly realized he felt comfortable sharing his life and experiences with his followers. Ryan says the experience of posting online from such a young age helped get him to where he is today and feel more comfortable talking about an issue that affects all of us, but especially influencers: mental health.
"I'm starting to feel very passionate about talking more about mental health, just because it was something that I was so afraid of for so long," Ryan tells Very Good Light.
Despite being a male beauty influencer with a following of over 347,000 people, Ryan tells Very Good Light that makeup isn't his only focus. He says he would like to explore new content that involves mental health-related topics. "I think with social media it's just getting to a point where you should be adding some sort of value besides just like, here's how to blend out a smokey eye," he says.
Ryan began to notice that when he shared more about his mental health, he was able to establish deeper connections with his followers, who then felt comfortable enough to share their own mental health struggles with him.

"It kind of goes hand in hand when you start to share more about your life, they start to share more about their life and it just becomes this different kind of connection," he says.
Being a male beauty influencer, Ryan knows that he has a big role to fill by encouraging young men to feel confident while exploring beauty.
"I definitely know being a boy in makeup has some sort of weight to it, especially with boys coming up and being afraid to express themselves," he says.
His beauty routine
In his day-to-day makeup routine, Ryan loves an ethereal look that is natural and fresh with extra blush and faux freckles.
As for his current skincare routine, Ryan has been using the Keys Soulcare Cleanser ($20), Tatcha Dewy Serum ($88), and has recently been obsessed with hyaluronic acid.
His current favorite is the new Herbivore Cloud Jelly Serum ($48), which he appeared in the launch campaign for. "Hyaluronic acid serums are some of my favorite skincare products. I think they're so universal and work on so many people's skin types so I almost always have one in my routine."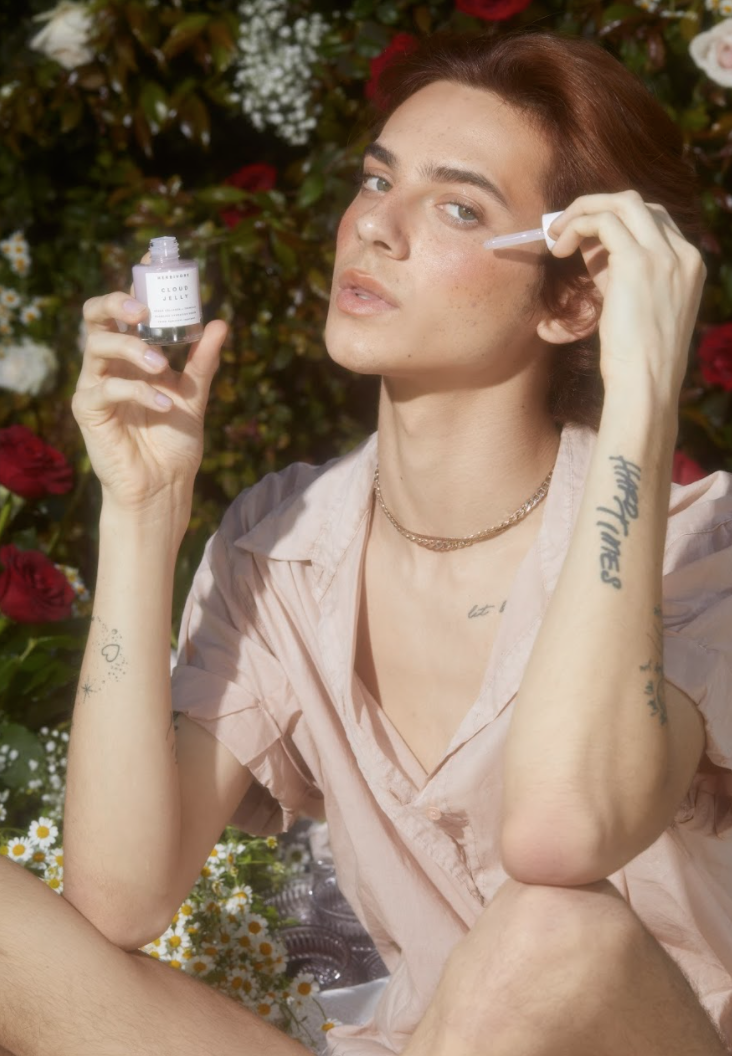 Ryan incorporates the new Cloud Jelly Serum in his routine right after he washes his face and before any additional skincare.
"For makeup, I'll follow up with a primer if I'm wearing full coverage," he says. "Otherwise I love the Cloud Jelly as a primer before a tinted moisturizer, it's so pretty!"
A notable makeup hack that Ryan utilizes is camouflaging acne and pimples by creating small moles and freckles on top of them with eyeliner. For anyone dealing with skin issues, Ryan says from his own experiences that it's best to not plaster your face with a full coverage foundation and rather just spot conceal to let your skin breathe.
"I usually would put the concealer down and let it sit for a couple of minutes and then you just tap around it," he says. "It completely covers the pimple."
Ryan's favorite makeup product that he can't live without right now is blush – especially cream blush. Ryan says it adds hydration to the skin and blends in seamlessly. He's loving the Tower 28 BeachPlease Luminous Tinted Balm ($20) in the shade Golden Hour.
The future of beauty
After years of creating daily content on all his social media platforms and keeping up with new social media apps, Ryan believes that in order to stay relevant, you must be methodical in your approach.
"I think the beauty industry is so ever-changing, and to keep up with your audience, you have to be on top of it and almost be analytical sometimes."
In terms of where Ryan sees the future of beauty heading, he believes it all comes down to authenticity.
"I think if your brand doesn't feel authentic, and it feels photoshopped, people are going to steer away from that," he says. He notes Rare Beauty by Selena Gomez to be a great example of being more than just a makeup brand. "There's a movement behind it, and I think that is what gives you longevity."
On mental health
When it comes to taking care of his own mental health, Ryan says that he is always trying to take breaks from his phone. "Just take time for yourself and not worry about anything else but besides just having a good mental health day."