Before launching SIDIA, the new mood-enhancing candle brand, powerhouse entrepreneur and sneaker aficionado Erin Kleinberg co-founded Coveteur.
In the early days of the Internet, Erin's the one who created the aura of early fashion influencers. She jokes that she started her career 'pre-Instagram' which she believes gave her a leg up as she opened the world of celebrity closets to us all. "Coveteur came about as way for us to celebrate this creative roster of people who were behind the scenes," Erin tells Very Good Light. She details this is where her passion to connect with people really flourished, meeting stylists and designers as they explain personal creative processes.
Erin owns a creative agency as well, Metier Creative, consulting with some of beauty's biggest brands like Maybelline, OUAI Haircare, Saie, La Mer, Live Tinted and Versed to name a few. But her latest venture, SIDIA, can best be described as a 'comfort-first' lifestyle brand. The serial entrepreneur was inspired to launch the brand in 2020 after the passing of her grandmother, ultimately naming it after her. It's clearly a heritage brand that honors details, like a red thread woven into each piece of clothing. It's how Sidia herself used to carry one around due to superstitions. SIDIA sparks a true emotional connection to anyone who stumbles upon it. Personally, I felt inspired after watching their launch video, wondering if I should ever start an entrepreneurial career.
SIDIA's latest launch is taking a step into beauty and wellness with two candles named 'Braless' and 'Wired'. Both designed to reduce anxiety and invoke memory through smell, Erin recalls taking samples with her everywhere. For eight months she wanted to ensure that each evoked the emotional connection she was striving for in every person she showed.
The scents
Both Braless and Wired are 8 oz. candles that have about a 50-hour burn time. Made with a soy coconut wax blend and a 100% cotton wick, you can trust that these candles burn with the purest intentions in mind for your health. They're non-toxic, paraben, sulphate, phthalate and mineral oil free. Also vegan + cruelty free.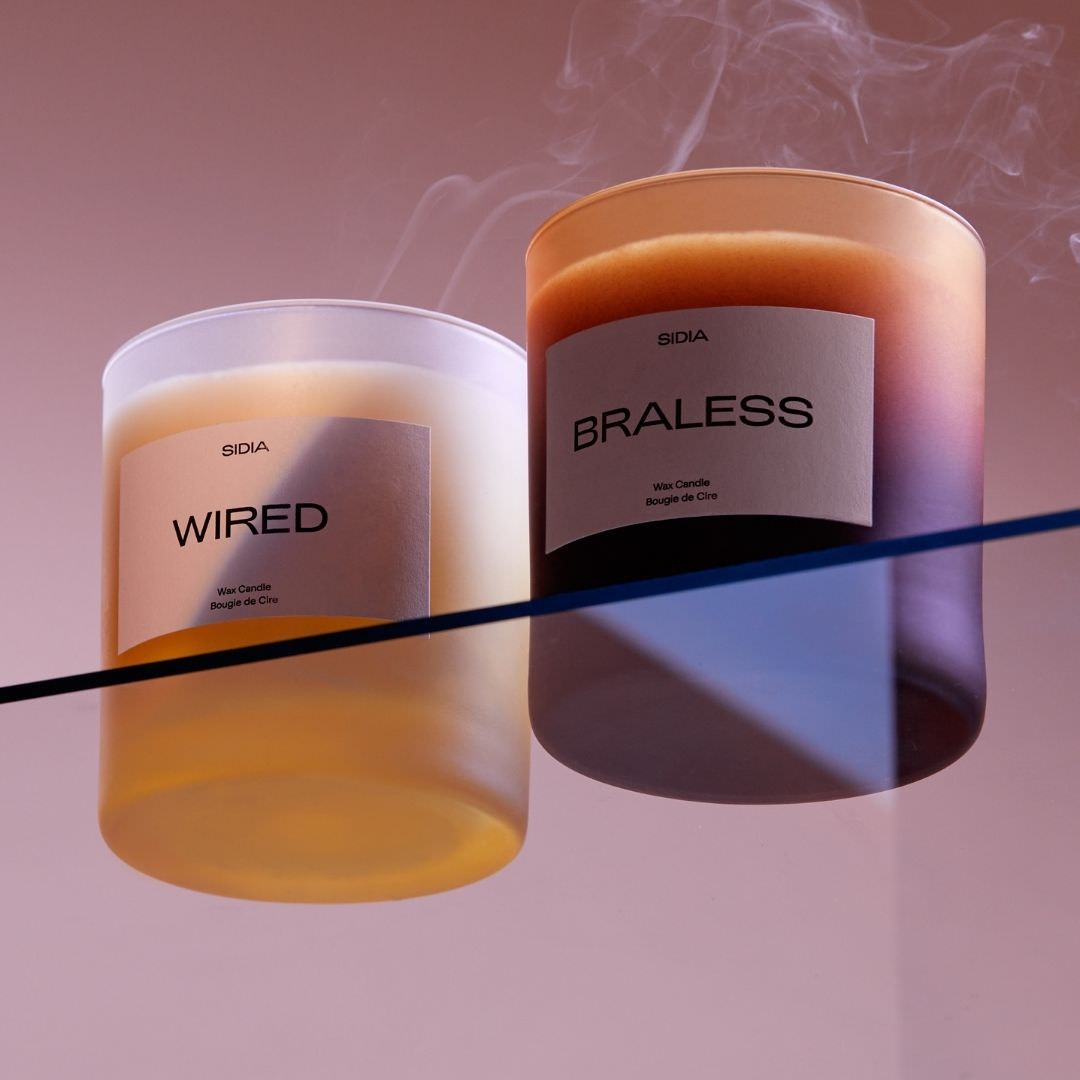 While both scents have been designed to light while meditating and to take in a specific moment they have very different scent and nostalgia evoking profiles. Think of Wired as slow sipping your morning cup of coffee while you birdwatch and warm wind is coming and going. It's a grounding scent that lets you take space before your day begins. I picture myself sitting by a lake and enjoying moments of calm as I burn it. The notes I find most prominent are tobacco and eucalyptus.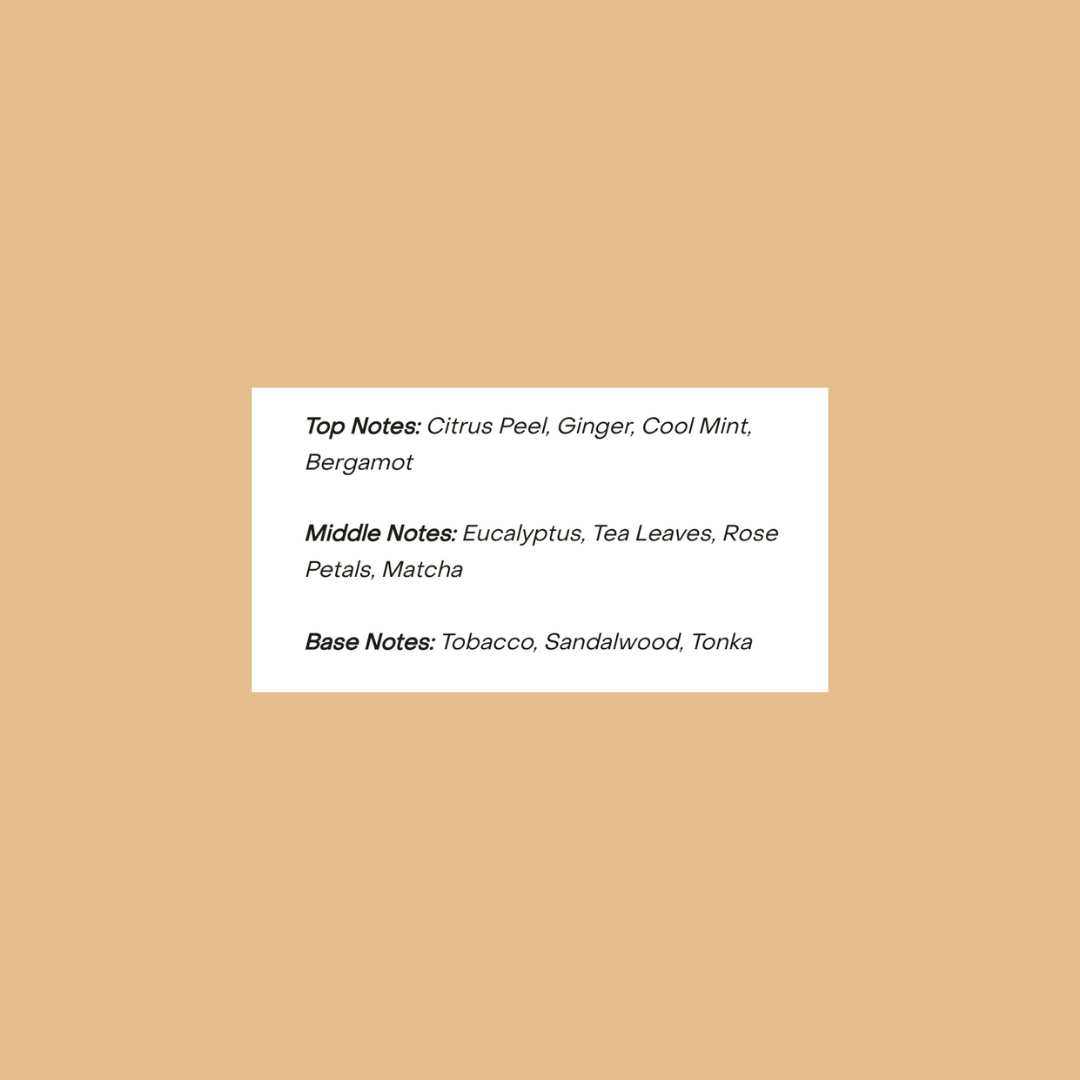 Braless however, is your after-hours ritual. Work is over and dinner is finished — it's now your time to refuel yourself emotionally and spiritually. You light it while you're taking a bath or when you're reading a book in bed. It feels like everything is going to be okay and that you can manage anything that is thrown to you. You can really pinpoint a little spicy-ness to it yet it's calming and smells like coconuts. "The 'Braless' scent is inspired by nostalgic memories at camp sitting around the campfire with no tech, nothing but friends and laughter, with not a care in the world; the greatest escape," says Erin.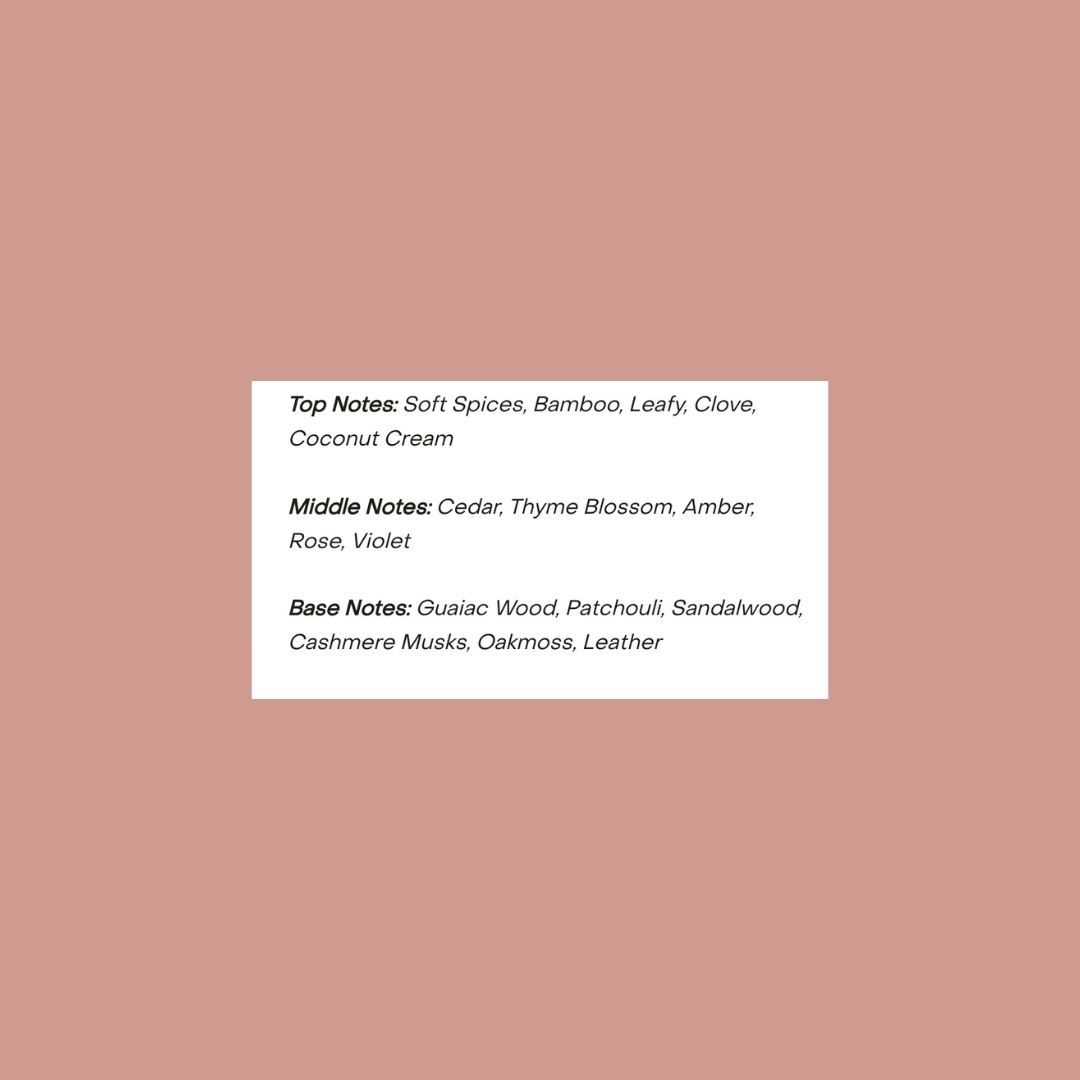 The review
These candles are luxurious in the sense that no other candles have made me feel so emotionally involved. I've been able to build rituals behind these scents and they will always be reminiscent of a time in my life. Not the times that I've burned them but rather the memories I've had in my life that remind me of their smells. They've allowed me to release and bring order into my life and while I've always believed in aromatherapy, they've brought an entirely new meaning.
I rest easy knowing they're non-toxic and not releasing harmful toxins into the air, you'd be surprised at how many candles do (paraffin wax is a NO!). And they make me feel like I'm in control of my routines, that I can give myself these moments of meditation and wind down and hold them close. I would absolutely say they've helped me through my seasonal depression, allowing me to take back what's mine and release negative energy i've been holding on to.
TLDR;
Lifestyle brand, SIDIA just launched two candles
They've created an emotional connection thanks to each scent profile
Non-toxic, vegan, and cruelty free. These candles are made with a soy coconut wax blend
8oz and $58 each
BUY or BYE?
I'm personally no stranger to spending between $60-$70 on nice candles. I think it's important to invest in the quality as these things are burning into the air around you and if you take care of them (always trim the wick and burn evenly) they can last through their stated burn-time and then some. Given how these candles have made me feel since using them, I think they're a total BUY. Scent therapy is real, ya'll and creating routines with these candles will change the energy you hold. Buy HERE, $58 each.
---
READ MORE LIKE THIS