Name a better show when it comes to Gen Z beauty, I'll wait.
I'm trusting everyone reading this already watched the first episode of Euphoria season two. There's no doubt you've most likely seen every other clip on your TikTok's FYP or clips surfacing everywhere even if you don't have your sister's subscription to HBO Max. The reasons why we all love it so much is because it's seemingly inescapable.
What's also difficult to avoid: Euphoria's firm grasp of the beauty industry. Obviously, it's where trends are made and then created en masse. Since its debut in 2019, it created glitter and graphic liner looks tried and amplified on social media, which can be traced back to Zendaya and Hunter Schafer.
But when it comes to season two can we expect anything more?
That was a trick question because – duh.
This season may be more subdued but the mood of the show is amplified by nail art. The person behind this season's magic is none other than celebrity nail artist and salon owner Natalie Minerva. As she tells Very Good Light, the gig happened from manifestation – and a chance run in with Alexa Demie. That's Maddy Perez on Euphoria, the same actress with over 4.4 million followers. As the story goes, having just watched the entire first season of Euphoria and becoming obsessed, Natalie kept saying to herself that the showed needed nail art. She admits she jumped onto the Euphoria train a little bit later than everyone else yet spoke into the universe that she wanted to work on the show every. single. time. she watched an episode.
Natalie had already been a celebrity nail artist for 11-years, owning her own nail salon in DTLA, regularly working with clients like Halsey and Demi Lovato. With Euphoria fresh in her brain and her manifestation clearly working Alexa walking into her shop changed everything.
Without skipping a beat, Natalie told her how she felt about the show. "I said it would be so awesome for season 2 to have nail art, and that I would really love to do it. I know she isn't the decision maker but I figured I would tell her," Natalie tells Very Good Light. Natalie recalls Alexa immediately agreeing and exclaiming that Maddy's character needed great nails.
Shortly after, Natalie realized Donni Davy, the makeup designer for the show had already followed her on Instagram. And just like that (apologies for the double HBO reference, ahem) she knew she had to say something. She sent the DM and the two hit it off. The next thing she knew, she was officially booked for season two and studying mood-board after mood-board.
But then, COVID-19 hit...
The first season of Euphoria came out in June 2019, our last pandemic-free summer. Filming for season two was set for early 2020 but suffered some unexpected twists. "The first day that we were supposed to film was the first day that LA completely shut down," says Natalie.
She noted there was an entire plan in motion and everyone was excited but suddenly, everything stopped. The cast and crew thought it would just be a couple of weeks, that filming could eventually get done pretty quickly. "I was worried if I was still going to do it," it turned into months of waiting and eventually a full year until they could even begin.
On top of this, Natalie was forced to close her salon in DTLA due to covid. At first, she tried her absolute best to keep it afloat and took to social media to showcase how she was making press ons available for order. This let her work on her own and keep up her creativity, aim to keep paying for her salon, and keep her clients stocked with fresh manicures.
After six months she made the decision to close, making sure all of her staff had jobs lined up. She figured this was her time to focus on her celebrity clientele and have a bit more time for herself. "One chapter closes, another chapter opens. Losing my business was very sad for me but at the same time other people lost so much more and I have to be grateful,"says Natalie.
Creating the inspiration for each design
While the world evolved through the pandemic, so did Natalie. She went straight to work on the show, creating press-ons, which made most sense, given the cast shoots a multitude of scenes each day. For one, it was the easiest solution for switch-out plus, as well as practical for her, as she had less contact because of COVID protocols. She able to design the press-on nails at home and ultimately hand them over to the makeup department for them to apply with nail stickers.
Most of the designs had an exact pairing to each characters wardrobe but sometimes they wanted it to clash to make the nails pop a bit more. We see the matching with Maddy's black Adka Damien dress and Kat's Mimi Wade Fairy Liquid dress but have yet to see those clashing moments so far this season.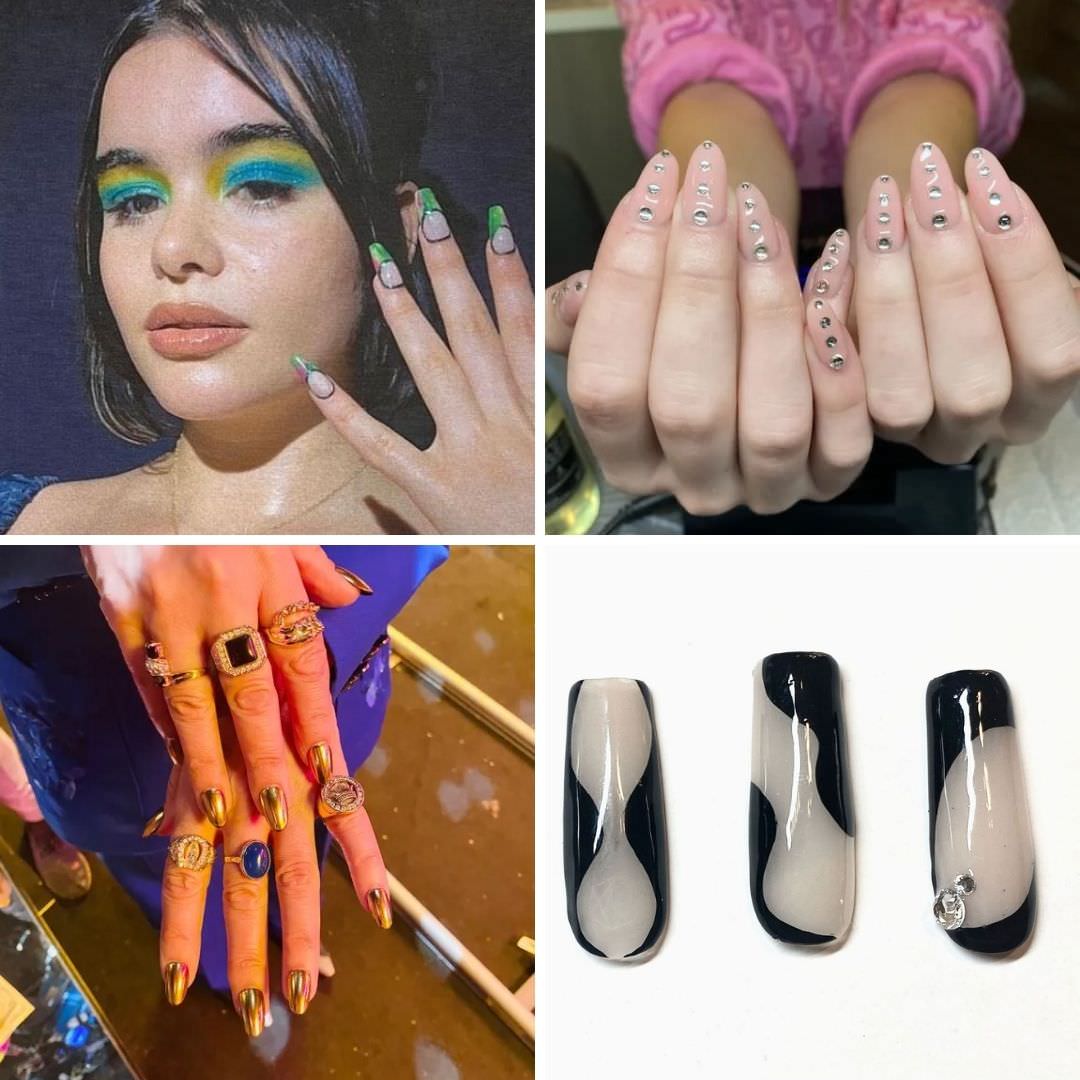 Natalie says Donni was directing her in which ways the designs could go but some of the characters were able to put their input in as well. She ultimately made about 3-6 variations for each wardrobe pairing to see what feedback production had.
But the nail art doesn't stop in episode one. Natalie mentioned it will be a constant in every episode directly complementing and playing into the symbolism of each characters makeup. It's safe to say that attention to detail will always have an important role in this show. Everything is intentional.
Keep your eye on Natalie's TikTok as the season progresses to learn more about each characters nail looks, how she created them, and the products you can use at home to get the looks yourself. You should already go on and order yourselves rhinestones and nail glue on Amazon. I've already ordered 17 gazillion.
---
READ MORE LIKE THIS