As a Mexican American, I was so excited to see Dezi Skin honor our shared heritage and bring Mexican-inspired beauty to the masses.
Masque On ($45), a new overnight mask from Dezi Skin, is saving my skin from what I like to call a skin hangover. A skin hangover is similar to a regular hangover: your skin is dry, tired, and overall dull. I can blame it on all the Halloween festivities over the weekend, but truthfully, my skin is always a little sad as the season transitions.
The best cure for a hangover is plenty of water and rest, and a skin hangover is no different. Masque On is the skincare version of Pedialyte for hangovers. It helps rehydrate your skin and return your skin to a state of homeostasis.
Founded by Latinx beauty influencer Desi Perkins, Masque On is the third product to come out of Dezi Skin since the brand launched earlier this year. The sleeping mask delivers intense hydration while also making the skin appear firmer and tighter with AHAs and microalgae.
We had the opportunity to chat with founder Desi Perkins about how the hell she made Masque On so ~juicy~ and the Mexican-inspired ingredients that make this mask sing.
The ingredients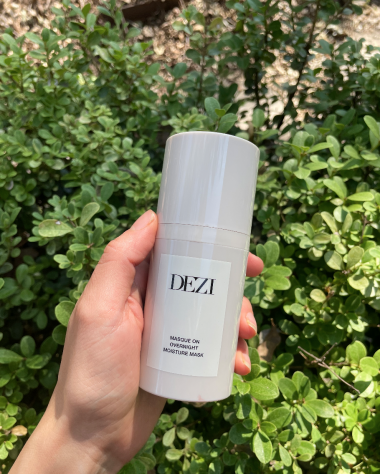 Desi actually created Masque On as an answer to skin troubles brought on post-pregnancy, which she says "hit [her] like a bus," Desi told editors at a deskside. Sudden changes in hormone levels can cause your skin to freak the F out, whether that's due to pregnancy, puberty, or hormone replacement therapy (HRT).
Desi and her team ventured underwater in the search for a sustainable, effective solution to troubled skin and discovered a type of microalgae called nannochloropsis oculata, which is rich in vitamin C and vitamin B12. It's a natural tightening and firming skincare ingredient that also acts as a protective shield against oxidative stress. Long term, it can help stimulate the formation of collagen for youthful, hydrated skin.
Masque On also contains what Desi is calling "tres-luronic acid," a potent combination of three (in case you didn't know, "tres" means three in Spanish) different molecular weights of hyaluronic acids designed to target different layers of the skin from the surface through the epidermis and dermis.
"It doesn't just sit on the top layer," explains Desi. "It really penetrates the three layers to tighten, plump, and moisturize."
Like all Dezi Skin products, Masque On features DEZI Youth Juice: an all-natural, custom blend of antioxidant-rich Mexican plum fruit, dragon fruit, acai berry, tamarind, mango, soursop, guava, and avocado extracts. Antioxidants help fight the free radicals and slow the aging process, helping the skin to appear smoother and younger.
"All the raw materials in [this] blend are sourced from Mexico," explains Daniel Kiyoi, founder of Magic Dusk, the incubator agency that helped bring Dezi Skin to life. "It's something Desi was interested in from the very beginning."
Mexico is home to so many incredible ingredients that native populations have been using for centuries to care for their bodies, and I'm excited to see what other Mexican ingredients Dezi Skin will introduce into American beauty culture.
Dezi Skin Masque On review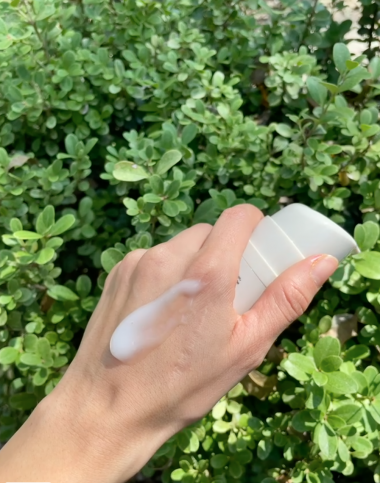 Masque On comes in an airless pump (sanitary AND chic) and has a unique water-gel texture. Unlike other sleeping masks I've tried, which are more wet and sticky, Masque On sinks into the skin within a few minutes. I put it on at the end of my evening skincare routine, and by the time I was ready to hop in bed, the mask had already melted into my skin. As a stomach-sleeper, I appreciated the fact that this mask wouldn't end up all over my pillow within minutes of putting it on.
When I woke up the next morning, my skin was dewy and glowing, like I had drunk a gallon of water overnight. I loved it so much that I even topped off my morning skincare routine with a thin layer of Masque On for that extra, EXTRA hydration. My hungover skin drank it up.
As I went about my morning routine of making coffee and going for a walk, the mask had plenty of time to plump. I did my makeup and skipped primer, since my skin was already nice and hydrated – a perfect canvas for makeup. My skin stayed looking juicy and moisturized all. Day. Long.
With sleeping masks, I always wondered how often I was really supposed to use them. Are they best used sparingly, or can you incorporate it into your daily routine? Desi came through with the answer.
"[Masque On is] not too potent to where it's going to irritate someone with sensitive skin," says Desi. "Any skin type can use this, and you can use it every night if you want."
You don't need to tell me twice. Masque On just became my new everyday mask-that's-not-really-a-mask. Whether my skin is temperamental due to changes in hormones, stress, or seasonal changes, Masque On is my new go-to prescription to cure dry, dehydrated skin.
I'll end this review with a little bedtime story. There's a Spanish nursery rhyme that will be familiar to anyone who grew up in a Latinx household: Sana, sana, colita de rana. Si no sanas hoy, sanarás mañana, which translates literally to, Heal, heal, little frog's tail. If you don't heal today, you'll heal tomorrow.
It's something parents would sing to a sick child before bed, reminding them that their illness is temporary. That things will be better in the morning.
Whenever I'm having a particularly bad skin day, I sing this silly little nursery rhyme to make myself feel better and remind myself that my skin is constantly changing. All I can do is continue to take care of it, nurture it, and give it all the nutrients and rest it needs to recover. With Masque On, I can treat my skin to all the moisture and hydration it deserves as it works to repair itself overnight. And when I wake up in the morning, things will be different. Better.
TLDR;
– Masque On is the latest launch from Mexican-American beauty brand Dezi Skin, founded by Desi Perkins
– The overnight sleeping mask not only delivers intense hydration, but also firms and tightens
– Ingredients include microalgae, three sizes of hyaluronic acids, and antioxidant-rich fruit enzymes sourced from Mexico
– The water-gel texture sinks in quickly, unlike other sleeping masks that stay dewy on your face and transfer to your pillow while you sleep
– Masque On ($45) is available now on deziskin.com. Spend $75 and get a FREE mulberry silk sleep mask!
READ MORE LIKE THIS