A hydrating ingredient found in our very own good light Cosmic Dew Water Cleanser may be the key to healthy, moisturized skin.
Though sometimes forgotten, the skin is the body's largest organ. It acts as a big sponge, absorbing and transporting things into the rest of our body and bloodstream. Similarly, and vice versa, what we put into our body affects our skin from the inside to the outside. Our entire body is a connected vessel; a combination of exterior and interior health. Beta-glucan is an example of an ingredient that can benefit overall health—inside, outside, and everything in between.
SEE ALSO: Common Heir is a zero plastic skincare brand combining luxury and sustainability
What is beta-glucan?
β-Glucans (beta-glucans) are made up of a group of β-D-glucose polysaccharides, or sugar compounds, that naturally occur in the cell walls of bacteria, yeast, fungi, algae, and plants such as oats and barley. It's a lot of ingredient science to take in, but only because it's so naturally good.
Beta-glucan skin benefits
In its simplest definition, the ingredient provides maximum hydration and will lock in moisture to the skin barrier. It is a source of soluble fiber, and research suggests it may improve skin conditions such as eczema, bedsores, wounds and radiation therapy burns.
Proven to be a lifesaver for acne-prone or sensitive skin, the trendy buzzword has skyrocketed in popularity in the skincare industry. According to consumer intelligence firm Spate, beta-glucan has grown 34.4% in the last year along. The search volume of beta-glucan spiked in growth by 38,100 searches in one month, from February to March of 2020. Now a year later, tons of products have popped up on the market after the great discovery.
Dr. Caren Campbell MD is a Board-Certified Dermatologist in the Bay Area in California. She tells Very Good Light that beta-glucan's main purpose is to recruit the cells that help to heal the skin (just like it does inside of the body, too).
It's no wonder brands have quickly added beta-glucan to their ingredient list, as it is a powerful agent of skin cell turnover. It also encourages repair, hydration, and boosts your interior immunity and exterior barrier. Its powerful ability to repair skin at the cellular level contributes to anti-aging and long-lasting health not only on your skin, but also on what's underneath.
"Some studies indicate B-glucan may also help with elastin production, which would given it some benefit in anti-aging, as collagen and elastin are broken down as we age," Dr. Campbell says. "Restoring these important building blocks of the skin is essential to any good anti-aging routine."
Other benefits
Beta-glucan is an ingredient with health benefits for both the inside and outside of your body. The ingredient can also be found in supplements as a heart-healthy fiber, linked to improving cholesterol levels and regulating blood sugar, as well as supporting a stimulated immune system.
Though you can ingest beta-glucan through common foods like cereal and oatmeal, the beneficial ingredient can also be found in supplements. Aid4 Immunity ($23) uses the linear immune power of natural beta 1,3-glucan to protect your wellbeing and safeguard your body, including your skin.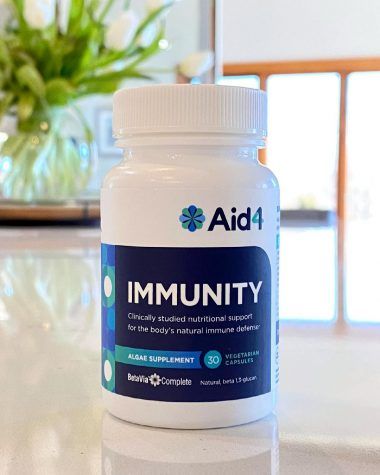 "Beta 1,3-glucan, a buzzworthy ingredient that is rising in popularity, is a powerful tool to keep the immune system trained and primed—though it's often missing from many people's otherwise healthy diet," a source from the company says.
Beta-glucan supports a stronger, more resilient immune system, which in part, strengthens a more robust skin barrier–preventing damage from the inside out.
Dr. Kelli Herrlinger is the Director of Clinical Research at Kemin Human Nutrition and Health. "Beta-Glucans are naturally occurring polysaccharides that offer physiological benefits," she tells Very Good Light. "For the human body, Beta-Glucans have been shown to prime the immune system and provide beneficial effects for immune, digestive, skin, and overall health."
How to incorporate beta-glucan into your skincare routine
We all know the Instagram-famous Laneige Lip Sleeping Mask ($16). The secret ingredient? Yup. Beta-glucan. While the ingredient continues to rise in popularity, the not-so-secret hydration component can be found in serums, cleansers, boosters, and essences—all the works.
Recently launched last month, beta-glucan can be found in our very own skincare line, good light beauty. Specifically, it is one of the main components of our Cosmic Dew Water Cleanser ($18). When combined with other hydrating ingredients like sea kelp, hyaluronic acid, and glycerin, the product makes sensitive skin stronger while improving the function of your skin barrier. Really, what more could we ask for?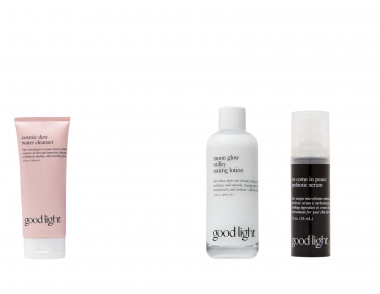 Explore our community and skincare space at goodlight.world, and get your hands (and face) on some beta-glucan in our hydrating, multi-purpose, gel-to-foam cleanser.