I've become a bit of a natural deodorant snob, which is something I never thought I would ever be able to say.
For years, I tried and inevitably failed to make the switch to natural, aluminum-free deodorant. After every new natural deodorant I tried, I still smelled awful and the sweating was nearly unbearable.
SEE ALSO: The future of natural deodorant according to these 5 brand founders
Besides suffering from stinky and overly sweaty pits, I've also had a ton of allergic reactions to natural deodorants. Turns out, I was just trying the wrong ones. I wasn't really doing my research and just haphazardly trying the ones on the shelves in drugstores. Some had too much baking soda while others had too much artificial fragrance.
Eventually, I learned I actually had to detox my pits from the aluminum that was clogged in my pores. While some of those experiences were allergic reactions, the excessive sweat and smelliness was my body desperately trying to adjust after being so used to aluminum deodorants.
I was determined to detox these stinky pits and make the switch for good due to health reasons. Your armpits serve as a huge connector to many parts of your body; there are huge lymph nodes in there! And any ingredients you're sticking into those pores have the ability to trickle down into your breast tissues.  Research actually shows that in high amounts, aluminum can affect our endocrine systems by changing how the body makes and responds to estrogen, the female hormone.
I found my hero deodorant (the Primally Pure Charcoal Deodorant) and it changed everything for me. Since finding "the one," I actually think deodorant can be a fun beauty/wellness product to get excited about.
Although I thought I found my holy grail natural deodorant in the Primally Pure Charcoal Deodorant, I've still been on the lookout for other options. And finally—after a year of searching—I've found another option that just might lure me away.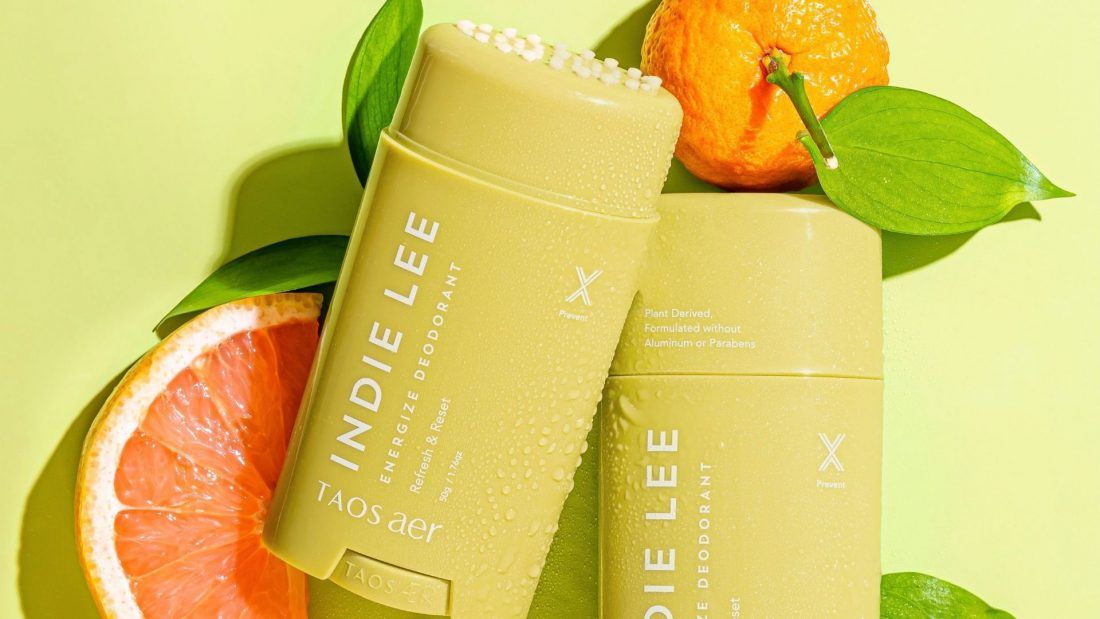 The brand
Indie Lee is one of the pioneers of what we consider to be "clean beauty" today. The brand best describes its products as "grounded in nature, supported through science, and inspired by life." Their CO-12 Toner is personally one of my favorites because it's refreshing and easy to use. It's like a fancy face mist but it has great hydrating and calming qualities.
The cool thing about the Energize Deodorant ($19) is that it's co-branded with Taos Aer, a direct-to-consumer natural deodorant brand that loves using fun botanical scents within their formulas. Inspired by Taos, New Mexico, the brand has enticing scents like Palo Santo Blood Orange and Ginger Grapefruit in their core collection.
Ingredients
The Energize Deodorant uses organic tapioca, non-GMO cornstarch, and baking soda as its natural deodorizers. The description specifically explains that the baking soda levels are super minimal, as it's important to get that ratio just right in natural deodorants, as it can be irritating to the skin in large amounts.
It has orange, bergamot, patchouli, grapefruit, rosemary, eucalyptus, and peppermint oils. The formula is cruelty, synthetic-fragrance, and paraben-free, but note it's not 100% vegan as it contains organic beeswax.
The review
This deodorant really is energizing! As silly as it sounds, it puts me in a great mood. The scent has some earthy undertones, but it has the zing from citrus and eucalyptus. It's super fresh and clean-smelling, almost as intoxicating as the smell of clean laundry.
The Energize Deodorant isn't a solid stick, but rather a gel-like formula. Although, it's not fluid and doesn't have a wet feeling. Indie Lee describes it as a "gel-to-powder formula." There isn't any dry downtime, so no need to wave your pits around. Plus, nothing will get on your clothes.
While the smell is versatile and perfect for any season, it's fitting as we approach the spring and summer months. More sweat is upon us, and while I love my current charcoal deodorant, I like this scent and lighter texture of Indie Lee's version as we experience more hot and sticky weather.
TLDR;
– Clean skincare brand Indie Lee launched a deodorant in collaboration with the natural deodorant brand, Taos Aer
– The Energize Deodorant is a steal at $19 for a natural deodorant that feels clean and fun
– It smells earthy but has a citrus twist, ideal for the spring and summer months
– It's a gel-to-powder formula that doesn't require dry downtime
BUY or BYE?
This is my new number one pick for natural, aluminum-free deodorant. It feels light, but more importantly, I feel comfortable and not worried that I smell like BO. I was afraid I wouldn't find another clean deodorant that would work on my sensitive, sweaty skin, but this is a real find.
It's a total BUY. Buy HERE on Indie Lee or HERE on Taos Aer for $19.