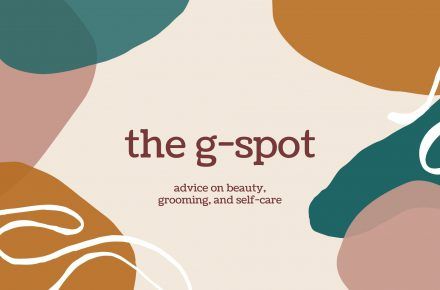 I'm Garrett Munce, editor-at-large for VGL, and I am curious AF. I have over a decade of experience in fashion and grooming editorial and have literally written the book on self-care (you can get it here). Throughout those years, I've never run out of questions to ask. That's why I'm excited to start this monthly series where I get to investigate your questions, whether they're about grooming, beauty, self-care, or anything in between. I'll do my best to answer them myself and I'll sometimes pull in a few expert friends to weigh in as well. I'm excited to hear what you're curious about so go ahead and submit your questions on Instagram (@verygoodlight) and you may see them in a future installment of The G-Spot.
This is a post-holiday season like no other, and, it seems like we're all going through the same thing.
Case in point: so many of your questions this month were about holiday-induced skin freakouts, particularly acne brought on by things like sugar and stress. I am right here with you! Currently, I have no fewer than four pimples spotting my face. I'm aware that in the grand scheme of things, this is not the end of the world and they'll eventually go away, but it's frustrating to have these little suckers pop up at the start of a new year. There is always so much pressure for everything to start the new year with a clean slate, but if we've learned anything from 2020, it's that we have to make the best of less-than-ideal circumstances to say the least. So on that note, let's squash those skin issues so we can all start 2021 with our best face forward.
SEE ALSO: A beauty editor reveals the secret to no-makeup makeup
I feel like sugar messes with my skin, especially around this time of year. What do I do?
Woo boy, do I know this struggle. I am a certified sugar fiend, and even though I'm pretty good about staying away from it most of the time, the moment I have a little bit, not only does my body crave more but my skin almost instantly freaks the f*ck out. And it doesn't help that I'm currently recovering from a legit holiday cookie binge.
I was curious about why my skin, and yours it seems, goes crazy when I eat sugar so I asked my friend dermatologist Dr. Joshua Zeichner. It's not all in our heads, he confirmed, but it also goes way beyond what I could have possibly imagined. "High blood sugar levels are known to promote inflammation in the skin and even impair wound healing," he told me. "Foods with a high glycemic index have been directly linked to acne breakouts and high blood sugar is also associated with premature aging.  As sugar molecules attach to collagen the fibers become stiff in a process called glycation. Glycated collagen breaks rather than bends, weakening the foundation of the skin and contributing to wrinkles and crepey skin."
Damn, that's bleak. Obviously, sticking to a healthy diet and exercising regularly to help keep blood sugar levels down helps this in the long run, but asking us all to have an iron will in the face of a dessert spread isn't realistic (at least for me). The good news is that there is a surprising skincare ingredient that could help according to Dr. Zeichner: turmeric. "Turmeric is a spice long used in cooking, but has been incorporated into skincare for its anti-inflammatory and skin-protecting effects," he says. "Studies have even shown it to be uniquely beneficial in blocking the effects of glycation on the skin." Using a serum, like Clarins Double Serum Complete Age Control Concentrate ($90), he says, is a good option because it contains turmeric as well as other soothing botanicals.
Additionally, Dr. Zeichner suggests incorporating a Vitamin C serum into your skincare routine, which will not only help prevent free radical damage but is also an essential cofactor in the production of new collagen and helps prevent degeneration. Currently, I'm using Youth To The People 15% Vitamin C + Clean Caffeine Energy Serum ($68) and it's doing the trick. He also recommends wearing sunscreen every day to prevent UV rays from harming skin cells and collagen and using a retinol at night to help repair and strengthen skin – currently, my go-to retinol is Shani Darden Skin Care Retinol Reform Serum ($160). It's strong, but there is a gentler version if you're a beginner.
How do I tackle winter acne? Post-holiday stress, sugar, and running around shopping breaks me out. Help!
I feel this on such a deep level. There's so much pressure as it is to look your best in the new year but I feel like every flaw or zit is on an especially glaring display thanks to the unforgiving front-facing camera. The most important thing to remember here is that everyone is going through this! Like, literally everyone. I haven't spoken to a single person in the last month who hasn't complained about something going on with their skin.
There are about a thousand reasons why you could start seeing more breakouts in winter, but the two most likely are stress and diet, says dermatologist Evan Rieder, M.D. Particularly since this year, the stress might be dialed even higher than usual. "We know that there is an association between stress and acne," he says. "Likewise, we know that dairy products and refined sugars can be associated with acne. A diet rich in sweets can exacerbate it."
Just like in the question above, trying your best to limit your sugar consumption can help, and stress reduction techniques like mindfulness, yoga, and deep breathing can also make a difference, he says. The good news is that in the short term, your usual acne treatments can help no matter what you suspect is the root cause of your acne. Dr. Rieder recommends a benzoyl peroxide spot treatment (my go-to is Neutrogena Rapid Clear Spot Treatment ($7)) as well as hydrocolloid pimple patches, which help to suck gunk from deep inside pores. My favorites are Starface Hydro-Stars ($15) and Hero Mighty Patches ($13) – both of which I have been wearing frequently. Bonus: if you wear them under a mask, no one can see them!
Speaking of masks, we've got to talk about maskne. It is real, y'all, and I definitely think a big part of my current breakout situation can be linked to the fact that I wear a mask for at least several hours a day. The biggest thing you can do to help curb maskne, says Dr. Rieder, is to wash masks regularly and rotate them daily (this is something I could definitely improve on). "Acne bacteria can accumulate on surfaces and you don't want to be putting a dirty, oily mask on your clean face." He also recommends using a low-strength benzoyl peroxide face wash (like CeraVe Acne Foaming Cream Cleanser ($16)) and a nighttime retinol cream like La Roche-Posay Effaclar Adapalene Gel ($30) and remember to moisturize twice a day (those products can be drying, but it can also help create a protective barrier).
What's the best way to give myself an at-home facial to ring in the new year?
There is nothing I love more than a facial and in pre-COVID times, I was getting a lot of them – just look at my weekly #facialfriday series on Instagram if you don't believe me. And honestly, I think getting facials is what I miss most. (For the record, I started to get them again a few months ago, but I'm not getting them with nearly the same frequency.) But if there is one thing isolation has taught me, it's that it is actually possible to give yourself a facial at home. An at-home facial won't replace a professional one – there are things you should only let a professional do to your face, like extractions – but a DIY version can scratch the same itch and be just as relaxing and beneficial for your skin.
The key to an at-home facial is to not try to replicate what you're going to get in a professional setting. Keep it simple! I asked the queen of facials, celebrity esthetician Joanna Vargas, to walk me through the steps. First, she says, "start with cleansing the skin. Spend a good minute or two on washing your face while concentrating on doing mini circles and really penetrating the cleanser into the face." Then follow with exfoliation. I like to use a mask for this step and so does Vargas, specifically her Exfoliating Mask ($92). "This will stimulate collagen production, remove dead skin cells, brighten the skin and products will penetrate better into the skin. I tend to scrub a little more carefully in my t-zone because that's an area that gets more oily and a common area to see black heads," she says. Follow the exfoliation with a good serum of face mask (I always opt for a sheet mask). And while you're applying the serum, take the opportunity to give yourself a lymphatic drainage massage. "Downward circles will depuff, while upwards ones will bring nutrients to the skin," she says. My favorite mask at the moment is Saturday Skin Cotton Cloud Probiotic Power Mask ($6) because I find it soothes my skin almost immediately. Follow it all with a moisturizer and you're done.
If you really want to get into the DIY mood, Vargas says that chamomile tea bags can help eliminate eye puffiness (steep them, let them cool and then put one on each eye for 10 minutes). She also has a variety of DIY recipes in her book "Glow From Within" (a great gift, btw) like an anti-inflammatory yogurt and avocado mask. "Avocado has lots of B vitamins and fatty acids to keep the sky hydrated even in dry winter weather," she says.
Joanna Vargas's Hydrating Mask
– 1/2 cup yogurt
– 1/2 avocado
– 1/4 honey
– Leave on the skin for 20 minutes, then rinse.
Once you've mastered the basics, you can add in other elements like Gua Sha or other facial sculpting tools (Vargas has her own – the Magic Glow Wand ($285) – which I really like). I like to think of at-home facials as more-focused versions of my regular skincare routine. They contain much of the same steps, but when you're in the facial mindset, it magically becomes more relaxing.
READ MORE LIKE THIS