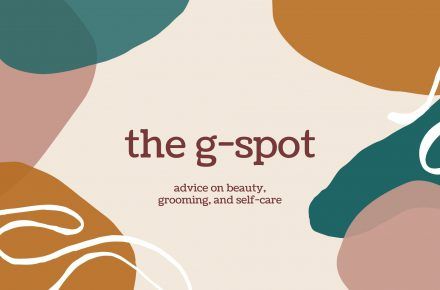 I'm Garrett Munce, editor-at-large for VGL, and I am curious AF. I have over a decade of experience in fashion and grooming editorial and have literally written the book on self-care (you can get it here). Throughout those years, I've never run out of questions to ask. That's why I'm excited to start this monthly series where I get to investigate your questions, whether they're about grooming, beauty, self-care, or anything in between. I'll do my best to answer them myself and I'll sometimes pull in a few expert friends to weigh in as well. I'm excited to hear what you're curious about so go ahead and submit your questions on Instagram (@verygoodlight) and you may see them in a future installment of The G-Spot.
I'd like to address the elephant in the room.
I, like so many of you out there, am going on nine months of living through a global pandemic that has fundamentally changed my daily life. Sure, I'm starting to slowly emerge from the strict lockdown that was imposed during spring and summer here in New York City, but life is far from back to "normal" (will it ever be?).
SEE ALSO: Multi-masking is the cure to quarantine boredom
Most of my work life has moved online – I'm on multiple Zoom meetings and conference calls every day and I haven't seen any of my coworkers in person for months. My social life is largely online too – I work out at home over Zoom, I haven't eaten out in months (even though restaurants have reopened here), and at this point, going to the grocery store is an event.
I've also become even more focused on skincare. No one will say I wasn't focused on skincare before this, but I've had even more time to experiment and try new products and techniques. But seeing myself in that Zoom window made it clear to me that even the most dedicated skincare enthusiast needs a little extra help. I mean, those cameras are NOT flattering. It took me a while to figure out the angles and lighting that don't make me look like Jabba The Hutt. Even though I was an early adopter of the "smooth my appearance" filter on Zoom, it can only go so far.
I know I'm not the only one who feels this way because so many of the questions I got from you this month were about "no-makeup makeup." I've been experimenting with it too – I've found it makes me feel, and yes look, just a little bit better when I have to jump on Zoom. Sometimes you want to just look fresh and rested without coming off overly made up, you know? Luckily, what I learned this year, and from a few experts when I was investigating your questions, is that it doesn't take a lot.
I'm fatigued AF from quarantine and I look terrible on Zoom. What can I do to make myself look more alive?
Honestly, who isn't feeling this way right now? I feel like I always wake up looking haggard no matter how much sleep I get the night before. Personally, that means my morning skincare routine has become much more important. I keep some Skyn Iceland Hydro Cool Eye Gels in my fridge – I think they work even better when they're cold – and slap them on first thing if I feel like my eyes look tired. I've switched my daytime eye cream to one that contains Vitamin C (I love Ole Henriksen Banana Bright Eye Cream and Beautystat Universal C Eye Perfector) which helps perk up the skin around my eyes and make it look a little brighter. You'd be surprised how just focusing on your eyes first thing can make the rest of your face look a little fresher.
I've also started using tinted moisturizer pretty much daily. At first I thought since I wasn't leaving the house much, it didn't matter what moisturizer I was using, but when my skin looked sallow or dull on Zoom, it threw me into a tailspin. Changing my daily moisturizer for a tinted version helped. Right now I'm using Saie Beauty Slip Cover because it's sheer but offers just enough skin smoothing color to make my face look bright and fresh and has a tiny bit of shine for glow. It also has SPF 30, which let's be clear, is very important, too.
I called up makeup artist Daniel Martin to find out what he does and he told me it's all about GLOW. "Though we love the blurring effect Zoom offers to even out skin tone on calls, it can also create a flat appearance to the skin," he said.
To add vibrance and dimension, Daniel recommended using Tatcha Serum Stick under your eyes and on the high parts of your cheekbones (like you would a highlighter) to give you a subtle glow. And then if you feel like you're looking a little too pale, Sisley Paris Phyto-Touche Sun Gel adds warmth to your skin without looking like makeup. He says you can use it alone on top of moisturizer or blended with a bit of foundation.
And then back to eyes! He loves Lumify Redness Reliever Eye Drops to brighten the whites of your eyes – I use these all the time and can attest that they instantly make your eyes look super awake and bright. Couple the drops with a quick eyelash curl (Daniel favors the Surratt Beauty eyelash curler) that "opens up your eyes better than makeup and never goes unnoticed," he says. Honestly, I've never curled my eyelashes, but if Daniel Martin tells me to, you better believe I'm going to start.
Every time I do my brows, I end up going overboard and looking like I have two caterpillars on my face. HELP.
Believe me, I understand the idea that more is better. That's why I always tend to put in too much hair product, slap on too much moisturizer, and have to be very, very careful when I'm using any sort of foundation or color cosmetic. I tend to go wayyyyyyyy overboard on everything. But for some reason, I've never really felt that way about eyebrows. I've always been against overly waxing, tweezing, shaping, or coloring eyebrows on my own face, so even though I'm prone to excess, my brows are one of the few places I'm able to leave alone.
That said, I think the general rule of thumb for brows is "less is more." It takes practice to restrain yourself, but unless you're going for a super-shaped look, leave them alone. Put down the tinted brow gel or brow pencils and if you need to use something to keep them in check, go for a clear brow gel instead (I like Glossier Boy Brow and Saie Beauty Brow Butter). Personally, I try to stay away from all tinted brow products because they all end up looking too dark for me. But if you must use a tinted gel, try to find something that almost matches your existing brows. My feeling is that brow gel is kind of like tinted moisturizer – you want it to heighten what you already have, not cover it up with a new color.
As for shaping, I asked Josh Beeler, brow expert at Shen Beauty in Brooklyn, NY. He agreed that the best thing you can do for your brows is to leave them alone. "I wouldn't suggest anyone try to shape their brows on their own," he told me. To help them look natural, but like the best possible version of natural, it's best to see a brow professional.
Tweezing errant hairs that lie outside the main shape of the brow is one thing, but never try to do deep surgery yourself. (Luckily, most places are offering brow treatments right now because, unlike facials, you can keep your mask on the whole time.) And if your brows are getting a little unruly, he recommends combing the hairs upward with a clean spoolie or tiny comb and then carefully snipping the longer hairs that lie outside the structure of the eyebrows. Personally, I do that a few times a week, tweeze the odd hair here and there, and I rarely do anything more.
Bronzer always looks like dirt on my face. What am I doing wrong?
I'll admit this first: I have never been great at bronzer, so this is so real. But also, after an entire summer spent largely indoors, I ache for that sun-kissed look if only to remind myself that I am still a human person who has access to the sun (even if it's through a window).
Typically, when I need a little touch of color, I reach for a bronzing gel and add a little dollop to my moisturizer. My go-to for this has been Tom Ford Men Bronzing Gel because it delivers color without looking fake. It is super strong so you only need the tiniest bit and it's expensive, but a tube will last you forever. This stuff has been my secret weapon for years.
But it's also not very buildable, which sucks if you feel like the color payoff isn't what you were hoping for. Also, unlike a powder or cream bronzer, it's hard to focus on specific areas. Thankfully, earlier this summer I did an IG Live with makeup artist and hairstylist Jillian Dempsey and she completely schooled me on bronzer. I called her up again for a refresher.
For men, she recommends a powder bronzer that's matte without any shimmer – she likes Face Atelier Ultra Bronzer. I've also been using Shiseido InnerGlow Cheek Powder in Cocoa Dusk, which she also recommended to me, and I love it. It's easy to use and subtle.
To avoid a dirty look, particularly when it comes to powder bronzer, Dempsey says the application is key. Use a large face brush or large fan brush to get an even application and gently brush it around the exterior hairline and under the jawline. Once you've done those areas, you can lightly pass it over your nose and cheeks to get whatever's left off the brush (but will keep you from getting too much in those areas). In my experience, and through her coaching, I can tell you the larger brush is key as well as making sure you tap off the excess really well before bronzing (something I've been known to not do).
Personally, I prefer a powder bronzer. As Dempsey told me, "a powder allows more options to dust on lightly everywhere and build as you go." Plus, cream bronzers intimidate me since I'm certainly not a professional makeup artist by any stretch of the imagination. But if you're curious about cream bronzer for contouring, check out Dempsey's tutorial on her beauty app Fyfe Beauty. She uses W3LL People Bio Bronzer Stick and makes it look so easy!