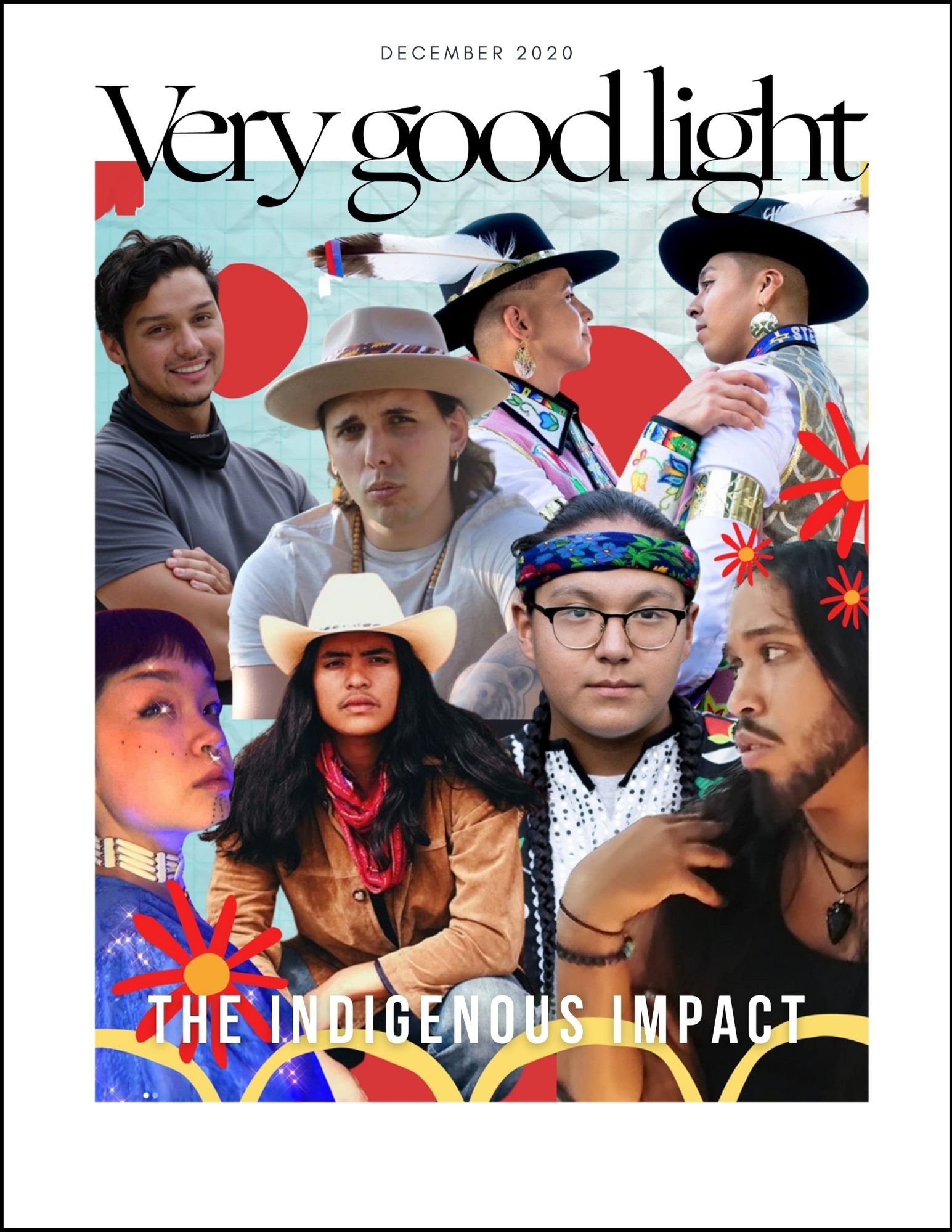 This year has been tough on everyone, but Indigenous people across the world have been hit particularly hard by the brutal effects of the COVID-19 pandemic.
Indigenous communities were suffering before the pandemic spread in March. Poor healthcare, significantly higher rates of communicable and non-communicable diseases, lack of access to essential services, sanitation,  and  other key  preventive measures, such as  clean water, soap, disinfectant, etc., all contributed to higher rates of infection of COVID-19 amongst this marginalized group. Due to the erasure of Indigenous people in U.S. COVID-19 data, statistics don't accurately reflect how the pandemic has affected this community, but findings from the Center for World Indigenous Studies show that Indigenous peoples are dying at greater rates than others in urban centers.
SEE ALSO: 6 Indigenous people on reclaiming their native beauty through ancestral practices and ceremonies
The ties that bind and inspire resiliency in these small populations are also what make many indigenous groups so susceptible in the face of this widespread virus. Large gatherings central to indigenous culture and multi-generational households place Indigenous communities at greater risk for contracting COVID-19. This, combined with a lack of adequate health and social services, food insecurity as a result of the loss of their traditional lands and territories, and disruptions across all industries and economies has placed this already vulnerable population in grave danger.
Nonetheless, they persist.
As they've done for centuries, these communities find ways to survive and adapt to changing circumstances and insurmountable pain. Together, they band to help themselves, despite a lack of resources. Several tribes, including the Cheyenne River Sioux Tribe, blocked off cars coming into the reservation and decided to test people before they could enter tribal communities. The Navajo Nation organized a relief effort to gather and deliver food, water, cleaning supplies, and other goods to their isolated communities, which High Country News notes are "all jobs the federal government is treaty-obligated to do."
While saving each other, they also managed to do their part to save this country from the haphazard and dangerous leadership we've been living under for the last four years. Native American voters helped secure Biden's win in Arizona, a crucial swing state in this year's presidential elections. Voters in reservation counties across the West, including Montana, overwhelmingly backed President-elect Joe Biden, proving that their voice matters – and always mattered – in this democracy.
That's all to say that Native Americans and Indigenous peoples refuse to be silenced. They demand to be seen and will continue to fight against government pressure to either assimilate or become invisible, while also advocating for LGBTQ+ and environmental rights that affect us all.
Very Good Light is proud to honor eight Indigenous folks and celebrate their resilience in such a tumultuous year. Their stories prove that they hold experiences we can all learn from. Below, meet our eight Indigenous cover stars who are honoring their ancestral heritage while paving the way for our collective futures.
Anthony Vairacocha
My ancestors are the Kañari people of Guapondelig, which has since been called Tumipampa by the Incas, and is now known as the city of Cuenca, in modern-day Ecuador, after the Spanish Conquest. By virtue of the Inca expansion into Guapondelig, in which the town came to be known as Tumipampa, I along with all Kañaris, are simultaneously Kañari, and also Kichwa, which is a more proper name for the Inca ethnicity settled in the Northern Andes. I was born and raised in New York City, more specifically Mannahatta (Manhattan), and spent my teenage years living in Wanaqua (the Bronx).
I write about self, community, and cultural decolonization as well as Pan-Indigeneity. As a decolonial writer, I first embrace the concepts I write about in terms of my own identity, as well as my lifestyle, and as a part of my activism, in order to better develop these ideas, and live them, before putting them into writing.
Although there is a common misconception that all Indigenous people lacked facial hair, grooming was very important to Indigenous People of the Americas, who in ancient times would use seashells and other tools to shave their facial hair. The act of being mindful and intentional about even basic shaving is a form of ritual and a beauty practice which connects me to my ancestors. My ancestors also held radically different notions about gender identity to that of Europeans, and so being able to groom myself in accordance to achieving a masculine or feminine appearance is essential to my practice of Yanantin, or our dualistic world view.
Your skin is a beautiful gift from the creator and must be taken care of and protected as such. High-end products can be helpful, but oftentimes some of the best beauty care can be cultivated directly from the earth. When I last visited Tumipampa, I was gifted with the ancestral knowledge of geotherapy; that is to say, the use of earth, and minerals to heal, and care for skin. In Ecuador for example red volcanic clay has been used since ancient times to promote skin wellness and beauty.
Seqininnguaq Qitura Lynge Poulsen

My name is Seqininnguaq Qitura Lynge Poulsen, my pronouns are they/them and I am an Inuk from Greenland (also known as Kalaallit).
Some of the cultural beauty practices that make me feel more connected to my native roots are beading, jewelry, and traditional Inuit tattoos. I learned how to bead jewelry around a year ago and it has made me feel so much closer to my culture and identity. I got my first traditional tattoos (on my face and hands) when I turned 18 to mark coming into adulthood and to express my Indigeneity. The lines on my fingers that I got the same day as my face markings are to honor and respect Sassumap Arnaa (the mother of the sea). A day rarely goes by without wearing Indigenous-made jewelry.
One of the many things brands can do to decolonize the beauty industry is to include Indigenous Peoples in the talk of beauty. Growing up, I did all that I could to follow the western beauty standards but it never made me feel happy. It just made me feel accepted by the western world, which I believe is completely wrong. There is so much beauty and diversity in being Indigenous and no one is allowed to deprive me or others of the way it was when I grew up.
Furthermore, brands need to completely stop using Indigenous designs or patterns, even if it's just "inspired" by Indigenous Peoples. I believe that if you do not come from an Indigenous community, it is not your place to use their cultural heritage in any way. Cultural appropriation is still a big problem, especially when it comes to Indigenous designs and Indigenous patterns in tattooing. Our patterns are very special to us and are sacred.
Being an Indigenous activist is very tough at times and sometimes you feel completely left out and ignored. What especially makes it hard to work with activism as an Indigenous person is the fact of how oppressive the systems can be. But when you get gathered with fellow Indigenous activists, you gain so much strength and love, because of how similar we are and because they understand what you're going through. So in that way, it can also be very beautiful and inspiring to work with Indigenous rights. Some of the causes that are very close to my heart are decolonization, mental health, oppression, sexuality, food sovereignty, and environmental rights.
Clearbear
My heritage is of the Chichimeca and Kumeyaay Native peoples. The Kumeyaay are an Indigenous group of Baja California and Sand Diego and the Chichimeca are indigenous to Guanajuato, Mexico. I grew up in Pacifica, California.
I created IAM with my partner Cuali in order to liberate Indigenous peoples of this continent. Many of us are unaware of how colonization impacts our sense of identity and how it is used to oppress us and our self-esteem toward our Native roots, IAM helps to decolonize and reclaim what has and is still being stripped from us our cultural awareness and our identity. [Representation] is everything our people need to know the strength and spirited nature of who they are and where they come from.
Taking care of my spiritual health is something I say weekly I always make sure to show gratitude for everything I have when the sun rises no matter what adversity I am facing. It helps center myself. To be grateful is a way to liberate yourself and be more content.
Staying hydrated [is my favorite beauty tip]. You need more water than you think. Water is life and it creates clarity and detoxes toxicity accumulated in your body.
[If brands want to decolonize industries, they need to] hire more indigenous folks not just as models but photographers and other valuable jobs. It is important because the industry stems from Eurocentrism and white supremacy in general.
Cody Coyote

I'm Ojibwe from Matachewan First Nation on my father's side and Irish on my mother's side.
Whenever I braid my hair it not only makes me feel more confident in myself and my appearance but it allows me to understand more about myself and our cultural teachings. Each strand resembles physical health, spiritual health, and emotional health. While they're being braided together I put good intentions into my braid and offer myself self-love.
My self-care practices are heavily influenced by my culture, so much that every morning I do my best to make it a routine to smudge and rid away any negative energies before starting my day. We use sage to take away the negatives and bring in the good with sweetgrass. I also go to sweat lodge ceremonies to pray and be present with my ancestors.
As someone who owns and operates a clothing brand (Bimaadiziwin Collective), I can, unfortunately, recall so many times where I have been in a clothing store and saw things that had Indigenous patterns but the brands were created by non-Indigenous folks. For us all to truly decolonize, we need to stop supporting the colonial hierarchy and reallocate funds towards those who have been and are continually being oppressed.
Every day that I breathe I am honoring my ancestors because one thing that we as Indigenous people have always done is survive. Even after colonizers came to our homelands and established their countries, we have been and always will be here. I choose to remind folks of that and to embrace the beauty of our culture, our languages, and our nations that have existed here long before the arrival of Europeans. With this being said, on my platforms, I choose to post content that will educate folks about Indigenous topics as well as celebrate Indigenous excellence. So-called Canada and the so-called United States of America are on Turtle Island and it's important to never forget that.
Picture fighting for your voice to be heard day in and day out but having several attempts for it to be silenced. That's what it's like to be an Indigenous activist and in most cases, it's met with acts of violence from the colonial regime. Personally, the causes that are particularly close to my heart would be helping out Indigenous children in the child welfare system as my father is a survivor of the Canadian child welfare system and Canada's 60's Scoop. The Landback movement is also important to me, as well as helping Indigenous folks that are incarcerated.
Theland Kicknosway

My tribes/nations are Cree and Potawatomi and I'm from Walpole Island First Nation in southern Ontario, Canada. I use He/Him Pronouns.
What I consider beauty is the creation of all living things before mankind. All the minerals and elements that make up our world are very beautiful and need to be cherished. I feel connected to my roots when I am out on the land with the spiritual feeling that my ancestors are walking with me. What I find beautiful is that I sing with birds and I dance with the animals. Cultural practices that make me feel proud of who I am are the ability to share these gifts of song and dance. These practices allow me to be close to my roots.
I personally use a dab of bear grease in my hair every once in a while and this allows me to be connected with the land despite living in the city. I personally don't use too many products in my hair or for my skin as I try to keep everything natural and basic.
Most of my self-care practices involve traditional smudging which is used for grounding one's self and allowing yourself to take time and relieve any stress or negativity and the scents from the smudge are very calming.
A major influencing key that brands can do to decolonize themselves is to physically work with the original people and caretakers of this land. Not only will it allow new ideas and perspectives into their brand but most importantly a new outcome and shift in their industry.
I'm using my platform to bring awareness to issues regarding Indigenous history and culture and trying to modernize social media and these platforms in an educational and informative way so people can hopefully learn a little. I also am showcasing some of my heritage through songs and dance and creating content that people will be able to learn something new.
I do this work for my ancestors and for future generations. Social media has opened up a unique platform for us to use and get our voices out there. Even if they weren't social media, I would still do this work because I carry the strength and resiliency of my relatives. One cause that I am particularly close with is the MMIWG2S (Missing and Murdered Indigenous Women, Girls, and Two-Spirited) and the children left behind. As a young Indigenous person, I have a responsibility to carry myself in a good way and share with others that it is not okay to disrespect or harm our matriarchs and our woman. If I can set an example for others then I've fulfilled my responsibility. It's up to other boys and men to fulfill theirs.
Daniel Maddox

I am half Tongvan otherwise known as the San Gabrielinos, a tribe in Los Angeles county.
There are two skincare tips that have been passed down to me. The first one is using aloe vera to address any cuts or wounds the prevent scarring or blemishes as well as reducing damage from the sun. The second is the use of coconut oil to hydrate my skin and reduce inflammation. I feel and see the difference if I use coconut oil or MCT oil once or twice a week to moisturize my skin and help my body absorb nutrients.
For me, the simple act of using something homegrown or natural in my diet or turned into a tea/oil makes me feel connected. The original indigenous diet was full of vegetables, fruits, nuts, and berries that were all overflowing with vitamins, minerals, and healthy fats. Personally, I believe what humans put into their bodies becomes a part of who they are, and I know many indigenous people often showed gratitude for what they consumed. By putting good products into your body you are able to reduce inflammation, hydrate your body, give your body the tools it needs to keep you looking young and healthy. A poor diet reflects on your skin, face, teeth, and body composition.
The first self-care practice was given to me by my mom when I was a child and I still carry it with me: making sure I wake up and hydrate myself with either water or a hot tea has since been a priority for me. More importantly, doing self-care acts of hot saunas/baths and massages greatly reduce my stress levels and detox me. For Native Americans, our self-care practices have been less about what we put on our body but rather what we put in our body and connecting with nature and the Great Spirit. For this reason, I feel happiest and healthiest when I am in nature without the stress of the world wearing on my body and mind.
First and foremost, I am using my social media accounts to gather information and learn more about my culture. It's difficult for me to identify as a Native American but have so little idea of what that means since so much of my culture has been lost or erased. I would like to restore the beauty of the indigenous people as I continue to revive my culture.
I'm passionate about mental health issues since this has been something many indigenous people struggle with and have very few resources available to them. I am currently working on getting my psychiatric mental health nurse practitioner's license so am able to represent my people in healthcare and treat and care for their needs.
Adrian Stevens

My name is Adrian Stevens, I go by all male pronouns and identify as Two Spirit/Gay. I grew up near the Uintah and Ouray Indian Reservation in Fort Duchesne, Utah. On my maternal side, I am Northern Ute, and on my paternal side, I am Shoshone-Bannock (Fort Hall, Idaho) and San Carlos Apache (San Carlos, Arizona).
At a young age, my parents started me dancing at pow wows. I grew up understanding protocols and teachings within the pow wow circle, as well as our Ute New Year celebration, the "Bear Dance." These things help me stay connected to the teachings I was raised with. Thus keeping me connected to my ancestors that passed down these beliefs.
One of the biggest reminders growing up that I would always hear older folks say, "drink plenty of water, from the moment you wake up to when you pray," This not only good for the mind and body, but it supported beauty. I can credit my skin health to the amount of water I was taught to drink and be thankful for.
I feel like we are living in a time that brands are most capable of reaching out to indigenous people to seek more natural alternative beauty products. On top of that brands can decolonize their marketing and use models that are more representative of Native Peoples. Today we are starting to see that shift in representation and I only hope to see that continue within all industries.
Native American Culture is rich and varies with the array of beauty, from traditional clothing and dance to hair teachings. To bring that dynamic into mainstream media or social media platforms is vital to the awareness that Native People are here and living in modern society. All while still holding true to teachings that have been passed down.
With humility, I am beyond thankful for the followers Sean and I have [Editor's note: Adrian Stevens and Sean Snyder, interviewed below, are partnered]. I don't really consider myself to be an activist, in the sense that I am making a stand for equal opportunity for myself and those before and after me. I hope the people of my communities feel inspired to achieve security, love, and success. I find it important to be the example or pave a way for two-spirit people and native queer men.
Sean Snyder

Yá'átééh, Shí éí Sean Snyder yinishyé. Lók'aa' Dine'é nishłį. Hashk'aa Hadzohí bashishchiin. Italian dashicheii. Belgian dashinalí.
[Translated] Hello my name is Sean Snyder I am of the reed people, born for the yucca fruit strung-out-in-a-line clan. I am an enrolled member of the Navajo Nation and descendant of the Southern Ute people. I'm also of Italian and Belgian descent.
I am a Two-Spirit multimedia artist based in Las Vegas, Nevada. My pronouns are he/she/they/them, I am non-binary and queer.
When I wash my face, hair, and body, I am cleansing and refreshing the energy that is in me. I believe embracing my natural-self and complexion is an act of connection and resilience.
The best tip I've learned from my ancestors is the importance of cleanliness and cleansing our bodies. In Diné (Navajo) culture, we wash our hair and skin with yucca root and water. These natural ingredients are derived from my ancestral homelands and are ways that have been passed down through generations.
My best self-care practice is one that gets my body moving; when I practice dancing — it relieves stress and tension when I need to blow off steam or spend energy. These practices help me stay grounded and connected wherever I am.
I personally love to embrace Native-owned beauty brands like Ah-Shí Beauty from the Diné Nation, because it encompasses beauty on multiple fronts and I can enjoy their skincare line. Most of the native beauty brands focus on the face and eye makeup lashes and scents — so it's nice to find brands that are more than just makeup, exploring more with skincare, cleansers, and moisturizers.
I have found that sharing my authentic self and life is the strongest way for me to spread representation through my platform. I believe that seeing out-and-proud Native men is so important and growing up, I could have had an easier time accepting myself if there were other role models out there truly embracing their identity.
I like that in this age of social media, we have access and can choose to follow much more diverse imagery. It's empowering and amazing to see our faces in major campaigns that bring importance to voices through living authentically. This allows everyone to see the diversity within our Native people; we are still here and exist all across North America.
I strive to speak up, bring awareness, and create conversations with as many people about anything I share. To be Native American is inherently a political identity; everything within our existence is treated as a political issue. There are many issues that we as Native people; we could speak to the environment, our water, land, air, treaty rights, Missing and Murdered Indigenous Peoples, cultural appropriation, language, art, agriculture, and cultural survival… the list could go on.
I advocate as much as I can for protections and rights for our LGBT+ people. Right now we are fighting for marriage equality within the Navajo Nation. A great organization that is bringing awareness to LGBT+ issues within the Navajo Reservation is Diné Equality (@Navajoequality).
READ MORE LIKE THIS