On Indigenous Peoples' Day, we're reflecting on how our identities are represented directly affects how others see us, and how we see ourselves.
If you've ever been on TikTok, there's a good chance there's a TikTok (and now also Instagram Reels) audio ringing in your head: "You have to start romanticizing your life. You have to start thinking of yourself as the main character. Cause if you don't, life will continue to pass you by." It's like an itch you can't scratch.
The phrase "main character" has become everyday language for Gen Z and young millennials. It's used to motivate and hype ourselves up, as well as romanticize even the mundane parts of our days, like grocery shopping. But if people are negatively misrepresented or erased altogether in media, could they see themselves as "main characters" in their own lives?
SEE ALSO: Why decolonizing sexuality is important for the future of BIPOC LGBTQIA+ communities
Upon findings of the damaging effects of exclusion and negative depictions in media on the well-being of Indigenous communities, the American Psychological Association (APA) adopted a resolution in 2014 calling on psychologists to actively thwart racism and encouraged the retirement of dehumanizing sports mascots caricaturing Indigenous peoples.
Through the platform given to them by social networks like Instagram and TikTok, Indigenous LGTBQ+ content creators are reclaiming their narratives. Very Good Light spoke with two-spirit Indigenous TikToker Geronimo Louie on how he's celebrating his identities and effecting change online.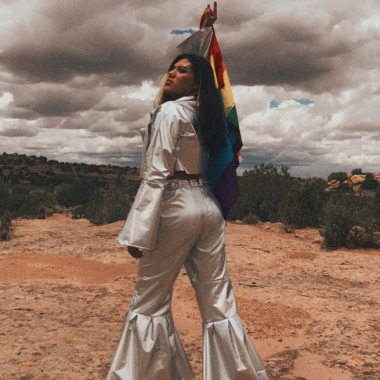 TikTok for change
Before he downloaded TikTok in 2019, Geronimo was a clothing designer and activist uplifting young Navajo LGTBQ+ and Native voices. Now he's using his platform on TikTok to do the same online. "We're finally being portrayed in the right way as queer Indigenous peoples and two-spirit individuals of the LGBTQ community," says Geronimo.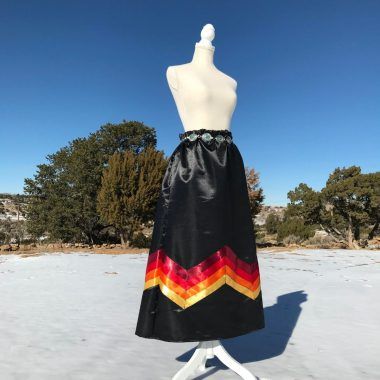 What it means to be two-spirit
Upon self-reflection, Geronimo shares how he once thought to himself, "Wow, I really am oppressing my own identity." And in response, he challenged himself: "Not me, I'm gonna decolonize myself."
The path to decolonizing himself started with coming to terms with his two-spirit identity and educating himself about it.
"Being 'two-spirit' does not mean we have two spirits," says Geronimo. To be two-spirit is to be a part of the indigenous queer community that is made up of many different tribes. "The term two-spirit was created by and for Indigenous peoples only in the hopes of creating a safe space where Indigenous queer people can express themselves through their traditional teachings without the threat of culture appropriation and homophobia." Geronimo considers the idea of "two spirit" to be a sacred place for him and many others but also understands there's still a lot more to be done to ensure their future.
"The elders who made the term said we have to revisit it because it still does not fully represent all Indigenous peoples," Geronimo explains. Indigenous queer people have existed long before the LGBTQ+ community. Tribes who understood the importance of queer Indigenous peoples each had words that described different gender identity in their native language. Some amounted to having four like the Navajo tribe which Geronimo comes from his father's side. "I am Nádleehí which means a male bodied person who takes on both male and female roles that are appropriate for me." says Geronimo.
To Geronimo's knowledge the term "Nádleehí" is the only term known to today. The other three were lost or forgotten due to religious convention. The terms would have described genders like "Masculine/Masculine", "Feminine/ Feminine" and, "Feminine/ Masculine." Nádleehí is "Masculine/Feminine." Geronimo still has hope they can find those genders.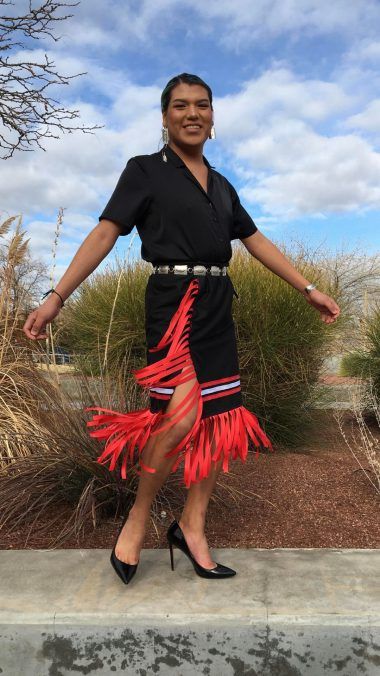 And in reconciling with that, Geronimo was able to grow closer to his Indigenous identity. "This [two-spirit] is something that's very sacred to us, and two-spirit itself is an identity for Indigenous peoples, by Indigenous peoples only."
Growing up, Geronimo wasn't educated on the two-spirit identity, which he attributes to colonization and systemic racism. Now, Geronimo wants to change that for other young people.
📘
Read these stories next...
1) Why decolonizing sexuality is important for the future of BIPOC LGBTQIA+ communities
2) Indigenous people show the rest of us how to be resilient in the face of disaster
3) 6 Indigenous people reclaiming their native beauty though ancestral practices and ceremonies