In Partnership with…

Zoom fatigue is so real. For students across the country, the blue light emitting from our screens is not only doing damage to our skin cells but truly our brain as well.
Who could've imagined that this pandemic would last so long? Certainly can't be just me. Our new reality consists of staying indoors, finding intimacy behind an iPhone screen, and having to spend more time alone. It's all taken quite a toll on our collective mental health. And with that, sometimes we just don't want to do anything else – which is why I've since turned to skincare as a means of self-preservation.
SEE ALSO: My cystic acne dramatically disappeared thanks to tretinoin
Recently, I came across a new male-focused grooming brand called SELF/ish, which is touted as both clean and effective. The reasonable prices are certainly approachable for college students like me. The lineup features a wide range of a student's basic skincare needs, ranging from a face wash, face scrub, oil-free moisturizer, eye cream, and exfoliating pads. According to the brand, each product features a unique formula created with an exclusive blend of vitamins and active ingredients that are designed to keep skin healthy and nourished all day long.
Say no more.
With my sensitive, dry, high-altitude skin (I live in mile-high Denver), I'm always cautious when trying new products. I was happy to see the limited ingredients and clean formulas featured throughout the collection of products. I know my skin loves vitamin-rich products, so I was instantly intrigued by the SELF/ish Vitamin Boost Complex infused into each product.
After trying out these products for more than a month, here's what my dry/sensitive skin had to say.
SEE ALSO: Starface's Spacewash is your summertime facewash
Each SELF/ish skincare product is formulated with an innovative blend of active ingredients called the "Vitamin Boost Complex" that promises to leave skin healthy and hydrated. The boosted blend features A, B, C, E, and F vitamins which are designed to protect the skin throughout the day and heal the skin overnight – an incredible addition to this affordable skincare line.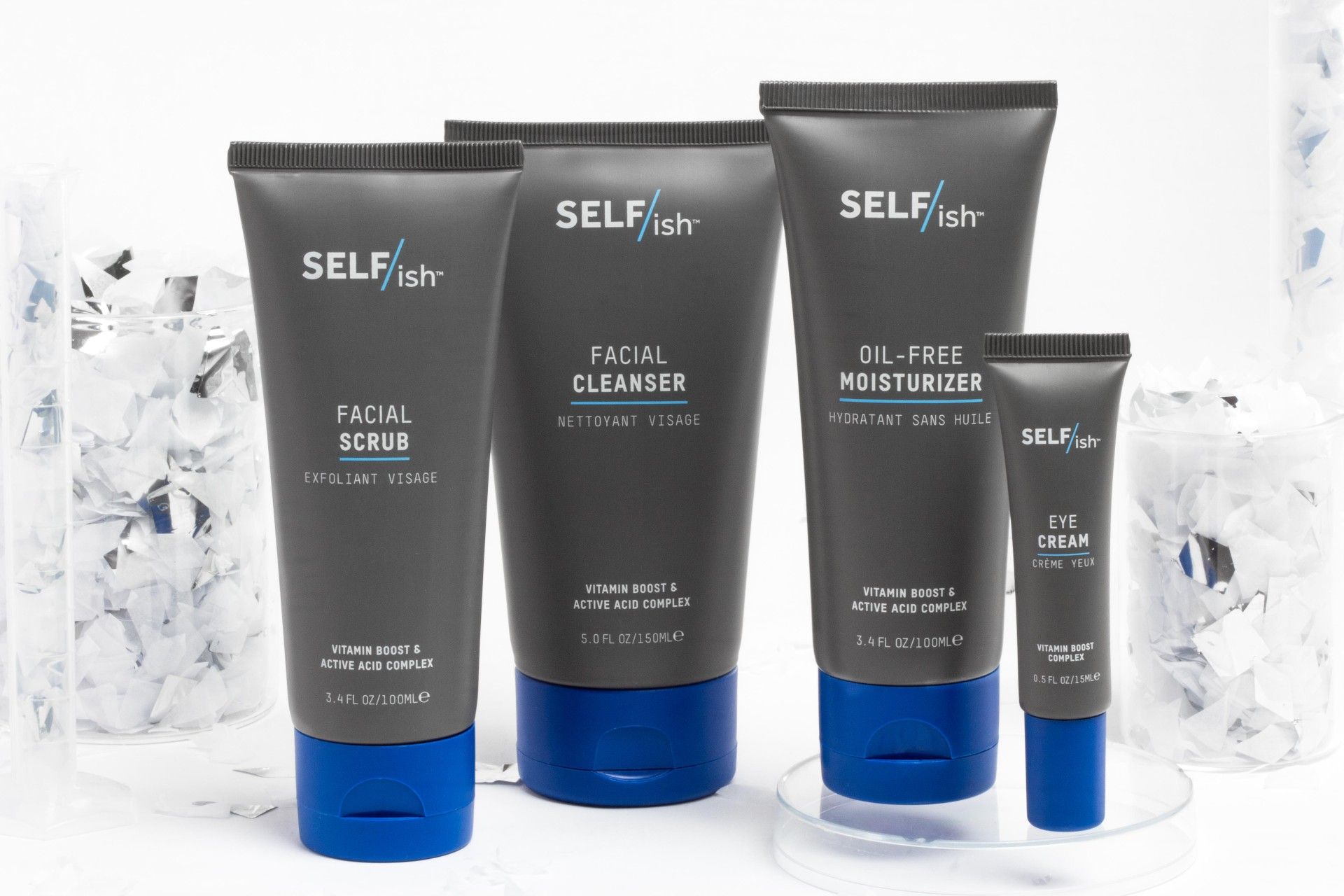 What's cool is that each formula is uniquely tailored to address male-specific concerns regarding frequent shaving and beard grooming. The "Active Acid Complex" that is featured in most of the products is formulated with a gentle yet effective AHA and BHA blend, including naturally-derived fruit acids. This active acid complex keeps ingrown hairs at bay while leaving the skin super soft and glowing.
This means that products in the SELF/ish lineup can help you achieve a clear complexion while soothing razor irritation and keeping skin healthy between shaves. SELF/ish recommends starting your routine with the facial scrub, which helps break off dead skin cells and get rid of grime. This crucial first step allows each successive product to penetrate deeper. The scrub feels invigorating and refreshing – the lemon and orange peel oil create an awakening sensory experience. Eco-certified and exfoliating ivory palm seed primes facial hair for an easy and satisfying shave.
The gel face wash is a powerhouse of skin-renewing ingredients including jojoba beads to gently exfoliate and aloe vera juice to repair and protect. Gentle enough to use in the morning and at night, you can expect a huge transformation in your skin with this product. This cleanser lathers up to a silky smooth texture, and the mild exfoliating beads are noticeably effective. I recommend leaving the cleanser on your skin for a few extra seconds to get the most benefit out of the active acid and vitamin complex.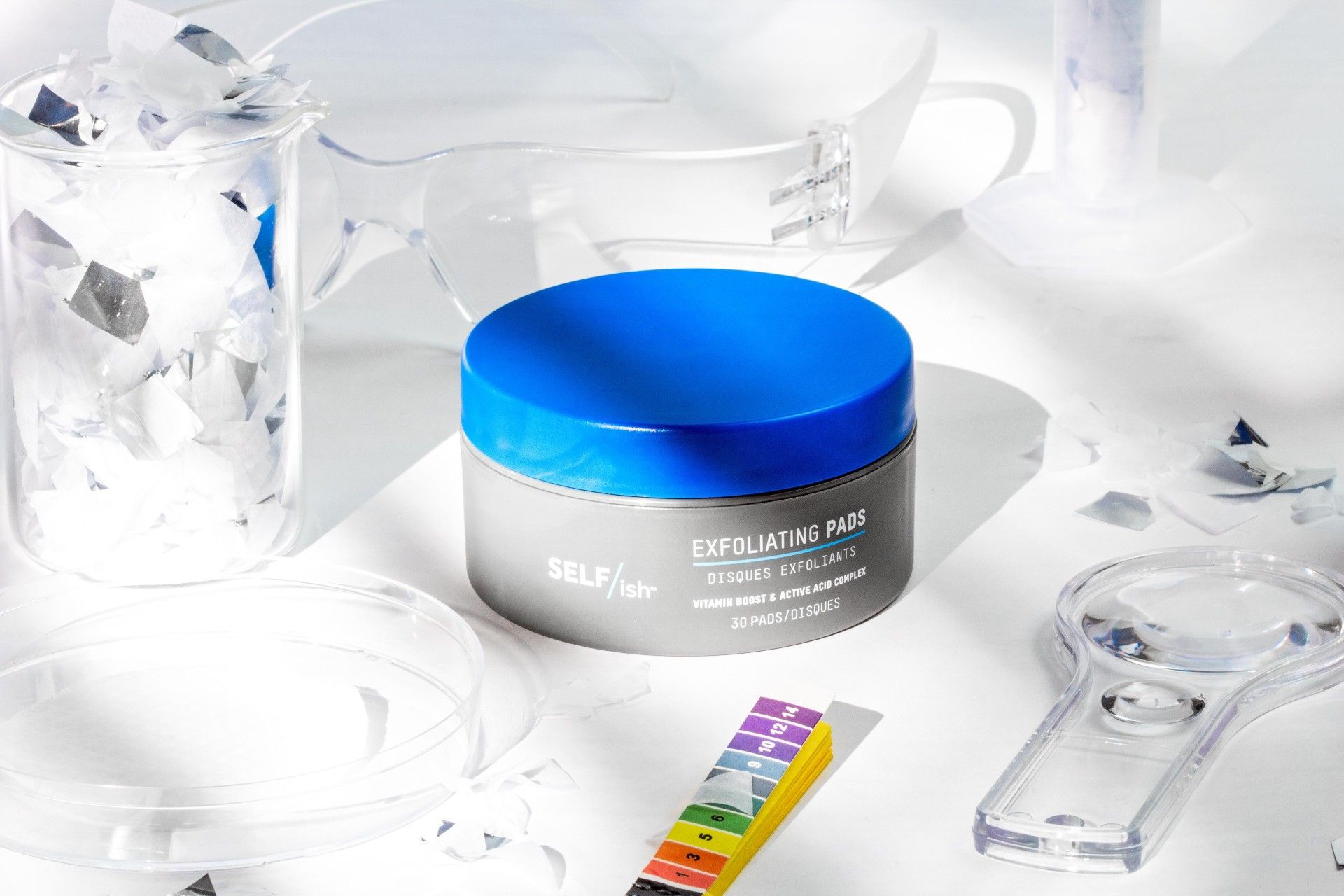 After cleansing, it's time to tone and treat your skin. The exfoliating pads feature a blend of 5% glycolic acid, fruit acid, and witch hazel to deep clean pores and leave skin feeling polished. These quick and powerful treatment pads can be used in your daily routine or on-the-go in between washes. A simple sweep over the skin and the exfoliating pads will leave your skin squeaky clean, yet hydrated and glowing. I would recommend using the pads once a week to avoid over-exfoliating.
Next up is the brand's oil-free moisturizer, which I found to work pretty well for all skin types – yes, even my dry skin. Packed with natural botanicals including red sea algae, the lightweight moisturizer claims to aid against environmental stressors while healing irritated skin from shaving. This oil-free moisturizer is loaded with hydrating anti-aging ingredients such as hyaluronic acid, the SELF/ish Active Acid Complex, and Vitamin Boost Complex. The result: firm, smooth, and hydrated skin. If you have an oily skin texture, I would suggest applying directly to your dry patches, avoiding oily areas like the T-zone. This will help diminish shine while keeping certain areas of your skin hydrated.
In conclusion
After trying the complete collection of SELF/ish skincare, I can tell you that my skin is glowing. Each product has found its way into my daily routine and I always look forward to digging into my products every morning and night. Not only do they help treat and take care of my skin, but my daily ritual of using SELF/ish has become one of the more relaxing parts of my day. It's 5-10 minutes each day that I'm not staring at a screen. It truly feels like "me" time, and I've become quite selfish (pun absolutely intended) about making sure to take that time for myself and really appreciate it for the brief moments of calmness and peace it gives me.
TLDR;
-SELF/ish is an affordable yet effective line of skincare that will excite even the most experienced skincare guru.
-Each product features a carefully crafted formula with ingredients that are clean, effective, and good for the environment.
-If you're a skincare veteran or even seeking out your first routine, SELF/ish is a zero-frills brand that will give you impressive results consistently.
-Worked well with even my dry skin type.
BUY the Treat Your SELF/ish bundle featuring the cleanser, scrub, moisturizer, eye cream, and exfoliating pads HERE ($65).