Acne-prone AND sensitive–not a super popular skin type combination.
But actually, a lot of people who experience acne sensitize their skin over time due to harsh ingredients and improper chemical mixtures in skincare products. When we think of face washes for acne-prone skin, we think of tea tree, harsh scrubs (hello, dryness and inflammation), and that minty, almost astringent feeling that our skin is conditioned to think means, Congrats, we're clean.
SEE ALSO: These acne patches are the quickest fix for all of your breakout woes
Starface is looking to change all of that with their new face wash called Spacewash ($16). If you haven't heard of, or at least ~seen~ what Starface is all about, I'm sorry, but you've been living under a rock. Not only is Starface a brand that's aiming to change the conversation around acne with their cute, bright yellow star-shaped pimple patches, but they also just launched in September 2019 and have made enormous strides as a brand since.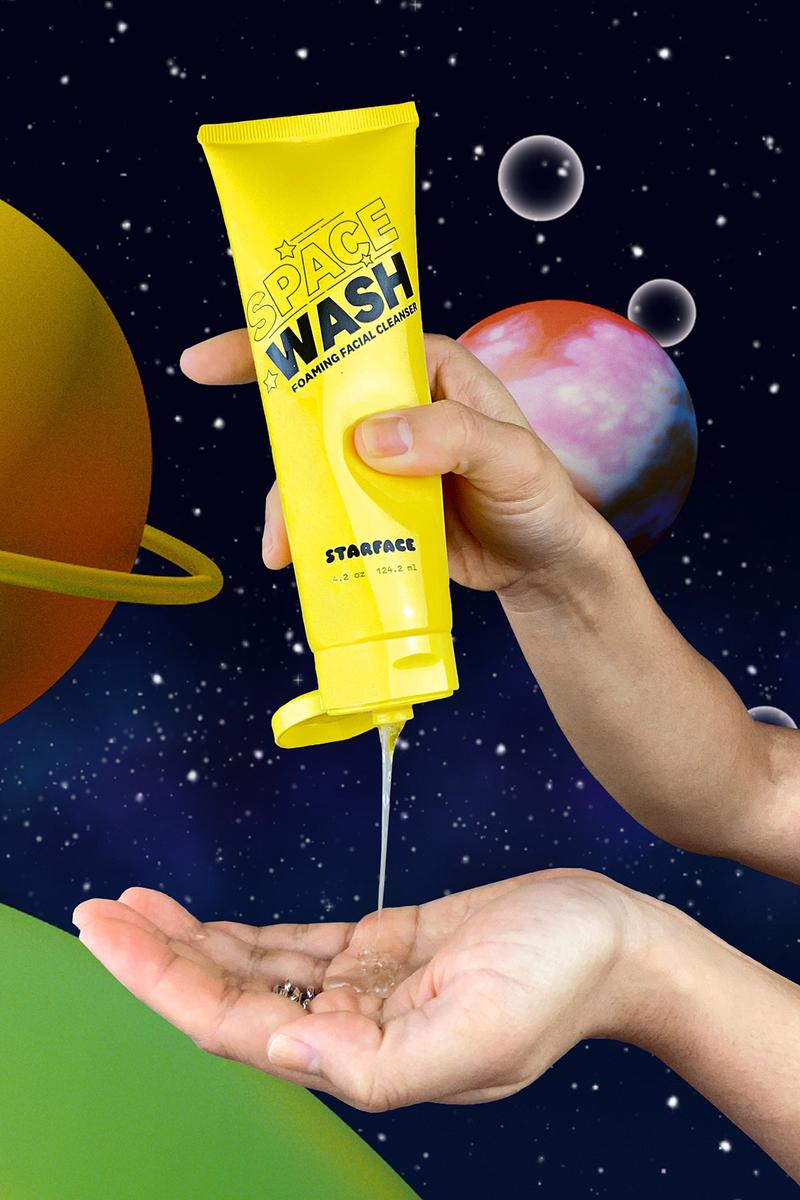 Their signature product, as I mentioned, are their bright yellow star-shaped hydrocolloid pimple patches. They come in a Gen-Z vanity-worthy package that they call "Big Yellow". It's like an AirPod case for your pimple patches, and it has a little mirror inside. Starface lovers can buy refill packs of patches for Big Yellow and they come in all different kinds of fun designs. They've launched rainbow packs of patches, holographic, and most recently, glow in the dark!
Since launching in September 2019, the brand has skyrocketed to social media success. More specifically, on platforms like Instagram and Tik Tok. On Instagram alone, they've gained 76K in followers and their community engagement among Gen Z is a force to be reckoned with. On Tik Tok, they have 260K in followers and popular Gen Z influencer, Charlie D'Amelio, and upcoming artist, Leo Reilly have sported the trendy stars in fun videos. Safe to say, they're killing it.
@starface
gold star 4 u @charlidamelio #starface #lifeathome #foryou
@starface
@loveleo.o + Party Pack 🌈🎈#partytime #quarantine #haircut #starface #foryou
♬ just so you know its a bath bomb haha – 𝐚𝐯𝐞𝐫𝐲 🦋
My skin type
I've had combination skin almost all of my life. I was blessed in high school with little acne woes. I maybe had one pimple a year, and it was absolutely nothing to fuss about. But, when I came to college, my skin was transitioning from combination to full-blown oily and cystic acne-prone skin. I also suffer from eczema and many allergies, which have made my skin a bit sensitive. During my freshman year of college, I had no idea how to handle the acne. Sure, I was knowledgeable about skincare, but it took me a while to figure out my new skin type and its triggers.
Since then, I've learned my triggers for cystic flare-ups and I've been able to balance my oil and sebum production pretty well. I quickly gravitated to gel face washes. I've always been told to spend very little on face wash, as the ingredients don't stay on your face for very long, so there's no point to invest in an expensive product. While true, if you're acne-prone, the face wash you choose is extremely important and can sometimes make or break your skincare routine in terms of preventing breakouts.
For years I've loved gel face washes like The Body Shop's Seaweed Deep Cleansing Gel Wash and Skinfood's Egg White Pore Foam. The search for a gel face wash that had acne-fighting ingredients was more difficult. Most that I've come across have a lot of fragrance or too much of an acne-fighting ingredient like charcoal, tea tree, or salicylic acid, which is not something my cystic acne can always handle.
Ingredients
Upon first glance on the box, I was shocked at the ingredient list. The ingredients were so simple! I thought to myself, Have I been overdoing it? Were the acne-fighting ingredients I was using before too much for my skin?
The formula contains white willow bark, sage leaf, and calendula flowers. I was so relieved when I saw there weren't any added fragrances or sodium laureth sulfate, which can be triggering irritants for acne-prone skin.
Spacewash is oil-free, 100% vegan, and is in compliance with European standards, so you know it's the good stuff. Besides its acne-fighting and anti-inflammatory properties, Spacewash lifts away makeup and dead skin cells while you wash, too.
The review
To be honest, the first 3-5 times I tried Spacewash, I wasn't completely in love. While I loved the texture and how the formula became a nice frothy wash, it made my skin feel a little stripped. However, as the weather started to become more hot and sticky, I craved washing my face with Spacewash. It started to agree with my skin more, or at least help me out as this new climate was wreaking havoc on my face. I haven't had any new cystic pimples for the entire month of May (seriously amazing), but I have been getting a couple of whiteheads and I've been super oily. Spacewash cleared that right up.
I'm not sure if Spacewash would be the first thing I grab to clear up a cystic breakout. However, it is gentle enough and has proved its anti-inflammatory properties. I believe I would still need the help of my topical acne medications in conjunction with Spacewash. I do wish Spacewash had more of a refreshing or tingly after feeling, but I think that's the little voice inside my head telling me what every acne-fighting face wash that's come before it should feel like. Overall, this is an acne-fighting face wash meant for people with sensitive skin, which is rarely catered to in skincare.
As the weather continues to get warmer and summer will soon be in full force, Spacewash is great to get rid of dead skin cells from sunscreen residue and excess sebum. I've used Spacewash in the morning, in the middle of the day when my sweaty face is in need of a refresh, and at night. Harsh scrubbing and ingredients are often the cause of inflammation and redness in acne-prone people, but Spacewash aims to change the game. It's definitely your new summer cleanser.
TLDR;
It's meant for sensitive, acne-prone skin
It's $16, but you can subscribe and get it for $14.40
100% vegan, cruelty-free, paraben-free, oil-free, and complies with EU standards
No added fragrance, phthalates, or sodium laureth sulfate!
Lifts away makeup and dead skin cells
BUY OR BYE?
A good BUY for summertime cleansing needs.
BUY HERE, $16