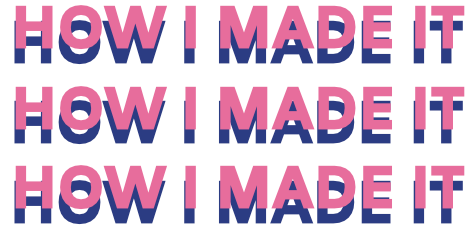 Welcome to our series, How I Made It, where we talk to beauty brand founders about their come ups, their origin stories, and how they finally, well, made it. The recurring series talks to beauty founders from all walks of life to uncover what inspires them, what pushes them, and the secret to their success.
When CEO Chana Ginelle Ewing originally launched GEENIE, she had a bit of a different plan.
GEENIE Box was originally a subscription box full of goodies. From books to home goods, it was a variety of products from Black influential women that would be delivered to your door.
Chana, who describes herself as a "cultural entrepreneur," has a background in multicultural marketing. She centers intersectionality in all of the work that she does. Chana saw that there was a market of consumers who were really interested in "heritage and value-based shopping." After a few years of running GEENIE Box, Chana decided to switch gears.
"Our goal was the same then as it is now, which is how do we drive more for indie brands?" says Chana. "The subscription box model wasn't the greatest business model for that mission."
SEE ALSO: @boysinpolish is the Instagram account challenging gender norms one painted nail at a time
A lightbulb went off for Chana and her team: what if they could create a platform for Black creatives to gather and not only share and bond, but also buy products made for Black creatives by Black creatives?
GEENIE rebranded itself from a subscription service to an online marketplace featuring minority-owned brands. It's also a community where beauty gurus can gather to converse and be educated on various important topics.
"We moved into this marketplace where we have the opportunity to drive [revenue] for small businesses and also reach more consumers at scale," Chana tells Very Good Light.
Her book, "An ABC of Equality," is about helping people to understand how they see themselves, and the topic of intersectionality lays the foundation for GEENIE's mission. We caught up with the beauty entrepreneur and author to hear more about the breakthrough platform.
What made you make the shift from the subscription model to curating a marketplace?
The subscription box model involves having brands send you products in exchange for exposure. It's not always the case, but you're essentially trying to work out deals where you end up with healthy margins. We had a goal of meeting the wholesales prices of brands that were in our boxes, which meant that really squeezed our margins. But our margins weren't really healthy because of that tug between wanting to pay our vendors and trying to create competitive pricing for our consumers.
As a result, there was just a little bit of disconnect between what we could do in that model. We saw that there was an audience, we saw that people were really excited to support these brands, but what could be a better model? We decided on this marketplace.
In this movement, it just really opened us up to not only think about what type of products we're gonna sell but really reframe the brand altogether. Now, we really focus on this idea of intersectionality–of creating this space for both buyers and sellers to really shop intersectional brands. So it's a different model and a different mission.
What was it like creating GEENIE?
Personally this go-round of starting GEENIE, I'm thrilled. Obviously we're in a pandemic and a national uprising/reckoning. It's a twin pandemic. That said, I feel even more mission-driven at this moment. I feel more solid around this idea of centering intersectional bodies; Black queer folks, Black trans folks, Black disabled folks. Thinking about the collective us, thinking of the collective people of the global majority, and all of our different intersections.
How we center that in the beauty narrative is no longer glossy models who look like some sort of idealized version of humanity. The new beauty model is people that look like you and me, people that we see walking down the street, and people we see on Instagram turning full looks all the time. That's a new beauty. I'm excited for this opportunity to be building a brand like this during a time when people are feeling so empowered and so ready to center themselves in ways we haven't seen before. We're creating a brand that's speaking to the times.
What made you get into skincare and beauty?
I look at things through a cultural lens. Beauty is a really interesting space to move the culture forward and a great way of centering the narrative around who is beautiful and how we talk about beauty. It has so many other ramifications of how you then look at race, sex, gender, and all of that it's tied to. I really like looking at beauty in that lens, that's how I'm approaching it.
Beauty has an opportunity to push cultural narratives and helps make folks feel powerful and proud and step into who they are. From the business end of it, multicultural women are one of the highest spenders in beauty, yet less than 5% of advertising dollars target multicultural consumers. So you have this group of people that are spending a lot of money but global advertising agencies aren't necessarily targeting them. It's this group of people who are really interested, who are enthusiastic, who love beauty, who loves to talk about skincare. So from an industry standpoint and from a cultural standpoint, it made sense for us to go in this direction.
What can someone expect from joining GEENIE?
Right now, we have the marketplace that you see online where you can just go and shop. Anyone can go through the website and buy a brand. But because our perspective is that values-based shopping is a lifelong journey, it isn't necessarily a one and done thing.
If you're someone who's interested in buying inclusive brands, finding clean beauty, interested in shopping sustainably, or want to buy Black-owned, you likely want to do that over and over again. So that's why we built a community. That's a part of the GEENIE experience. That's where the application comes in. It's not to say to make it an exclusive community, but it just allows us to do some vetting so that we have a really safe digital space for people to come and land and talk about their experiences within beauty.
We're on this app called Genova. Within that platform, we have a number of rooms. One which is about anti-racism resources, another that's about action and buying Black-owned. We have another room dedicated to looks and likes, so basically people doing their selfies, doing whatever they want, showcasing themselves.
The app is about education but also having fun. It's also about action; spending money with brands that you love, spending money at Black-owned brands getting other people to spend their money with Black-owned brands. It's a space for people who are interested in this concept of values with shopping and want to meet other shoppers who are doing the same thing. So that's what you can expect if you join the community. It's not a prerequisite to shopping, but if you want to be on this journey, we have the community there to help you and where you can meet other people as well.
Where do you hope to see GEENIE in the next few years?
One of the reasons why we have this community is that we plan to grow with them. They'll help us decide which categories we're going to next. We plan to have the full beauty stack where you're able to get your full face. Right now, it's just lipstick, but we'll expand to eyeshadow, brushes, skincare, everything beautiful.
We'll see what also bubbles up from the community. Folks may be interested in having home items or books on there. We plan to grow really thoughtfully with them and can't wait to see where the community takes us.
Do you have any advice for aspiring individuals that want to be entrepreneurs in the beauty and skincare industry?
I think it's really important for you to cultivate your inner wisdom as you go. As you develop a business, there's going to be so many people who want to challenge you, who want to tell you that you can't do it, or be like, "Oh well look at 50 other brands that are doing something else." Some of the information will be good information, but if you have cultivated this inner wisdom, story, and understanding, it will be easier to discern information that is useful and what can be ignored.