Harry's is probably the best and recent example of how a company can be built into a multi-billion dollar success.
After all, Harry's, which was founded in 2013 by Adam Katz-Mayfield and Jeff Raider, sold to Edgewell (which owns brands like Shick and Bulldog) for a reported $1.37 billion. The brand, which was going blade-to-blade with rival Dollar Shave Club, acquired by Unilever in 2016 for $1 billion now dwarfs that sale and is one of the biggest acquisitions by any brand in recent history.
SEE MORE: Skincare is the new social currency
With the Harry's business in mind, brands are clamoring to become the next big thing in grooming. Now that shaving and the beard category has simmered, the skincare is now suddenly red hot again. No surprise as the men's beauty business is on the rise and conglomerates from Unilever, P&G, Estee Lauder to L'Oreal still haven't launched exciting newness in years. Though Research and Markets reports that the men's market will hit $78.9 billion by 2023, it's new brands that seem to be leading this charge. That means in under four years alone, multiple new men's brands will cash in, by being put to test on the market, and acquired in the same way.
But for every Harry's, are hundreds of men's grooming brands that never make it past their first year. So how does a brand get through to the end consumer? Very Good Light reached out to five men's skincare brands that launched this year to see what they're doing to get rise to the top. Each of them is trying to their best to say something different, create conversations, while attempting to capture a "new" men's consumer. Here's what they're doing: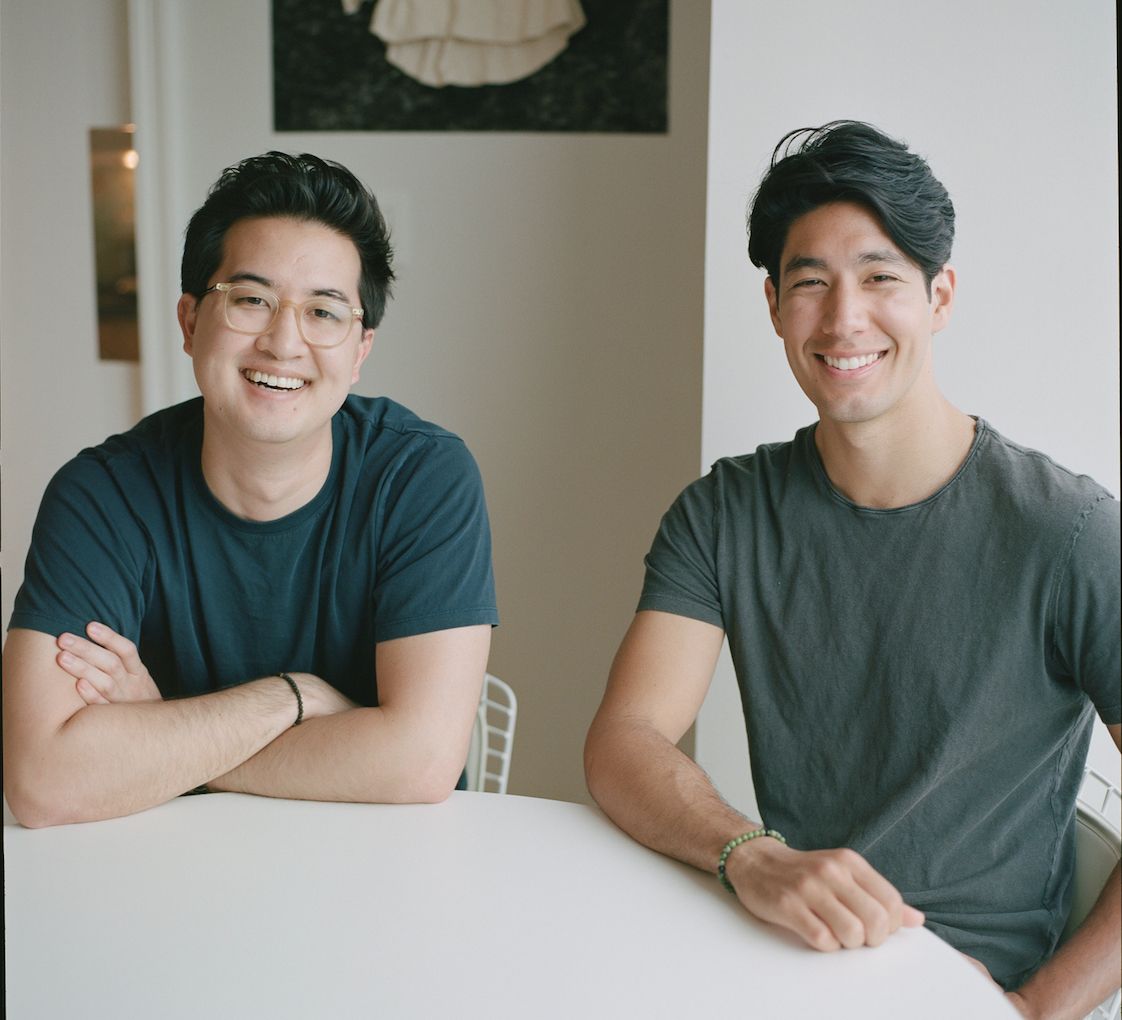 Founders: Hiro Shinn and Ty McLaren, NYC
The brand: "Koa means brave or courageous in Hawaiian and is also an ancient tree, from which the first surfboards and outrigger canoes were made. We've throw out the old rulebook when building our brand and our name is a nod to that."
Backstory: Both Hiro and Ty were in the tech and finance worlds, which they say gave them the confidence to become entrepreneurs. "Working with technology companies showed us that young people can build businesses that challenge the status quo!" they say. After 2 years of building the brand and testing formulas for 18 months, the brand launched this year. "We spent a f—ing long time getting our products to a place we are proud of," they say.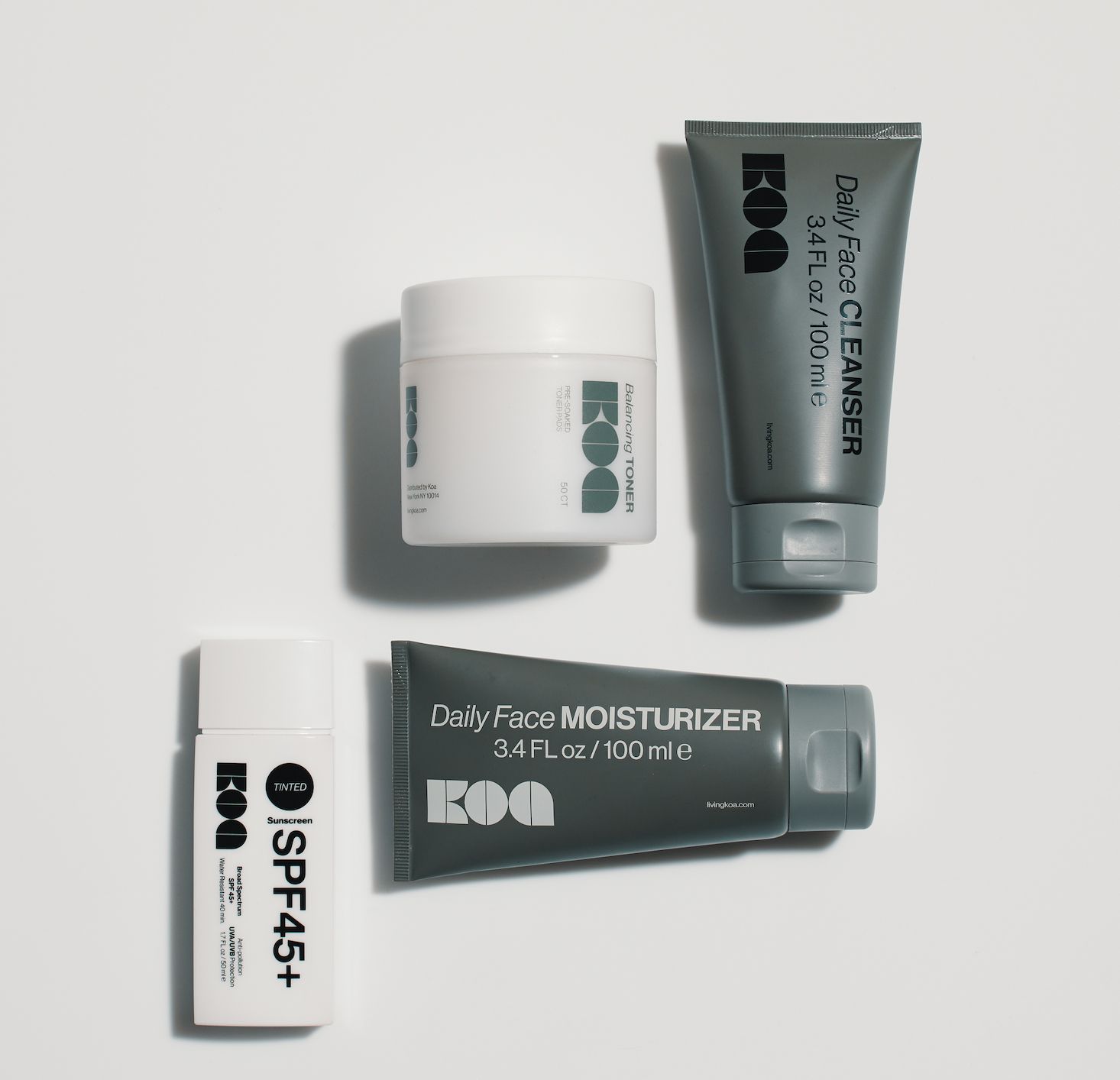 Demographic: Mid-20's, to Gen Z men with 20% of customers being women.
The range: Priced from $18 for a cleanser to $27 for an SPF. The founders say the brand's tinted SPF and Balancing Toner have been products they've received the most feedback with.
Hit product: The brand's Balancing Toner pads have a blend of AHAs and BHAs to encourage cell turnover as well as Zinc PCA to help control oil.
Their take one men's beauty:"Remember the Axe Effect commercial? We hate that this is still how grooming is presented to guys," the founders say. "It's still that brands present as hyper-macho to overcome stigma. Grooming is about meditation, practice and self-respect."
For more: livingkoa.com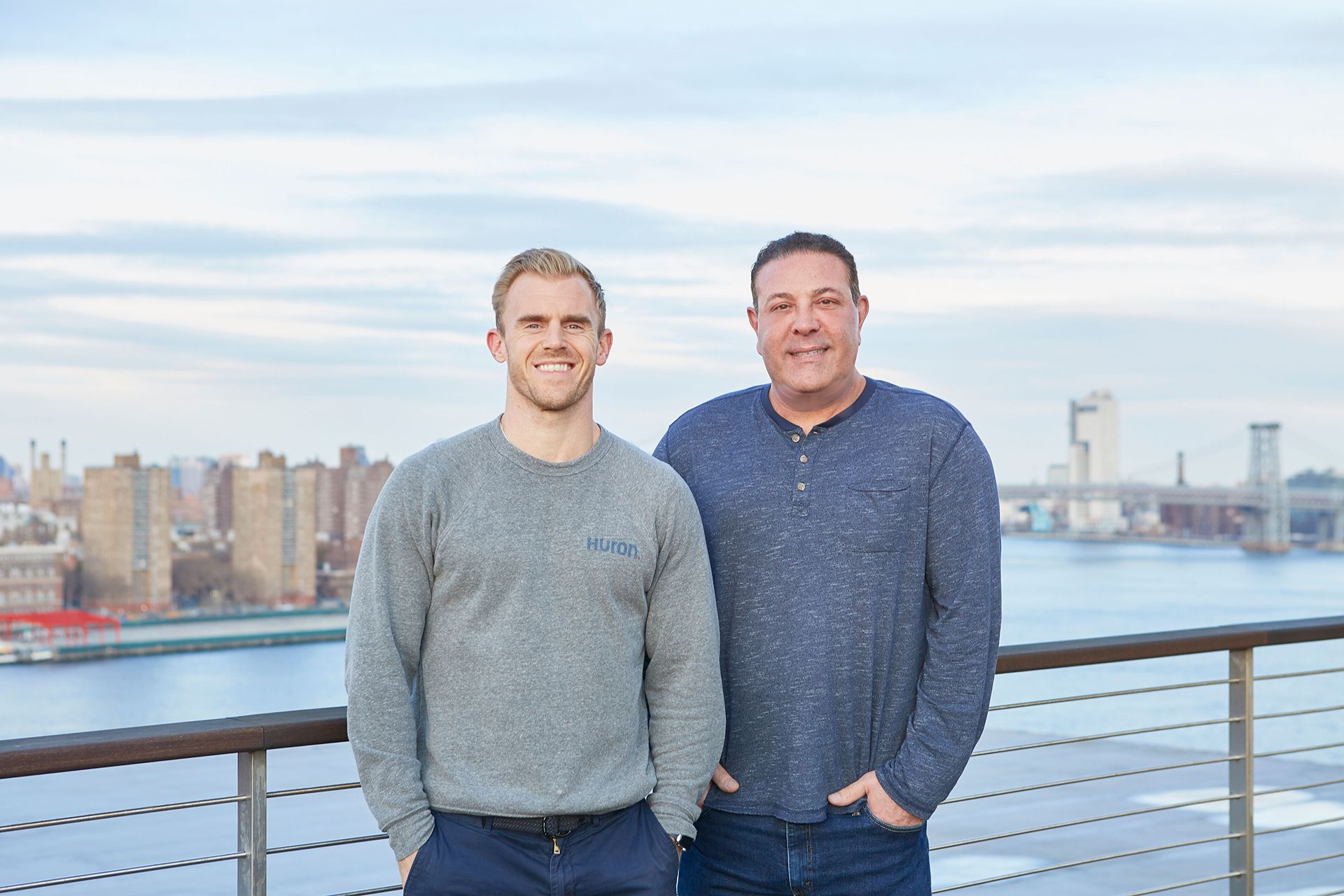 Founder: Matt Mullenax, CEO and Matt Teri, chief development officer, NYC
The brand: Affordable line of products that are 100% vegan, sulfate, paraben, cruelty, silicone, phthalate and aluminum-free.
The range: Huron's initial line of men's personal-care products includes an invigorating and deodorizing body wash, a mildly exfoliating and super-fresh daily face wash, a lightweight, intensely hydrating face lotion and a cooling and tightening eye stick.
Backstory: Matt Mullenax named the company after the street in Chicago he lived on in his 20's. "It was when my skin was arguably at its worst and my frustration with the hole in this category – the lack of personal care that made sense at non-offensive prices – was most palpable." Matt Teri worked in men's grooming and personal care at Lab Series and Tom Ford Beauty. Matt Mullenax was at Bonobos where he developed his skill sets in the direct-to-consumer market.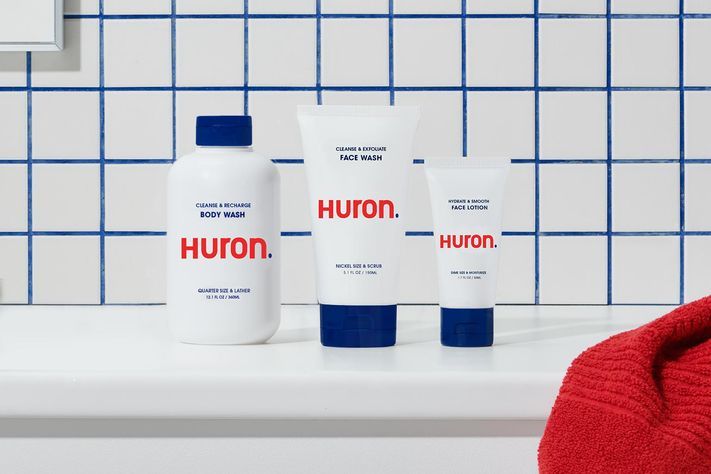 Demographic: Pre-teen customers to men in their 60's who want "premium quality within price parameters."
Hit products: Body wash, face wash, face lotion and Eye Stick, all under $20.
Their take on beauty: "Today, there's a different mindset around health, wellness and fitness especially among guys," Matt Mullenax says. "Taking care of yourself, body mind and skin is progressive."
For more: usehuron.com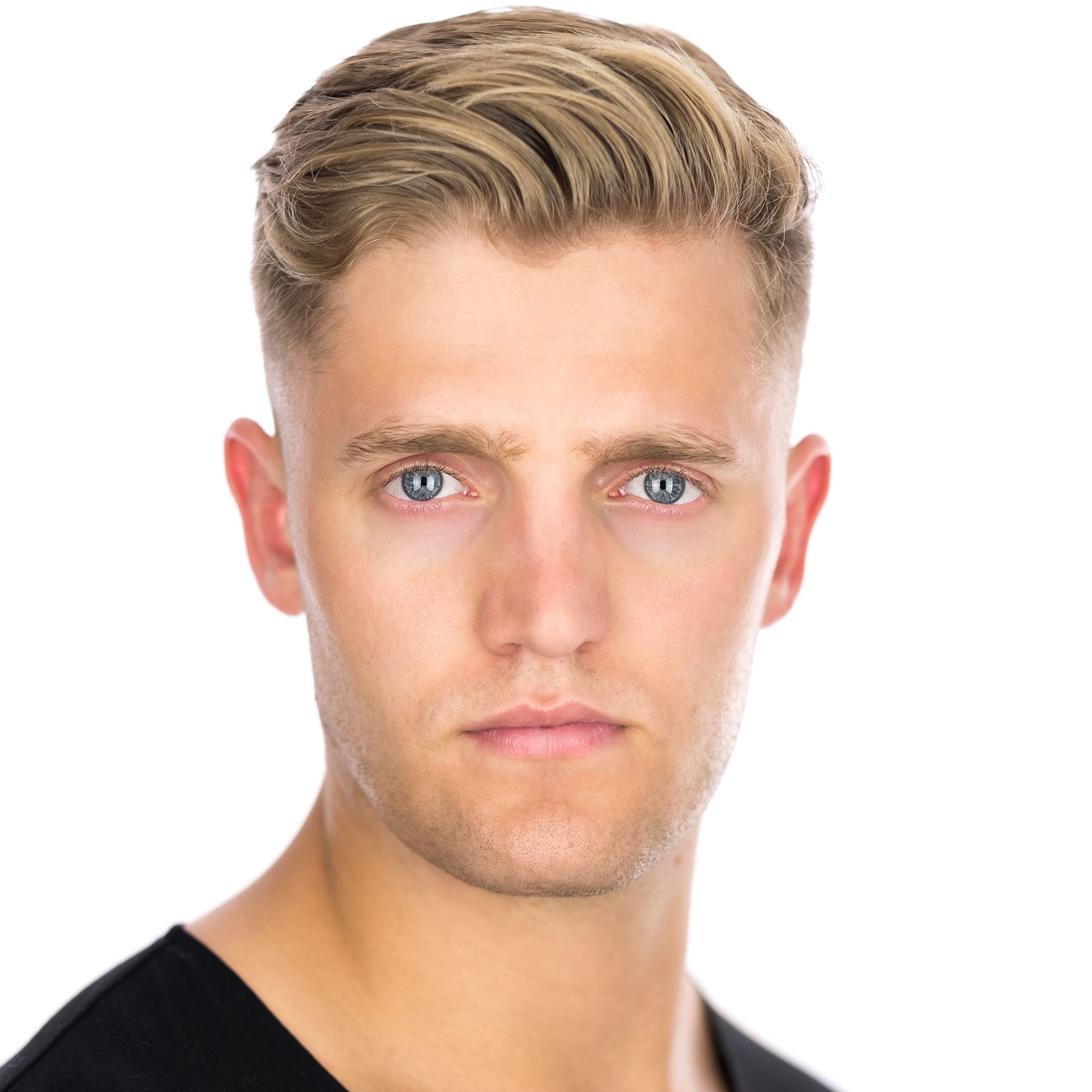 Founder: Benjamin Smith, founder, Austin
The brand: "A clean skincare line created for the man who wants to upgrade his skincare regimen, simplify the process and put his routine on autopilot."
Backstory: Disco comes from the "feeling of living in the moment and hypnotic rhythm," says Benjamin, a successful entrepreneur. In college, he launched two boutique fitness gyms, which he scaled and sold. He decided to launch Disco next after seeing that not one brand had his trust for all of his skincare needs. "I started Disco out of personal frustration," he says. "The options available to me weren't created with my needs in mind, riddled with ingredients I never heard of or were too feminine, which ended up being a concern across men."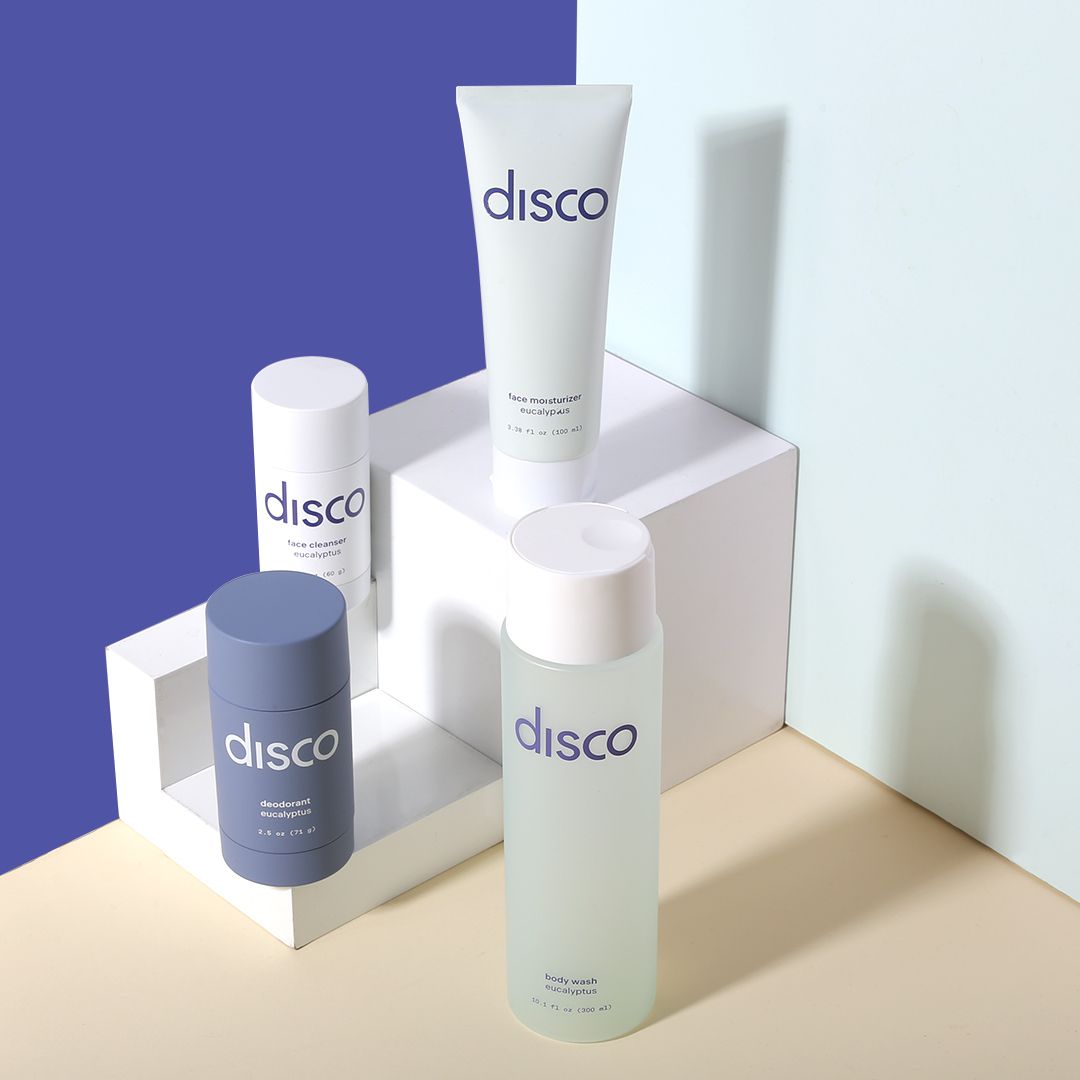 Demographic: Men 24-38 who "make self-care a convenient and daily habit," he says. "We're on a mission to normalize self-care for the average man."
The range: Seven products across face and body, from a stick cleanser, $16, to a clean deodorant of the same price.
Hit products: The Face Cleanser Stick has been popular. "[It] draws bacteria, chemicals and dirt to the surface of the skin to achieve a flawless complexion and fight acne."
Their take one men's beauty:"Men are having much more of an open dialogue about health and wellness, in addition to educating themselves on the products they're consuming," he says. "Because of this increased awareness, we're seeing a demand for clean and transparent products – which is what Disco stands for."
For more: Letsdisco.co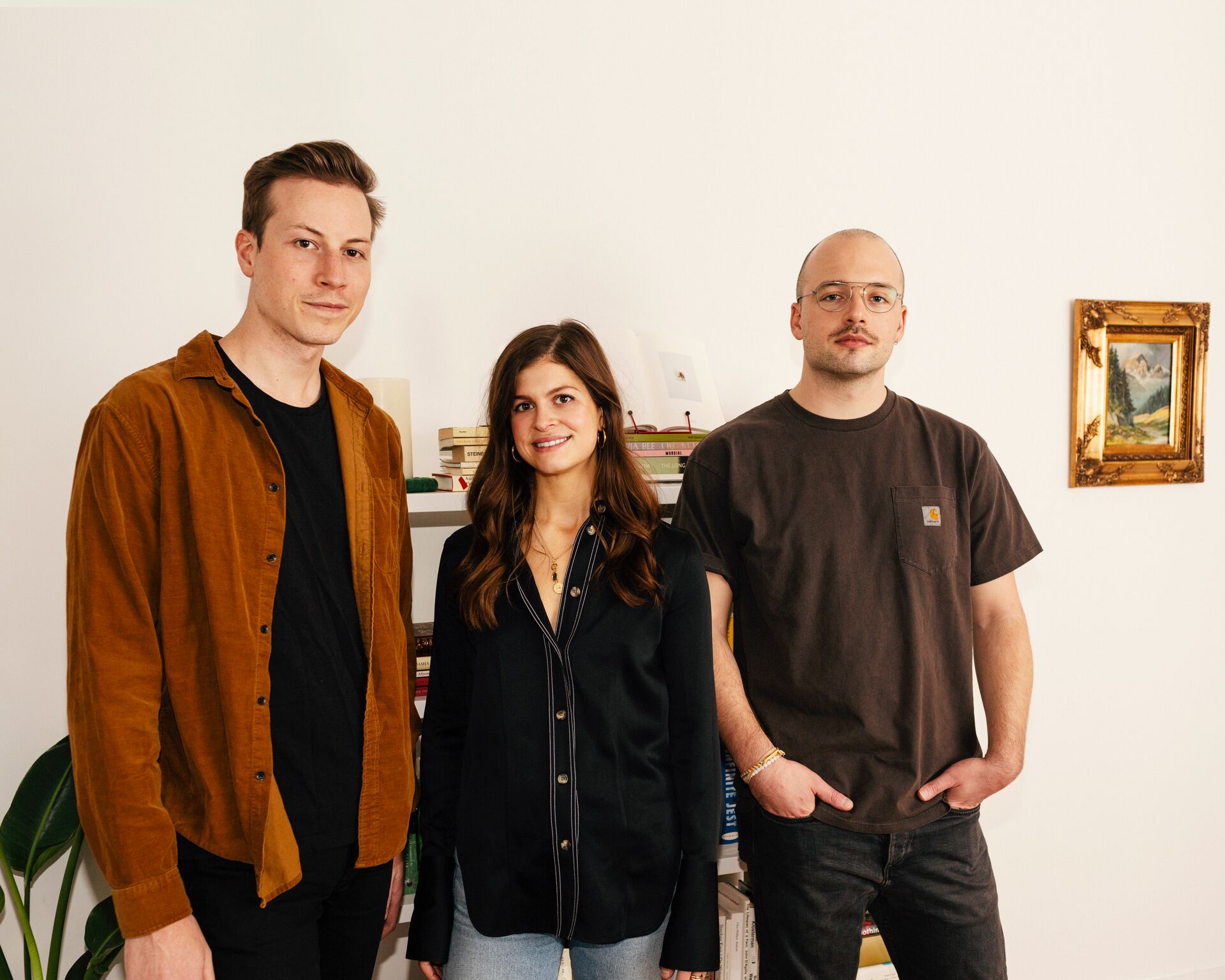 Founders: Patrick Dolezal, Emily Farra, James O'Dwyer, NYC
The brand: The word "soft" has a dual meaning, says James, one of the brand's co-founders. "It has traditionally been considered an insult to men. Not so long ago, if you weren't 'masculine enough,' or you showed any sort of emotion, you were 'soft.' But being soft is great and we're hoping to redefine what the word means to men and subvert it."
Backstory: The three co-founders became friends in college at Indiana University and moved to NYC for careers. Emily became a fashion reporter at Vogue, James works in tech, and Patrick was in the field of biology. Two years ago James and Patrick became interested in skincare but were disheartened by the lack of options for men. With a mantra of self-care, the three set out to launch a product that wasn't hypermasculine.
Demographic: Teens to late 30's, interested in the message of modern masculinity.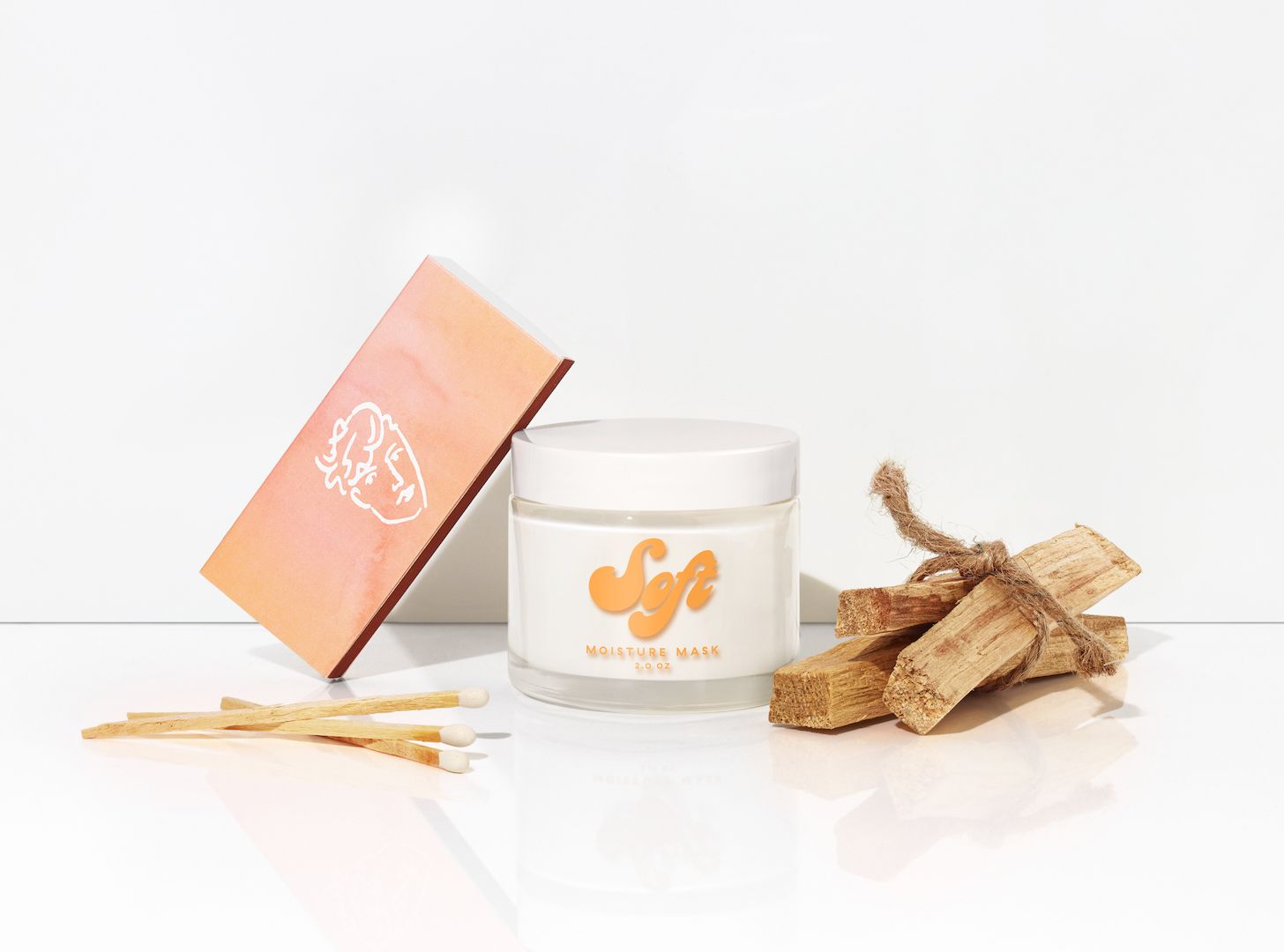 The range: A Moisture Mask priced at $36, and a Ritual Set for $42, which includes Palo Santo and a Soft-branded matchbook.
Hit product: With one SKU, the Moisture Mask is fragranced with light ginger notes as well as created with EU standards, excluding 1,400 toxic ingredients.
Their take one men's beauty: The Soft guy is "confident, smiling, diverse, happen to have great skin," says Emily. "All of the guys we worked with told us they'd never done a shoot like this before," with flowers, wearing pastels, posing in casual ways. "We're hoping the branding and price point is approachable."
For more: besoft.nyc
Founders: Oli Walsh and Josh LeVine, LA
The brand: A wellness brand that incorporates supplements alongside skincare products. The name comes from "a system" for guys to look, feel and perform their bests. "We men are simply creatures," says Josh. "We like routine within our lives."
Backstory: Both co-founders have had extensive experience with lifestyle brands. Josh co-founded Frame and skincare brand, Davi, while Oli co-founded Wednesday, an agency. The two became friends over a beer and considered starting a new business in 2017.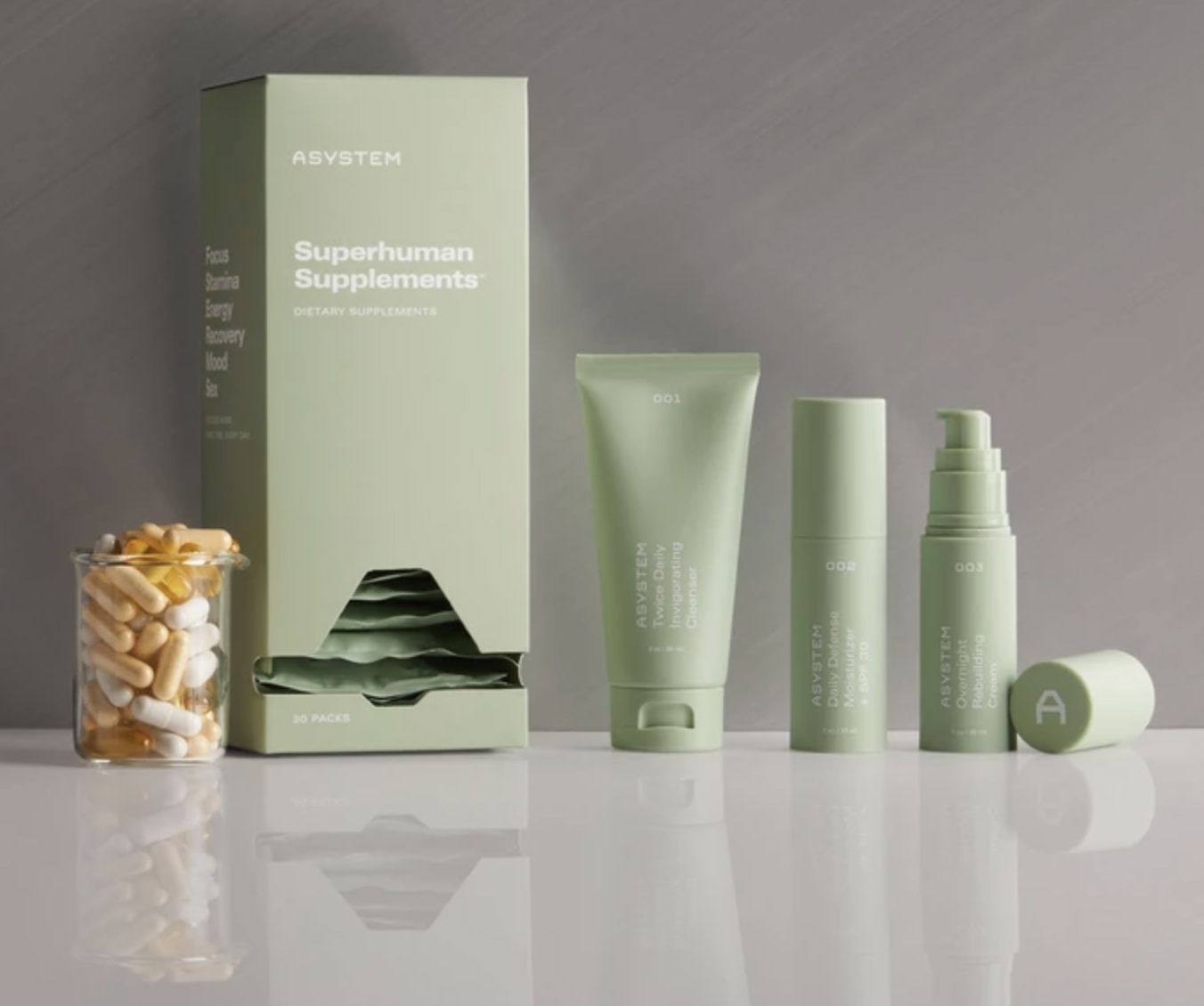 Demographic: "We're trying to build a brand for men across all walks of life," says Josh. "All men deserve to be the best versions of themselves."
The range: Supplements and skincare come together in what they call an Inside-Outside program, "TotalBody." "It's designed to optimize men from the inside out, in the easiest way possible. It retails for $119 for a one-time purchase or $99 monthly.
Hit products: The brand wants to be experiential as well, building a community around wellness and health. They've collaborated with Y7 Yoga, UnPlug meditation, Rhone, MyoDetox and more.
Their take one men's beauty: "Men have been underserved in this space for years," says Oli. "What 'betterment' means to us, is simply the notion that when you are at best, everyone around you wins."
For more: asystem.com
Header photo provided by Justin Hollar for Soft Skincare