It's the season of contemplating change.
Apple TV+ and Disney Plus be damned, fall is a time to rethink your summer purchases and switch them anew. If Netflix is your go-to face oil, think of Hulu as the product you borrow from you friend, while Amazon Prime is that tincture hidden somewhere in the back that you only realize is back there after reading this article.
SEE ALSO: 3 dancers on their glow-inducing secrets
With so many new programs and shows around the corner, consider these new cord-cutting networks as symbols of your change of face oils. They're fresh, feel familiar, and exciting  – for now. Allow these products to wow you throughout your upcoming weeks and if they fall flat, well, like Netflix, you can always go back.
We've compiled the best new oils. Some you've probably heard of, others are start-ups, and still others are super indie and niche. Whatever the case, allow these oils to soak your pores, soothe your skin, quench its thirst. And after, pop some popcorn in the microwave and allow it to do its thing as you do yours – "Lizzie McGuire" reboot, you better come correct.
Saint Jane Beauty's Luxury Beauty Serum, $125, 30mL
Luxury you say? This better well be for $125! The silky soft formula is antioxidant-rich with 500 mg of CBD. We know what you're thinking – CBwho? Truly, with so many CBD oils on the market how does this differ? For one, it also has 20 other botanicals to saturate your skin with delicious goodness. These come in the form of Sea Buckthorn, reship, pomegranate, and more. Together, it makes for the perfect formula to soothe, calm and make your skin look like you have $125 worth of products are, because you do. BUY HERE
Cir-Cell's Extraordinary Face Oil, $165, 30 mL
Called "Nancy's Blend," this oil is perfect for those with red, sensitive, or really fussy skin. The main ingredient is this is fermented olive oil, which is super hydrating. With dozens of other oils like sweet almond, apricot, jojoba, lavender, chamomile and so much more, you'll realize this is one of the most potent oils but is super easy on your skin. For those who have acne-prone or even cystic acne, this does wonders. BUY HERE
Circumference Pure Balancing Botanical Face Oil, $100, 30 mL
For a great glow with makeup, try Circumference's Pure Balancing Botanical Face Oil. It's light, super hydrating, non-greasy and also goes into your pores super fast. With a good balance between fatty acids and antioxidants, it contains 16 organic botanicals like prickly pear, sea buckthorn, sacha niche, and more. Plays nice with other products or works magic on its own. BUY HERE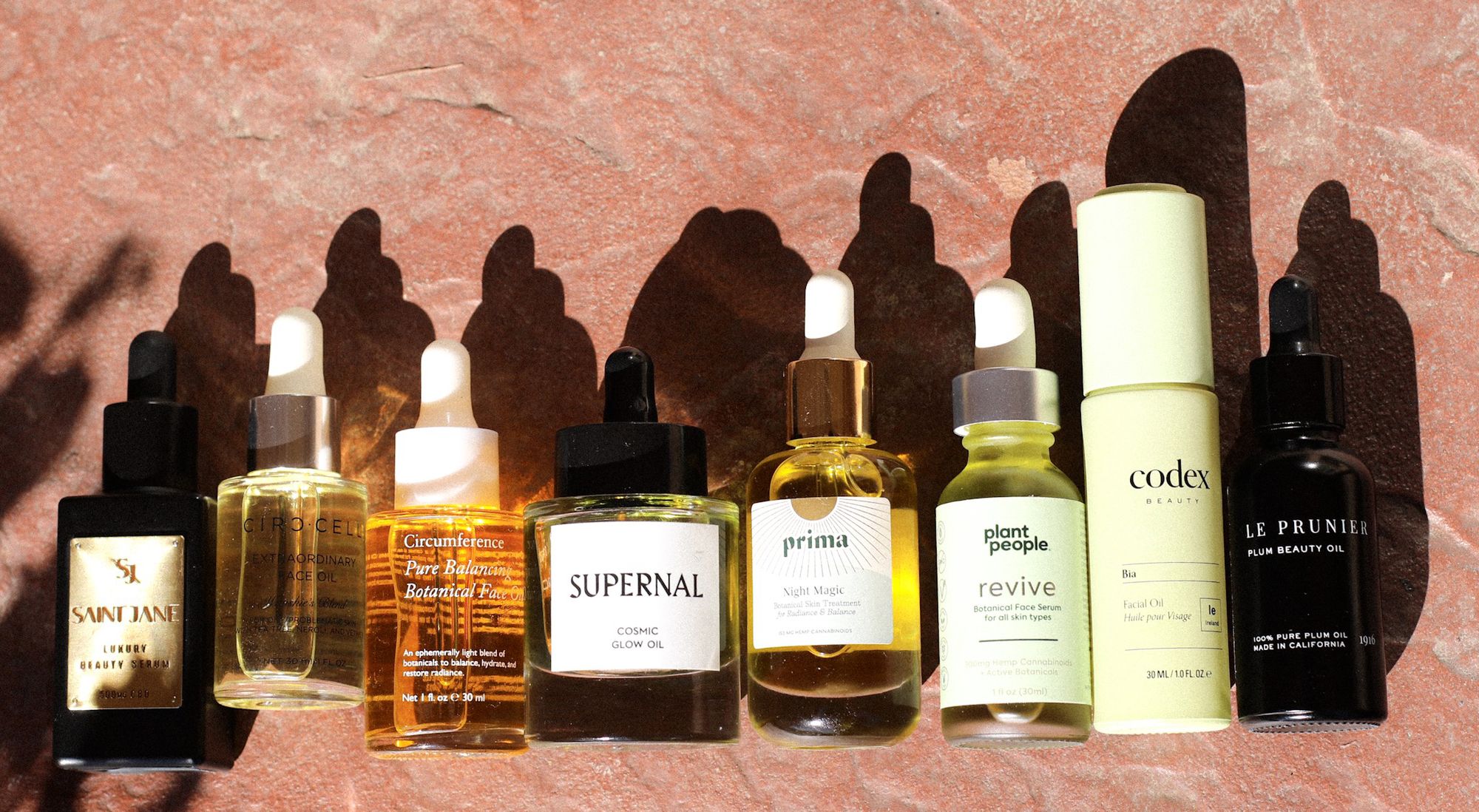 Supernal's Cosmic Glow Oil, $108, 30 mL
Perhaps you've browsed through Instagram and come across Supernal, or saw it at your local Credo store. Whatever the case, this beautiful and bewitching emerald oil looks like the Wicked Witch of the West. With vitamin C, Omegas 3, 6 and 9, this organic, natural formula is great for all skin types. No wonder, as it has so many powerhouse oils combined including: camellia, sesame seed, cranberry, blue tansy, and more. Warning: Applying both morning and night will leave you looking like a supernatural creature straight from the galaxy in the best way possible. BUY HERE
Prima, Night Magic oil, $88, 30 mL
This new CBD oil from Prima may only have 150 mg of broad spectrum hemp oil, but don't disregard it. Together with botanical oils (avocado, mooring, kukui) along with Vitamins E and K, fatty acids, phytosterols (plant-derived cholesterol that's beautiful for skin!), and more, this leaves your skin balanced and glowy. A few drops before bed will send you on a magical skincare journey that'll hit your eyes wake up and press snooze. BUY HERE
Plant People Revive Face Serum, $82, 32mL
This CBD oil contains 300 mg of CBD + CBD with 13 other potent botanicals, which makes it great for inflammation. With its mixed of olive, blue tansy, yarrow oil, and more, this not only calms redness but does a great job at purifying pores and decreasing puffiness.  BUY HERE
With its unusual matte pastel green package, this Irish oil is not only Instagram-worthy, but truly powerful from the inside out. The oil is completely organic, free of pesticides, chemical compounds, and made with biotechnology practices. The result is an ethical product that helps moisturize, treat, and smooth skin out. The oil contains kiwi, rosemary, reship, baobab and more, to create a concoction that will accentuate that glow. BUY HERE
Possibly the most minimal of our round up, this oil is completely made of plum oil. Beautifully scented (you'll want to eat, but don't!), this clean oil only contains plum, which is said to have antioxidants, fatty acids 6 and 9, as well as polyphenols, which helps against the elements. As a bonus: plum oil comes rich with vitamin A and E to heal, hydrate, and pushes your skin to be better. BUY HERE