When singer Sam Smith burst onto the scene in 2014, he made a splash with his velvet voice and soaring emotional music.
Since then, he's continued to make waves, most notably earlier this year when he came out as non-binary. In an interview in May, Smith confirmed that he identifies as genderqueer but still prefers male pronouns.
SEE ALSO: Meet Jacob Whiteside, the singer who showers at fans' apartments
Sam's nonbinary coming out story has a different flavor than when he came out as gay early in his career. What follows this news is a new Sam: one who seems more comfortable in his own body and is authentically blurring the lines of gender in his work. Case in point: the video for his newest single "How Do You Sleep." The video shows Smith dancing more fluidly than we've ever seen him surrounded by all-male dancers wearing corsets. He seems comfortable, sensual, and most important, free.
While it's no secret that Smith is a fashion enthusiast, it's clear that he loves beauty too (and takes really, really good care of his skin!). Just how much does he love it? We spoke to his groomer Sienree, the lady behind Smith's glow, to get the secrets.
VGL: Is there a different attitude now from you first started working with Sam?
Sienree: When I first met him, he still had the quaffed, very blow-dried hair. Now, he has a very tight fade and almost shaved top. He's keeping everything pretty clean. It was 30-minutes of just blow drying to now a 15-minute haircut and no product. He is so comfortable with himself that he doesn't want a lot of makeup or anything like that. It's a different experience for sure.
VGL: What's his attitude toward beauty?
Sienree: He's always been familiar with makeup. He did it when he was a kid. He would do his own face when he went out as a teenager in London. Everyone goes through that phase when they first discover makeup, and they want to put more, more, more.. Now, he's open to experimenting, but he also knows what he looks best in. He's quite natural, but then he likes a little pop.
"We'll do a little eye mask and an oil. I'll roll the oils with a rose quartz roller; We really like using the gems, and crystals."
VGL: What is your collaboration like?
Sienree: When he wants to look a specific way, like for an event or shoot, he will art direct it. He'll come to me and be like, 'I'm gonna wear this, and I think I want to look sexy.' We kind of go back and forth, and we'll share pictures of haircuts, some skin textures, and makeup and everything just to get an agreement on what he wants. I come in and just kind of either tame it down or tame it up depending on what it is.
VGL: What was one of your favorite beauty looks you did with him?
Sienree: I loved when we did the "Dancing With A Stranger" video because we did very iridescent glowy skin to make him look a little bit like he was a robot. It was a little AI and I loved that that on him because I love his facial features. He has great eyes, he has beautiful eyebrows, and really good skin. I like to enhance that. I also like that he lets me do a little shadow on the eyelids for a little bit of pop and a little bit of lashes and liner. I like to make him look pretty, but still in a masculine way.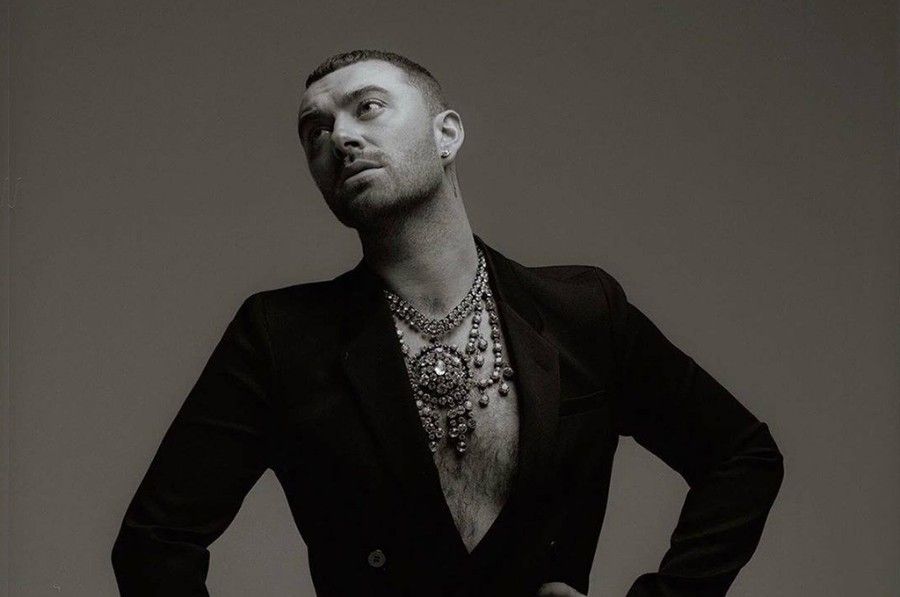 VGL: What did you use to achieve that look?
Sienree: I used a lot of oil. I used Orveda Contour-Lift Effect Dewy Glow Botanical Oil, which I absolutely love. I also used Armani Luminous Silk Foundation, which gives a really good dew, and a lot of Rituals Miracle Highlight & Glow Stick because it's a beautiful highlight that's not glittery and gives a pretty glow to skin. Then I used MAKE Beauty Bronze Dew Pot, just slightly with my hands because it can be sticky, but gives a glowy, dewy type of texture. I used my fingers to pat it onto his eyelid so that there's a little bit of a shine. It gives him a little depth, but not so much. I love taupey, bronzey colors on him."
BUY Orveda Contour-Lift Effect Dewy Glow Botanical Oil, HERE $225
BUY Giorgio Armani Beauty Luminous Silk Foundation, HERE $64
BUY Rituals Miracle Highlight & Glow Stick, HERE $33
BUY MAKE Bronze Dew Pot, HERE $20
VGL: What's the difference between that sort of look and his every day look?
Sienree: He loves looking healthy and fresh and dewy. I always prep his skin, so we always start off with a face mask, and then we'll do a little eye mask and an oil. I'll roll the oils with a rose quartz roller. We really like using the gems, and crystals, and stuff like that. It's just prepping the skin so it's nice and hydrated. After that I'll tone down any redness or dark circles he might have. I'll make sure his eyebrows look good, and add glow with a little bit of bronzer.
VGL: What do you use to tone down the redness?
Sienree: I love the CC cream by It Cosmetics. It's a little bit heavy, but I'll mix it in with a moisturizer, and use a Beauty Blender to blend out the redness. It's only spots, so I don't do his whole face. It's just to cover what I need and that's it. That stuff works brilliantly if you have any rosacea. It will even cover freckles, it's full coverage. If you dilute it with a really silky moisturizer or day cream and use the wet Beauty Blender, that helps dilute the product and just kind of goes on nice and clean. I find that if I do too much foundation all over on men, it loses the dimension of their bone structure. I like them to not look too perfect.
BUY IT Cosmetics CC Cream with SPF 50+, HERE $39
BUY Beauty Blender, HERE $20
"He'll come to me and be like, 'I'm gonna wear this, and I think I want to look sexy.'"
VGL: What's the secret to using bronzer?
Sienree: If his skin is a little bit drier on that day, then I'll use a cream like Kosas Tropic Equinox. It's a blush combo but there's a browner shade and that's good for him. If I use powder, I use Beautycounter Radiant All Over Bronzer. You just use a tiny, tiny bit and it really does the trick. I'll do that around the hairline and the forehead and maybe on the side of the cheek just to bring some depth back to his face.
BUY Kosas Tropic Equinox, HERE $34
BUY Beautycounter Radiant All Over Bronzer, HERE $39
VGL: Talk to us about his iconic brows.
Sienree: We love brow gel and he absolutely loves to define his brows; they're gorgeous. It does make a difference on his face because they're very thick and well-shaped. I use Make Sculpting Lash & Brow Gel on his brows and sometimes on his lashes just to give them a little definition. He has really long, thick lashes anyways, and if I do color, you can absolutely see it. Sometimes we just want a little definition, but not to look like he has mascara on.
BUY Make Sculpting Lash & Brow Gel, HERE $25
VGL: What do you and Sam look for in products?
Sienree: He's quite open with products. I get to introduce him to my favorites and if he likes them he'll continue using them. He likes things that are a bit more natural. I try to find the most natural and the most eco friendly type of products for him to use. For him, the major thing is the smell. He likes the experience of putting things on. It's a daily thing, right? So, he wants to feel good putting it on.
VGL: How can we, as non-celebrities, get his look?
Sienree: It's all about moisturizing and caring for yourself beforehand because you can achieve his look without makeup. The most important thing is to keep hydrated. As long as you make sure that you wash your face, tone it, moisturize it using oils that help moisturize and hydrate if you need it. The most major thing is just hydration and protecting it with SPF.
VGL: Can the iridescent AI look from the Dancing With A Stranger video translate to real life?
Sienree: You can do it in a natural way and it ends up looking really dewy and healthy. Put a cream highlighter on your cheeks, a tiny bit on your nose, and above the eyebrows. It highlights all the lovely bone structure that men naturally have. If the highlighter is a bit too much, Armani Fluid Sheer has a pearly iridescent type of finish. Mix it with your moisturizer and it instantly gives you a beautiful glow. For the video I went in on top of it with the highlighter.
BUY Giorgio Armani Beauty Fluid Sheer, HERE $62
VGL: What's one product you think everyone should use?
Sienree: If I don't do anything else, I will always just put highlighter on my face and walk out because it just makes me look like I'm really healthy, like maybe I went to the gym or something. That's the look I'm always going for.