Almost every guy I've dated I met through a social media app.
It all started with the first man I ever fell in love with, found on the now irrelevant ancient app of Ok Cupid. He said "I love you" by month two, and self-assuredly proclaimed he fell out of love with me by month six. I've had Botox that's lasted longer.
SEE ALSO: How Brooklyn became an international queer mecca
Two years into using all social media apps that rhyme with "inder," I have yet to find a partner – just a case of chlamydia (that was fun!). I deleted the apps off my phone, almost like a conscious uncoupling, questioning if I was the problem or the total strangers I found on the apps. With no planned agenda to find men through social media, somehow Instagram turned into my new dating app addiction.
After several failed connections on Instagram, I felt the need to put pen to paper (or I should say fingers to keyboard), pondering what I could have learned from these digital encounters. My inner Carrie Bradshaw conjured these questions: "Did I subconsciously curate my Instagram account to double as a dating profile? Can a 'like' really lead to love? I couldn't help but wonder, can I find a true connection when the truth has a filter on it?"
While ruminating over my past double taps and DMs, I found that I learned many lessons from four key relationships. Here, I recount the biggest lessons below.*
1. Call Me By Your Instagram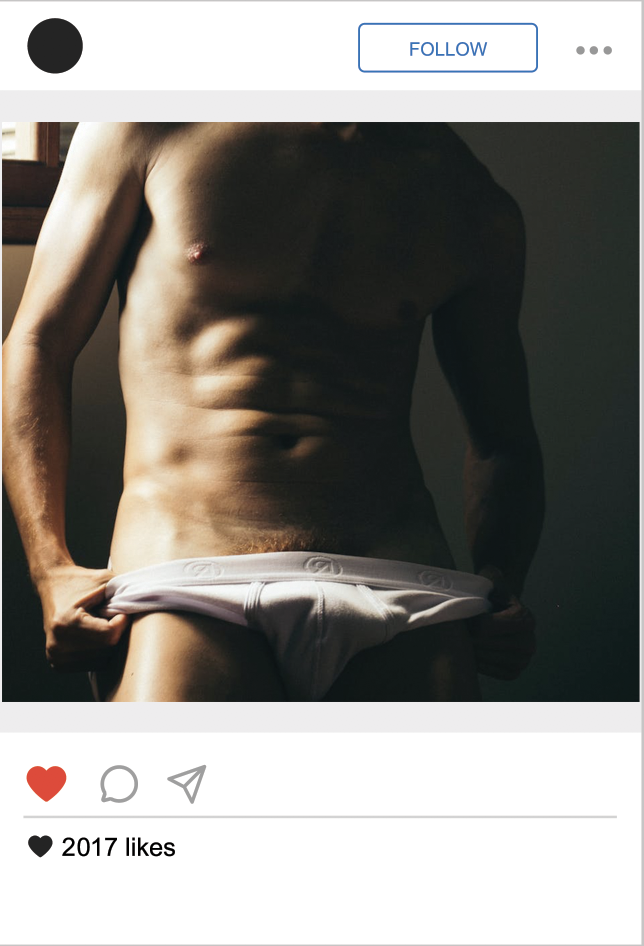 Years ago, before it was considered acceptable or even typical for a guy's Instagram account to resemble Rent-A-Boy.com, I got my first flirtatious DM from Peter. Peter was fine! I was posting photos from a Miley Cyrus concert (2013 Miley twerking phase) with my arms flexed and a flattering pose. At that time, I was desperate for some male attention, and like a sign from the social media gods, Peter messaged me a flame emoji (Très romantic!).
Peter and I proceeded to message for weeks. We had mutual acquaintances. He worked in publishing, and looked like a modern day Paul Bunyan with rugged charm and big muscles.
"I watched my texts of longing go left on read."
Think: Brawny paper towel guy IRL.
The downer was he had just moved back to his woodsy childhood home down South with no concrete plans to return to our urban jungle. Did that stop me from getting completely attached, sharing both personal stories and sexy photos, and even having official FaceTime dates? Of course not, because I had visions of us laying naked on a bearskin rug in a quaint log cabin of bliss.
Obviously, this wasn't going to last and I think we both knew that. Distance is a real pain in the ass that no amount of poppers could dull. I began questioning why he wouldn't be available to FaceTime certain nights, he avoided confirming dates for when I could come visit, and I watched my texts of longing go left on read. It's a typical story for men on Instagram today, but at the time, it left me stunned.
My heart was on full battery, but after this connection went lost, it was low-power mode from there on out.
2. 90 Day Fiance Fling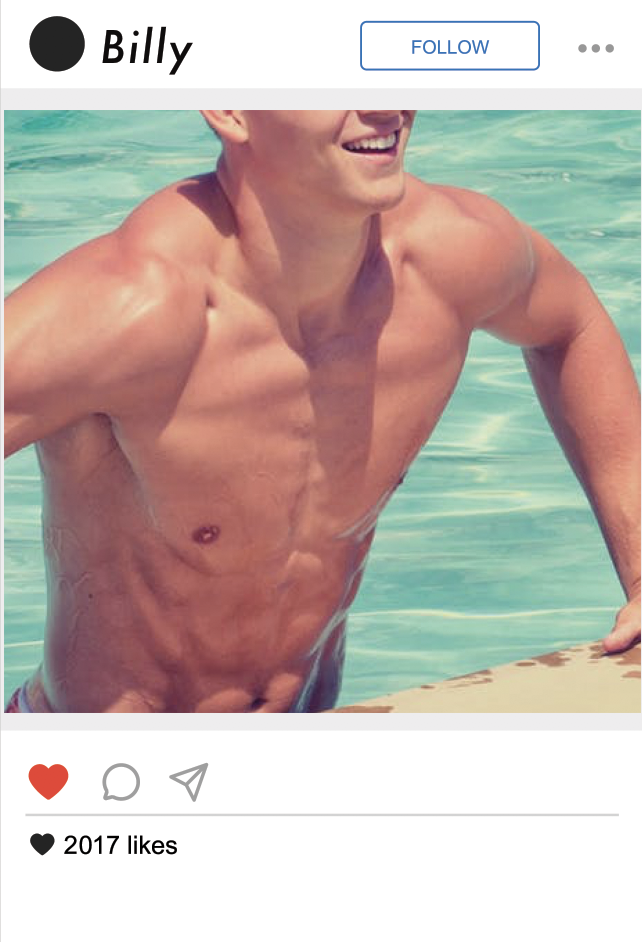 Years after meeting Peter, focusing on work and building up my Instagram grid of high-quality imagery strategically selected to showcase my: sense of fashion, my Equinox-sculpted muscular arms, and scenic travels on chic work trips, Billy found his way to my Instagram handle. He was the only guy I ever thought looked like real dating material. Good on the 'gram is the new good on paper.
Plus, Billy found me through a mutual friend, which always make it feel less creepy to chat with a stranger.
"Drunk on rum and ready to be drunk in love, I agreed and off I went."
Billy had classic, dapper style, an exotic masculine, chiseled face, was active in a gay sports league, and worked for a media agency that I would regularly email for work. Best of all: he took initiative to reach out to me and even plan a first date, without too many DM conversations — talk about swoon-worthy!
From there, it went down hill.
We had planned to meet days after Halloween, but as he was watching my Instagram on the spooky holiday, he noticed I was at an open rum bar party near his apartment. Billy wanted me to come over and meet him at his apartment. Drunk on rum (which I never drink) and ready to be drunk in love, I agreed and off I went.
The rest of the night was a blur. I wasn't blacked out, but I would discover rum can cause me to brown out and speak possibly too honestly. I would later discover I said (definitely slurring) embarrassing things about myself while we chatted in his beautiful apartment that looked like a page out of a West Elm catalog.
He had a sexy, raspy voice, an adorable droopy-faced boxer named Stella, and a stellar book collection on display (he could definitely be one of the cuties on @hotdudesreading). Cut to the next day, when he decides to fill me in on some of things that came out from my rum-tainted lips, including that I had slept with a large amount of the men in my industry and half of Manhattan — whoops! Yet, he still wanted to hang out again. Could love really exist?
Long story short: Nope.
Billy and I would constantly fight. He became obsessed with me in a way. This was one of the things I could have been warned about. He would pick fights with me if I didn't text him back immediately. Billy was demanding – and terrible in bed. It was clear Billy was looking to quickly lock down a boyfriend and be in a relationship like most of his pals.
But I wasn't ready to throw dinner parties together yet, I needed to take it slow.
One night after a ridiculous fight, I was done. Two nights later at his office holiday party, he instigated a fight between me and his co-worker. It was mortifying. The next day, I cleared the air with said co-worker, went off on Billy like a Cardi B song, and realized that maybe – just maybe – you should never s— where you eat.
3. Know Your Thoughts on Thots.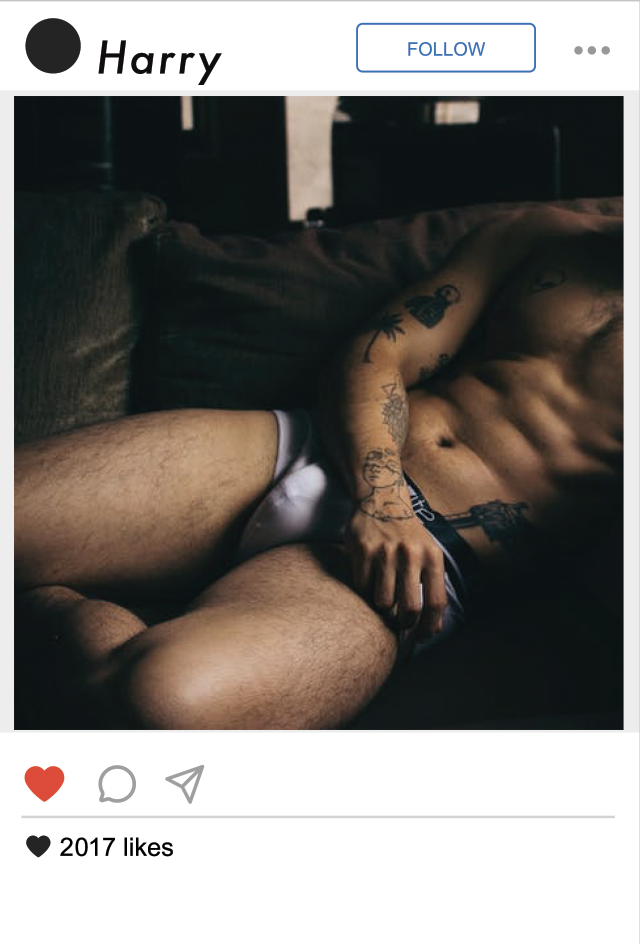 Like most gay men, I'm guilty of following thirst trap accounts of beautiful half-naked men. What I didn't expect was to start an intimate Instagram relationship with one.
Harry had the most beautiful, hairless perky derrière and had no problem flaunting it for the 'gram. I didn't intend on sliding into his DMs, but he posted something funny once, I had a few glasses of whiskey in my system, and I just couldn't stop myself.
Our conversations would go from seriously sexual with raunchy videos exchanges, to innocent messages and FaceTimes, wishing for cozy nights-in, cuddling. While I already broke my rule talking to Harry who lives on the west coast, I decided this would stay casual and I wouldn't get ahead of myself with any plans to become bi. That's bi-coastal.
"To this day, I can't even visit the produce section of Whole Foods anymore without being disgusted by eggplants and peaches."
The problem was Harry started trying to get my attention on the daily. An out of work dancer with a lot of time on his hands, it was getting to be a bit much.
Anytime I was getting caught up in our little love lingo, I'd go to his Instagram page to remind myself that he was probably talking to many other men just like me. Every picture was of his ass in an itsy bitsy speedo or just full-on buns out. The comments left were usually dirty and sexual — even beyond a typical innocent eggplant and water drops emoji equation. To this day, I can't even visit the produce section of Whole Foods anymore without being disgusted by eggplants and peaches.
"Harry still tries to grab my attention with bouncy booty videos."
Regardless of distance, the last thing I want is to fall in love with a man who needs the world to fall in love with his perfect ass.
Months later, I had a work trip in LA where I finally decided we'd meet IRL. When Harry arrived at my hotel room to pick me up for dinner in the restaurant of my chic hotel, he basically tackled me to the bed. We made out, exchanged oral, and I even got to play with that Instagram-famous perfect peach. It was fun, but we didn't have sex.
Apparently, Harry wasn't as sexually promiscuous as I thought and likes to save anal for date two (how sweet, right)? Dinner was great, but I was only in LA for a couple days and that was my only time to see him. To this day, Harry still tries to grab my attention with bouncy booty videos (I'm probably on some version of a DM mailing list) and sends messages saying he misses me. He's a sweet boy, but I realized I can't be with a man who needs validation from strangers with a softcore porn account.
Lesson learned.
4. Kyle's Lip Kit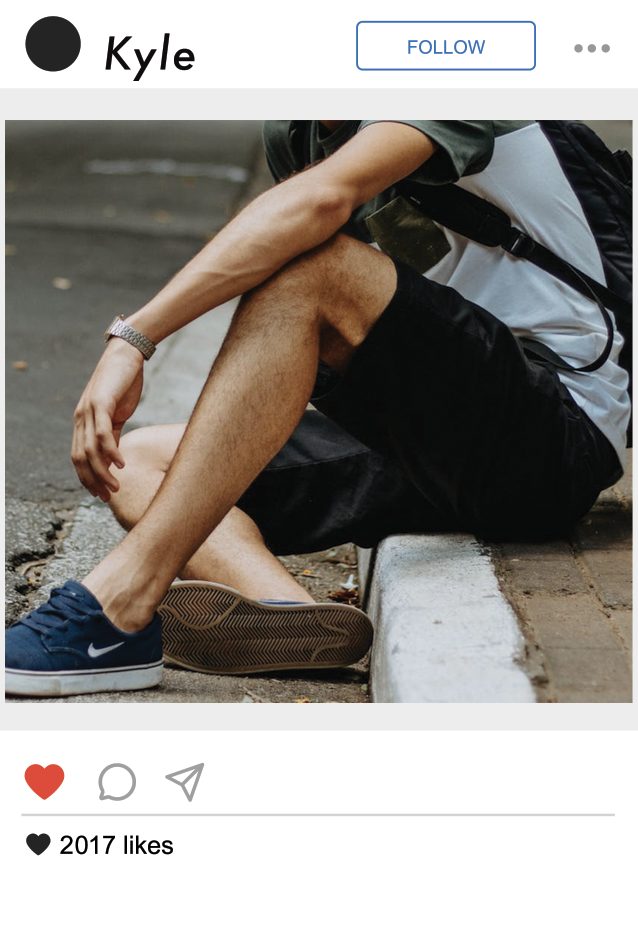 The hardest Instagram relationship fail was Kyle — the one that made me wish I could mute my heart. Kyle wasn't a total stranger. A publicist I had started to work with, he began following me on Instagram, probably checking to see if I did any posts for mailers he had sent me of products. I had just ended a relationship (a guy I found in a bar one night – the old fashioned way) and I wasn't looking for a connection, but maybe I was looking for a distraction.
Either way, I was back to Insta-flirting.
He was young, and would be referred to as "the 23-year-old" to all my friends. It all began innocently enough when I slid into his DMs on how cute his office's team outing to Newport was. He wrote back instantly, very excited to get the attention of an editor (plus, I'm kind of cute, I guess?). We continued to message daily, everything from discussing our interests, to complaining about our jobs that could be completely frustrating and draining. We bonded on Instagram for two months before we ever met.
Finally, we had our first encounter. The chemical attraction was undeniable and I couldn't keep my hands off him the whole night. We made out for hours. Dates like this continued, including a boozy late night that ended with us having sex in a club bathroom (somehow we didn't get caught). We tried to remain honest with our feelings, taking it slow, while I tried to ignore the age gap between us. He was living at home and about to move to his first real apartment in New York City. Kyle had no idea what he wanted and needed to explore his twenties in the Big City and make all those mistakes we all made in our reckless youth.
"I was beyond smitten with his large hazel eyes, chiseled jawline, infectious laugh, and most importantly, the way I felt when he looked at me."
By month three, he moved into New York City, was going out every night to make new friends, while drinking an ungodly amount of alcohol that someone my age couldn't consume without getting an epic hangover. Kyle had youth on his side, able to bounce back from booze and feel fine by a 9am conference call with his clients.
He started to emotionally push me away whenever we had a romantic night. I kept trying to cling to him, like Kanye to scandal. Seeing his drunk Insta Stories at shitty gay bars was painful.
TLDR; it didn't work out.
Kyle would continue to email me and text about work-related questions after we ended it, but using it as a way to get my attention with NSFW messages after. He'd continue to comment on every story I posted when watching my Stories. He didn't want to let me go, but also didn't want a relationship. I should have known better and looked at the signs on his Instagram, but I was beyond smitten with his large hazel eyes, chiseled jawline, infectious laugh, and most importantly, the way I felt when he looked at me. I was head over Huaraches in love. But like any shoe when you step in dog s––, you realize it's time to clean up or throw out. I did both.

When all is DM-ed and done, these rules are more like guidelines to keep in mind.
You can find someone local, close to your age, that works in a different industry than yours, one with a similar lifestyle, check in with mutual friends about their personality. But in reality, all that counts is what happens when you're face-to-face, living in the present and offline. Should it not work out — because we can never fully know what we're getting ourselves into — keep an open heart, open mind, and be open to finding a connection however it comes (even through WiFi).
*Names have been changed for anonymity
Portrait by Adam Chuck