Known as one of the most quotable queens in Drag Race herstory, Alyssa Edwards is here to push you out of your comfort zone… and then push a little bit further. And now she's pushing herself  out into the wilderness as a new camp counselor.
Yep, you read that correctly. Alyssa Edwards is now a camp counselor, thanks to Tazo Tea. Starting in 2019, you'll be able to attend an entire camp experience that Alyssa, herself has curated curated. Called Camp Tazo: Passion it's an entire camp full of activities and workshops inspired by Alyssa's life. Using her exuberantly unconventional approach, camp-goers will have the opportunity to take a leap into the unexpected and discover things about themselves they'd never known.
"The highlight of my summers growing up was going to church camp as a little boy in the south," Alyssa tells us. "Now, I'm revisiting that as Alyssa [pauses] can you imagine?! I was nervous! Showing new layers of yourself can be a vulnerable experience, but once again I stepped out of my comfort zone… something we're all capable of doing."
It's just another venue for the beloved drag star to showcase her personality. What many won't know as well is Alyssa as Justin Dwayne Lee Johnson, who is a dance instructor and business owner by day. He's the star of "Dancing Queen," on Netflix, produced by RuPaul and World of Wonder Entertainment, a reality show that delves into Justin's life in Mesquite, Texas, where he owns and runs an award-winning studio, Beyond Belief Dance Company. Known for his tough-love approach to learning, viewers are able to see just how Justin – and Alyssa – bring in the trophies. The show is a bit of "Dance Mom" meets "Drag Race" with a splash of spirituality and inspiration, to boot.
SEE ALSO: Farrah Moan of RuPaul's Drag Race is a fish in water ?
No wonder, as Justin's been a follower of the Church of Oprah for years. "Everyday, I would come home from school, turn on the T.V. at 4 o'clock and watch Oprah," Justin tell Very Good Light over the phone. "That woman is so powerful. She uses her power in so many ways. She has the whole world but she's dividing it up and sharing it. I want to say thank you, Oprah! If you're reading this, thank you! It's people like her that make the world a better place."
https://giphy.com/gifs/COYggJB0KnADm
It's clear Justin's Oprah moments have resonated with his own students, and Alyssa's with her fans around the world. And so it's surprising that Justin admitted it was a little nerve-wracking getting back into television. It's one thing to be Alyssa, the drag queen, but for viewers to peer into his life as his normal self – that was another story.
"I had a lot of mixed emotions going back on T.V.," Justin tells Very Good Light. "You get to see my life, the awkward dates, and the time in the studio with my students. You see it all, and that comes from a place of vulnerability. It circles back to everything I've done in my life has been for an experience… an experience for me to step out of my comfort zone."
https://giphy.com/gifs/netflix-alyssa-edwards-dancing-queen-9Y1uuBDKIhnQnvTbSr
"There was a time I was waiting for the world to change, but now I want to be it."
While "Drag Race" may have documented Alyssa as the character, the new Netflix show introduces the world of Justin – without the wigs, makeup and eyelashes. It's a fascinating look into the world of a glamorous drag star when the glitz and the glamour aren't around. But it's a complete pleasure to get to know Justin, who's both relatable as he is human. We also get a more thorough backstory of his youth and upbringing.
When asked about his childhood, Justin is upfront. He was quiet, he kept to himself. "There were all those years I spent as a mute little boy," he recalls. It's only when he was able to channel Alyssa as a character that allowed him to blossom.
"And now, I can't shut up," he says. "I thought for a long time I gained my confidence from Alyssa, but now I know it's from within. I was the one who created Alyssa." Finding that inner confidence wasn't easy, but self-acceptance is a big part of Alyssa's mission.
"My story is similar to Dorothy's in The Wizard of Oz," she says. "She didn't know she had the power, it took a man behind the curtain to remind her, and it took the man behind the wig to remind me. It's so amazing the power of drag can resonate with the entire world and bring us together."
Today, Alyssa's goal is to empower others to find their own beauty. "There are days like today when I speaking with you, where I reflect on my past experiences and the ones just around the corner. If I have the platform, I better turn that microphone on high."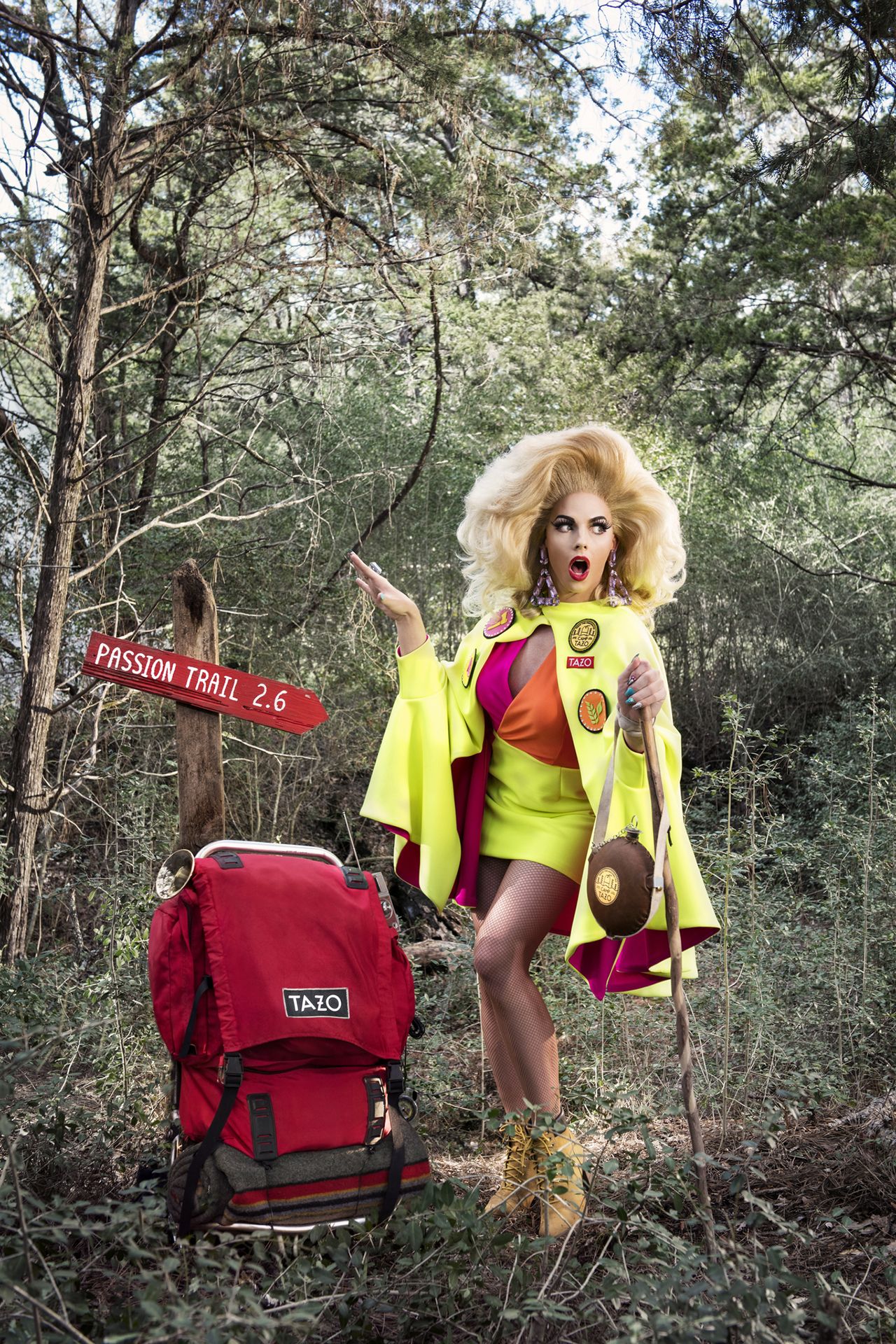 "If I have the platform, I better turn that microphone on high."
Justin's word's of advice for others who feel unaccepted? The same thing he was told as a little boy: "Don't change it, be it," he says. "When you wake up and you're breathing, and you realize the day is real, fully realize that your dreams can be a reality. With work determination, ambition, drive, discipline, and hope, you can make it happen. It took a lot of years for me to make this all happen. I walked, ran, slid, and flew, but there's more to come baby! Don't move, don't move! It's just about to all get started."
"There was a time I was waiting for the world to change, but now I want to be it," Alyssa says. And here's a huge Oprah-like "AMENNNNN" to that.
Camp Tazo is set to take place in March 2019 in Alyssa's stomping grounds of Texas. To stay up to date with event details, and sign up for your chance to learn from the queen herself, visit the site here.