You know her as Farrah Moan, one of the fourteen queens who competed for the crown in season nine of RuPaul's Drag Race.
Best known for stealing the hearts of America with her sickening looks and endearing whines and moans, the 24-year old ended up placing eighth. However, out of drag, Cameron Clayton is much more than just a queen. He's a full-blown superstar who's unabashed about both his masculinity and femininity as well as gender identity.
SEE ALSO: You'll never guess Soju the Drag Queen's day job
"I'm a firm believer that your gender isn't defined by your genitalia," Farrah tells Very Good Light. The Las Vegas showgirl now resides in Los Angeles a place now called home when she isn't busy touring the world. "It's all about energy. I think for everyone, no matter how you define yourself, as long as you're true to who you are, you'll be able to find people who love and support you," he says. "My femininity has always been a huge part of who I am. In high school, I was constantly bullied for being a feminine boy, and I think my world finally started opening up when I stopped trying to project this certain idea of masculinity to fit into society and started to embrace the feminine side of who I really am."
"When I'm presenting male, I feel like I'm now able to know who I am as a person. But when I'm Farrah, it's still authentically who I am at the core."
Being known as a persona can be disjointing. Not many can relate to it (except maybe Hannah Montana).
In the drag world, as a queen who blurs the lines adeptly between male and female, Farrah is known for "serving fish." That is, a drag queen who can pass for a cisgender female.
But what about Clayton? What is he like?
"When I'm presenting as my masculine self, as a boy, I'm way different than Farrah," he says. "I'm able to separate the hyper-feminine side of me. The more 'girly qualities' of what I like have become the epitome of what that Farrah is. She's pink, she's glittery, She loves pop music, crystal, feathers, all of it. My boy self is very much rock, metal music, and I wear mostly black. It can be polarizing. However, it's been able to help me express the duality of me in a really harmonious way. It's definitely helped me with my confidence. When I'm presenting male, I feel like I'm now able to know who I am as a person. But when I'm Farrah, it's still authentically who I am at the core."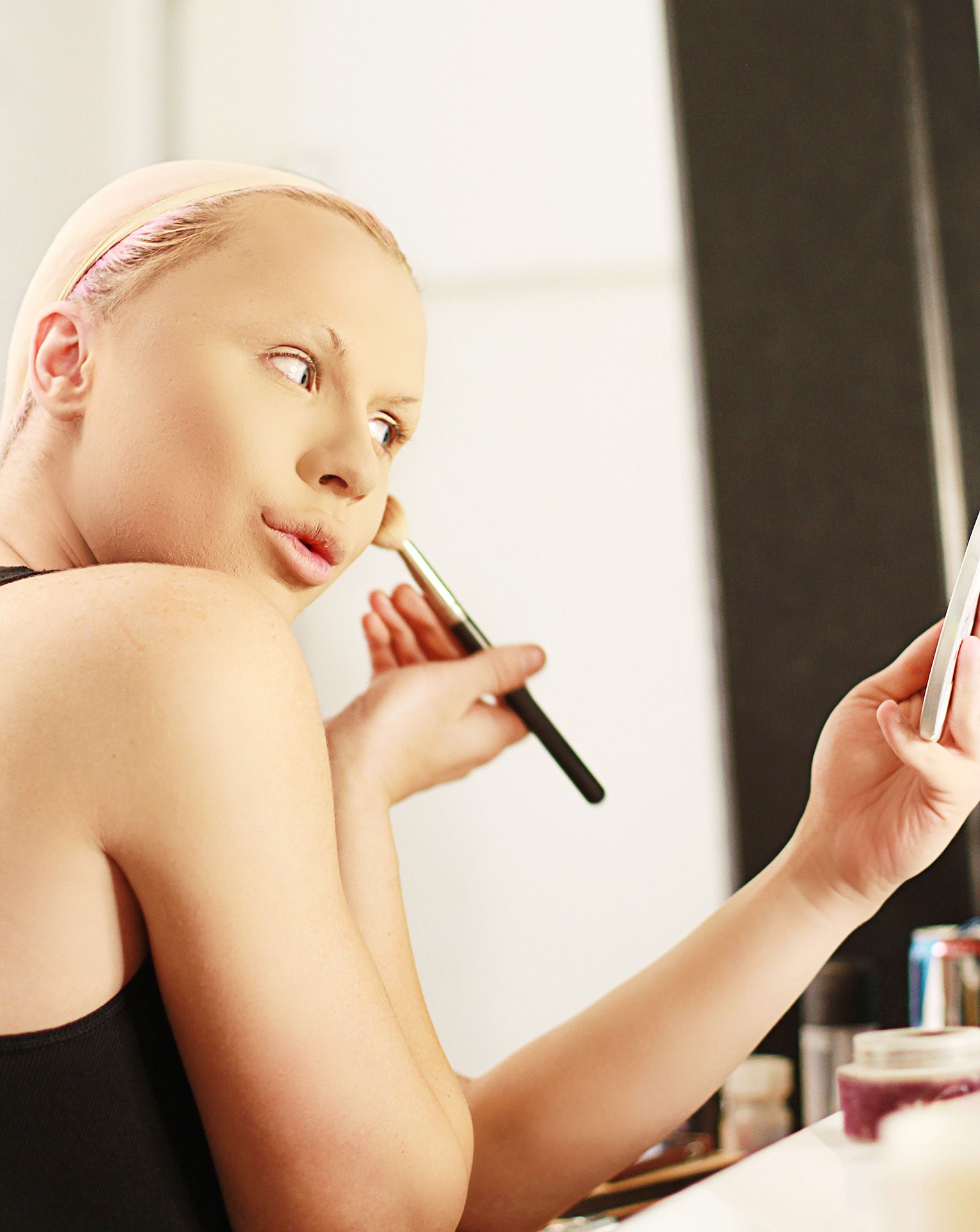 While Farrah's rise to drag stardom wasn't overnight, the mass popularity of RuPaul's Drag Race instantly put her in the spotlight. Deadline reported the Season 9 finale was up 218% over last season's ender in adults 18-49 since moving to VH1. Now open to the public eye (and opinion) Farrah and the rest of the cast were part of the conversation in living rooms and on timelines across the country.
My boy self is very much rock, metal music, and I wear mostly black. It can be polarizing.
"I think how popularized drag has become is a good thing," he says. "I remember the shame I felt as a little kid with wanting to wear women's clothing, and how much it weighed on me psychologically. That wasn't healthy for my development. With drag becoming so mainstream, it's showing kids that it's normal. You're not wrong. There is no right! You're not going to hell. There are people who want to support them in whatever they want to become."
While the show has brought Clayton success, it has brought it's set of challenges as well. Fans of the show are known for being some of the most… passionate out there (to put it nicely). They pick favorites, villains, and being labeled by the public can put you in a box that may be hard to get out of. "When I was on the show, I was a young, scared, vulnerable 22-year-old," Clayton tells us. "I tried my best and tried to make the most out of a situation that was difficult at times. During my season, fans saw me struggle a lot. I hope people can realize I've grown since then. I really just want people to know that I'm so dedicated to my craft. Every day I'm trying to better myself entertainment wise. I'm investing in my drag all the time. I'm ready to slay from here on out."
Drag Race is culture. There's no question about it. Whether it was your first introduction to the art of drag, or you're someone who knows the ins-and-outs of "herstory," RuPaul has created something that resonates with viewers. Earlier this year, the host received major backlash after speaking out about "probably not" allowing trans queens on the show.
"I think that trans drag entertainers are the most valid of any of them," Clayton says. "They were the forerunners for our fight to equality and pride, and have always been mentors in our community. Trans drag has played a huge part in our history as drag people, and it's extremely important to recognize. Since Drag Race is so big, I think people put too much importance into the idea that if your drag isn't showcased on drag race, then it isn't good  People take it too seriously. At the end of the day, it's just a TV show. It's Ru's show, and I think it's unfortunate he doesn't want to showcase that type of drag, but it's his show. It's not my show."
"The counselors told me that I needed to conform if I wanted to stop the bullying."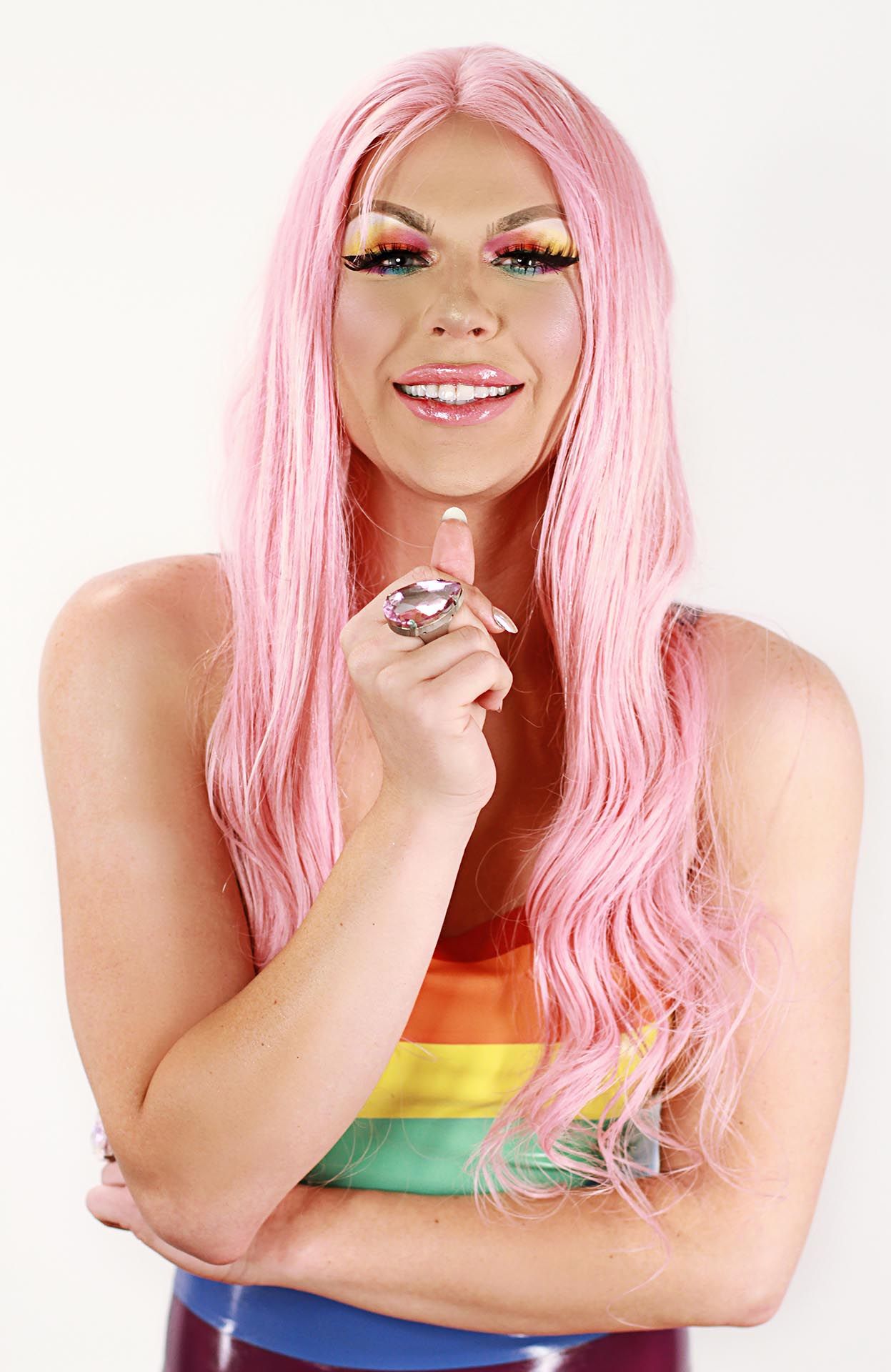 Being so vocal and opinionated hasn't always been a part of his DNA. In reality, it's been a journey to get there. The Houston native struggled to find his community while navigating adolescence.
"Maybe I don't talk about this enough, but I had it really rough when I was younger," he says. "I had to drop out of high school because I was bullied so much. It got bad. The counselors told me that I needed to conform if I wanted to stop the bullying. My mom took me out and was like 'you're not going to define my kid.' I had to do homeschooling from there on out."
Just like Farrah's dress reminds us, there's always a rainbow in sight. "There's a huge world out there," he says. "Sometimes it can feel like the people in your area are the whole thing, it's totally not. You just have to make it through the annoyance of being a kid. One thing I would want people to learn from my story is there is always a way out."
Farrah's words of wisdom? "The advice I would give is don't let yourself get in your head, and don't give up," he tells us. "Always know what your goal is. One of the things that really got me through some of my hard times was to always have my dream at the forefront of my mind.
Sit down and make a chart, and figure out what steps you can take overtime to get there. Be the own force in your life to make changes, no one is going to do it for you. You have to do it for you. There are ways to make it happen. The best advice I was ever given was being told 'you're the only person that's responsible for yourself.' You have to get through the self-doubt, you have to get through the hardships, and you have to get through the people who don't want to see you succeed. You have to cut them out and just make it fucking happen."
And if Farrah and Clayton and Hannah and Miley can do it, so can you.