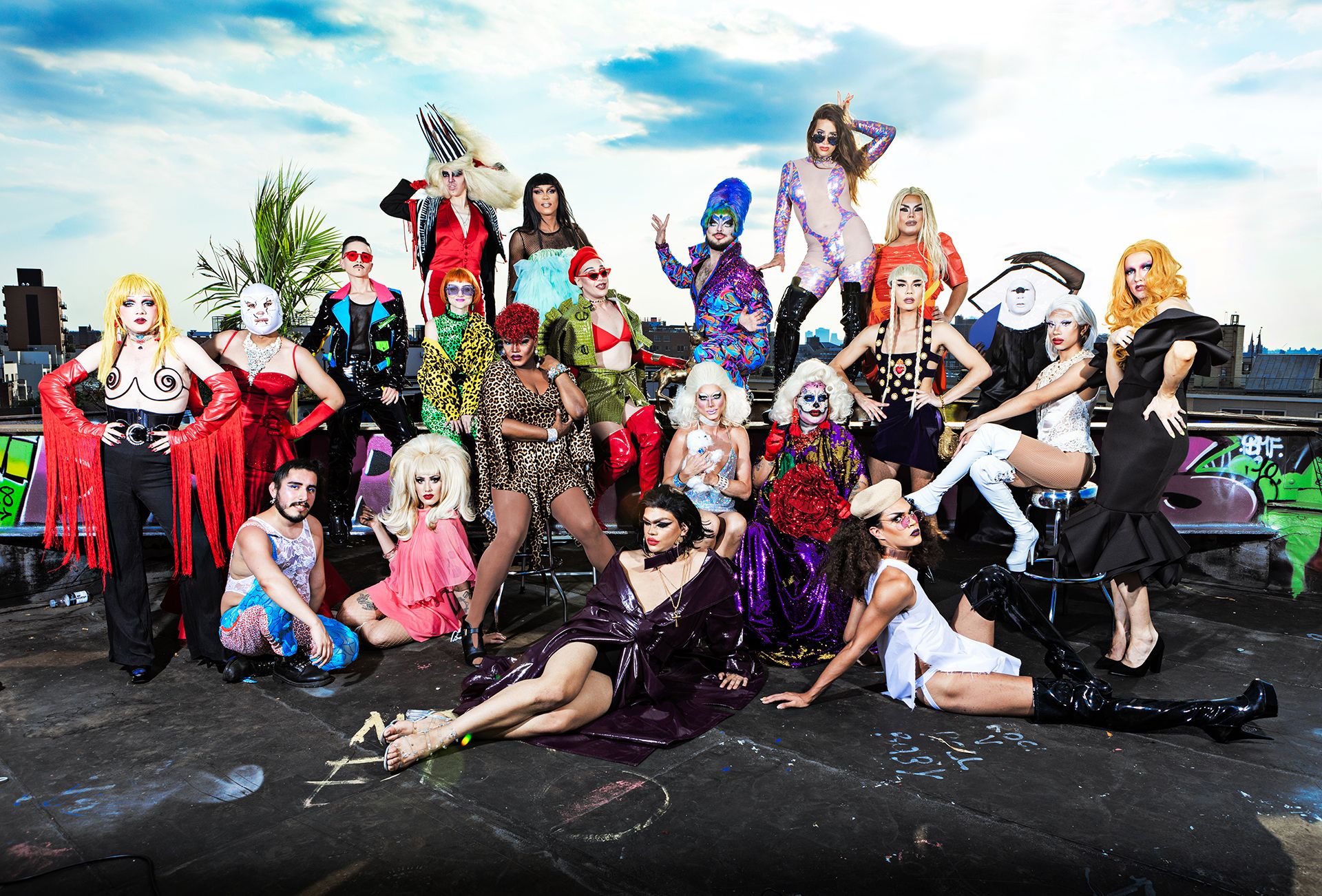 Have you ever felt like you were in a fantasy so real that you didn't ever want to go to sleep?
Whether that moment is seeing Beyoncé perform live on her On The Run II Tour, going out to an underground techno party on a Saturday night, or even a magical Tinder date, it's an undeniable feeling of some higher power telling you that you're supposed to be exactly where you are. And that's exactly how I felt being at this weekend's annual Bushwig.
The world's largest drag and queer art festival, Bushwig, now in its 8th year is, as legendary queen Alaska Thunderfuck once said, more all and more star than ever. Created by drag queens Horrorchata and Babes Trust, the night brings together the most major forces in drag cultures. With over 160 performers and a constant flow of DJ's spinning music, it's one of the best events of the year for the LGBTQ+ community. Think Coachella, but make it queer AF. Artists of all types are invited to perform their unique flavor of drag, or simply attend as the audience. Everyone comes in a H2T lewk (that's head to toe look for you straights) and it's in a warehouse. Duh.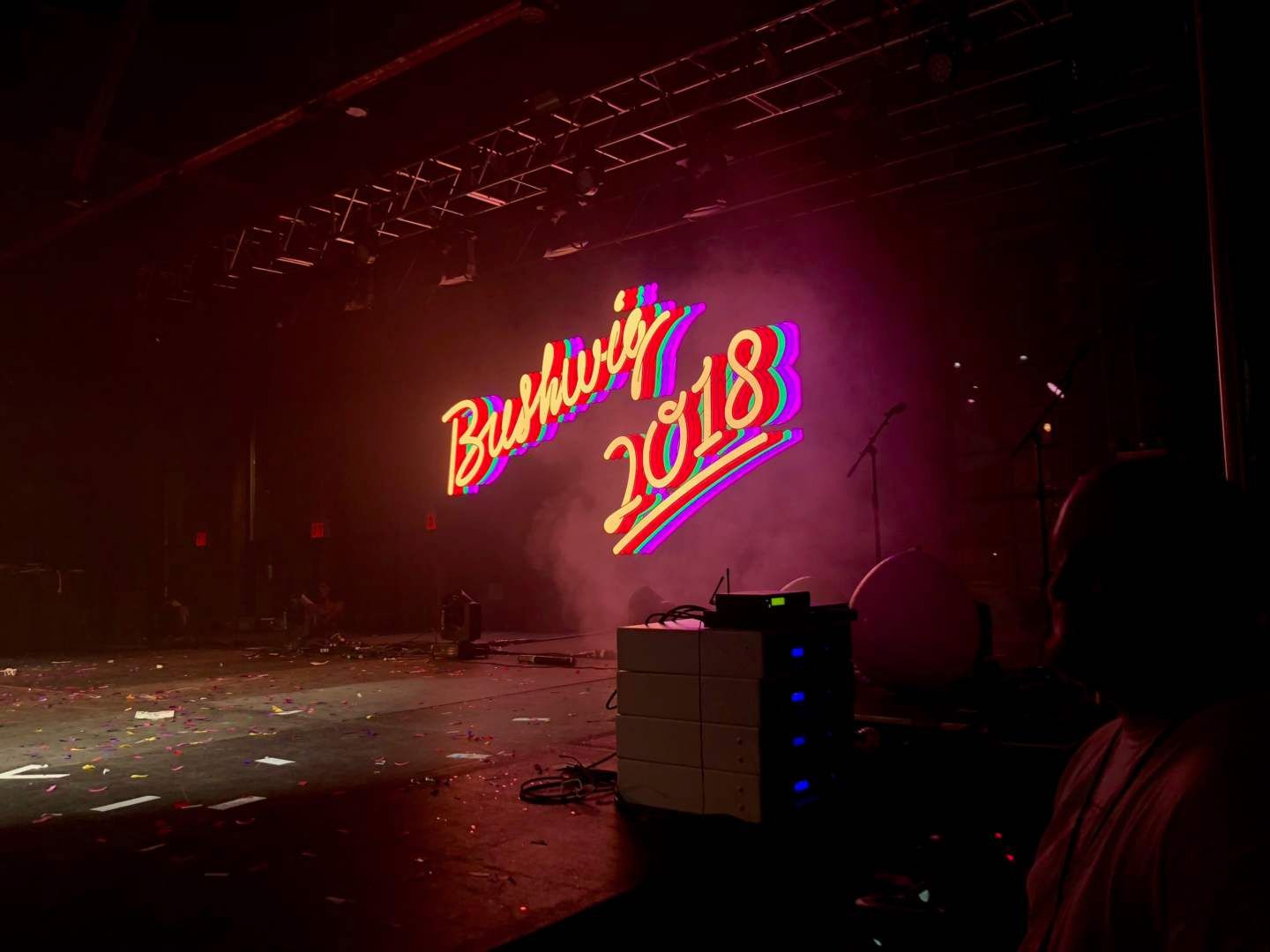 What started as a small event with a handful of local queens has transformed into the most respected queer event in the world. It's no surprise, as Brooklyn is the world's queer mecca (which we've written about, below). It's so big that Bushwig expanded to sister events, Wigwood (Bushwig in the Wynwood district of Miami) and Bushwig Berlin.
SEE ALSO: How Brooklyn became the world's queer mecca
As the festival continues to grow in size year after year, its location has shifted over to the Knockdown Center warehouse space. This is technically in Queens, not Bushwick (where the festival borrows its name from), but potato, potato. Once you get far enough on the L train, it's all the same.
On arriving at the venue, it all felt so surreal. Attendees, not of the performer kind, were dressed for the gawds with custom couture dresses, towering headpieces, and one person even had a glittery vacuum cleaner. Supposedly, it's New York Fashion Week, but that event is lol-worthy compared to Bushwig. Honey, you cute. Their faces beat equally as glam as their outfits. The performers, well, they were otherworldly. They are the true stars of the show, after all. Reminding me of Jeremy Scott's Resort 2019 circus show, the inside of the center was filled with XXL balloons of every shade, multi-colored lights, and disco balls. And that's how you throw a proper queer event. The more kira kira, the better.
Bushwig is an amalgamation of my life's work.
The space inside was packed to the brim with people gathering around the stage like gays to a boozy brunch. Screaming variations of "yass" and "werk" added a warm touch to each performer's music. No matter who was on-stage, there was an audience lovin', livin', and carrying it all the way up.
The significance of Bushwig goes deeper than just providing a platform for queer artists and safe space for the LGBTQ+ community, which at this stage in this country, are valid reasons enough. Bushwig is a mother who nurtures young talent into becoming world-class stars. Local queens like Thorgy Thor, Aja, Sasha Velour, and Aquaria all performed here before making it big on, and after, RuPaul's Drag Race (RPDR).
"I took off tonight from whatever gig I had because I wanted to watch and support," says RPDR Season 8 queen Thorgy Thor backstage. "I'm hosting tomorrow [Sunday] so I always try to come the night before on a night that I'm not performing just to scope out the layout, the audience, the energy. I'm gonna go home tonight, and write some new jokes because the feel is different. That's the way I perform."
Despite becoming an international star post-drag race, which Thorgy internalizes as "the catalyst that changed my life," her preparation for Bushwig is just as serious as any other gig. It's not only because she's a professional, but because this is her baby, too. As a queen who's been performing for 16 years, mainly in Brooklyn, she understands how opportunities like Bushwig can change an artist's career.
"Bushwig is an amalgamation of my life's work," she tells Very Good Light. "I literally have done my part to build this. Horrorchata and anybody involved in the production of anything that has to do with Brooklyn knows that. And I love doing it." She looks at the stage like a dance mom hoping the best for her 100+ kids.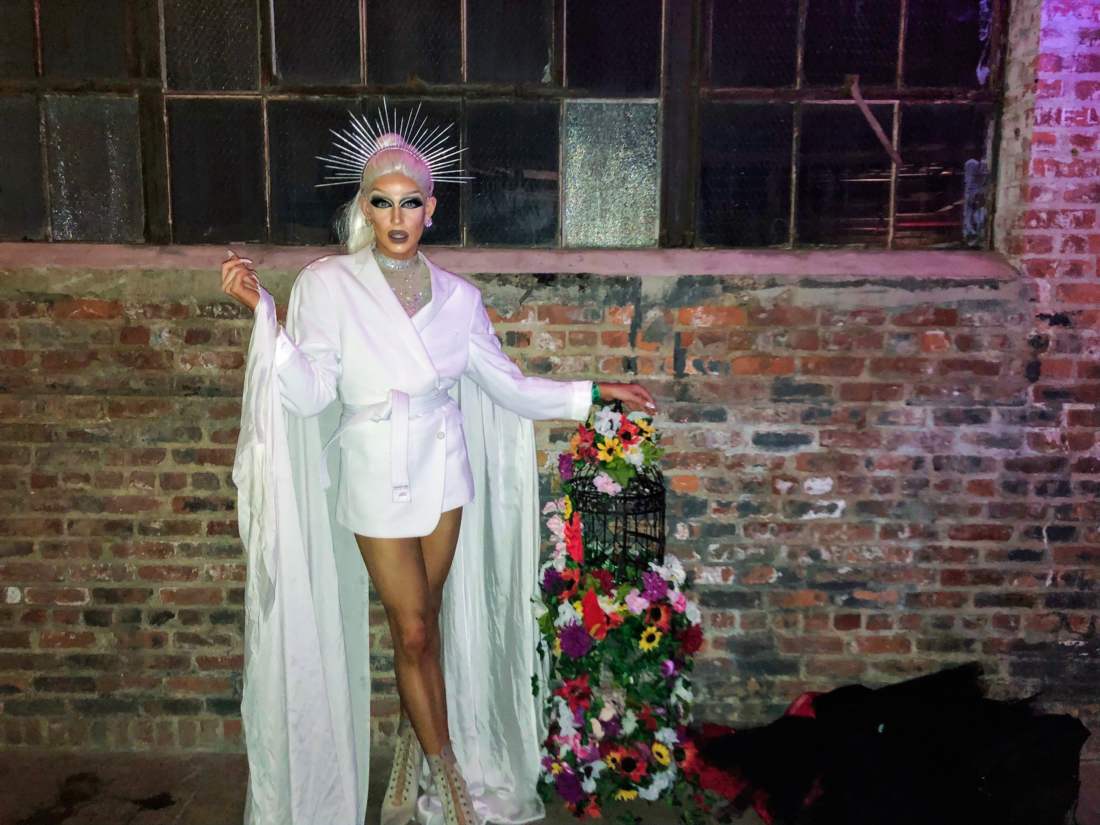 One of the emerging artists of the night is Brooklyn queen Candy Sterling, who already has her own drag house with just 3 years of experience under her corset. As a resident performer at local Brooklyn bar The Rosemont (which is known for fostering young talent), Candy has amassed her own following and supporters. In the waiting room, which fittingly is a brutalist concrete room with collapsable chairs, wigs, and dresses strewn out all over the floors, she's preparing for her first performance of the weekend with her two cherubic backup dancers.
"It's such a gift and very rare that you get a space to perform like this."
"It's my sophomore year here at Bushwig and it's amazing, I'm so excited," she tells us. But it's not just all for gags and giggles. Sure, she has an impeccably choreographed dance number and two muscle-twink backup dancers and an outfit reveal and a surprise stunt. But to Candy, Bushwig is bigger than just herself.
"Bushwig is definitely special. I'm really inspired by all the work that goes into this festival and the spirit of it.  I take consideration and advantage of the space. It's such a gift and very rare that you get a space to perform like this. I feel so grateful to Horrorchata and her entire team for creating this amazing space for all these performers. I feel a duty to mom to show up and give the best show that I can."
And Candy Sterling delivered that night. Dancing to summer 2018's bop, "God is a Woman," she channeled her own higher power to "gag the children" as she says.
As the first night came to a close, the anticipation that had been ballooning was starting to peak. Two headliners were left to close the night. The first up was Aja, two-time RPDR contestant, musical artist, burlesque dancer, and  death-dropping dynamite. She, too, is a local Brooklyn talent that's worked her way up the ladder to get to where she is today. In her final performance for the night, she sang two tracks from her recently released album, "In My Feelings." The crowd went wild.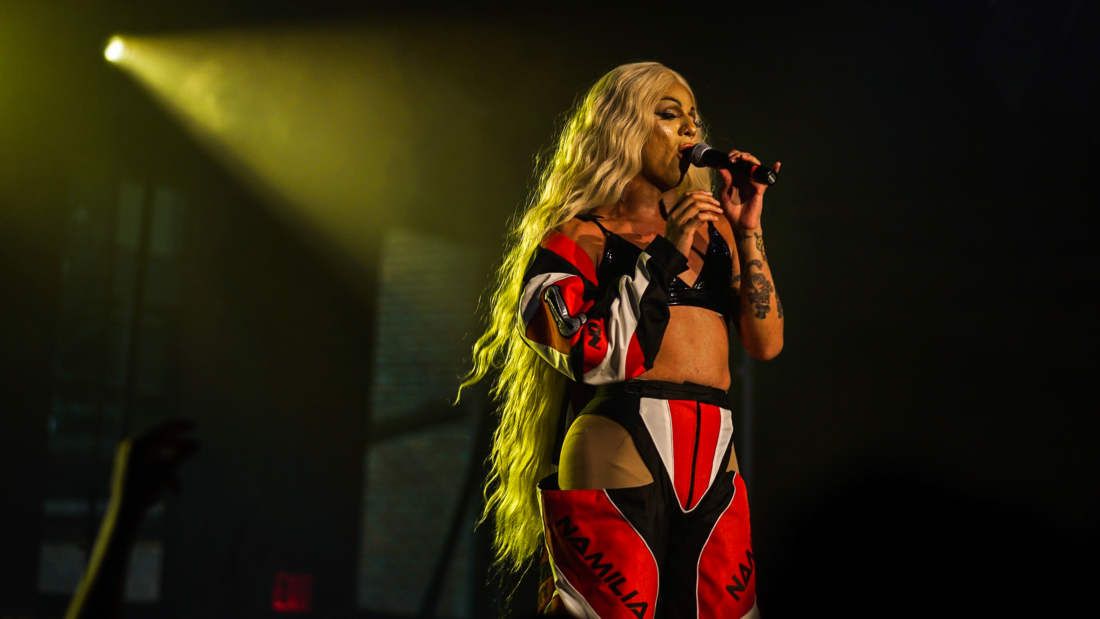 Since starting as a drag queen performing at bars and clubs in Brooklyn, Aja has made a name for herself as one of the hardest working artists. Recently, in an interview with them she renounced using the term "drag queen" for herself and now prefers queer artist instead. Her multi-dimensional trajectory is fitting for someone who's grown up on the Bushwig circuit.
"Bushwig is just f***ing amazing," she tells Very Good Light after her performance. "It's always been a platform for queer youth and non-youth. It's such a big statement about gender, performance, and positivity, and its important for Bushwig to keep growing and expanding,"
Closing out the night was superstar Alaska Thunderfuck, winner of RPDR All Stars Season 2, musical artist with several chart-topping albums, and host of several web series including one with her own brother (called Bro'Laska, of course). She's wearing an enormous Lady Bunny-esque blonde wig, hippie-inspired purple, green, and blue dress, and 70's white patent boots. Seasoned and smart, she takes the audience on a ride from slow lyrical to head-banging finish with her song, "This is my hair," the crowd going absolutely apes***.
Although it's her first time at Bushwig, she looked and acted completely at home.
That's what I love about drag, you get to do anything. It's such a frontier, and definitely at Bushwig.
"It [Bushwig] has that crazy, grungey sensibility which is what made me want to start doing drag," she tells us. "I was so inspired by San Francisco, Tranny Shack, and Heklina. So I live here, this is my life. I love it."
As someone who's been through it all ("We made it happen with whatever we fucking had.  We had our d**ks out. We got messy," she recalls on coming up in Pittsburgh), from repurposing trash bags into dresses to headlining international tours, Alaska knows that the possibilities of drag are limitless.
"That's what I love about drag, you get to do anything," she says. "It's such a frontier, and definitely at Bushwig. There are no rules. You can do music, you can be a DJ, you can be an actor, you can sing and write, or you can do all of it. And I love that. You see Aja and some of the work that she's putting out. She's unreal."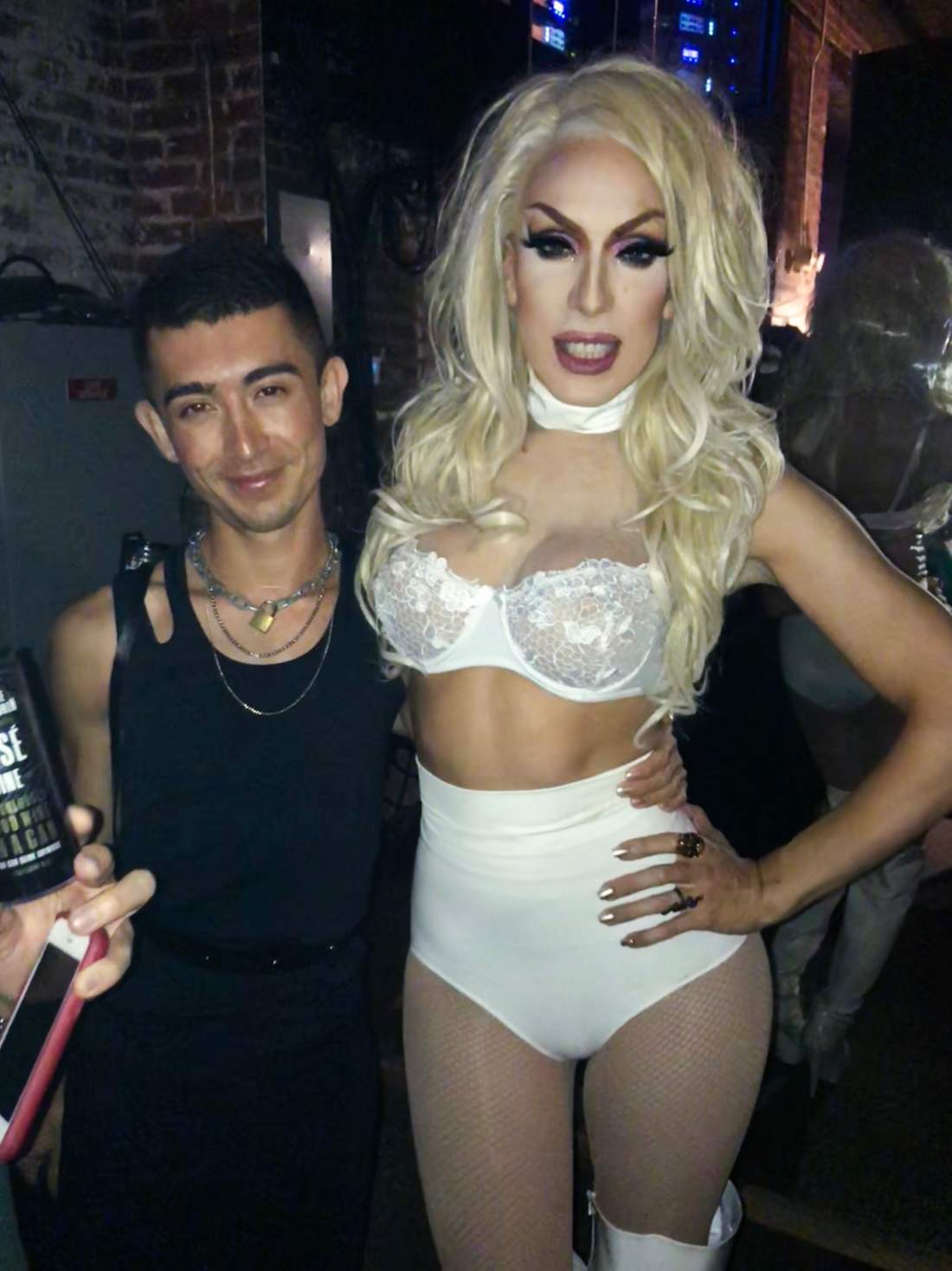 The moment of the first night ended with closing DJ sets by Amber Valentine and RPDR season 7 contestant Pearl. The queens began to unwind, the crowd spread out across the dance floor, swaying their bodies and heads, still high from their dosage of Bushwig.
But the anticipation wasn't gone. There was a second day of stacked performances where the possibilities were endless. There were more hold-your-breath-and-wait moments where the next move could be literally anything. Would someone successfully pull off the butterfly stunt?
And the existence of a space where anything and anyone is free to express themselves lies at the heart of Bushwig. It is a celebration, party, safe space, incubator, all rolled up in one. This is the future of queer art. As for what's next?
"I'm not supposed to be talking about this, but Simon booked me to do Bushwig [in an upcoming, new city," spills Thorgy. "We're announcing it next week and it's the first time we've done it in that city. So that's all I can say about it." Well that's the tea, and you heard it here first.