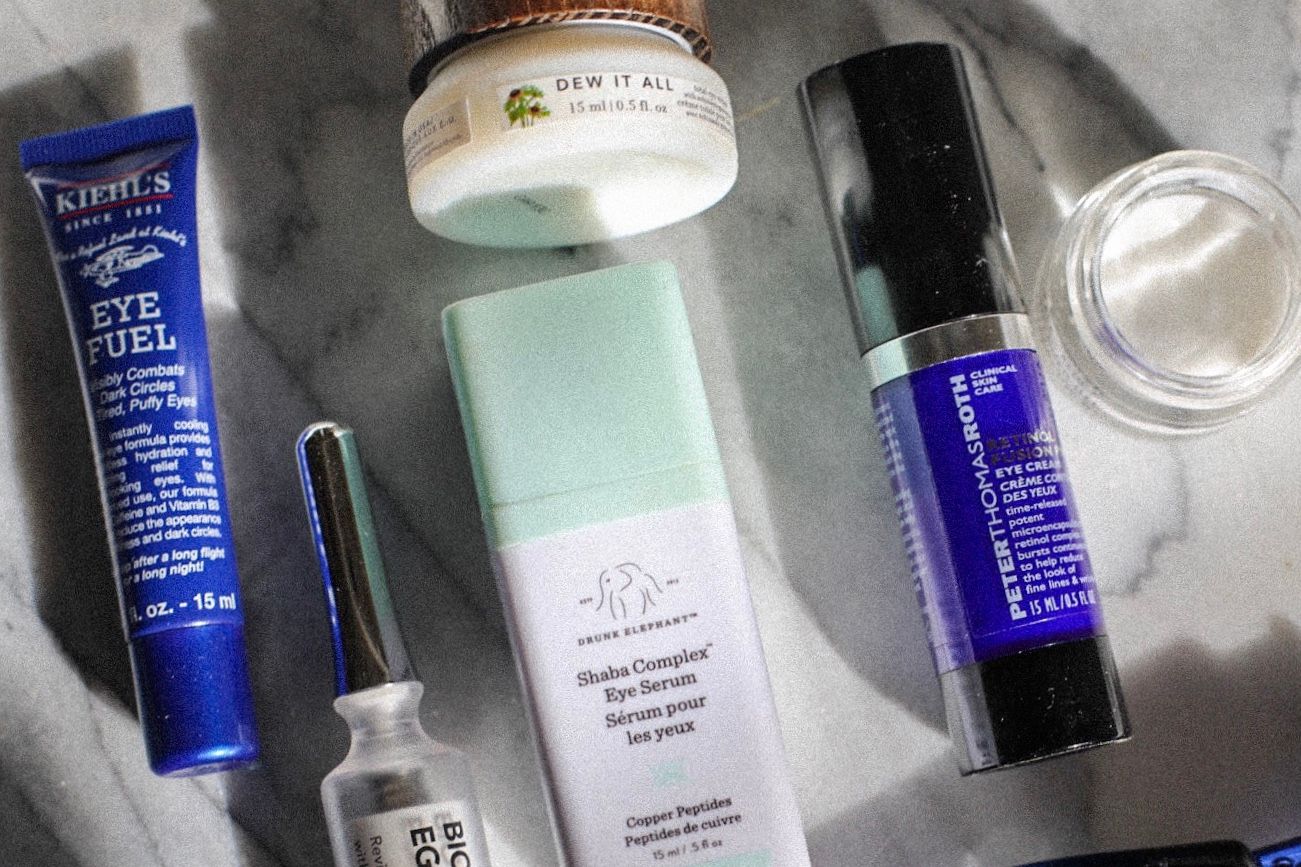 Asian don't raisin – but they do prune. For as long as I can remember, my Korean mother instructed me to dab eye cream around my eyes. This, to prevent wrinkles. This, so I'd stay forever young. All so I could one day get married. BLECH. But is eye cream a scam?
SEE ALSO: Say goodbye to under eye circles, fast!
I've been using eye creams for years – some with retinol, others with natural oils from ingredients like avocados, or humectants like hyaluronic acids. Have I seen a difference with my eyes? Are they more alert, youthful, crows feet-free? I'm uncertain, as I don't know what my face would look like without eye cream as I've been using it since I was in my teenage years. But a chance coffee date with my friend Brennan, then editor at Into the Gloss now editor at Allure, made me rethink eye creams altogether.
"They're a scam," he told me as I was sipping my latte. I was behooved. Completely. As he wrote once on a post here, eye creams, in his humble opinion, are completely useless.
"They're just elfin little moisturizers—and almost every benefit that's promised ends up being a marketing gimmick," he writes.
Does he have a point? Moisturizing your under eyes are indeed important, of course, because it's a very delicate part of your face – some would say it's the most delicate part. It has no pores, no oil production, and is actually extremely thin. No wonder that you get dark circles then, as the blood behind your skin shows behind the thinly veiled layer of skin.
In my confusion, I ended up seeking out the advice of the most respected beauty editors in the industry. I wanted to answer this question once and for all: are our eyes screaming for eye cream or is it all just a marketing ploy?
I spoke to the editors who I respect the most, to influencers and professional groomers to get their take. What have I concluded? Well, it's complicated.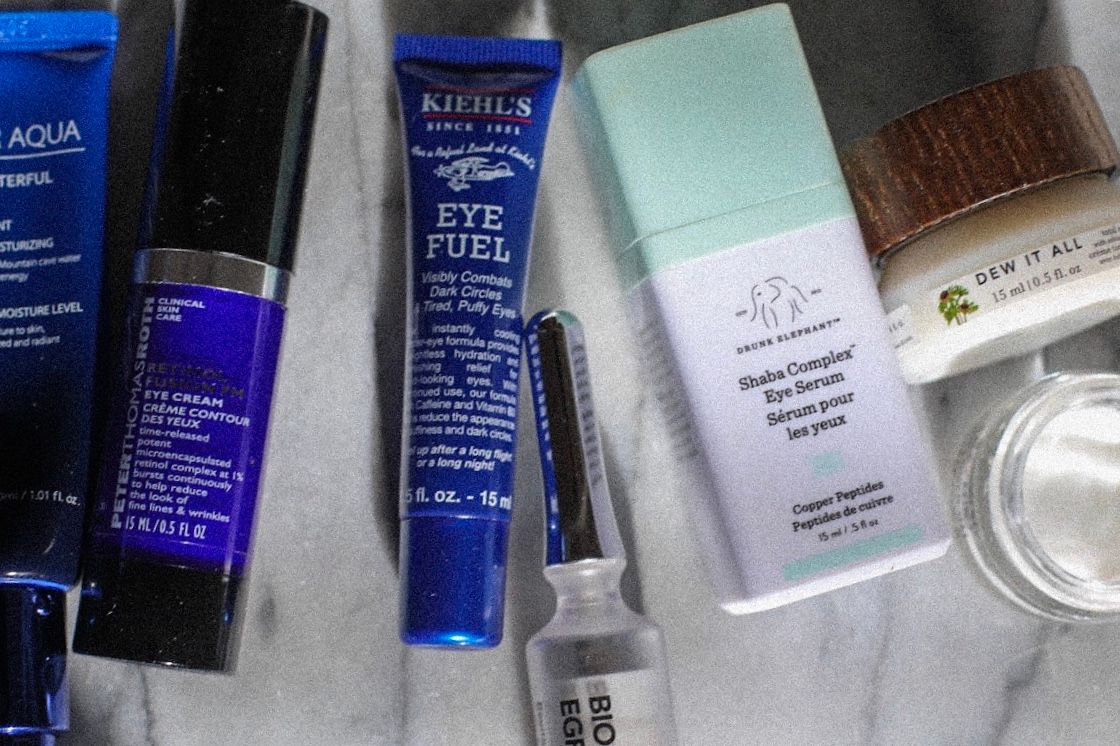 Jon Roth, style editor, Esquire
I don't use [eye creams] – I've been let down too often in the past.
Any time I would rub my eyes, the cream would pill up and drive me crazy. The only one I can remember that didn't let me down was Kiehl's Facial Fuel Under Eye De-Puffer, a stick that also had some caffeine. At this point I'd rather use eye patches every couple days – I get them from Peter Thomas Roth and Beekman 1802.
I like the idea of taking down puffiness, or proactively stopping crow's feet. But they bug me! Something I didn't learn until last year: if you are using eye cream, make sure to get the outer sides of your eyes too. That's where the wrinkles start. If you care. Crinkly eyes can be cool too.
Bart Kaczanowicz, beauty influencer, @OMGbart
This will probably surprise you, but I tried my my first eye cream at 19 and have been an enthusiast ever since. That means eye creams have been a staple in my skincare routine for half of my life. Having tried or experimented with dozens of formulas— maybe even more— the favorites in regular rotation are Goldfaden MD Bright Eyes, African Botanics Résurrection Eye Créme, and Tatcha Revitalizing Eye Cream.
"Whatever you choose to use must be used consistently. Results are achieved over time."
For eye creams, one has to believe in cumulative, long term results. A quick hydrogel eye mask with caffeine extract will help after a late night but those instant effects won't last. At age 38, I can say I am honestly thrilled with the skin under my eyes and I credit the area specific formulas I've been patting in day and night for years for those results.
One will always notice a difference in texture between an eye cream and a moisturizer for the face. Eye creams are typically richer, silkier, or sometimes more lightweight. As impressive as my most recent eye gel find might be, I can't imagine spreading it on my face. In contrast, I've been using the 100% Pure Coffee Bean Eye Cream all over my face during air-travel (It's super affordable and comes in a massive 30ml tube so why not, right?). Since I gravitate towards moisturizers that contain active ingredients, I avoid the eye area (especially with retinoids) and opt instead for a less potent treatment.
Not long ago Chris Salgardo, the former President of Kiehl's shared that eye creams were becoming the fastest growing grooming category in the beauty industry. Gender-specific formulas drive me absolutely insane, but there are per Chris' prediction more options available – mass to eco-luxe – than ever before. Consider any formula that includes antioxidants, peptides, and plant extracts, but definitely give an eye cream a try. Most importantly, and I cannot stress this enough, whatever you choose to use must be used consistently. Results are achieved over time.
Adam Hurly, grooming writer, GQ
Kiehl's Eye Alert has been my longtime go to, but I also love Lab Series Max LS Instant Eye Lift and Brickell's Eye Balm. Because I am routinely under-rested or exhausted, with bags and dark circles around the eyes, I love feeling the skin tighten and watching the signs of poor sleep drift away in a few minutes. I use retinol when I sleep, so it's hard to tell if any longterm anti aging benefits are from the eye creams. They certainly help the way moisturizers help your face, but I think my retinol overpowers anything else.
Yes, eye creams are heavier moisturizers and some are balms. I don't disagree with that. But the skin around the eyes is more fragile, and I like that I have a heavier, highly concentrated cream to apply to the area. Plus, they often have peptides and antioxidants and caffeine and all that, so you get a little more. If you're skeptical still, just put some Preparation H on your bags and some concealer over top. Hey, it works.
I'm no doctor, but most of the dermatologists I work with like eye creams, and that's enough to convince me. Just be discerning, and read reviews. I love the morning ritual of patting my eyes with my ring finger and eye cream. It's so much more fun than slathering on my moisturizer. In a way, I look forward to it like I would my cup of coffee.
Dana Oliver, beauty director, Yahoo
Yes, I use an eye cream every single day — even when I'm on vacation! I've been a huge fan of the goop by Juice Beauty Perfecting Eye Cream ever since Gwyneth Paltrow introduced me to the line. I love the creamy consistency and it melts right into the fine lines, keeping my skin super hydrated. Lately, my go-to has been Ole Henriksen Banana Bright Eye Cream.
"For me, my under-eyes say not every eye cream is a scam."
I can attest to the fact that consistent application of an eye cream, both day and night, has kept my under-eye area moisturized and free of dark circles. My genes tell me that I should be carrying all of the baggage, however, I started very early by incorporating this step into my everyday skincare routine.
Who are these folks who say eye creams are a scam – can they show me the research? Just kidding. As a beauty editor, I most certainly have come across gimmicky products that appear to be nothing but a richer face cream that's targeted for the eyes. But I say, don't knock it until you try it! For me, my under-eyes say not every eye cream is a scam. It's all about effective ingredients and formulations.
While I do believe eye creams are a godsend, maintaining a healthy diet, drinking lots of water, and staying stress-free – as much as possible – also helps with maintaining a youthful look.
Amber Kallor, beauty director, Fashion Unfiltered
As much as I'd like to say that I'm religious about applying eye cream, it's more of an afterthought for me. That said, a doctor recently asked if I'd like to try a little Botox to soften my crow's feet. I looked at him completely perplexed because I didn't think my fine lines were that severe. He silently handed me a mirror, which has me reconsidering my skincare strategy.
"Life would certainly go on without eye cream, but I don't think the concept is total BS."
I find that I'm more apt to use an eye cream if it has some sort of fun application tool. I know it's a bit gimmicky, but it makes me feel like I'm really doing something! At the moment, I'm loving Dior Prestige Le Concentrate Yeux Eye Crème, which comes complete with a fancy gold applicator that feels amazing when rolled across tired, puffy skin. I also love Sisleÿa's L'Integral Eye and Lip Contour Cream because the massage tool is like a mini steam roller for deflating eye bags and smoothing wrinkles!
I definitely think eye creams offer an instant (albeit temporary) tightening effect and there are countless formulas that boost radiance. As with any form of topical skincare, consistency is key. Eye creams aren't going to work magic overnight nor do they offer the same level of instant gratification when compared to Botox, filler, or other in-office treatments.
Eye creams are formulated specifically for this delicate area of the face and should be ophthalmologist tested to confirm their safety. Could you use the same cream you apply to the rest of your face under your eyes? Sure. You could also wear jeans instead of spandex to a workout, but it's probably not ideal. Both types of pants cover your ass, but one is designed specifically for the occasion so it's probably going to get the job done better.
Life would certainly go on without eye cream, but I don't think the concept is total BS. There are loads of studies that have determined the efficacy of eye creams. As I mentioned before, in order to see results, you have to be consistent. I think consumer compliance is an eye cream's biggest challenge. I myself find it difficult to put yet another product on when all I want to do is watch Netflix and go to bed!
Pro tip: Layering makeup over eye cream is also a consistent problem because so many formulas are too heavy or slippery for day. I love under-eye patches because they offer instant gratification minus the grease.
Janell Hickman, beauty editor and consultant
I use eye creams on a need-basis but not religiously. My issue is moreso puffiness versus dark circles thankfully, and I've seen visible results with Dr. Gross and Garnier. I rarely wear sunglasses and am constantly squinting, so my eyes deserve a little bit of TLC. I prefer gels over creams because they feel lighter and help reduce inflammation slightly. It's much more feasible for me than an eye mask, cucumber or cold spoon if I'm in a rush. I will say those little under eye gel patches work much faster than topical applications.
"Is the marketing a ploy? Totally."
Eye creams are heavier creams, agreed. Because they're in such close proximity to such a gentle, delicate area as your under eyes, most eye creams feel greasy. I've tried a few but have never been impressed. My eyes are also pretty sensitive and the heavy fragrances often make them water.
Is the marketing a ploy? Totally, but it's also a neglected area like the hands. It's basically a repacking of a traditional face product however it seems to make people more cognizant that you need to care for your entire face instead of haphazardly slapping something on.
Like all products consistency is key. Dark circles, wrinkles and fine lines won't disappear overnight (unless you get Botox!) but I'm not mad at doing something a little extra for minimal results.
David Lopez, celebrity hairstylist
I've been on an eye cream "kick" since my early 20's and now at 33 I'm grateful. A lot of eye cream benefits are preventative.
"No, eye creams are NOT a scam."
My main concern for my eyes is reducing dark circles/puffiness as well as reducing and minimizing fine lines. The Origins Ginzing Refreshing Eye Cream is a staple. It's specifically targeted to minimize puffiness, albeit subtle, and has optical enhancers that help brighten under the eye. The Tata Harper Illuminating Eye Cream is also incredible at targeting fine lines and helping with dark circles.
No, eye creams are NOT a scam. I actually believe it's actually the opposite. The "carrier" product that is delivering the ingredients might feel thicker but brands are targeting a different part of your face that is thinner and much more delicate. They have to work to decrease – or sometimes increase – the potency of their hero ingredients in their specific product. If you're targeting dark circles or de-puffing these same ingredients won't be found in your general moisturizer.
Yes, the marketing tactics for eye creams sometimes seem to over-promise but the truth of the matter is that the skin around your eyes does in fact have pores and does indeed need specialized ingredients to specifically correct and manage unique concerns.
Eye creams still seem like an extra and fluffy step in skincare. It seems to be the one most skipped but also the one I'm asked for advice on most on social media. The number one concern that is presented to me is about "tired eyes".  An eye cream (a really good one) is worth the financial/time investment one hundred percent.
Karina Hoshikawa, beauty news editor, Teen Vogue
I am an eye cream devotee through-and-through. I actually started using them when I was 18-years old and have never looked back — and I 100% have my mom to thank for teaching me the value of skin care at an early age. Some of my personal favorites include Caudalie's Vine Energizing Vitamin C, Kiehl's Copper eye cream, and for when I'm feeling extremely fancy, La Mer's Eye Concentrate.
"Use eye cream on your lips, too, to instantly smooth and plump."
I'm still in my early 20s, so the main reason I use an eye cream is to nourish the delicate under-eye skin and to keep my skin hydrated. As a beauty editor, I'm always testing and removing makeup, so my skin can sometimes  go through a lot. I wear contacts too, so I'm constantly touching my eyes.  That said, I do think that using one on the regular does definitely help with any dark circles and boosts overall brightness around the eyes!
Since the skin around your eyes is among the thinnest in your entire body, it definitely requires some extra T.L.C. When it comes to skincare, I personally feel that there's no such thing as too much hydration. A tip I also picked up from a beauty editor/longtime friend and mentor is to use it on your lips, too, to instantly smooth and plump. So if it helps thinking of eye cream as a 2-in-1 deal, I'm all for it!
It's not realistic to expect that any product will have magical effects, but if you want to invest in an eye cream because taking care of your skin makes you happy — which for me, it certainly does — then I say go for it.