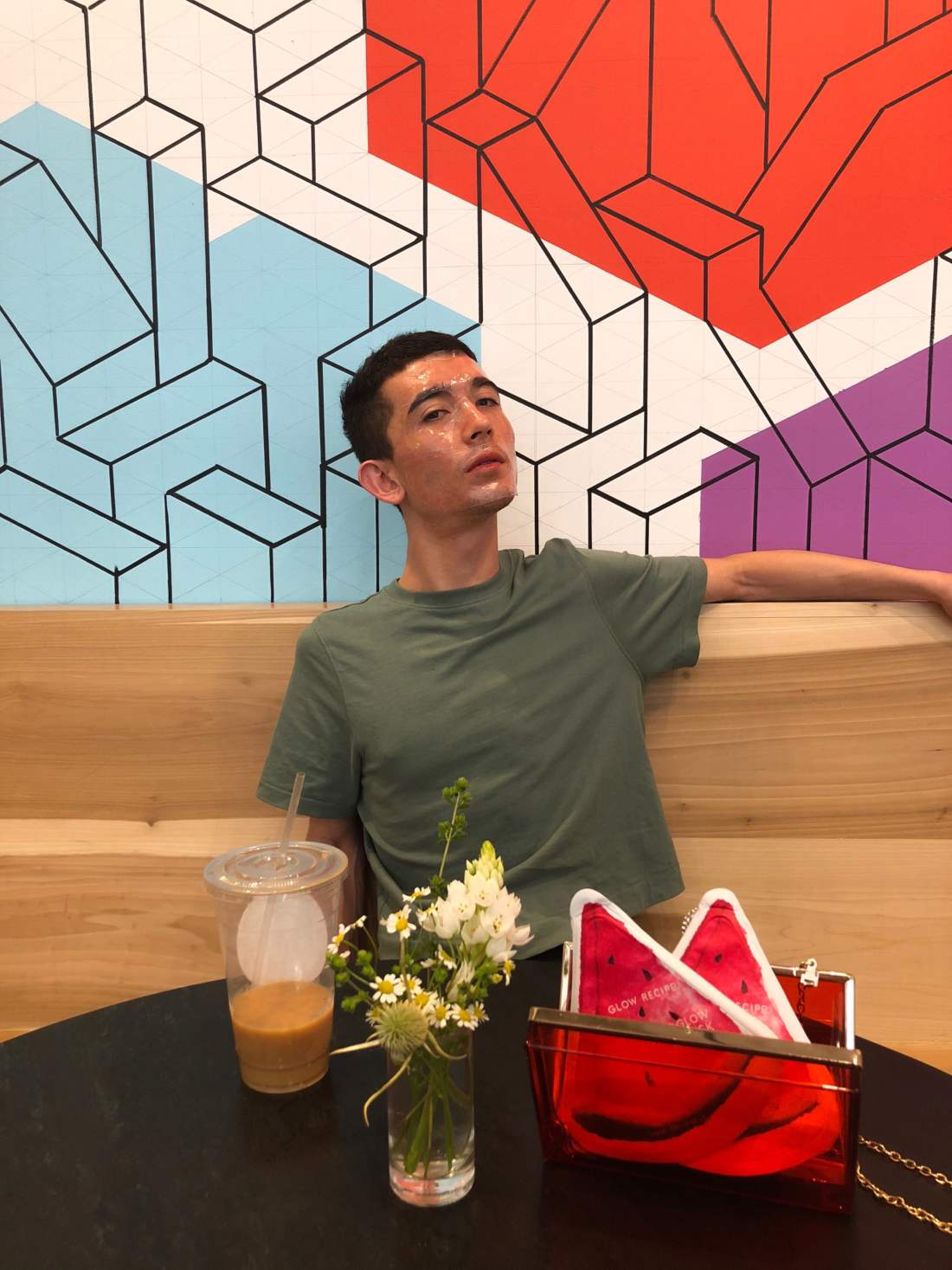 It was one of the first real summer days in New York City, the kind where the hot and humid air clings to you like a second layer of skin.
Being on the roof of the Standard Hotel was high enough to catch a breeze, but not high enough to escape the masses of people. Thirty other people had the same exact idea: day drinking at a rooftop bar. It is the quintessential summer activity in this city, after all.
My plan had a slight twist, though. Yes, I was having my own frozen cocktail, but I also had a face mask on. A hydrogel sheet mask made from pressed watermelon, to be exact. You know the tip about masking on planes to protect your skin from the dry, recycled air? Well, in 2018 it's all about masking in public.
Earlier this month, hot K-Beauty brand Glow Recipe launched its newest addition to the brand's own watermelon-focused skincare range, the Watermelon Jelly Sheet Mask. The sheet masks are so popular, all of them are apparently sold out at Sephora. The transparent jelly made out of directly pressed watermelon is supposed to provide a majorly hydrating and soothing effect on the skin. According to the brand, the almost invisible nature of the mask allows wearers to mask anywhere, anytime without anyone else noticing.
SEE ALSO: You're either an LA person or you're not
And so that's what I decided to do. Go where all New Yorkers go to mask without repercussion. Would people really not notice? Would they care? Would I care? I've actually never masked on a plane for fear of getting side-eyed. Putting this mask on in different public spaces would be diving straight into the deep end. But in the quest for moisturized, soothed and glowing skin, I needed to put the claim to test. Below, I masked just about EVERYWHERE and this is what happened.
Cafe, SoHo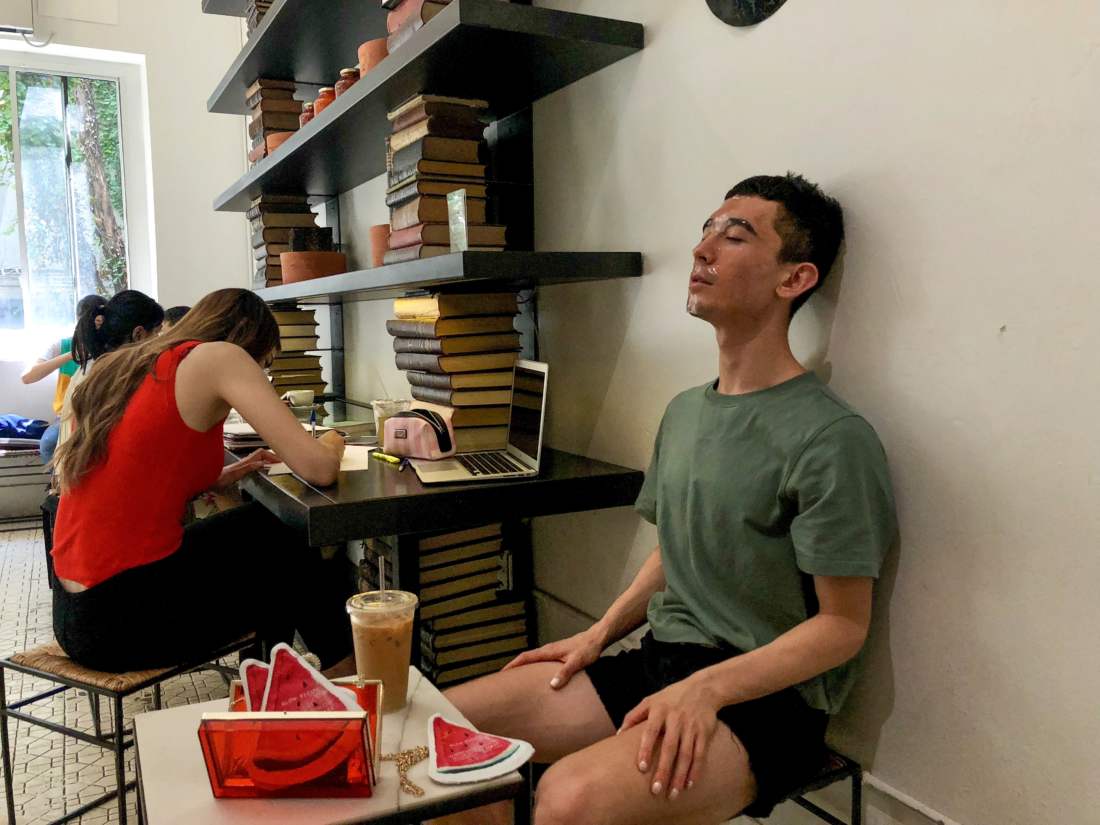 I started my #maskanywhere journey at a Greek yogurt-focused café in SoHo. It's a weekend so tourists and locals were coming in and out of the space. Busy enough where I wouldn't go unnoticed. Perfect. After grabbing a large iced coffee, I took a seat near the back and started opening up the mask. The triangular packaging is insanely cute, shaped like a watermelon slice that I wished was in my hand. Upon opening, a sweet watermelon Jolly Rancher fragrance wafted up to my nose. It wasn't cloyingly sweet, though. This is the real stuff. The first two ingredients of the mask are watermelon fruit extract and watermelon fruit. A juice, but for your face.
I noticed a few stares in my direction, but nothing more than curiosity and confusion.
I slide the two-part mask out, carefully layering it on the top and bottom halves of my face. The jelly felt cool even after 45 minutes of being outside. It was the refresh my face needed after being beat by the sun's rays.
I noticed a few stares in my direction, but nothing more than curiosity and confusion. I closed my eyes and reclined against the wall, allowing the jelly to work its magic. There's no excess drip from the mask.
Check.
I didn't want to be looking like I came out of some weird beauty-horror film where rogue masks start melting people's faces off. For the most part, the mask clung to my face. I felt it creep down ever so slowly, but nothing a little lift-and-press couldn't fix.
After 15-minutes I took the mask off and my face felt juicy. My skin drank up all that watermelon juice and hyaluronic acid. Instant bounce. I was already looking better than when I walked in. Were people looking now? Did they see how I was glowing? Nope. They'd all resumed their work or conversations. Oh, New Yorkers. Onto my next location.
Fish market, Chinatown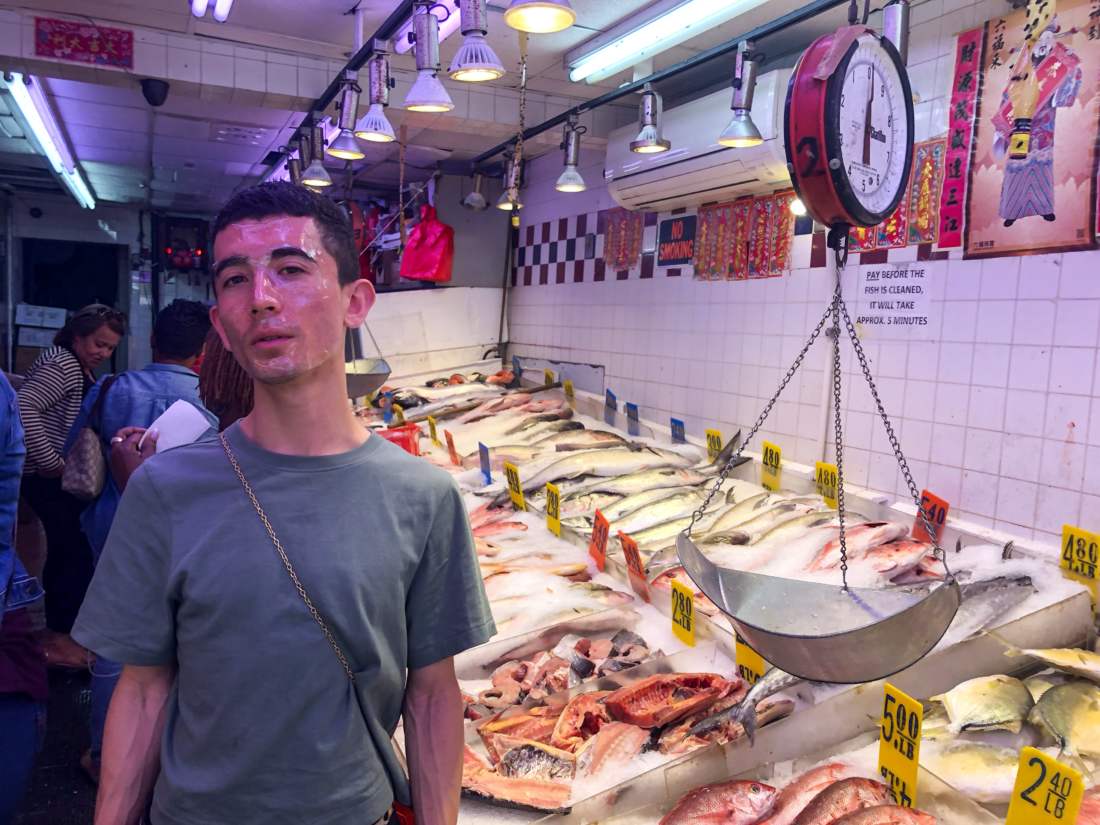 From the café, I walked down to a fish market in Chinatown. Is there a better place to mask than with the shiny and perpetually wet creatures of the sea? Mask on. The stares were longer and more confused than the cafe. They mostly came from tourists who were equally perplexed by the raw fish on open ice. Welcome to New York City, babes. The Asian moms and grandmas DGAF, though. They're just here to do groceries like usual, stunt queen or not. I didn't mind the smell inside since I grew up in a Japanese household where raw fish, fermented soybeans, and dried seaweed were a mainstay. However, the mask provided a nice protective coat between my face and the catch of the day.
Upon taking the mask off, my skin feels a little bit sticky. Maybe the AC-less environment wasn't the best place to do this.
Tourist shop, Canal St.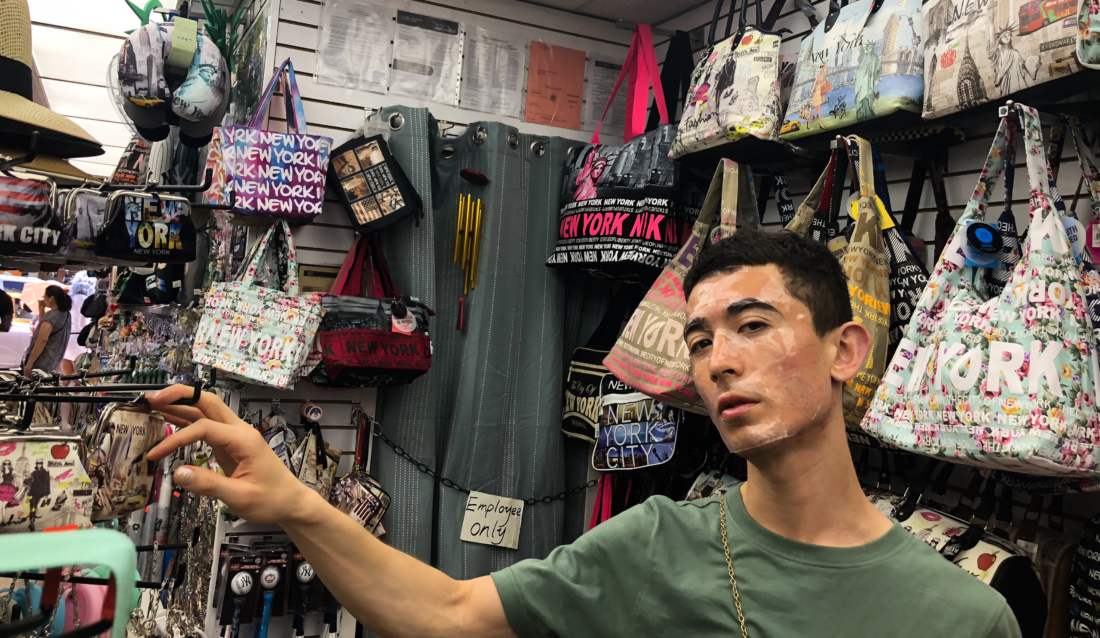 The next location was a gift shop on Canal street. You know, the ones with "I ♡NY" tees and $5 sunglasses. I figured I could mask and window shop at the same time. I broke into my second set of watermelon slices and delicately blanketed my face. Pro-tip: don't re-use the mask. As soon as I put on this fresh jelly, I could immediately tell the difference. It felt more juicy and supple, unlike the sticky and slightly warm feeling I had when I reused at the fish market.
The store staff didn't seem to mind, although I don't understand Mandarin so they could've been saying something like "Does this &%$# have a face mask on?" I'd never know. I love masking and online shopping at home, so this felt like a natural extension of that. Since no one said anything, I continued browsing the merch. After fifteen minutes I'm out.  This time, I left with the face mask on, wondering what the streets would hold.
Streets of downtown Manhattan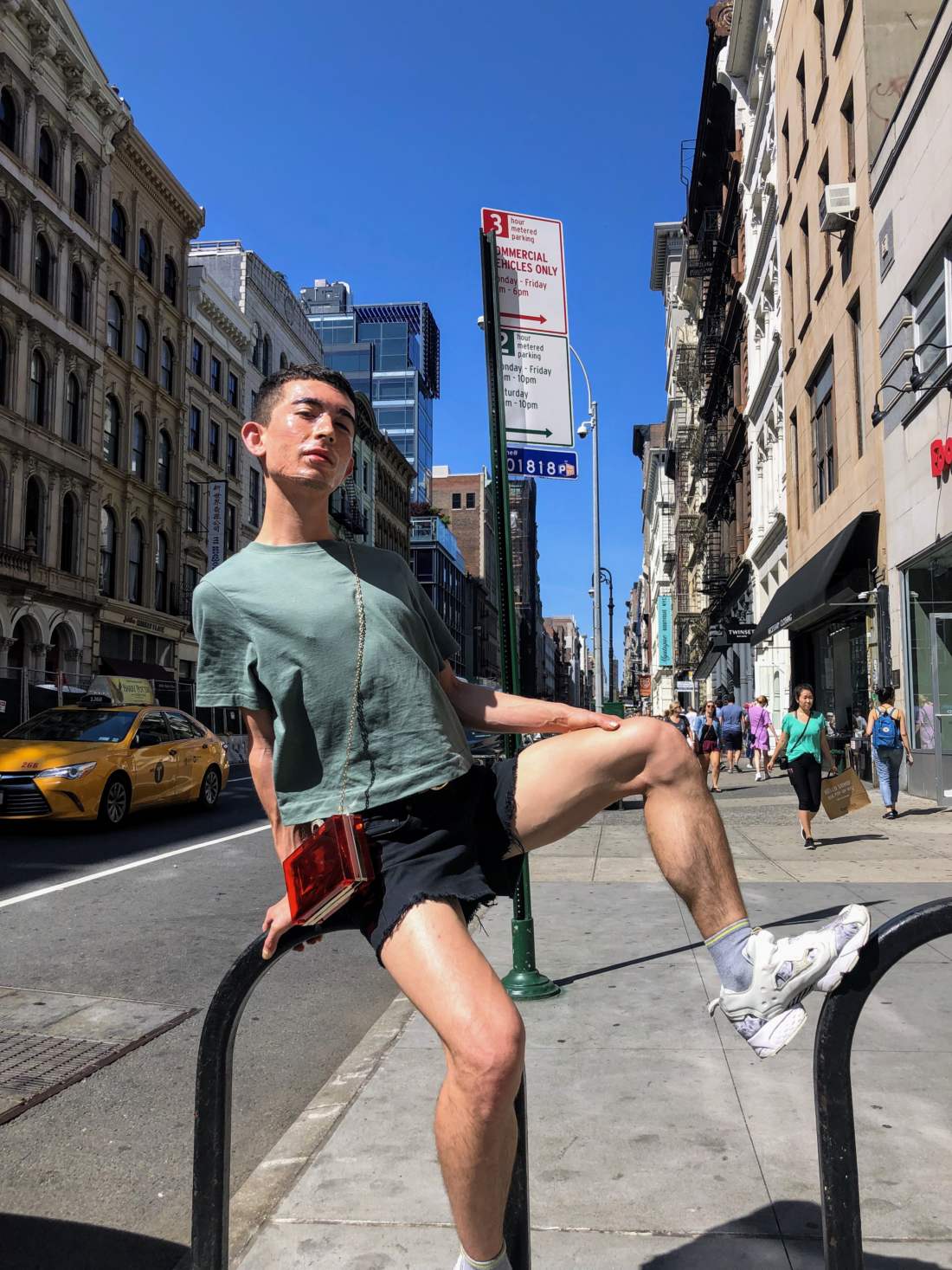 I racked up a few more stares on the street, but nothing more. Maybe because it's New York City and with all the crazy stuff that happens here, masking in public is NBD. When I took this third mask off, I noticed my forehead was dyed a baby pink hue. Nothing crazy noticeable, but lesson learned. Don't mask for more than the recommended time. Or just don't do three masks in two hours.
Subway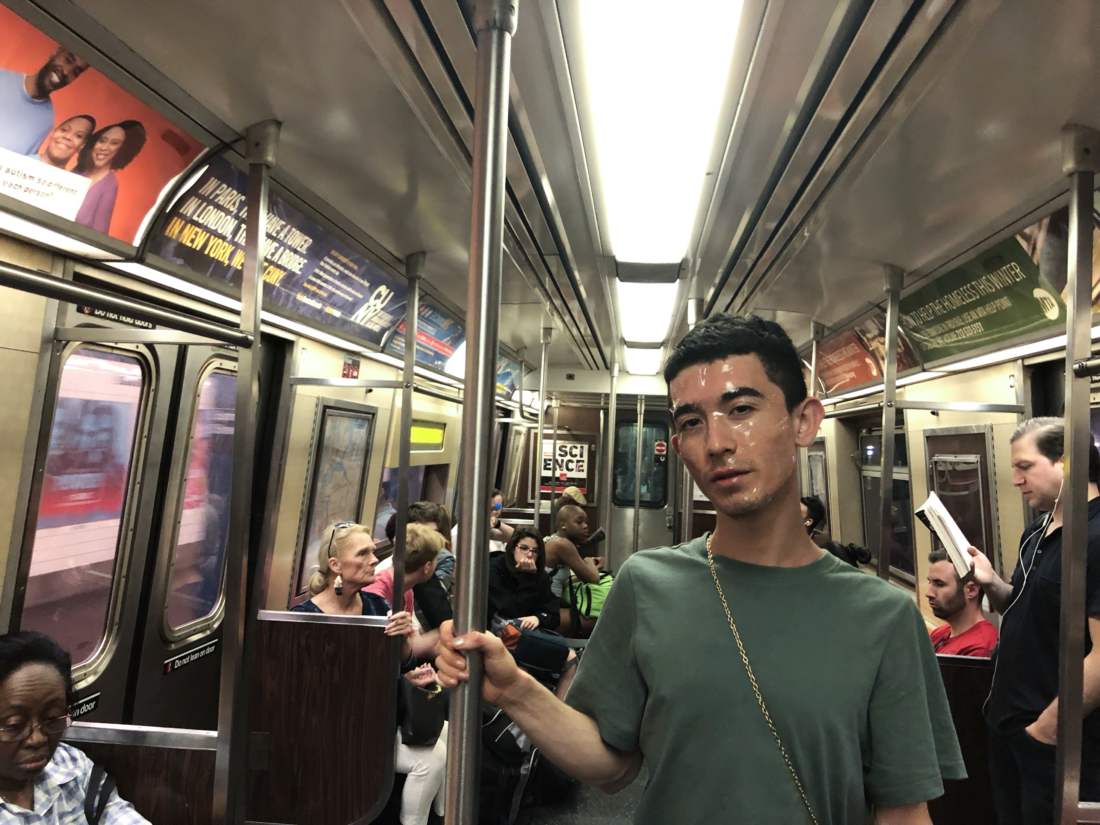 Since I've seen people put their makeup on in the subway, I figured that would be another great location. Besides, is there a better way to arrive to work than with post-mask skin? I got on the uptown subway at Canal Street, and masked away. The air conditioning instantly soothed my body and mind, making my experience that much more spa-like. This time the mask wasn't sliding down or catching questionable street-air particles. Just me, cool air and the silence from co-passengers. Four stars for this location.
Hotel rooftop,  Meatpacking District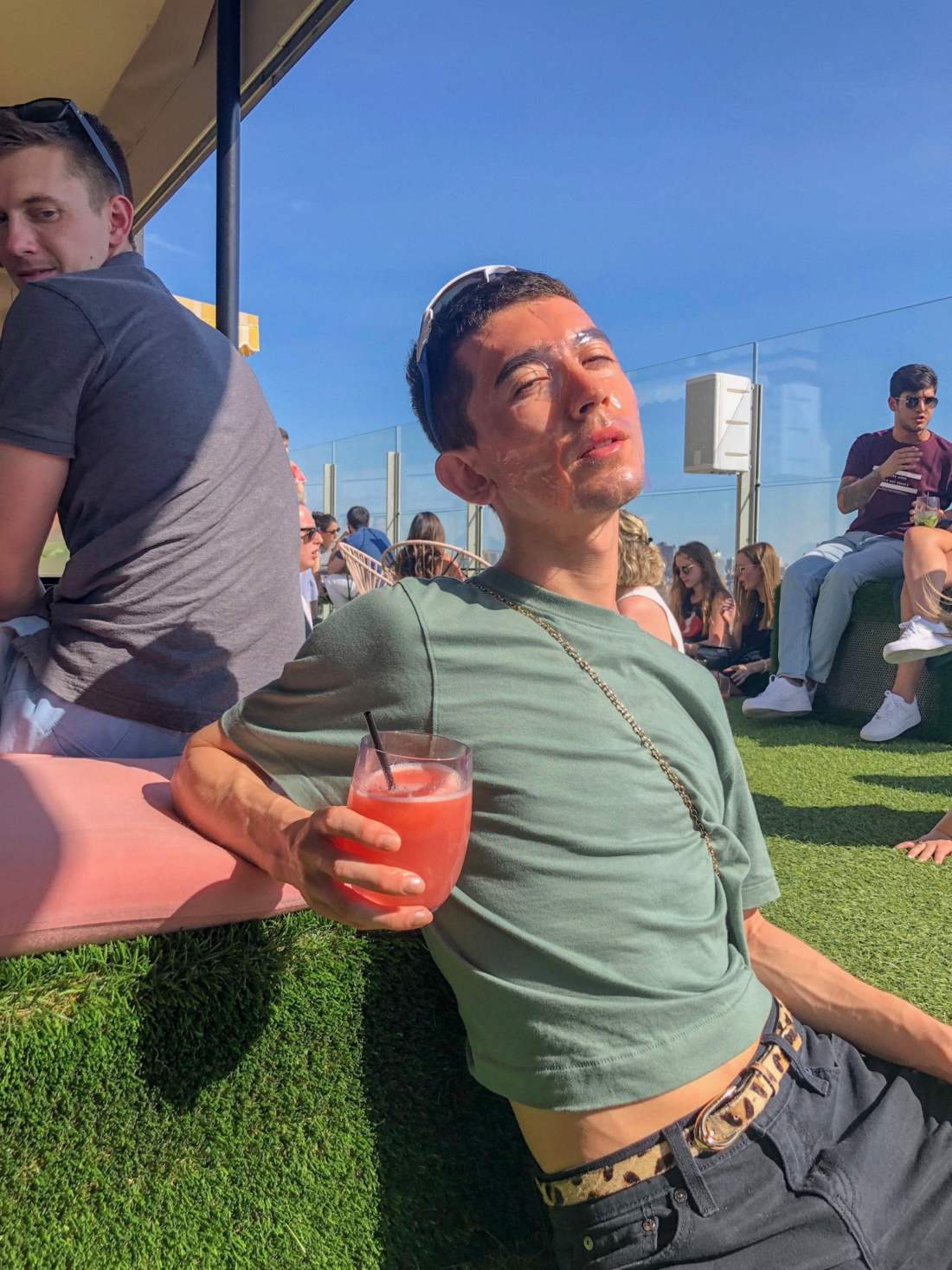 Ok, the last and final destination: a rooftop bar. The crème de la crème of New York City summer hangout spots. I made my way to the roof of the Standard Hotel where there's already a crowd at 4 pm. I ordered a frozen slushie at the bar and found a spot near the glass wall to hang out. With zero hesitation, I slip on my last mask. I'm a public masking veteran at this point. Some people are staring, but most of them are busy in conversation. That was until a couple girls walked in and saw me glistening. And definitely sweating.
"Is that a face mask?" Aylin, a student from FIT asked me. I took off the lower part of the mask so that I could properly enunciate and told her about my day masking anywhere and everywhere in the city. She took a picture of the mask, we exchanged Instagram handles, and I'm left feeling more empowered. This first and last reaction was more positive than I'd imagined going into the day.
Prior to embarking on my #maskeverywhere adventure, I thought I might encounter some WTFs or paparazzi shots. Nope. Instead, I finish the day feeling confident. Sure, that might be because of my uber-plump skin after masking all day but I think it's more than that. It's enough to convince me to mask on my next flight – and beyond.
BUY Glow Recipe's Watermelon Glow Jelly Mask, $8, HERE