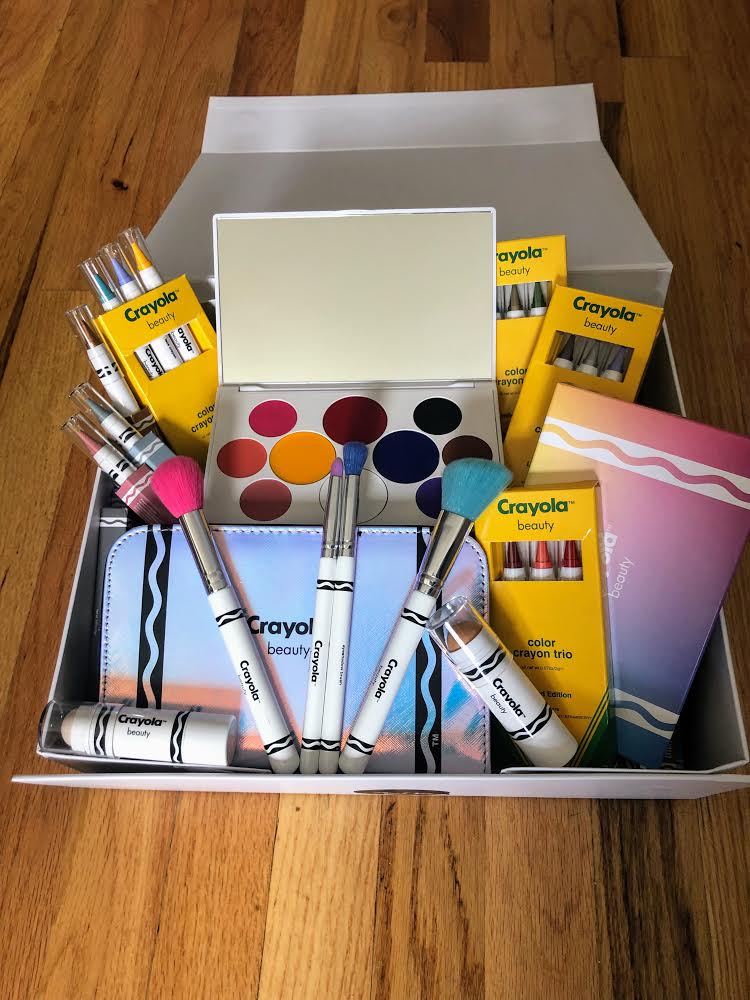 Are my childhood dreams coming true?
When I heard that Crayola was launching its own makeup line, the 5-year-old inside of me squealed. Back In kindergarten, having the elusive 64-pack of the eponymous crayon brand marked you as the "cool kid." Besides having at least five different shades of blue to choose from for coloring projects (Robin's Egg Blue, Sky Blue, and Pacific Blue were a few of my favorites), I remember using these on myself. The body is the ultimate canvas, right? Unfortunately, the waxy pigments never translated as well going from paper to skin, but it was the closest I could get to a rainbow makeup palette.
SEE ALSO: ASOS just launched its first beauty line
Well, that is until now.
Perfectly timed for Pride Month, Crayola partnered with hip, fast-fashion e-tailer ASOS to launch a 58-piece collection of face crayons, bright mascaras, chubby highlighter sticks, and face palettes. The brand just launched its first beauty line last year, and we reviewed that here. As a brand whose inspired creativity from a young age, Crayola Beauty empowers individuals to live confidently as themselves. This collection, featuring 95 shades named after the original crayon colors, is vegan and cruelty-free, and everything is under $40. Talk about accessible – and inclusive!
Crayola sent over some of its products for us to try and here's what we thought.
Packaging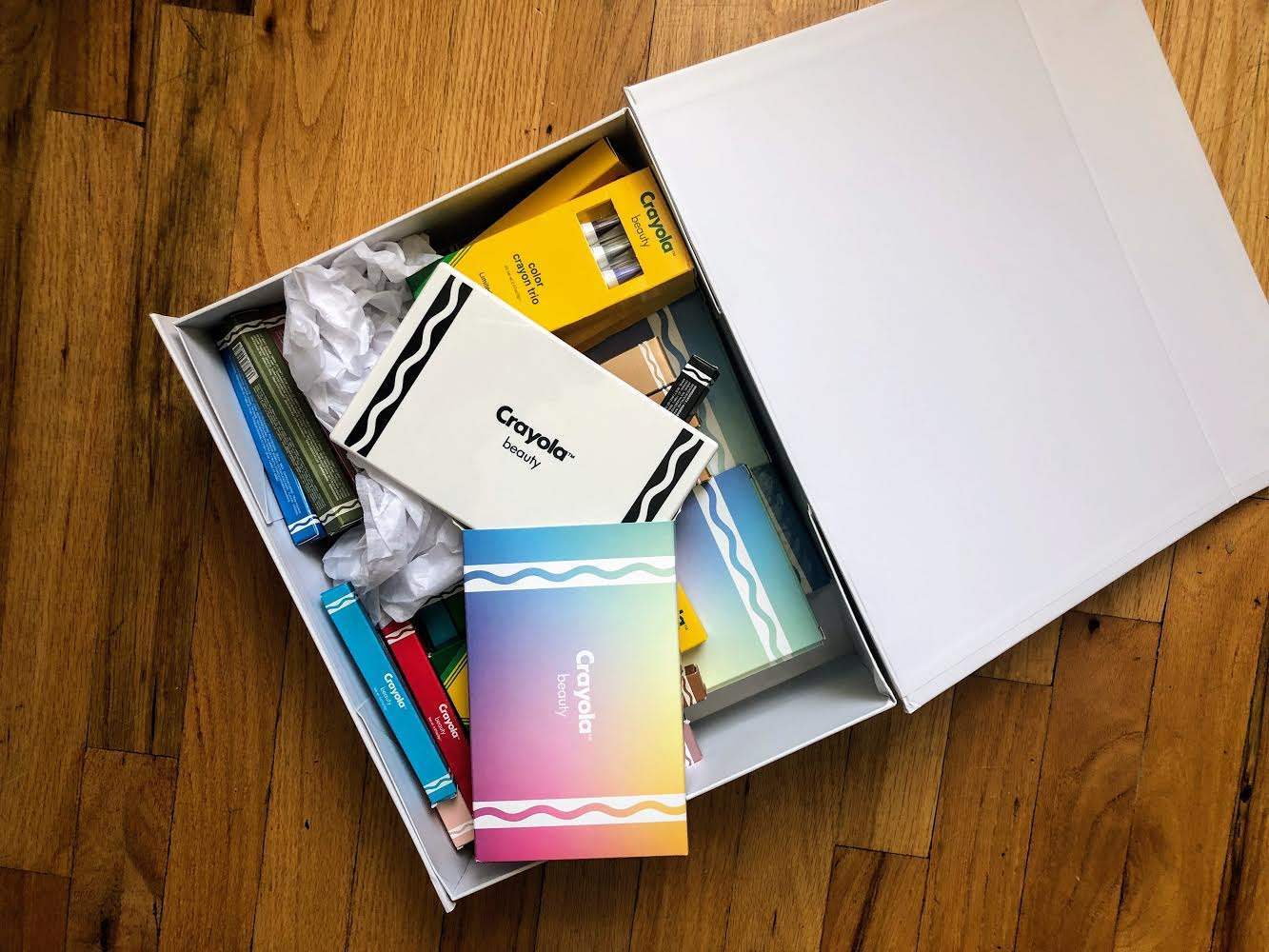 Upon opening the box, I was pleasantly met with the nostalgic green and yellow boxes. This time though, they were filled with limited edition, curated face crayon trios with names like Purple Galaxy and Out Of This World. Individual face and color-changing lip crayons, and mascaras are packaged inside their own boldly colored single boxes. The face, lip, and eye palettes are housed inside stackable and packable white plastic boxes, each with its own mirror on the inside. Bonus points for that! Overall, great eye-catching packaging that reflects the collection's "color outside the lines" ethos.
Look 1
For this first look, I used the face crayons to recreate a rainbow eye I saw on Instagram. The pointed tips of the crayons made it easy to apply in a small area like the eyes, but the texture was pretty soft (maybe too soft as one of the tips actually broke while I was applying!). This made it difficult to get accurate lines and the colors started to blend together as I added another shade of the spectrum. Overall, not the cleanest application process, but these were great for getting saturated color on my skin quickly and effectively. I also used the face palette on my cheeks to contour and highlight. The first warning sign was when I was shaking off excess product from the accompanying makeup brushes. Most of the powder dusted off and when I applied to my face, the effect was very subtle. I had to do a double-take to see if I even got any product on the brush. I layered on a few times to get the gradient I was looking for, but I'm not sure how long these would stay on my face during the course of the day.
Look 2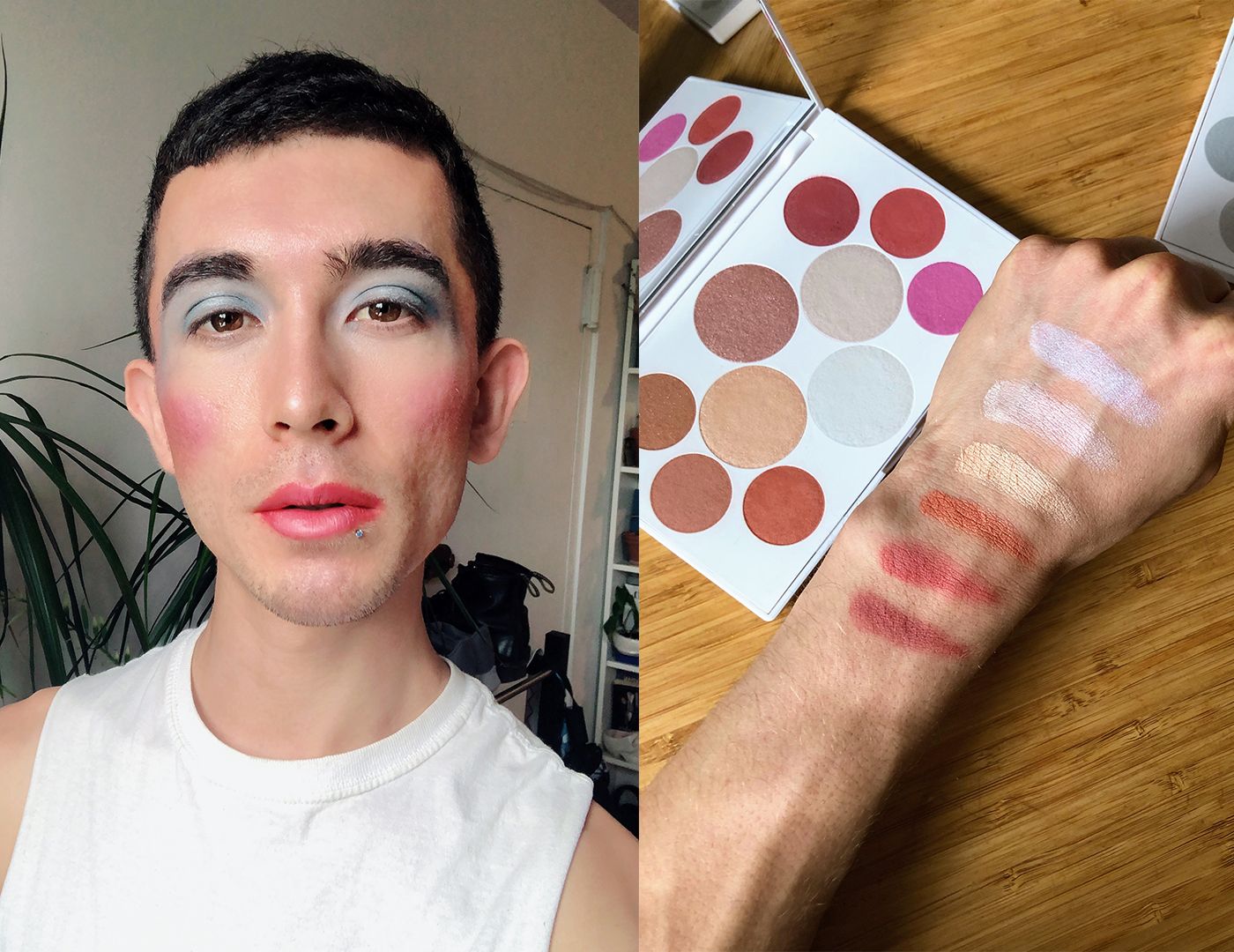 Time to take it up a notch. For my second look, I used the same face palette to create a more dramatic effect (see: layering multiple times). I then used the chubby highlighter sticks on my nose, middle forehead, cupid's bow and chin. The color and shimmer from these were solid. I've used better (Fenty), but for $17.50, these do the job.
Next: the eyeshadow palette. This had such gorgeous colors and I was looking forward to seeing how they would translate on my lid. Similar to the face palette, these didn't have as much saturation when applied and the colors got muddled pretty easily. I used the accompanying eyeshadow brush, which is a part of the brush kit ($40) to apply and blend. I haven't used too many brushes before, but compared to my fingertips, I'd say it was a better alternative. Since I wasn't getting the big, bold colors I was hoping for, I went in and used the face crayons for my crease and lower lid to up the pigment.
The final step was my lips. The lip palette has rich colors like the face crayons and applying with the lip brush made it super easy. The colors were instantly bright and just a couple layered got me to the saturation I wanted. This was one of my favorites from the collection.
Look 3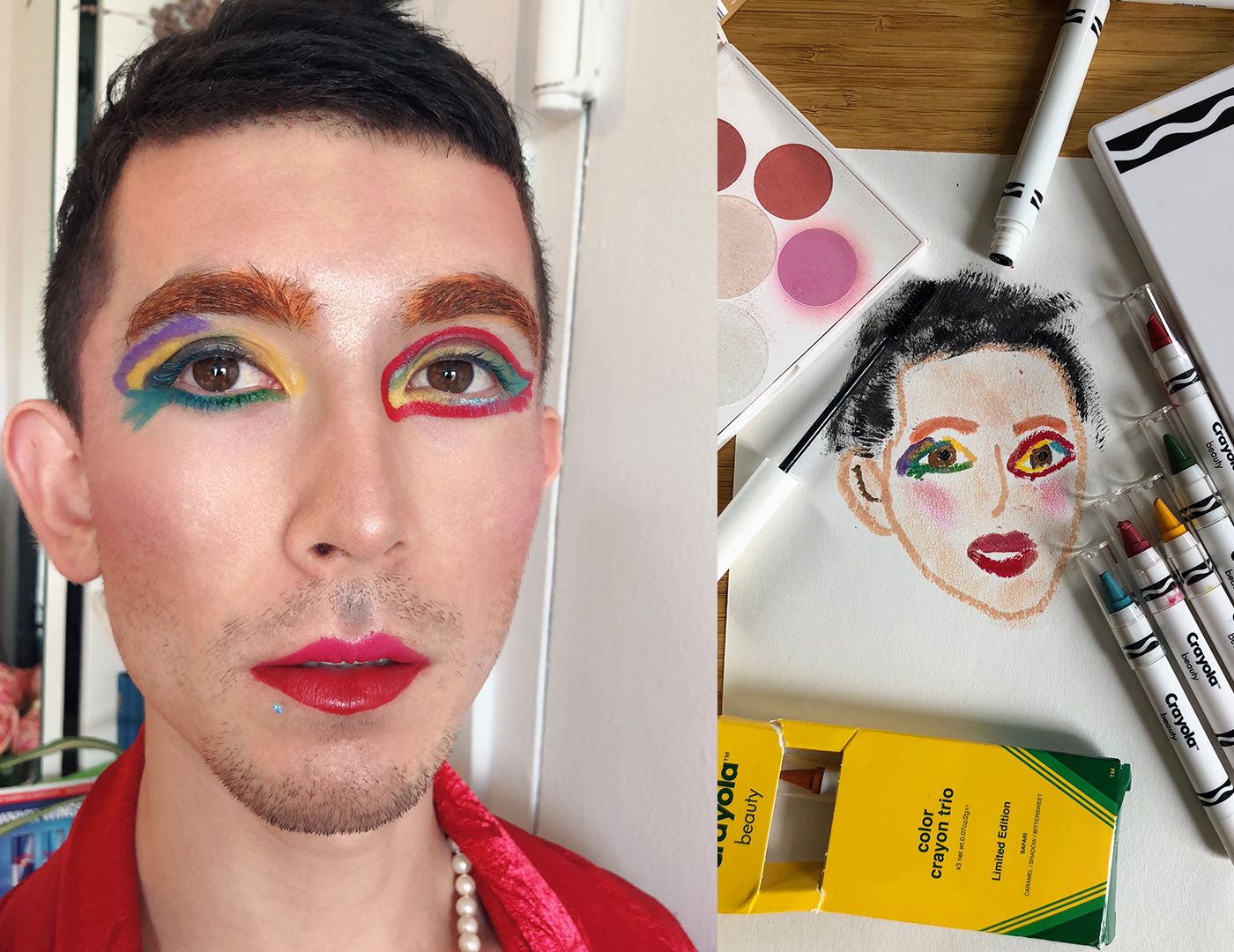 For this final look I wanted to get a little more playful like the campaign images. My roommate and I searched runway makeup as inspiration, landing on a multi-color and shape eye. Since this was pretty advanced for me, I gave her full reign as my makeup artist. She used the face crayons (like the first look) and lip kit to create the bright and dramatic drawing on my eye. To add more depth and drama, she used the turquoise and electric blue mascara ($16 each). The colors immediately transferred onto my lashes and gave a nice contrast to the rich colors on my eye already. For my lips, she used the lip kit but used two different colors for an ombré type feel. More is more!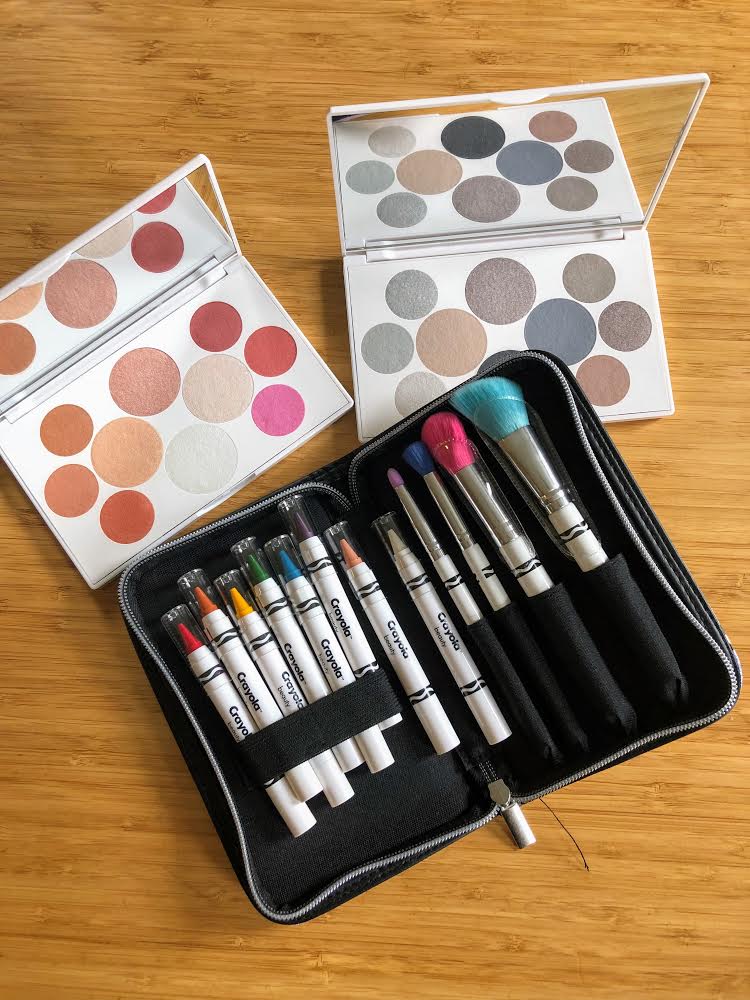 TLDR;
Overall, the Crayola Beauty collection is great for creating big, bold looks with different colors. The face crayons, lip palette, and colored mascara were my personal favorites from the bunch since I didn't have to keep applying to get saturated pigment. The face and eye kits, and highlighter, were nothing to write home about, I could take it or leave it. Given the price points for these products though, ranging from $14 to $35, I would recommend this to anyone looking to get into makeup. As Crayola says, experiment and express yourself. Go play.
BUY HERE