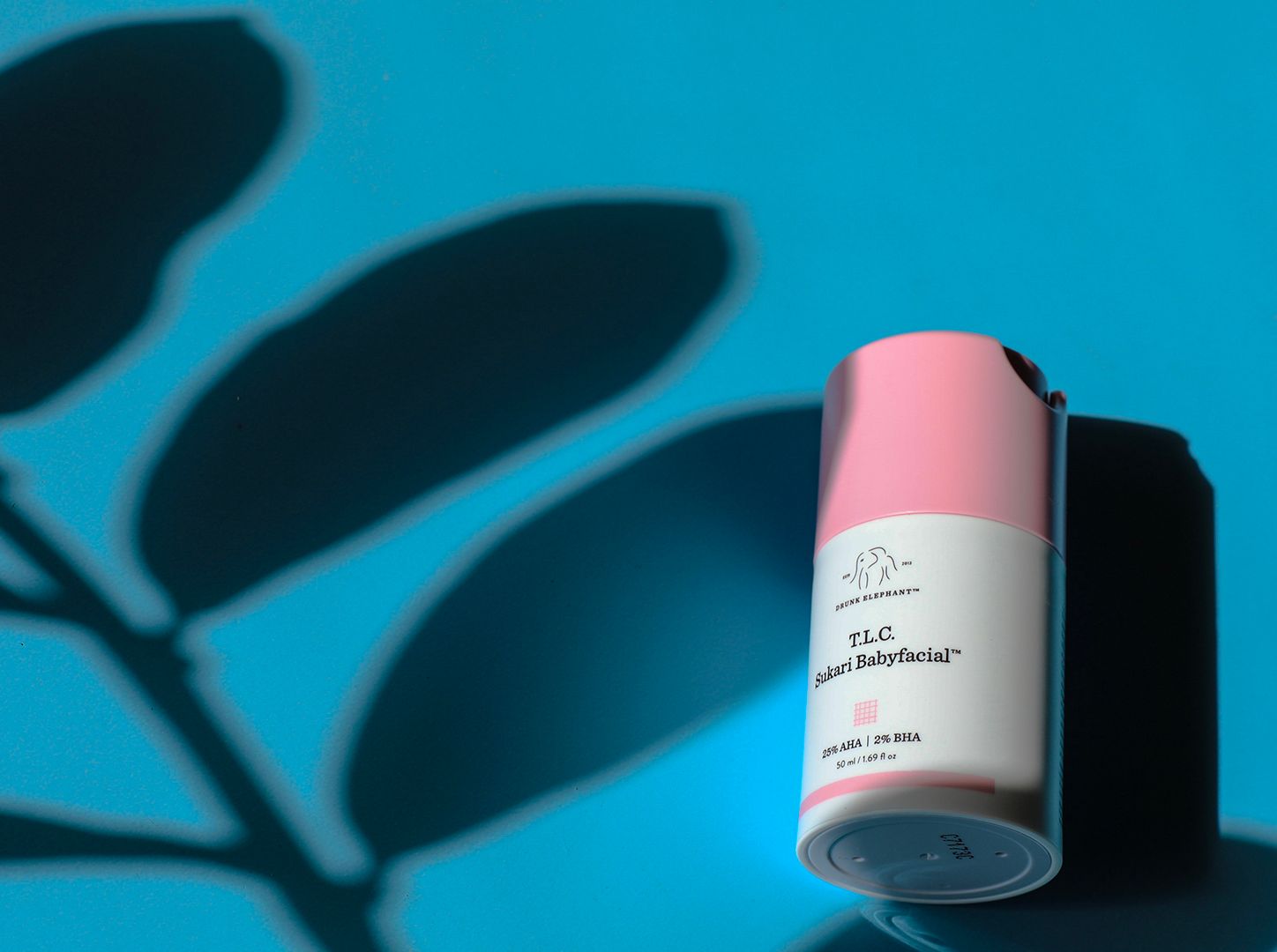 Acids. On your face. Uh, no thanks?
At least, that's what I thought until just recently. I had always been a curious (aka nosy, and still am!) young person with a predilection for news, one who was obsessed with with shows like Dateline. And so I was traumatized one day when I saw a report about a man who'd dumped acid on some poor unsuspecting woman's face. Like, splashed it onto her and ran off. That image of said woman has been embedded into my brain for years and whenever I read "acid" or hear of the very word, I have PTSD, reverting back to that moment of absolute terror.
SEE ALSO: Exfoliating with sensitive skin? Yes, it's possible.
And so, when Drunk Elephant sent over its T.L.C. Sukari Babyfacial, a powerful acid, my heart skipped many beats. We know that the proper way to exfoliate is with a good scrub or an acid. The latter comes in AHAs or BHAs, that is alpha hydroxy acids or beta hydroxy acids. The former is for getting rid of dead skin cells that are congealed tightly onto the skin. The latter penetrates sebum and declogs your pores so you don't have things like white or blackheads. As a beauty editor, I've had way too many experiences with acids with my sensitive skin inflaming and me ending up wanting to pass TF out in agony. And so when I tested one of Sephora's bestsellers, I proceeded with caution.
As we know by now, Drunk Elephant is a cult product by Texas-based founder, Tiffany Masterson who created the brand from her own research into beauty. She really took off with her firm belief that no products should contain any of the top 25 ingredients deemed hazardous to your body. These include parabens, formaldehyde, BPA among others. After launching Drunk Elephant, the brand quickly took off, with Man Repeller's own Leandra Medine investing her own money into it.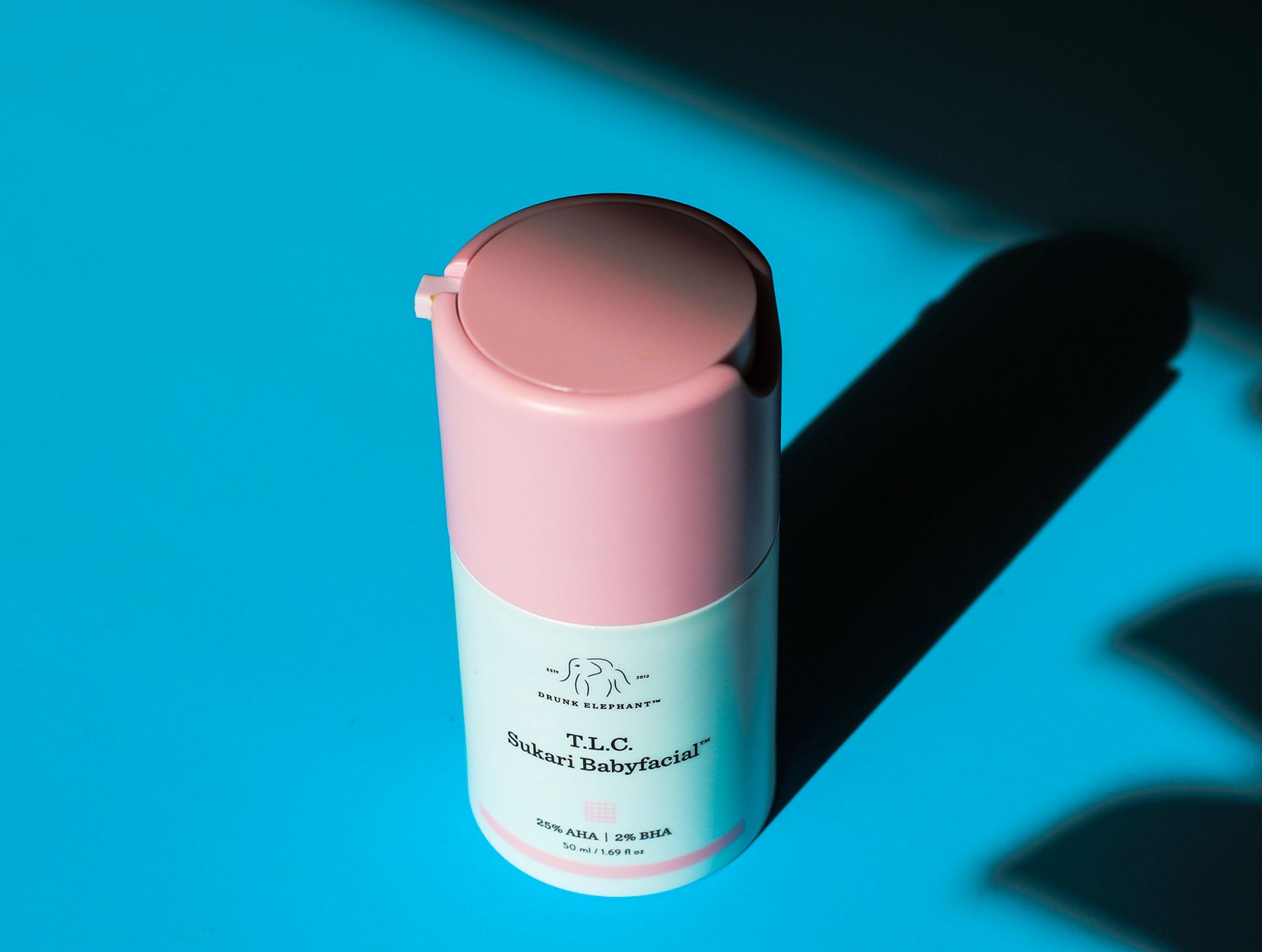 But the hero product, among the many SKUs, was really the T.L.C. Sukari Babyfacial. The brand helped Drunk Elephant become a real new player in the beauty space thanks to reviews all over the Web: Reddit's Skincare Junkie thread, to Instagram to influencers organically touting the product.
The formula is effective but also super gentle. With 25% AHA (glycolic, tartaric, lactic and citric acids) and 2% BHA, the product helps to resurface your skin. It's gentle thanks to its antioxidants that soothe the skin like matcha tea, apple, niacinamide, among others that make this super gentle yet effective for any skin type.
When you pump out a small dime-sized amount, it comes out in a beige clay color with a very creamy, delicious consistency. What I appreciated about this acid I approached with intense trepidation, was that it was free of that sticky feeling that leaves you wanting to immediately wash it off. Instead, it's more like the texture of a heavy moisturizer. You simply wash your skin, pat it dry, then add the creamy product by rubbing it evenly all over your face. After waiting 20 minutes, with a few stings here and there (totally bearable!) you wash it off to find your skin more glowy, beautiful and cleaner than before. Proceeding with the acid, go on with your normal beauty regimen (which, for me, includes a toner, essence, cream, eye cream, and then night mask).
For the next few days, everywhere I went, the glow followed. I felt my skin wasn't only smoother, but it had a beautiful, gleaming complexion, one that looked and felt new. The brand says to try this product once a week but I've been doing this every three days and haven't found it too harsh for my skin. A little sting and some pinkness aside, this formula is probably the one acid that won't make even the most sensitive of complexions freak out. And it's also allowed me to get over my fears of acids altogether.
Drunk Elephant's T.L.C. Sukari Babyfacial here for $80.