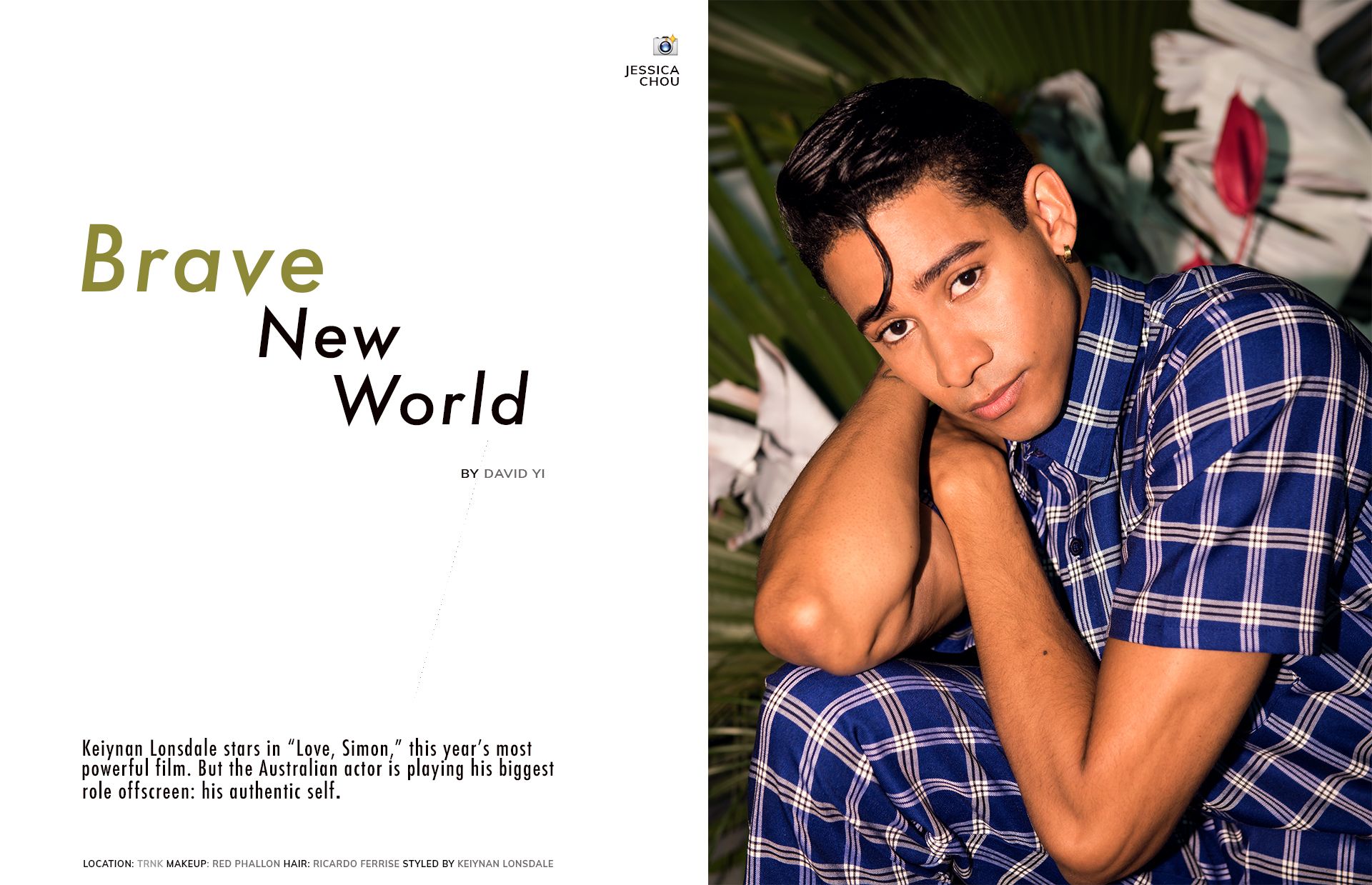 LOS ANGELES –  On the last day of shooting "Love, Simon," Keiynan Lonsdale was nervous, but undeterred.
He was in Atlanta filming the coming-of-age teen movie, directed by Greg Berlanti, when he decided to come out as sexually fluid. He'd publicly do so just weeks later.
It seemed as good of a time as ever. After all, the film celebrates the LGBTQ experience in a sensitive, beautiful manner. The earnest film centers around Simon (played by Nick Robinson), a high school teenager who struggles to come out with his gay identity. Along the way, Simon falls for an anonymous person named "Blue" another student at school who came out on a forum. The two go back and forth with emails of encouragement with Simon falling for "Blue" and trying to uncover his true identity.
SEE ALSO: 6 men on the last time they felt #blackboyjoy
Already a "certified fresh" flick on Rotten Tomatoes (at publishing it had a 88% rating), the movie's getting rave reviews for its authentic take on a subject that's underrepresented in the media. More so, it's one that paints a beautiful picture of what it's like to be gay in 2018 – no longer tolerated, rather, accepted and celebrated.
Keiynan plays Bram, a high school jock with secrets of his own. Without giving away too much, the role is pivotal to the storyline. It's also one that's a breakthrough role for Keiynan, one that's made him into a modern day heartthrob.
"He's bisexual, he's this, he's that, he's gay. But I'm okay with any one of those labels because I'm proud of each of those words."
But coming out with his truth was far from easy. Though he'd come out as sexually fluid to his close friends and family back in Australia, he kept it quiet when he landed Stateside. Fresh off of a star role as The Flash in the CW's Legends of Tomorrow, the thought that coming out would have an adverse effect on his career. After all, he was playing a superhero.
"Growing up there weren't LGBTQ heroes to look up to," he says. "I wish I had people like Colton Haynes or Ezra Miller who are great role models in the queer community."
And so he'd edit himself. Edit his mannerisms, his sense of dress, his social media.
"Do I sound gay here?" he remembers asking himself before posting something. "Can I use this emoji? Should I post this selfie? What I realized was every time I question those things I'm adding a little piece of shame to who I am."
***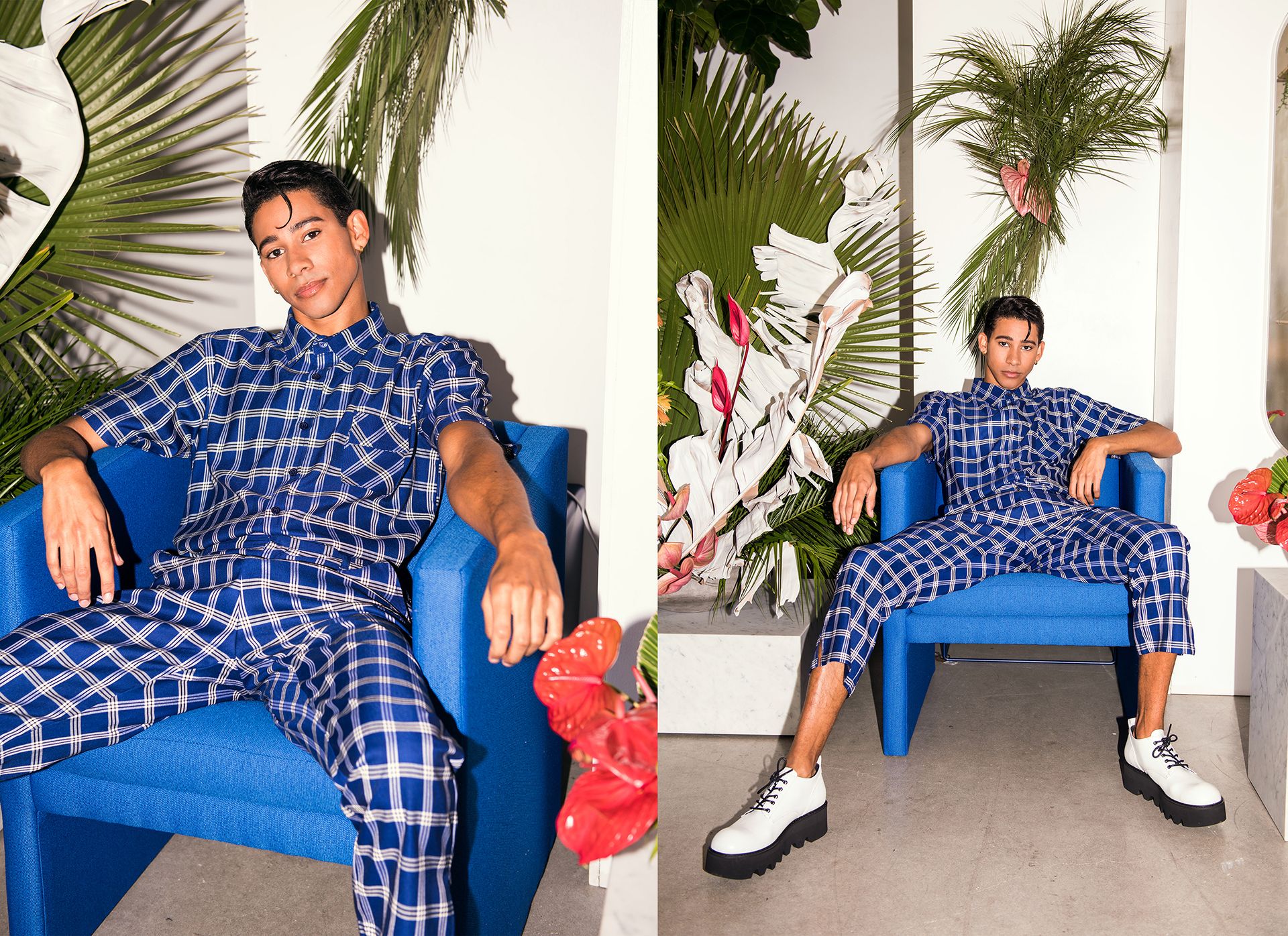 A product of a Nigerian father who wasn't around and an Australian single mother, Keiynan grew up in the Outback obsessed with Michael Jackson. He would dance in the living room. He'd record videos. He'd mimic the late singer's moves. It's this freedom of expression that allowed him to dig into his creativity.
But life was far from easy in Australia. His mother, now a single mother of six children, juggled three jobs to make ends meet. Money was always tight. "As silly as it sounds, everything was a struggle," Keiynan recalls.
"I always saw my mom fighting for us. I learned really early on the power of a woman and recognized that she was all I needed. I didn't grow up with my dad but I had the best mom in the world."
Though he learned the power of femininity, he quickly remembers having to reject it from the outside world. "By the time I was a teenager is when I started to reject femininity or anything in that realm. It was the only way to fit in." Especially in Australia, a country Keiynan says is even more hypermasculine than the States.
There, he attended an arts school where he danced every day. It was here where he started to wear his many masks so that no one would uncover his true identity.
"We should be proud of being men by being open and vulnerable and by learning what we can learn from women and from ourselves. That's power."
"One day, I trained myself to be as masculine as I could," he says. "I felt I spoke feminine, walked feminine and danced feminine. I started seeing my behavior and trying to refine is as much as I could. I never wanted anyone to ever question whether I was straight."

At this stage during high school is when Keiynan began questioning everything. He knew he was attracted to girls but he was also attracted to guys. It was after graduation when he first developed his first real crush on another guy.
As he'll tell you, the feelings were intense and real. And tragic.
"These feelings felt so good and real and would make me happy but I realized I could never act on it," he says. "I felt like I couldn't have happiness. Because I would get these feelings that felt so good and so real, and it would make me happy. Then I realized I could never ever act on it."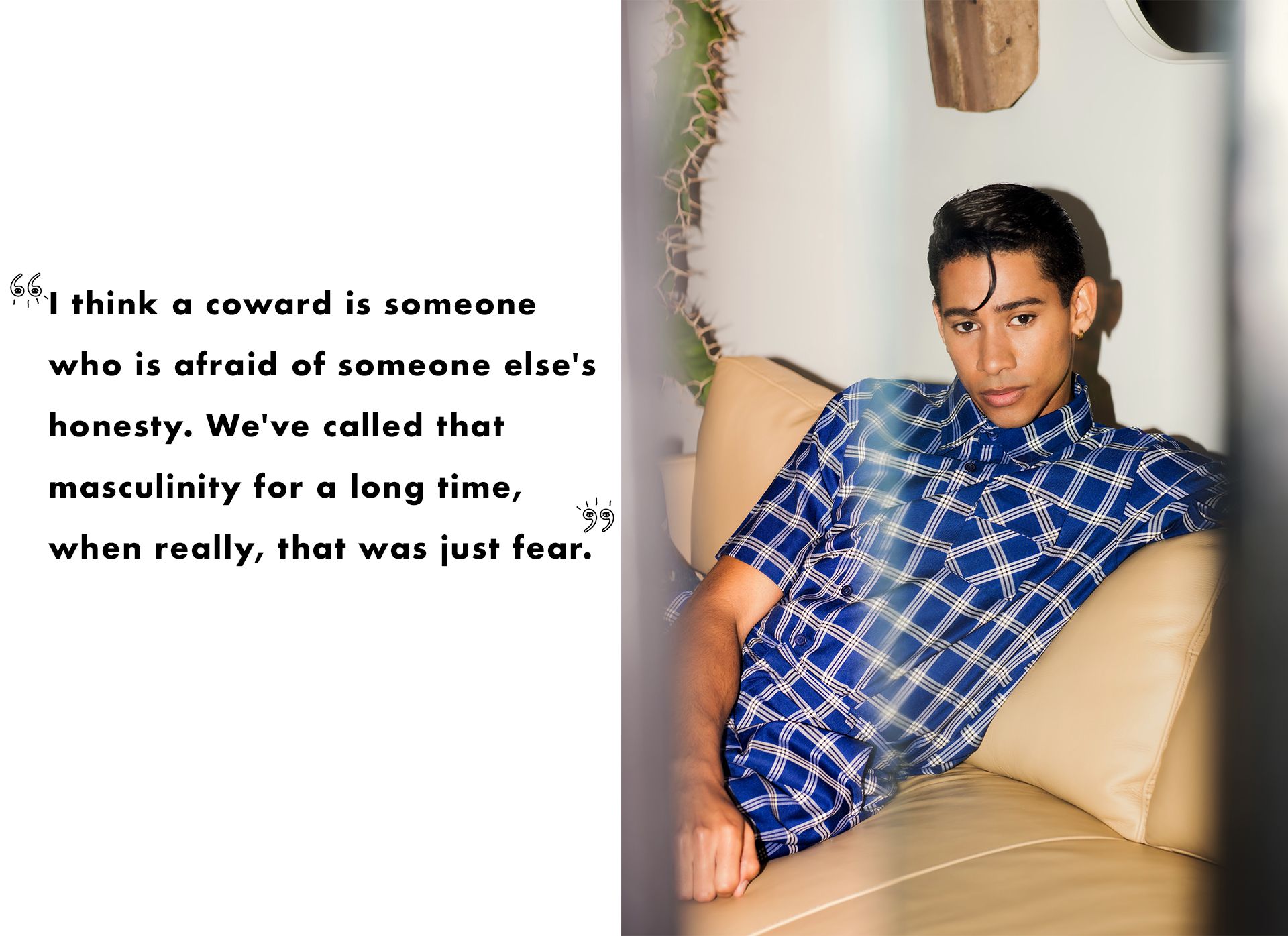 It was at 20 when he fell in love for the first time. It happened to be with another man.
After dating in secret, his best friend confronted him about it.
"Are you in love with this person?" he asked Keiynan.
He felt as if his secret was out and began pouring his heart out to him.
"I'm not gay, I'm not gay," he replied.
"Are you bisexual?"
"I'm not that either…I don't know what I am. I don't want to be anything and I don't want anything."
"Just be Keiynan."
This still rings true today. Though he's attracted to both men and women he wouldn't quite label himself.
"He's bisexual, he's this, he's that, he's gay," people will say about me. "But I'm okay with any one of those labels because I'm proud of each of those words."
But after coming stateside landing his breakthrough role as The Flash, he felt as if he was reverting back to his teenage self. In many ways, it was almost as if he was going back into the closet. "I was afraid that people would reject me because of my identity."
Which was why, after filming "Love, Simon," such a powerful movie with a positive message towards homosexuality, remaining closeted became unbearable.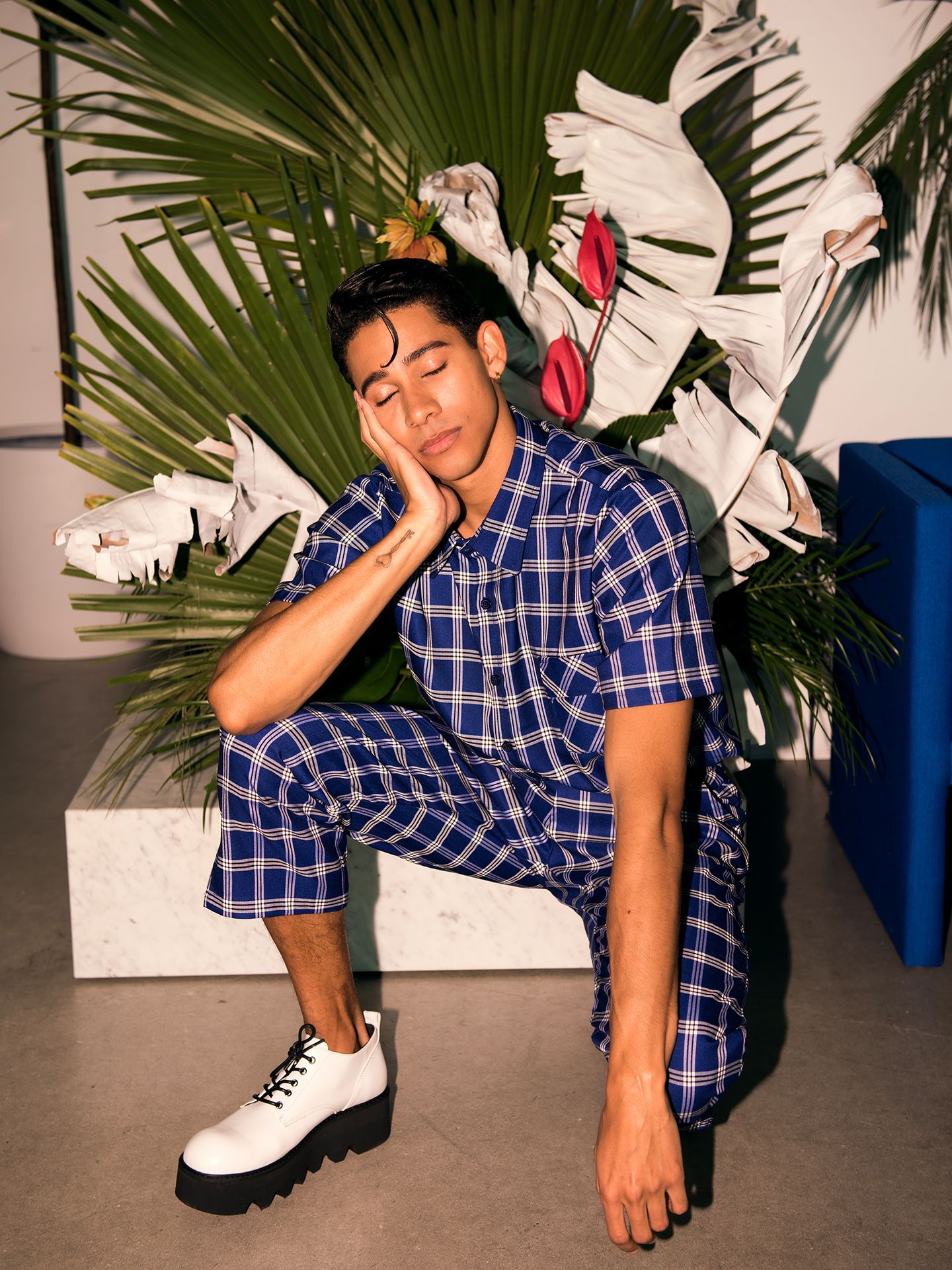 He'd become close with all of the cast members, going to hot yoga with fellow actors Nick and Jorge Lendeborg Jr. (who plays Simon's best friend Nick).
"Everyone is very social and we all get along really well," Keiynan says. 'I think that is a really special thing, especially if your characters are creating these important relationships. That's really important to me and means that you can make better choices as an actor because you know that you're just with your friends."
Still, coming out, a very personal decision, was nerve-racking.
"I don't know I just felt my character in the film was braver than me and I had to finally do what I felt was right."
So it was at the film's wrap party, where the cast and crew including Josh Duhamel, Jennifer Garner, Katherine Langford, among others, that he decided he needed to tell his truth. When his castmates asked how he was doing, he shook his head.
"Not great," he replied.
"I didn't tell you guys this," he said, nervously. "I've actually been struggling with my sexuality for quite a while…" He had just broken up with a man he was in love with and was going through the motions. His heart started racing, thoughts of rejection went in and out his head. But then he looked up. There, with drinks in their hands, were his castmates, arms wide-open.
"Absolutely nothing changes," they assured him.
"It was the most encouraging thing they did for me. I felt so accepted by them." Their encouragement was what led to his big coming out on social media last year. This time, there wasn't second guessing with the emoji he'd choose or what hairstyle he could or couldn't post.
https://www.instagram.com/p/BUBaxprAm-F/?utm_source=ig_embed
"I like to change my hair, I like to take risks with how I dress, I like girls, & I like guys (yes), I like growing, I like learning, I like who I am and I really like who I'm becoming," he wrote. "Spent way too many years hating myself, thinking I was less valuable because I was different.. which is just untrue. Not faking shit anymore, not apologising for falling in love with people no matter their gender. Ya know more & more I see so many young people being their best / truest selves, it's fucking inspiring… so what have I been waiting for!?"
Today, Keiynan is as determined as ever to become a good role model for other people of color and those who identify with LGBTQ. More than anything, he wants to show what it means to be an empowered man in 2018.
"I think a man knows how to expresses his honesty, his feelings, he knows that that isn't weakness, and he's not afraid of someone else's feelings," he says. "I think a coward is someone who is afraid of someone else's honesty. We've called that masculinity for a long time, when really that was just fear. I think we have an opportunity to change that, and we should be proud of being men by being open and vulnerable and by learning what we can learn from women and from ourselves. That's power."
CREDITS: Photos by Jessica Chou; Hair by Ricardo Ferrise; Makeup by Red Fallon; Styled by Keiynan Lonsdale; Location by TRNK NYC