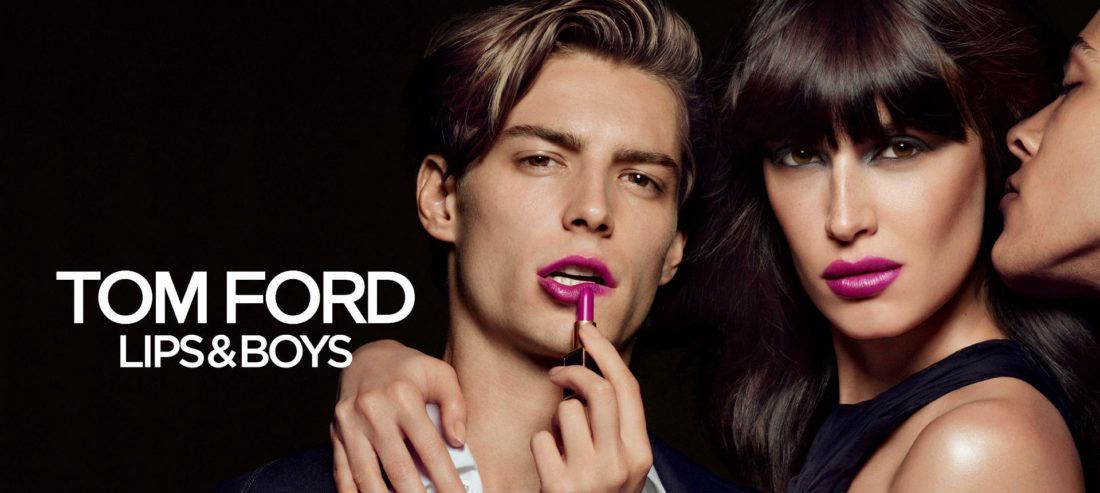 News flash: Men have been wearing makeup for ages. It's nothing new.
In Ancient Egypt men wore khol eyeliner as a status symbol and for its perceived health benefits. Upperclass men in midcentury Europe waltzed the halls of Versailles in powder, rouge and velvet beauty marks. Wigs were all the rage in London in the 1700s, a status symbol of wealth.
SEE ALSO: Brands are trying to cash in on the boy beauty craze
So it's a relatively modern concept for there to be a distinction between women and men's beauty. How did we get here?
While men's makeup has been around for years, it wasn't until recently where the industry started paying attention to their needs. One example is the fall of 2008, where Yves Saint Laurent repackaged its cult highlighter/concealer Touche Eclat in silver packaging and stamped L'Homme on it (in reference to their popular cologne) and marketed it towards men.
In the same year, Jean Paul Gaultier released a line of makeup in conjunction with skincare and fragrance under the "Monsieur" moniker. The line featured concealer, bronzer, eyeliner and eyebrow gel. In a video (below) promoting the line, a very French looking man in a pinstriped suit can be seen going about his day, sitting at a café and shading his cheeks with bronzer and then taming his brows and applying a bit of eyeliner before a night out.
There's something cringe-y about watching the video. Something just doesn't sit right about how the model seems to struggle to perform his overt masculinity, while also applying makeup. There's something so obviously self-conscious about it. It's not natural, it comes off forced, it isn't … authentic.
The "monsieur" tacked on the packaging, the deep male voice cooing "hey, monsieur" in the video and the fragrance bottle's very butch brick-wall inspired design, all seem to be desperately trying to convince the audience that you can indeed be a man and still wear makeup. Spoiler alert, no one fell for it.
A quick search at Sephora reveals there's one product the retailer carries that's for men. It's Jack Black. For women? A whopping 832.
Perhaps that anxiety is the reason why the line didn't last. It has since been discontinued, forgotten almost as soon as it appeared. There's a lesson to be learned from that failed campaign. If there is a line of men's makeup to be made, then the line shouldn't be working so hard to convince consumers that their product is need.
Today, there are only a few standout products solely directed towards guys. Lab Series has a BB Cream, Clinique and Tom Ford stock facial bronzers in their grooming lines, Tom Ford even features an eyebrow gel and a concealer as well sadly, in just three shades. In the past, other major beauty brands have tried to do something similar, making cosmetics specifically for men, but none have survived the test of time.
When it comes to basic skincare, there's not much either. A quick search at Sephora reveals there's one product the retailer carries that's for men. It's Jack Black. For women? A whopping 832.
Although men do still wear makeup, we're rarely ever marketed to. At least, not it in the West. Korean brands have cushion compacts for men, BB and a plethora of treatments. There's even sheet masks made specifically for men's faces.
While there haven't been any launches from major brands since, lately, major companies have indeed brought on male spokesmodels. Cover Girl made waves when it featured James Charles as its first Cover Boy, Maybelline and YSL have teamed up with Manny MUA, Jeffree Star's dewy mug can be seen gracing cartons of Benefit's Roller Lash and L'Oreal included a male model amongst the female faces of their recent Infallible foundation campaign.
Although these brands have men promoting their products, they aren't necessarily shifting their lines for male audiences. Despite their change in campaigns and advertising, their products and packaging remains unchanged – focusing on the needs of their female clientele.
Perhaps brands know that these male influencers, with millions of followers, can draw in mostly young, teenage girls (their lucrative fan-base) by collaborating with them. Or maybe they have concluded that if men are willing to wear makeup that they will not mind purchasing it from brands that target women.
But that begs the question – what would the ideal makeup line for men look like?
Certainly not suffering from a case of self-conscious machismo as in the ill-fated JPG Monsieur debacle. My mind goes to the brands whose packaging that I do indeed admire and whose products I use; the luxe bronze and gold of Tom Ford, the high gloss of Hourglass, the ever so wabi-sabi Japanese appeal of Shiseido, the streamlined, basic-black and clean lines of both NARS and MAC and the unfussy elegance of Kevyn Aucoin.
Taking these six brands into consideration, one commonality becomes clear. Their packaging is uniform, minimalist and maintains a certain austere approach. Indeed, their minimalism reads as almost unisex. Not pushing hyper-femininity with frills and bows (as say Too Faced and Dior) nor over-blown machismo (ahem, Jack Black or Billy Jealousy).
Perhaps the perfect line for men doesn't yet exist because the perfect line for men would be one that is just as perfect for women. The answer then might just be a unisex collection that isn't self-conscious about what gender it is catered to. Newer, millennial-targeted brands like Milk and Glossier may use female models and target a female audience but the packaging is sleek and utilitarian in a way that would not be out of place on the bathroom counter of a man or woman.
I think the ideal makeup brand for men would function in the same way that bath and body line Aesop  or fragrance brand Le Labo do. They make no distinction between genders regarding their products in their advertising or on their labels – their fragrances and treatment products are uniform across the board.
The message that these brands impart with their understated packaging is that "what's inside that matters," not what it looks like or who it is for. While we may not have any major makeup brands for men yet, an ideal product in an ideal world wouldn't need to make the differentiation at all.
It would be instead a return to the origins of cosmetics – makeup for all, indeed.