Is your hair frizzy? Dry AF? Did you color it so much it now looks like straw? Or worse, do you not have any hair any more?
Same.
Back when I was a fashion editor, I colored my hair as often as Katy Perry. We shared the same hair colorist, Rita Hazan, and whatever Katy did, I was there, following her every shade. Deep, navy blue? Yep, did it. Soft, grandma lavender? Done did. Champagne blonde? Duh.
Fast-forward to fall and my hair's in the worst condition it's ever been. Knowing that I needed some major help, I visited a local hair salon called Orang Hair in Seoul's chic Apgujeong district. There, I had the salon's master stylist, Jennifer give me an intervention. I'm not going to sugar coat it, she was aghast, sighing in disbelief.
"Your hair is one of the worst I've ever seen," she blurted. Wait, what do you really think? I asked.
"No, really, it's really bad. What essence are you using?"
Uh, essence? I asked. You mean people use essence for their hair?
She gasped again. I might have as well been North Korean at that point.
Just as you'd hopefully use an essence for your face, I learned Koreans pat on essence into their tresses every single day for its overall health. It's still a relatively new concept in the states, but here in Seoul, every woman and man uses hair essence to revitalize their strands, make it less dry and completely revitalize its texture. That means saying goodbye to your straw-like frizzy hair and hello to soft, silky hair.
Hair essence is a lot like essence for your skin. It's usually water-based, soaks in quickly and leaves your hair with an immediate shiny dew. Using it often enough will not only revitalize your hair, it'll resolve any frizziness and will be easier to style. Essences come in many forms: pumps, in serum vials or in oil form. What it's ~not~ is leave-in conditioner. While essences are usually water-based and treats immediately, leave-in conditioners have synthetics, weigh down the hair and coats it.
There's a list of amazing hair essences you can find at Soko Glam here. This one from British M is one we'd recommend for its ability to nourish your hair back to life. It has organic pumpkin seed and argan oil to treat it. The only downside? It's a whopping $67. You can get a smaller bottle from Skinfood for $14 though. It's not as good but it'll do it for you.
As for me … hair essence alone wasn't going to help me. Since I was beyond a hot mess, Jennifer needed to give me a scalp massage. Think of this as a facial, only for the health of your scalp. She put in essential conditioners and used an actual machine to ensure it soaked in deep. After, she put me into a deep moisturizer chamber. Its red lights undo UV ray damage and the steam allows the hair's very strands to seep into its pores.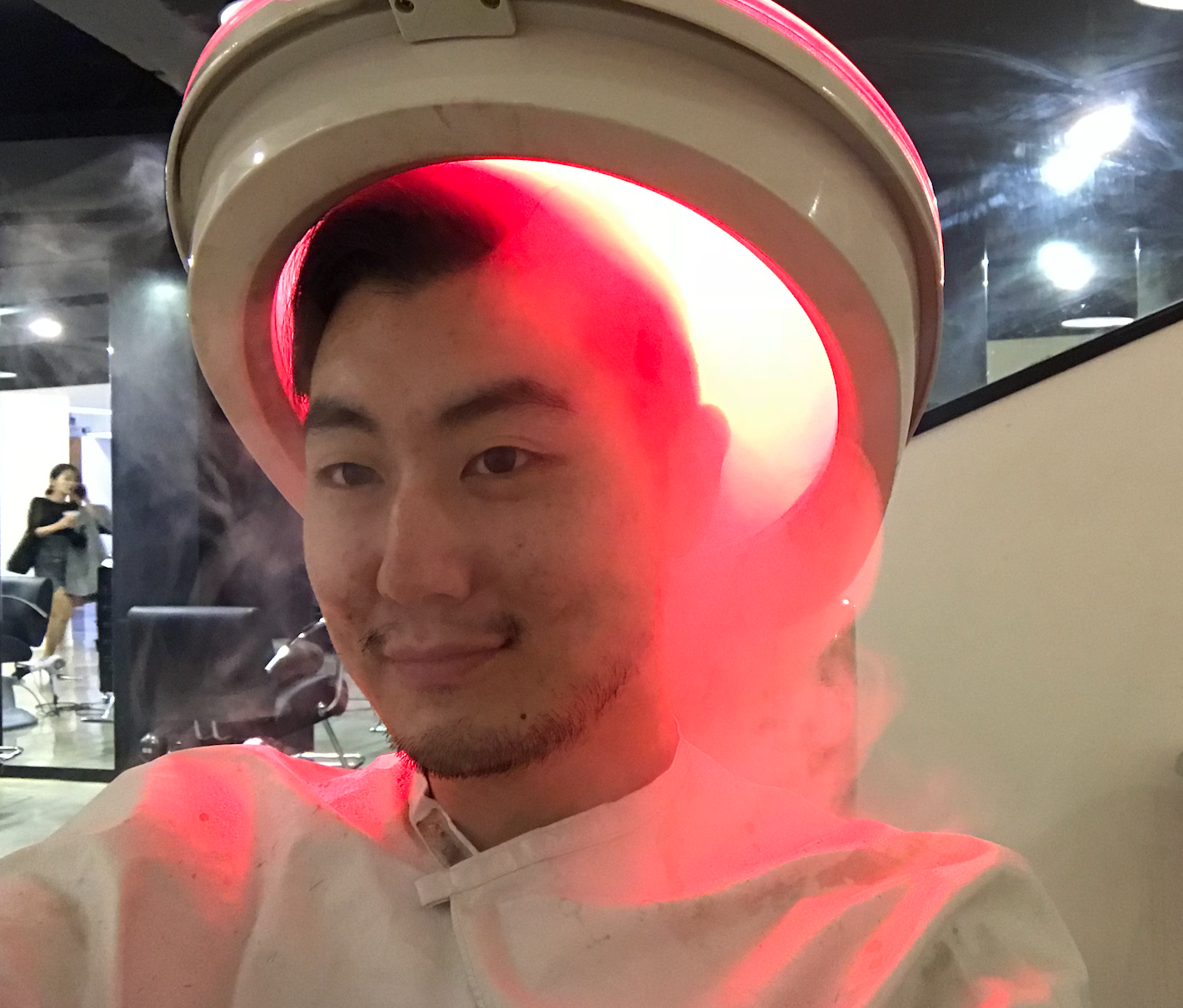 It was quite a luxurious experience. I've heard Koreans do this twice a week, where some come back weekly if their hair is severely damaged.
Afterwards, my hair wasn't only supple, moisturized, but probably the best I've seen it all year. Peroxide be damned, my hair looked even ~better~ than before I dyed it. Take a look for yourselves: