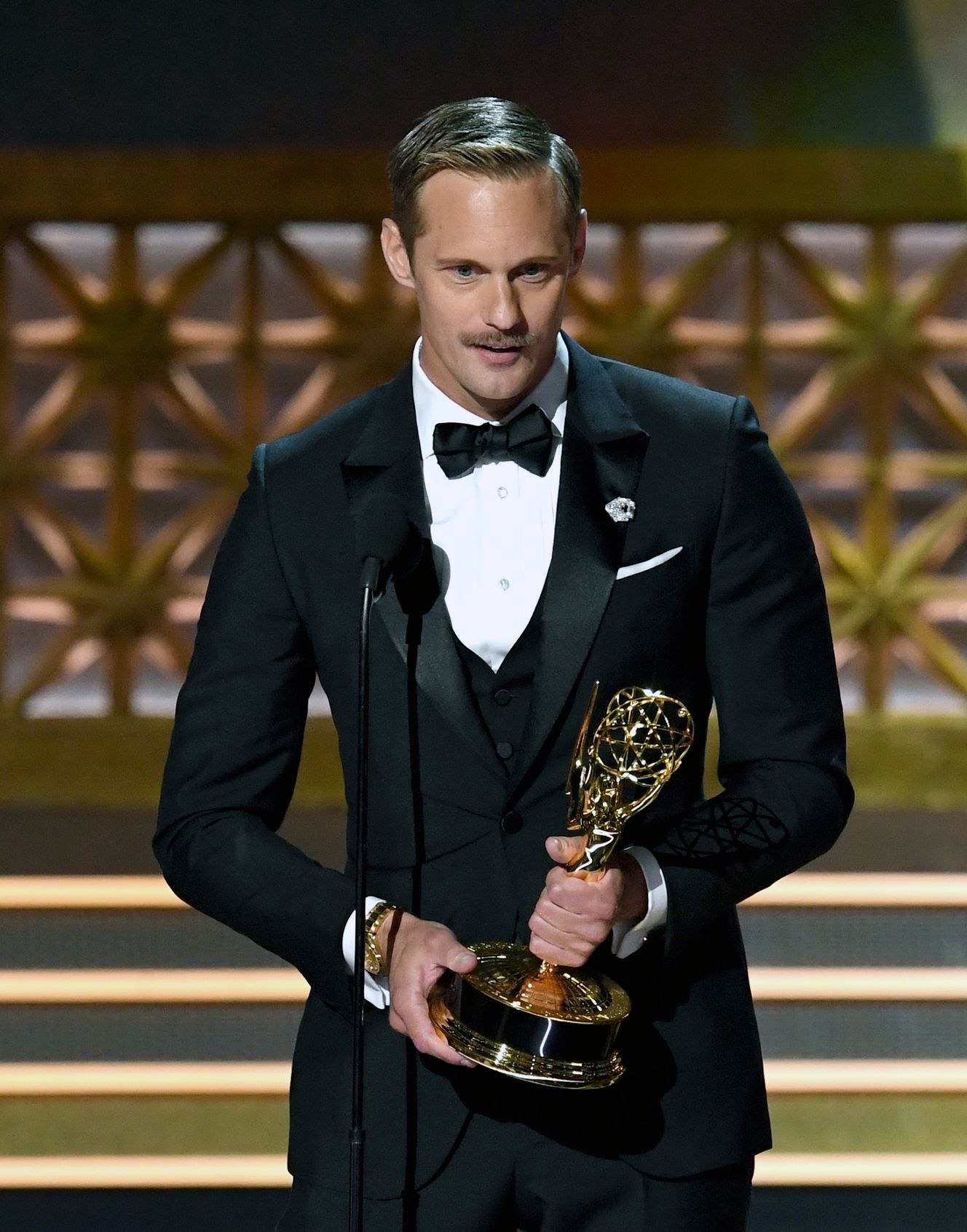 It was a huge night on Sunday for Alexander Skarsgård, the Swedish actor who won an Emmy for Best Supporting Actor in a Limited Series or Movie.
He was primped and styled for the occasion, wearing Ermedelgido Zegna Couture with his hair perfectly coiffured. But for one of the biggest days of the actor's life, he took a bold and risky move with his grooming. We're talking about his mustache, which became the centerpiece of his entire look. Any bigger it would have certainly veered into a full-on pornstache. Any thinner, would totally go into Alt-Right territory.
To get it just right, he enlisted the help of Hollywood groomer, Kim Verbeck who worked with the brand, ReVive for his entire start-to-finish look.
SEE ALSO: How to get Ryan Reynold's hair
"The fun part of today was figuring out how to incorporate the mustache into Alexander's look and it really turned into being the centerpiece," she says.
For Alexander's entire regimen, Kim started with exfoliating, then immediately followed up with a toner so the skin was camera ready. That was followed up with a serum, an eye cream and sunscreen. While all of the above was setting into the skin is when Kim went in to trim the mustache.
"For professionals, trimming a beard or mustache is usually performed with clippers or scissors over comb," she tells Very Good Light. "For at home – on your own – sometimes the easiest way is with a pair of small scissors." To ensure it isn't too pencil thin or veering into 70's porn territory, she suggests staying "right at the lip line for the mustache." Small scissors, she says, a great way to also trim away stray stragglers. Finish with a beard comb and oil for completion.
As for concealer, Kim had a perfect tip for facial hair: spot concealing. Instead of going over Alexander's entire face with a brush or her hands, she spot-touched the concealer to ~really~ get into his hair.
"You must be precise when applying spot concealer," she advises us. Kim says that it's important to apply and blend concealer in between the whiskers quickly to "keep it from settling on to any facial hair." To do this, you can simply divide and conquer your facial hair area with small spots of concealer. The thinking behind this is that the concealer settles under the skin rather smearing on top of the whiskers. "Make sure to blend in completely to the skin," she tells Very Good Light.
Most importantly, of course, is skincare. The above steps she followed on Alexander allows for the concealer to better absorb into the skin, facial hair or not. That's because skin best absorbs product when it's already healthy and hydrated. "Just because some of the face is hidden behind the beard, doesn't mean neglect your skin," she advises.
It's only through a proper skincare regimen that any makeup or powder truly gets you that red carpet glow. If it works for Alexander Skarsgård, now an Emmys award winner, hey, it'll work for you.