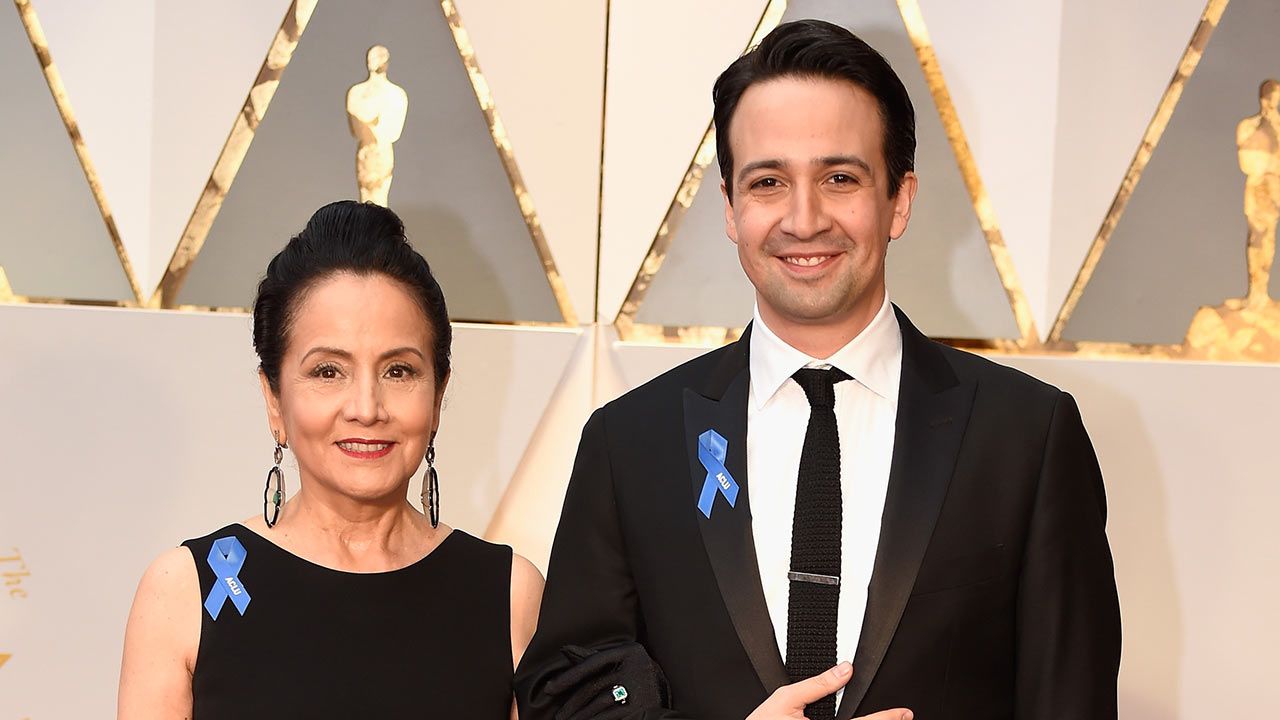 Lin-Manuel Miranda had an historic night at this year's Oscars.
Not only was he up for Best Original Song for Moana's How Far I'll Go," he was also going for an EGOT.
For those of you at home who are unaware of what an EGOT is, it's an acronym for an individual who sweeps all of the prestigious awards in Hollywood: Emmys, Grammys, Oscars and Tonys. Lin-Manuel already won two Tonys for Hamilton and In the Heights, Emmy for composing the opening number of the 67th annual Tony Awards in 2013, and two Grammys for Best Musical Theater Album for his two musicals.
SEE ALSO: How to get Ryan Reynolds' red carpet look
More than anything else, Lin-Manuel made a statement in how he dressed and presented himself. It was his political statement with his blue ACLU ribbon that he sported to support the organization, one that's fighting against anti-immigration sentiment. Of course, being dapper in a suit with a clean groomed look, didn't hurt either.
To get the look, Very Good Light spoke to Hollywood groomer, Diana Schmidtke, who styled Lin-Manuel's hair and grooming, along with other celebs like Viggo Mortensen. "The entire process was eighteen minutes," she tells us. "It should be easy and shouldn't be so high maintenance. It needs to always look natural, for guys."
The face
The process, Diana says, was one that was more about skincare than anything else. "Skin care is so much more important any makeup," she tells us. "In the even you have a blemish or a breakout, yes, we'll cover it up, but it's more about being natural. In Hollywood, it's all about a guy looking like a guy." That is, not caking so much on makeup or bronzer, as it detracts from the actor's overall look.
With Lin-Manuel, Diana says she was super lucky. "He has natural beautiful skin, it's so pretty," she says. "We didn't have to do much there."
To get Lin-Manuel's face super ready, Diana says she used La Mer's skincare. This included eye cream, face cream and lip balm. "I'm really obsessed with La Mer's lip balm, I have to admit," she says. "It's so good because it has a minty taste but works really well. It's matte and it works really fast." A big red carpet no-no, she says, is making any of her clients' lips look too shiny. A good, less expensive alternative, she says, is Burt's Bee's.
Afterwards, she used a little bit of under eye concealer. "He has a little dark under his eyes but I'm not a huge fan of taking that way," she tells us. Her favorites are Jouer concealer in number 4 or 3.5. The secret to applying under eye concealer is doing so very, very lightly. "You tap, tap, tap it in," she says. "You don't apply it on top of the skin you want it to go into the skin." That same goes for any breakout or blemish, she says. To blend, you need to tap it in so it goes into the skin. For any darker shades, Diana says she loves Bobbi Brown. "They have great concealers and palettes and a range of skin tones."
Finally, it was all about maintaining that anti-shine matte look all night. To achieve this on Lin-Manuel, Diana used Laura Mercier's 'Secret Finish' mattifying gel. A good alternative is one from Peter Thomas Roth, she says. "I don't love powder for guys, it's just too much maintenance with brushes" she says. Instead, she uses the gel as a last step. She'll place it on the T-zone with her clients that are super oily. "It works great on guys and looks great on-camera," she says. "For women, it's okay if they have shine or a ton of makeup on. If you see a guy with oily skin or tons of makeup, not so much." Sometimes, Diana says, she'll give out oil-blotting sheets for the entire night. It's one that's long, where celebs end up at the Vanity Fair party at 2 a.m. and the blotting sheets ensure you look fresh and matte all night long.
Hair
"Lin was well groomed tonight," says Diana. "It was all about being compact and constructed." It's something she says was the opposite of Viggo's deconstructed, more shaggy look. "For Lin-Manuel, we wanted to look more classic and clean."
To get the look, she wet Lin-Manuel's hair. After, she applied Paul Mitchell's Hardwired. Putting it through his hair, she then used a blow dryer and using a medium-sized round brush, styled it up and off his face.
"He has super straight hair and this method gives him more movement," she tells us. As for the product, it's super strong and will get him through the entire night without having to be restyled. It also gives high shine. "The product comes out in a cream but you only have less than a minute to style it before it dries and gets hard," she says. "You have to wet your hands and manipulate it until it holds and then gives a nice shine."
Afterwards, Diana will use a hair spray to give it an extra hold. "It's really important that we get the hair right and that it stays for the entire night. He was performing as well, then attending parties so didn't have time to retouch. Doing all of these steps ensures he'll be ready and looking great all night."
As for any sort of facial hair? Lin-Manuel and Diana's other clients opted out. She prefers the clean cut look. "Beards are out!" she says. "They weren't seen on the runways of Milan, New York or Paris and they're just like man buns. They're going out of style."
Man buns and beards being dead? We couldn't agree any more.