Beauty has an inclusivity problem. From the overwhelming lack of diversity that still exists within many brands to the blatantly performative activism that some brands falsely advertise, beauty still has significant issues with racism. And this problem is most obviously seen through brands' complexion product launches.
As a Black woman, it can be a pain to find complexion products that actually match my skin tone. When I'm swatching new products, it can often feel like shades are either too light, too dark, or the wrong undertone. And even when I find the right shade, the formula might not even match my preferences. But the problem is bigger than a couple of missing shades. The beauty world's complexion crisis is multifaceted and shows that the industry has a long way to go before it can truly be the paragon of diversity and inclusivity that it too often portrays itself as.
Forget influencers… Outrage marketing is the new wave, right?
Outrage marketing, also known as shock advertising, has become an increasingly popular way for beauty brands to garner attention for their launches. Brands purposely create controversy and anger, which causes people to complain and argue online. And if they trigger enough discourse, they can become a trending topic on social media and even get written about in the press.
It is a manifestation of the age-old adage, "all press is good press." But beauty fans have long memories, and some brands don't truly fully recover from their controversies. Brands like Tarte have infamously been accused of attempting to cause outrage for publicity.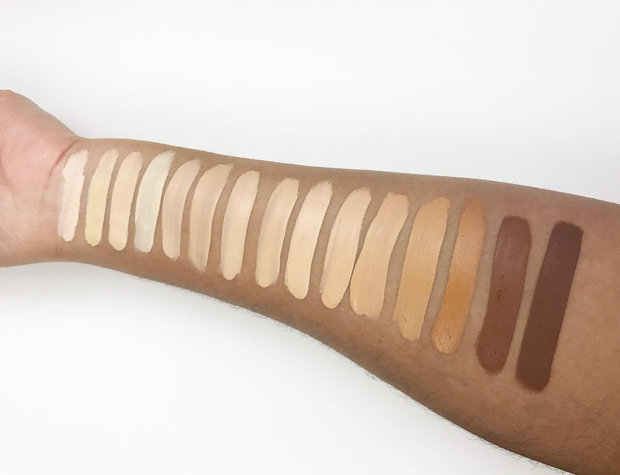 In 2018, the brand famously released its Shape Tape Foundation, a spin-off of its popular Shape Tape Concealer. But, the product was unveiled with a thoroughly underwhelming 15 shades, with only four shades being darker than tan, and it caused a firestorm on the internet. Many influencers and beauty lovers were furious with the launch, yet the brand still garnered major press and product sales. Some social media users have accused other brands, such as Givenchy, of following in Tarte's footsteps and using the anger of people of color to market their products.
Outside Justification
Those asking for these comprehensive shade ranges are constantly being dismissed, not only by brands that continue to release complexion products with an abysmal set of shades but also by those beauty consumers who attempt to justify these brands' choices for them.
All too often, once a brand has been called out for its shade range failure, someone will swoop in to claim that the limited shades are acceptable because the brand can add more later in a future launch of the product. But this "simple" solution doesn't resolve the crux of the problem. Some brands cite a lack of in-store shelf space to accommodate Fenty-level shade ranges. Pür Cosmetics solved this issue with their 100-shade foundation launch: most were available in-store, and the rest were available online. And in all fairness, not every brand has that amount of financial cushion to produce and maintain that inventory. Some coulda argue that there are other categories they could venture into that require a smaller wingspan.
Many people who need the shades that are so commonly forgotten by beauty brands come from groups that have typically been marginalized by Western society. Brands only further perpetuate this discriminatory system by once again relegating them to an afterthought.
As the conversation around the importance of racial and ethnic representation in media continues, brands must consider their responsibility to also be properly representative of the world around them. In 2022, people should not have to constantly wait with their fingers crossed in hopes that a brand may make a shade for them. While it is okay for brands to genuinely attempt to be inclusive in their initial product launches and then add shades in response to feedback from customers, as Fenty Beauty did in 2019, brands should be intentional and thoughtful in their releases and not use adding shades as a disingenuous bandaid for their harmful actions.

The Skin Tint Loophole
No complexion product is more often guilty of having a small and inaccessible range than the trendy skin tint. Don't get me wrong. Skin tints, as a concept, have several pros. They can offer coverage while being breathable and natural-looking, which is particularly helpful during these excessively hot summer days and can be a simpler choice for those who are less experienced with makeup or are looking to cut down time in their routine.

Yet, brands use skin tints as an opportunity to release the minimalistic shade ranges, often with only ten to fifteen shades in the line. They excuse these choices by claiming that the light coverage allows each shade to stretch and accommodate several skin tones. But how could they really do this? Either the product has such sheer coverage that the shade doesn't matter, in which case the product is likely providing no real coverage and isn't very useful, or the product's shade does not fit as many as they say it does and significant amounts of people are unable to use the product.

The Ultimate Complexion Deception: 40 Shades of Foundation
While having too few shades certainly isn't helpful in the fight for inclusion in the beauty world, having dozens of shades doesn't always solve the problem either. In recent years, particularly following Fenty Beauty's iconic 40-shade foundation launch during their debut in 2017, many beauty brands have been launching foundations and concealers with a similar number of shades. Yet, these launches are sometimes still as exclusionary as if they were released with only ten shades.

If the shade categories are disproportionate, meaning the product has 40 shades, but 30 of them are only suitable for people who need light or tan options, then the 40 shades can be seen as performative rather than genuinely inclusive.

Brands can also miss the opportunity to be more inclusive when they launch these large shade ranges when they neglect to properly account for the wide variety of undertones that are needed for complexion products. For example, many shades for those in the dark and deep categories still skew too red or too grey and completely ignore other potential undertones like gold or have no gradient in their undertone, rendering them useless to many consumers.

The development of complexion products is complex and is only one part of the beauty industry's struggle with inclusivity. But, it is important for brands to know that beauty consumers are not expecting perfection with their launches. Instead, they are watching for intention and a genuine effort in creating inclusive and accessible products for a wide range of beauty lovers.
---
READ MORE LIKE THIS