As spring is in full swing and we are all excited for the weather to warm up and hit the beach for some much-needed vacations, let's not forget about protecting our beautiful skin. Of course, you know you're supposed to apply sunscreen before soaking up some UV rays, but what about post-sun?
What happens to the skin during sun exposure?
When UV light hits the skin, it causes a type of DNA damage known as a cyclobutane pyrimidine dimer (CPD), in which two adjacent bases attach, causing a bend that makes it difficult for the cell to copy its DNA correctly. Many CPDs are instantly created in skin cells during UV exposure, but the DNA can repair itself by removing most CPDs and replacing them with normal DNA.
UV damage doesn't stop when you get out of the sun.
Researchers have found that much of the damage caused by ultraviolet light from a day on the beach occurs hours after the sun has set. In a study published by Douglas E. Brash, Ph.D., Clinical Professor of Therapeutic Radiology and Dermatology, and his colleagues found that melanocytes (the cells that form melanin) continued to generate CPDs for several hours after UV exposure ended. Interestingly, cells without melanin developed CPDs only during UV exposure. Over half of a person's DNA damage arises in the car on the way home from the beach.
"We've been underestimating the amount of UV damage that the sun or sunbeds are causing because we measure it immediately after exposure," said Dr. Brash.
Scary. I know, but don't fret!
Dr. Brash says, "Because this is slow and takes several hours, it allows us to jump in and intervene." Enter good light — we are here to help. Our products are packed full of powerful ingredients to help restore and hydrate your skin's barrier.
cosmic dew water cleanser not only removes impurities, but it's also super hydrating, helps with inflammation, and makes sensitive skin stronger. Glycerin hydrates, nourishes, and improves skin barrier function against irritants. Laminaria japonica is a hydrating seaweed that eliminates toxins, plumps, and rejuvenates. Fructooligosaccharides a prebiotic from plant sugars that support the microbiome and reduce skin sensitivity. Hyaluronic acid hydrates the skin, regulates inflammation, soothes redness, and increases moisture.
moon glow milky toning lotion is super hydrating, nourishing, and soothing.
This toner also has ceramides to help promote a robust skin barrier function. In addition, Meadowfoam seed oil (a fatty acid that hydrates and improves healing in damaged skin barrier function) helps with anti-inflammation. Niacinimide is a form of vitamin B3 that helps minimize pores, reduce redness, regulate oil, and protect against sun damage. Snow mushroom holds 1,000x its weight in water with particles smaller than hyaluronic acid to penetrate and hydrate. Together, they help with dryness and strengthen your skin.
we come in peace microbiome serum is a super protector.
Bakuchiol, an anti-aging ingredient that helps with skin cell turnover, prevents pigmentation and plumps the skin. Carrot seed oil is an anti-inflammatory agent and antioxidant found to be effective at removing harmful bacteria. Lactococcus Ferment Lysate is a probiotic extract that helps promote a robust skin barrier function and regulates the microbiome. And blue tansy oil is known to cool the skin and soothe inflammation. I'm speechless, and I know you are too.
In need of some pre-sun protection?
Bask Sunscreen is changing the sunscreen game! Most sunscreen sprays use chemical propellants like propane. Not Bask. Bask's Non-Aerosol Spray dries quickly on contact without a white cast or an oily finish. Bask is 100% Vegan, antioxidant-enriched, dermatologist recommended, reef0safe, cruelty-free, and paraben-free! No more white casts or yellow stains. No more goopy, gunky sunscreen feel. Just basking.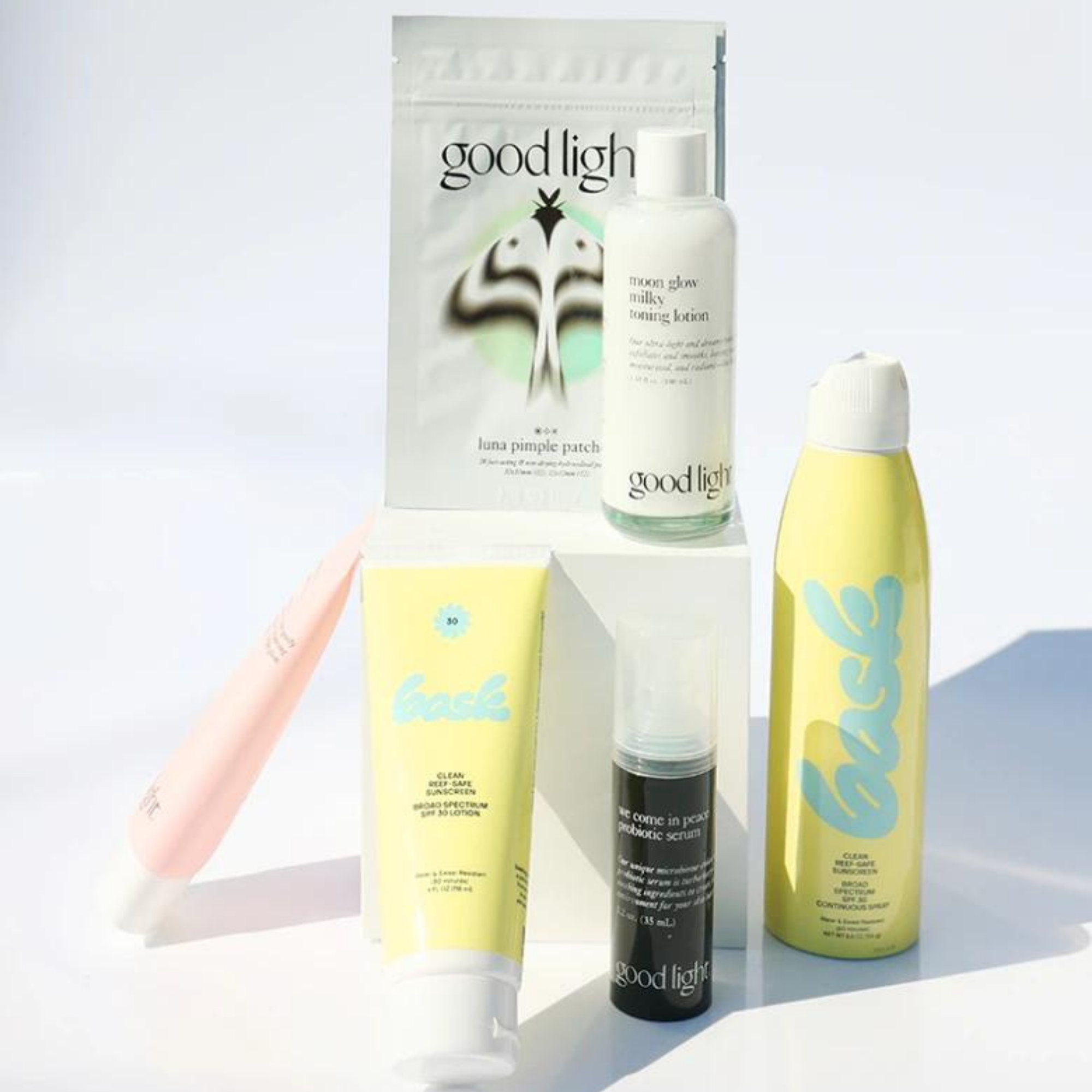 Giveaway time!
In honor of National Sunscreen Day (and just the good practice of SPFing) — we're holding a giveaway with Bask! The winner will receive 3 bottles each of Bask's SPF 30 Lotion and Non-Aerosol Spray, a good light Metamorphosis Set, a 3-pack of good light's Luna Pimple Patches, and a Bask Dad Hat and Towel (total retail value of $299).

All you have to do is enter here.