Most of the aging process doesn't scare me. The idea of having gray hair is exciting, so long as I still have hair when that time comes. I think my smile lines make me look dashing in some lights. (In others, like Annabelle.) I have no reason to touch my toes, so no biggie there. If I end up aging anything like my mother, I'll have close to zero complaints.
What does scares me though, is the idea of being an old twink. Here's a crash course for my beloved straight readers: In the gay community, there are different sub-categories of gays. I'm not exactly sure how they came to be, but surely it has something to do with the innate need to group things together by category. (Think #organizationporn.) Whatever the reason, a multitude of factors play into how you're sorted, but by large, they come down to your age and body type.
A twink is a young, skinny, typically hairless young gay man like Justin Beiber.
A bear is an older, heavier set gay man with ample body and facial hair like Ron Offerman.
An otter is like a bear but leaner like Zachary Quinto.
Those are just three of them — there are plenty more. Jock, snake, cub, wolf, pup, pocket gay, daddy, beaver. (Just kidding about that last one!) Feel free to Google them in Incognito Mode in your free time.
In the above matrix above, you can see a positive correlation — it goes up and to the left. That's because there is a chronological order gay men generally follow. They'll start out as a twink. They will put on mass and become a jock/wolf/otter/cub. By middle age, they'll incorporate a beard and become a daddy/bear/daddy bear.  
For members outside of the gay community, it may seem comical, rigid, and impossible for every man to adhere to. You'd be right.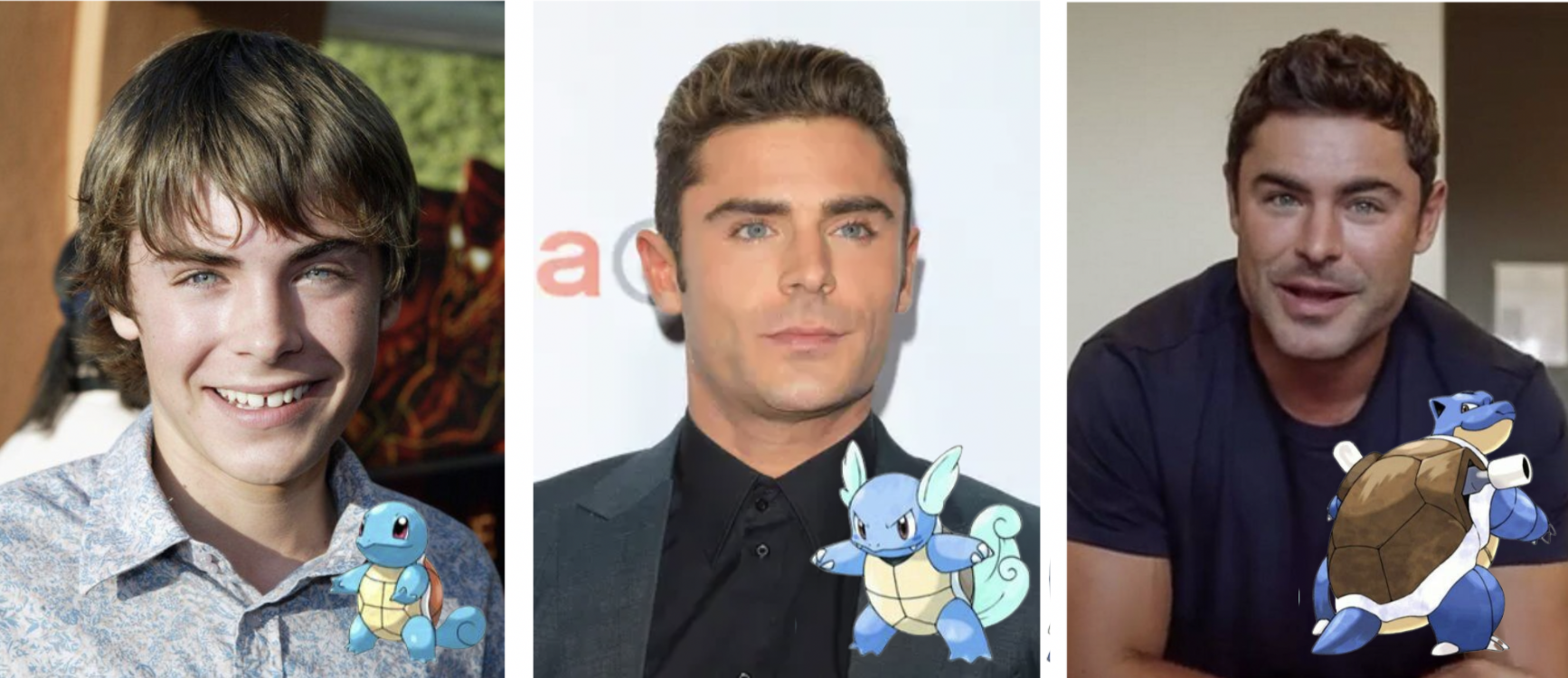 What if I don't drastically transform into some new form? What if I just stay mostly the same, just progressively older? I don't have the sort of discipline associated with weight training, nor do I have the biological ability to grow substantial facial hair. It secures my fate as an old twink.
There's a stigma attached to those words. "Old twink." For one, it's an oxymoron — like virtual reality or jumbo shrimp. The group is so disregarded that the gay community didn't even decide to give it a name. I'd also wager because it's a combination of two things that are considered insults. If you walked up to any person in a gay bar and called them "old" or a "twink," thems would be fighting words.
As a gay man, you're expected to be young (but not too young) forever while visibly having a workout regimen. (In the matrix above, that's dead center.) This leaves the ideal gay man within a very narrow window of muscley 30-somethings, like the cast of HBO's Looking. I suppose that's why the entire cast just looks like one person in different stages of shaving.
Even while writing this, I struggled to come up with examples of old twinks presented in the media. The best I could think of was John Cameron Mitchell. (John, if you're reading this, please know it comes from a loving place.)
Being an outlier within these groupings makes you some sort of gay pariah (a Pariah Carey, if you will.) You become tribeless amongst outcasts. Is there a worse feeling? "It's evolve or die," I think — my thoughts turning sour. "Will I be considered attractive to other men if I don't physically adapt to one of those castes? Where do I belong if my community doesn't have a name for me? What am I if I can't describe it in a one-line bio? Who am I if my physical appearance is happenstance rather than deliberate?" The anxiety that follows feels like walking into the school cafeteria and not knowing where to sit.
I remember being faced with that on my first day of high school. I didn't have a ton of friends, and what few of them I had either didn't have my lunch period or went to the neighboring school for their IB program. As I stood in the lunch line and picked out my milk, I frantically looked around, waiting to find someone I knew. It never happened, so I just sat down by myself towards the front of the cafeteria. A few bites into my stromboli, I look up to find someone else also searching for a place to sit.
"Is someone sitting here?"
"Nope. Go ahead."
We sat together every day for the rest of the year.
---
READ MORE LIKE THIS