Starting a company takes determination, guts, and brilliance. It's not something for the fainthearted and often is full of trial, error, self-reflection, and often doubting. As women, the industries we enter are often already pitted against us. Getting boardrooms full of seemingly powerful people to believe in your idea is not something that we're taught in school.
We gathered the best advice we could find from women who have done it all firsthand. These eleven founders share their stories of creating their companies, the journey from inception to conception, and advice for fellow founders both present and future.
Indie Lee is the founder and CEO of Indie Lee Skincare, self-described as a "sustainable and safety conscious" skincare brand that was featured on Allure's Best of Beauty 2021.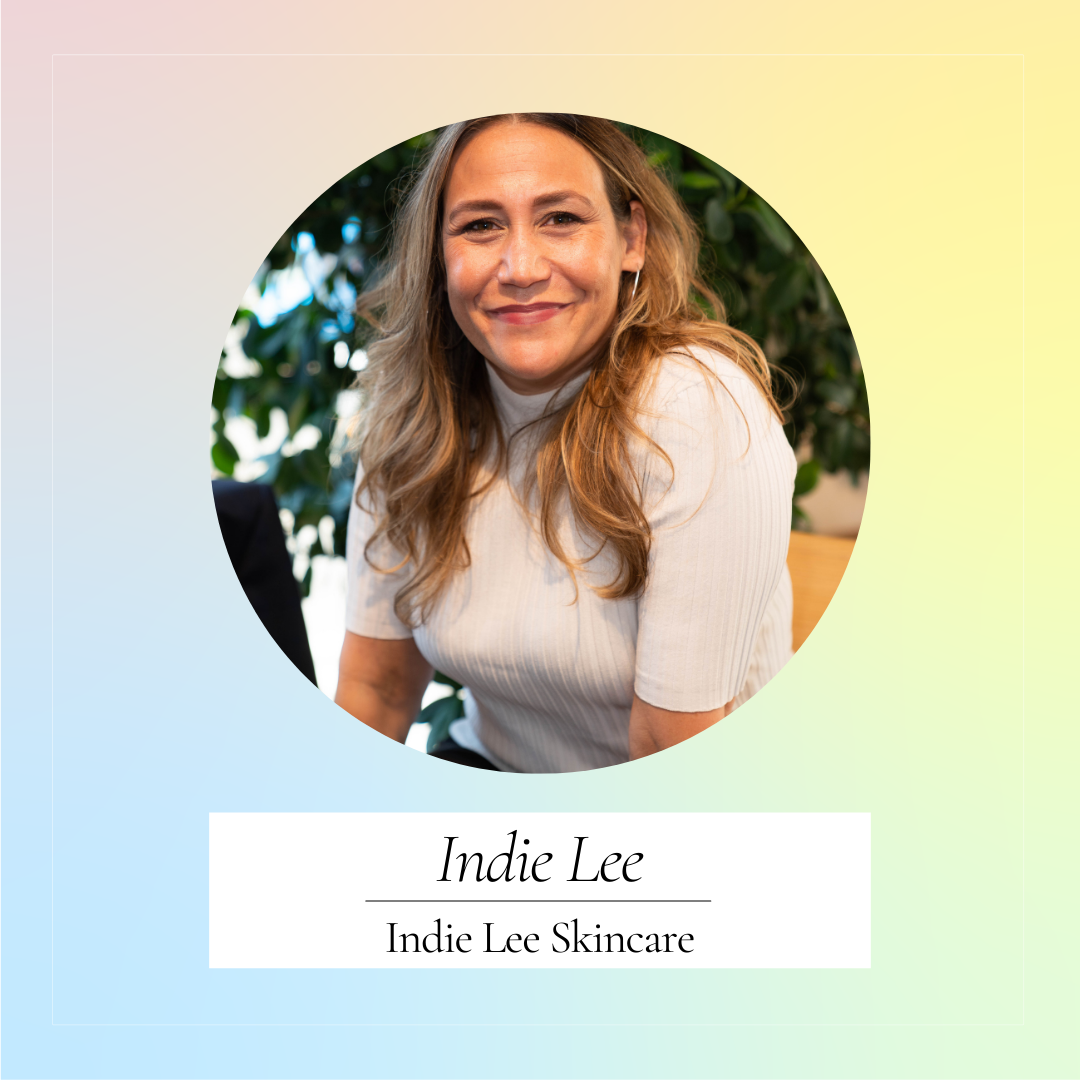 "In 2008, I was diagnosed with a rare brain tumor and given as little as six months to live. I didn't understand — I had been living a healthy life. When I asked how this was possible, my doctor asked me a life-changing question — 'What do you put on your skin?' The truth was I had no idea what I was putting on my skin. I started researching and the more I learned, the more I knew that I had to make a change in the industry. After successfully surviving surgery, I started creating clean products dedicated to educating and empowering others to live the healthiest version of their life and I haven't stopped since.
I had no beauty experience when I entered this space. It was definitely hard, but I wouldn't say I felt discouraged because the clean community is a very supportive one and when one of us wins, we all win. I've met so many amazing people through business who have become lifelong friends.
The day I was diagnosed with my brain tumor, I realized that I had been going through the motions for years, planning my life away but not actually living it. I would tell myself to be present in the moment, be mindful about how to use it, and be infinitely grateful for the opportunity to experience it. Never be a passenger in your own life because this is not a dress rehearsal and you need to live vibrantly every day."
Don't be afraid to ask for help. Knowing what you don't know and asking others to help can be a superpower."
Ju Rhyu is the founder and CEO of Hero Cosmetics, a skincare brand founded in 2017 with their inaugural line of pimple patches, now found in retailers across the United States such as Target, CVS, Neiman Marcus, and more.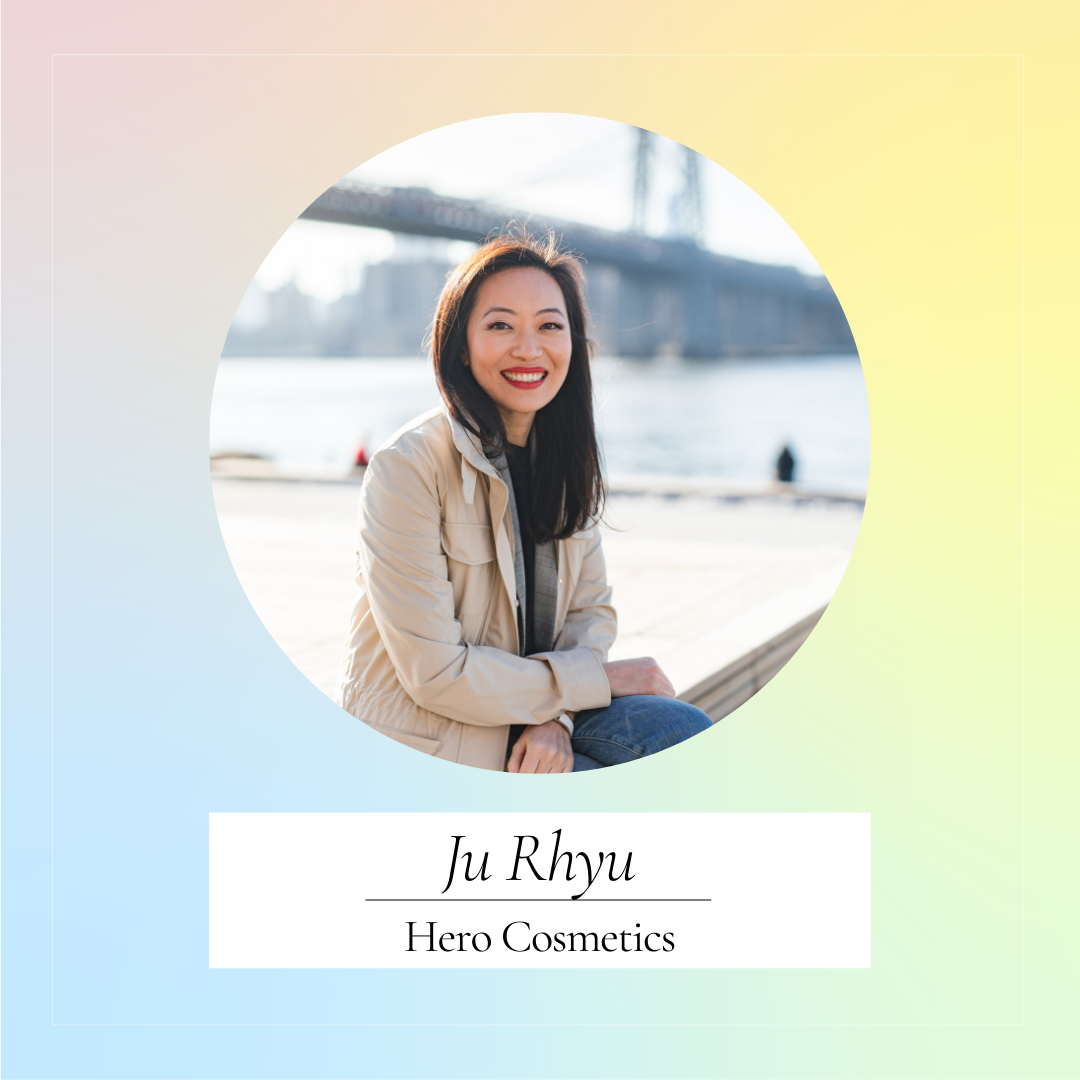 "Building a business is a series of a million steps, and you just put one foot in front of the other. We bootstrapped the business for the first three years, which allowed us to build a profitable company from the beginning. It also meant we built truly a once-in-a-generation company as a fast-growth brand that's also profitable. Once you have the product, you have to sell it and get people to know about it. I focused a lot on earned media in the beginning via press and influencers.
The beauty and personal care industry is filled with talented women, so I feel lucky to not have felt alone. It's very supportive and collaborative, and overall a great place for female beauty entrepreneurs.
To me, 'female founder' and 'founder' are generally interchangeable but I suppose women tend to be more collaborative, and I believe statistically they build better businesses."
Be kind and do good work. The world is extremely small.
Amy Liu is the founder and CEO of Tower 28, a cosmetics brand designed for sensitive skin, with products featured in The New York Times, Allure, Buzzfeed, and previously on Very Good Light.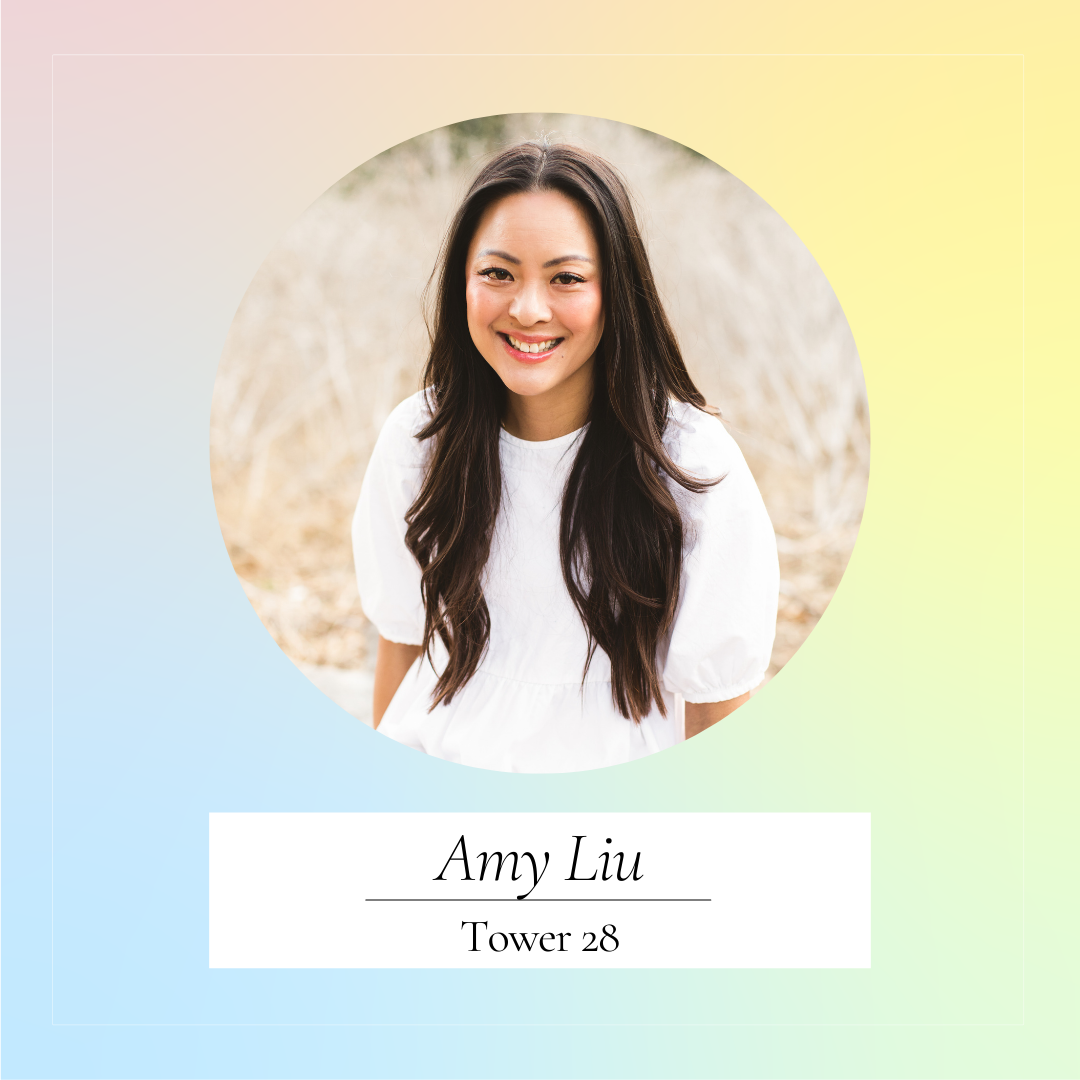 "Like raising a child, starting a brand takes a village! The key is to find people to go on the journey with you that believe in what you're doing together and care. Everything from vendors to investors to employees to retailers — I like to work with people I enjoy and care about, plus it makes it a lot more fun. I've only raised money from friends and family which was a scary undertaking but honestly, I have found it so motivating. I look back on our first launch and think about how modest it was. Just a branded cardboard box with shred and product inside.
As a person with no previous connections to the influencer world, I am still shocked and grateful to the influencers and editors we sent to that gave us a shot! Our audience has truly been built organically through word of mouth. Luckily, the product speaks for itself.
I would tell my 21-year-old self to chill the F out and stop worrying so much. Be present and enjoy the moment instead of worrying so much about the future. And to bet on yourself. Fear is a healthy and necessary emotion — but can also be paralyzing. Once I got out of my own way, so many of my dreams came true.
The easiest part is telling my story and making products that truly meet my own needs as a sensitive skin-haver and beauty enthusiast! It's easy to talk about something that is true and authentic, so putting together the ethos of Tower 28 from branding to packaging is the fun and easy part.
In terms of challenges, I'm sure I'm not alone in saying that navigating a startup through COVID brought a new obstacle across my desk seemingly every day. Plus, the people part can be the best and the worst part. I have a mentor who says 'hire slow, fire fast' and it's true. The people are everything. Letting go of someone is a terrible feeling but it's like throwing up. The anticipation is terrible but you feel better immediately afterward and honestly, it's better for both sides if it's not the right fit."
When you look around at leaders in the beauty industry, it's uniquely a space with so many powerful women paving the way – it's an inspiration for me every day.
Remi is the founder and CEO of Freck Beauty, a vegan and cruelty-free cosmetics brand that was founded in 2017 with "the world's first freckle cosmetic."

"Freck Beauty was inspired by a lifelong obsession over freckles. Growing up in rainy Seattle, I always envied people who had them, even though at the time everyone was trying to hide theirs with lasers and heavy foundations. I started developing FRECK OG as a passion project, for myself and close friends who wanted their own faux freckles too. A lot of people thought I was out of my mind for starting a beauty brand around freckles, but here we are five years later
We had an admittedly rocky start! In 2015, I launched a campaign on Kickstarter for the first iteration of FRECK OG, which completely missed its goal and actually became the butt of a Jimmy Kimmel Live joke. It was a bit of a kick in the gut, but this initial 'failure' only fueled my fire. I stuck with the idea because I knew I was on to something.
When FRECK OG launched, that feeling was validated. We quickly grew an organic following of like-minded beauty fans: people who appreciated our approach to things. We became the bold, clean beauty brand for anyone who cares about ingredients, respects the process, and doesn't care about the rules.
It's inevitable that when you start a business, there will be many obstacles that come your way. But don't fight it. Take it all in and feel it, then move forward.
Be authentic, own your voice, and never stop pushing boundaries.
Alice Lin Glover of EADEM

Alice Lin Glover is the co-founder of EADEM, a clean beauty brand centered around women of color that's redefining the long-lasting beauty standards that seem to somehow be lasting, and challenging ideas of tokenism with 'Smart Melanin Beauty.'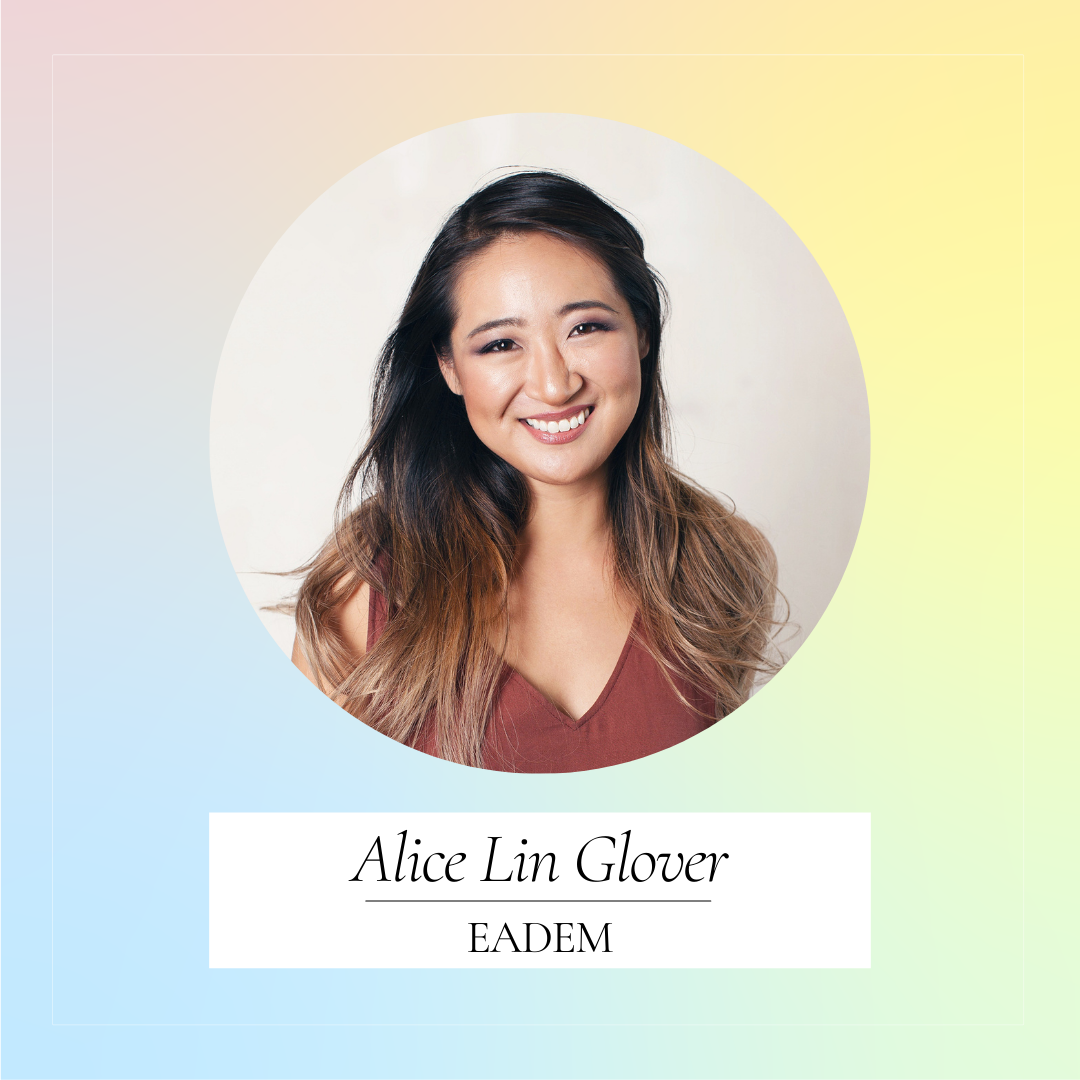 "Our vision was to create a beauty brand that never existed for women like us, starting first to solve for the four billion people with hyperpigmentation in the world — which spans a wide spectrum on skin tones, cultures, and ethnicities. 'Beauty' is so much more than just a product, though. Throughout the process of creating EADEM, we realized that there are so many untold stories unpacking the memories, histories, and cultural ties that connect women of color through the lens of beauty.
We are entirely self-funded, bootstrapped for more reasons than we can fit into this article. Our community has proven that making skincare for skin with melanin is important but there is still much to be done to push the beauty industry forward.
A mentor once told me, 'There are too many lives worth living in the incredibly short span of one, so hopefully, when you choose to go, you do it for something you love even more.' When I was in my 20s, my life was dedicated to optimization — the best career at the best company. Life is both long and short. You can have multiple career paths and lives in the span of one, so keep pulling the thread of what interests you and drives you. Going for breadth of experience and (controlled risk) is worth it.
Tenacity and conviction are everything. There will always be someone or something trying to talk you out of what you're doing, or telling you XYZ is not a good idea.
We won't even go into conversations about funding, where we came across pushback that women of color simply don't spend money on beauty products. Let's just say there is a lot of education and representation needed at every level in this industry!

Casey Georgeson is the founder and CEO of Saint Jane, a luxury beauty company with CBD-infused products, committed to cultivating a community centered around uplifting women. Saint Jane is available on their site, as well as in Sephora, featured in Forbes, The New York Times, and more.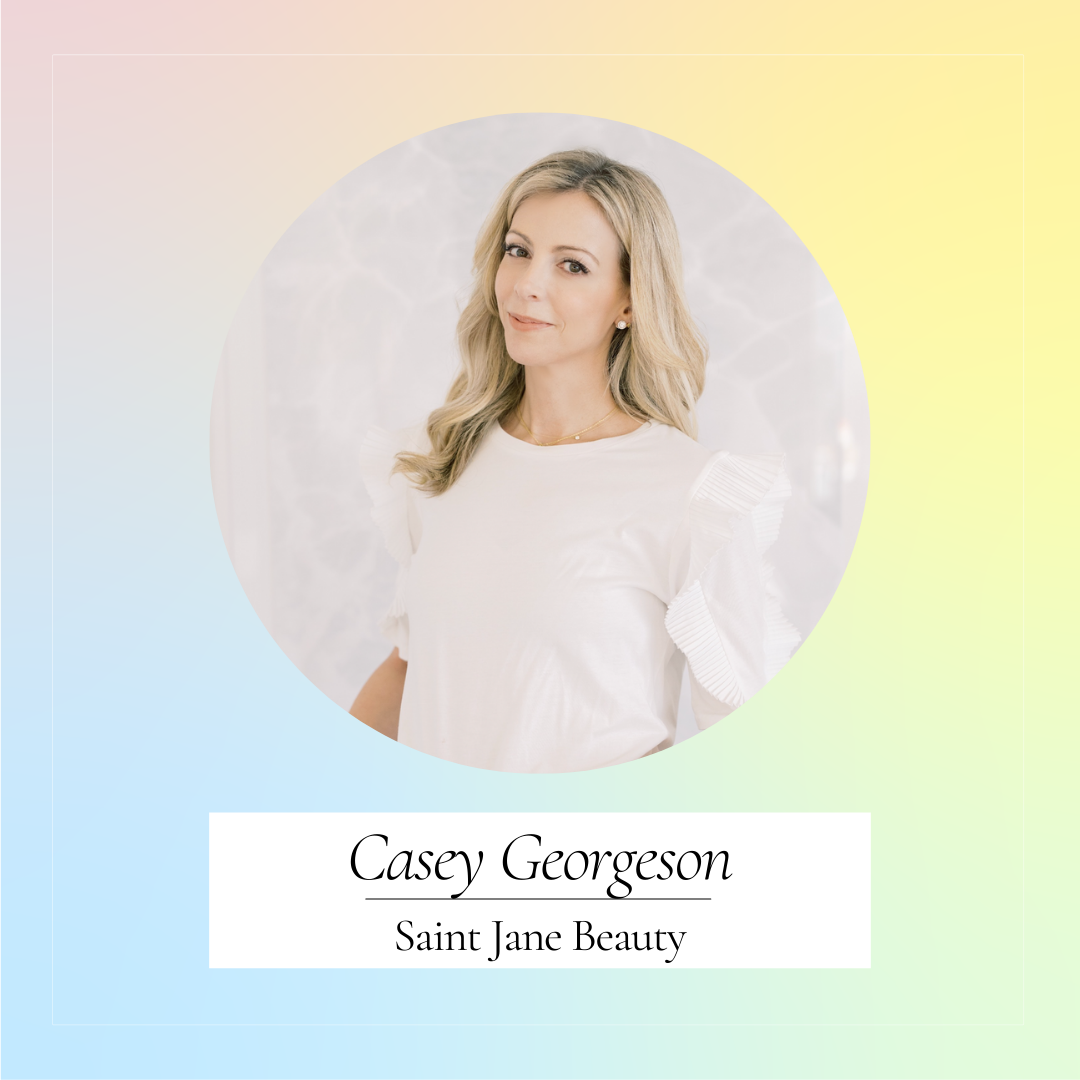 "I feel challenged and fatigued on a daily basis. Building a brand is a roller coaster of wins and losses. You never know what each day will bring but one piece of advice that resonated with me was to make sure to celebrate the wins and quickly ignore the losses. Competition is the thief of joy and it's essential to stay focused on your own growth. Continually innovating. Building. Dreaming. Igniting your passion.  
To me, the words 'female founder' mean community. I've found there to be so many amazing female founders and it is a real community that I've come to rely on.  We share insight and resources — even frustrations at times. Having a support system has saved my sanity for the past few years. It's a sisterhood of incredible women changing the beauty industry together."
I had created over 30 brands in the wine and beauty industries, but I had not created something for myself.
Michelle Ranavat of RANAVAT

Michelle Ranavat is the founder and CEO of RANAVAT, an ayurvedic skin and hair care brand that's made of cruelty-free and vegan products. Michelle is a first-generation Indian American who after visiting Jaipur in 2010 was inspired to reclaim her heritage and celebrate all of the incredible practices she could introduce to the U.S. market.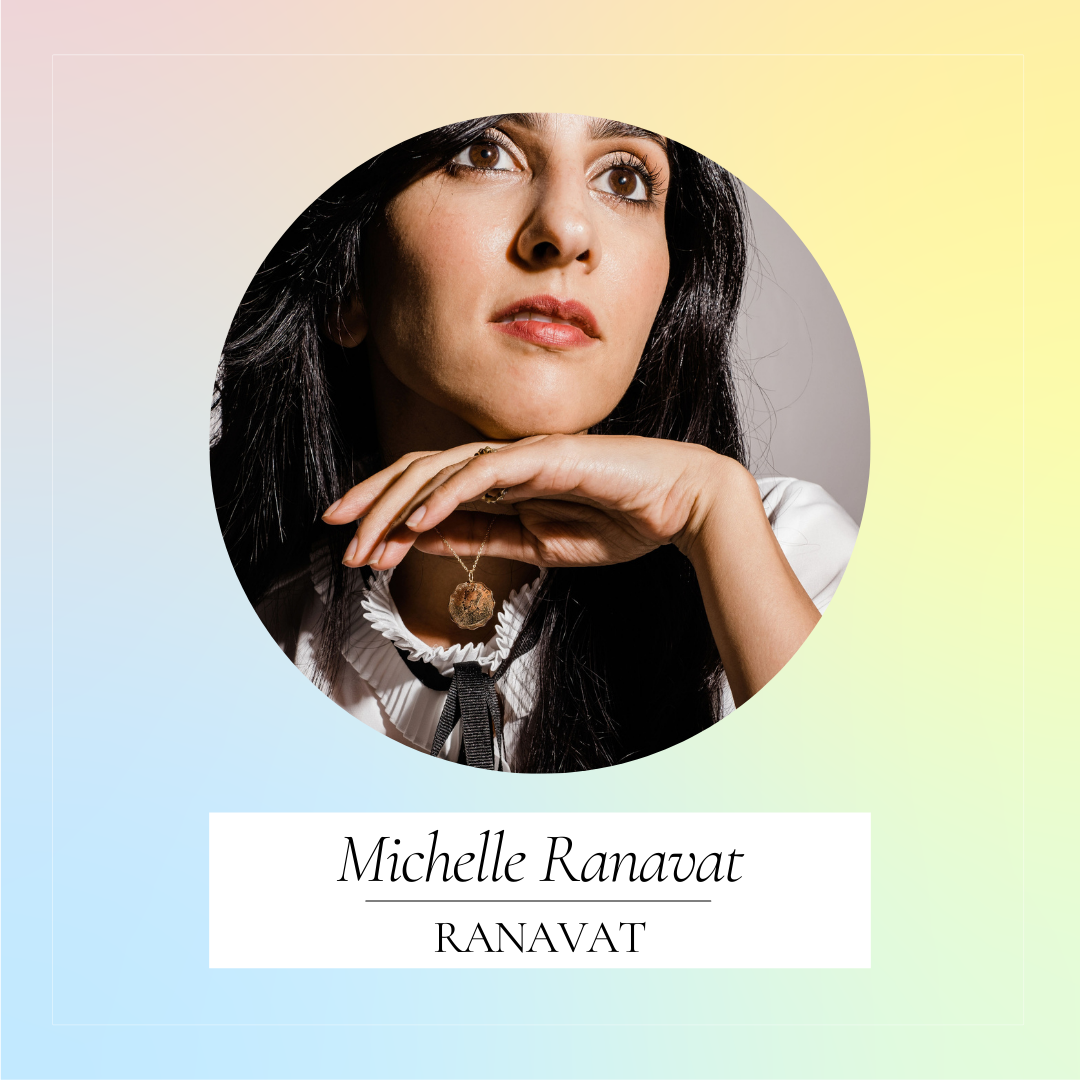 "The easiest part of my journey to success is that I work in beauty and am surrounded by a team that lives and breathes this industry like me. It feels really inspiring to work every day with people that understand how passionate we are about beauty.  The hardest part is all the balancing. It's impossible to accomplish what comes at me on a daily basis — and I just have to do as much as I can and prioritize.
Starting a business is easy. Running a business is so hard — honestly much harder than I imagined.
I had so many discouraging moments. I started the brand with zero followers on social media and zero built-in sales.  There is a certain level of humility that starting from zero brings, and that allows you to appreciate how far you have come — even in those moments where there are difficult days."
I try not to focus my happiness on milestones, because if we truly enjoy what we do every day then those milestones end up happening on their own!
Dr. Shannon Klingman of Lumē

Dr. Shannon Klingman is the founder and CEO of Lumē, a clean deodorant brand stemming from Dr. Klingman's time as an OB/GYN resident. She found that many women were complaining of body odor and getting false diagnoses. The root of the problem wasn't internal but external, thus launching her mission to eliminate odor-causing ingredients.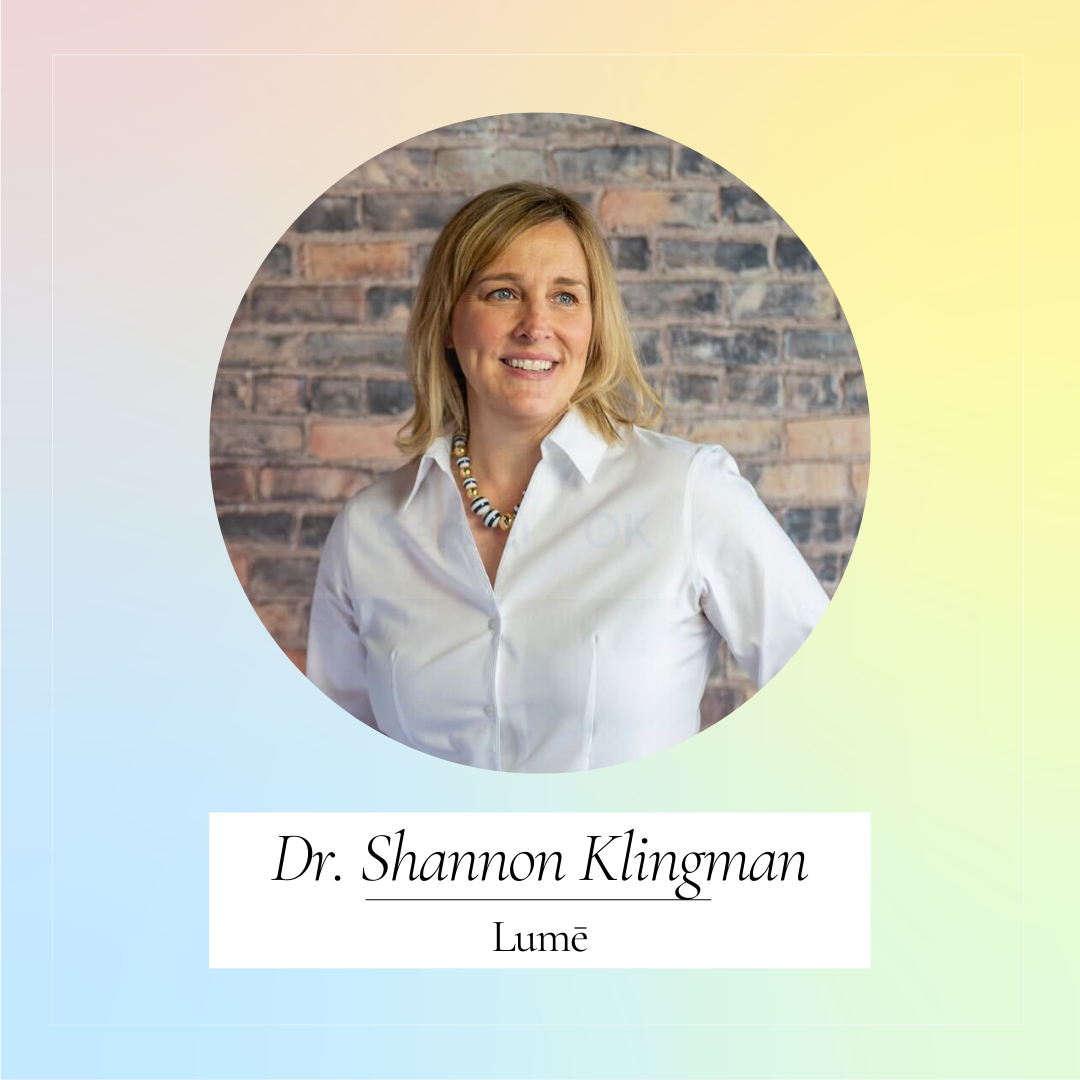 "Starting the business was like drinking out of a firehose, but I loved every minute of it! Lumē was self-funded from the beginning until we were acquired by Harry's Inc. in December 2021. It was important to me to grow Lumē by being open and transparent with our audience about my life experiences and shared challenges that almost every woman faces at some point. My vulnerability created trust within a community of women looking for safe, effective odor control solutions for their whole body, and I leaned into our amazing customers as the faces of our brand.
Now, by working with Harry's Inc., we can grow our community together. We'll be working closely to explore retail relationships, leverage shared marketing expertise, and get support across things like finance, people, and legal. By coming together, we'll be able to reach more people with our product and message.
I was born to overcome  — my mom tells me that I was not easy to raise and was stubborn since I was little! For that reason, I never gave up, no matter how many times I fell. I've been kicked down at one point or another, just like all of us are, but I always stand back up. A big part of my tenacity is I try not to let others' opinions impact me too much. The power of being underestimated my entire life has fueled much of my success."
I am a founder. The female qualifier serves as a beacon of hope for young girls and women who need to know that all things are possible for them too. If I can serve as a beacon of hope for women, then 'female founder' it is!
Pierston Gaines is the founder and CEO of Pressed Roots, a hair company based in Dallas, Texas that specializes in textured hair. With both a salon and products available to purchase from anywhere, Pierston is making sure that everyone has access to easy, quality hair care.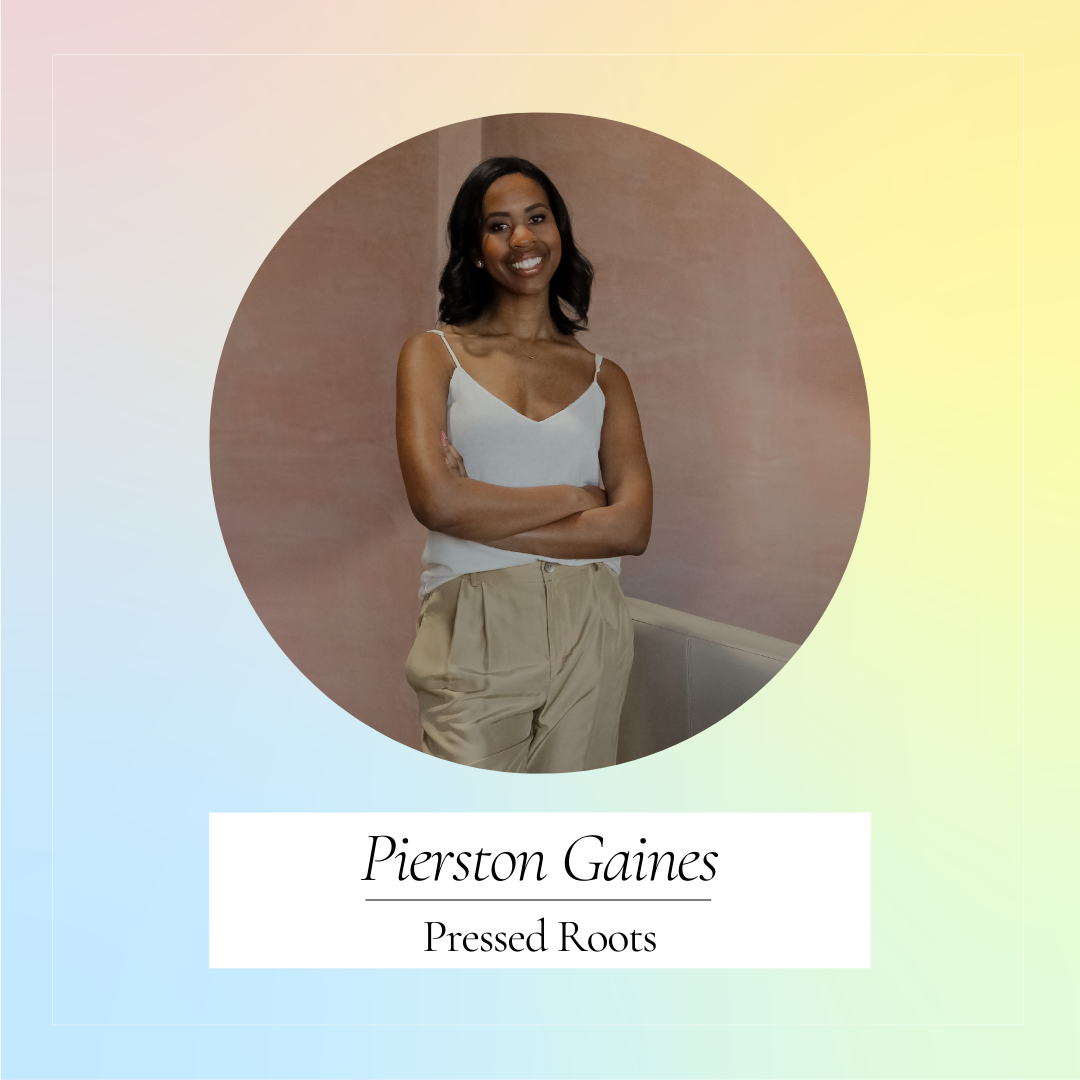 "I'm inspired by the women around me. I know firsthand the hardships when it comes to finding a reliable stylist who is formally trained in how to care for natural, textured hair. After years of traumatic salon visits, I found a stylist who knew how to care for my textured hair while attending Harvard Business School. Once she moved away, I was once again left with no options. That's when I realized there was a huge underserved market who were searching for the same care; a reliable, affordable, luxury experience. This led to the creation of Pressed Roots.
One of the most challenging times was when we first opened in Dallas. Pressed Roots opened its doors on March 14, 2020, and two days later, we closed our shop for the health and safety of our customers. Despite the hardships and unexpected twists and turns, we stayed nimble and focused, and reopened our store on May 16, 2020. We've had a waitlist from that day since.
The easiest part is the things that make me the happiest, which is the people. We have the best customers and seeing how happy they are leaving our salon with new confidence is so rewarding. We also have a great group of stylists who are strong, businesswomen, and watching them grow and eventually start their own business or side hustles is inspiring. The hardest is the unexpected challenges that pop up out of the blue. It's important to keep focused on the bigger picture and how to get there."
Trust your gut and continue to persevere. It will be hard, but worth it.
Priscilla Tsai of Cocokind

Priscilla Tsai is the founder and CEO of Cocokind, a clean skincare brand made in San Francisco. Cocokind focuses on making skincare that's safe for all skin types, to break the cycle of "aspirational beauty", and celebrate healthy, glowing skin.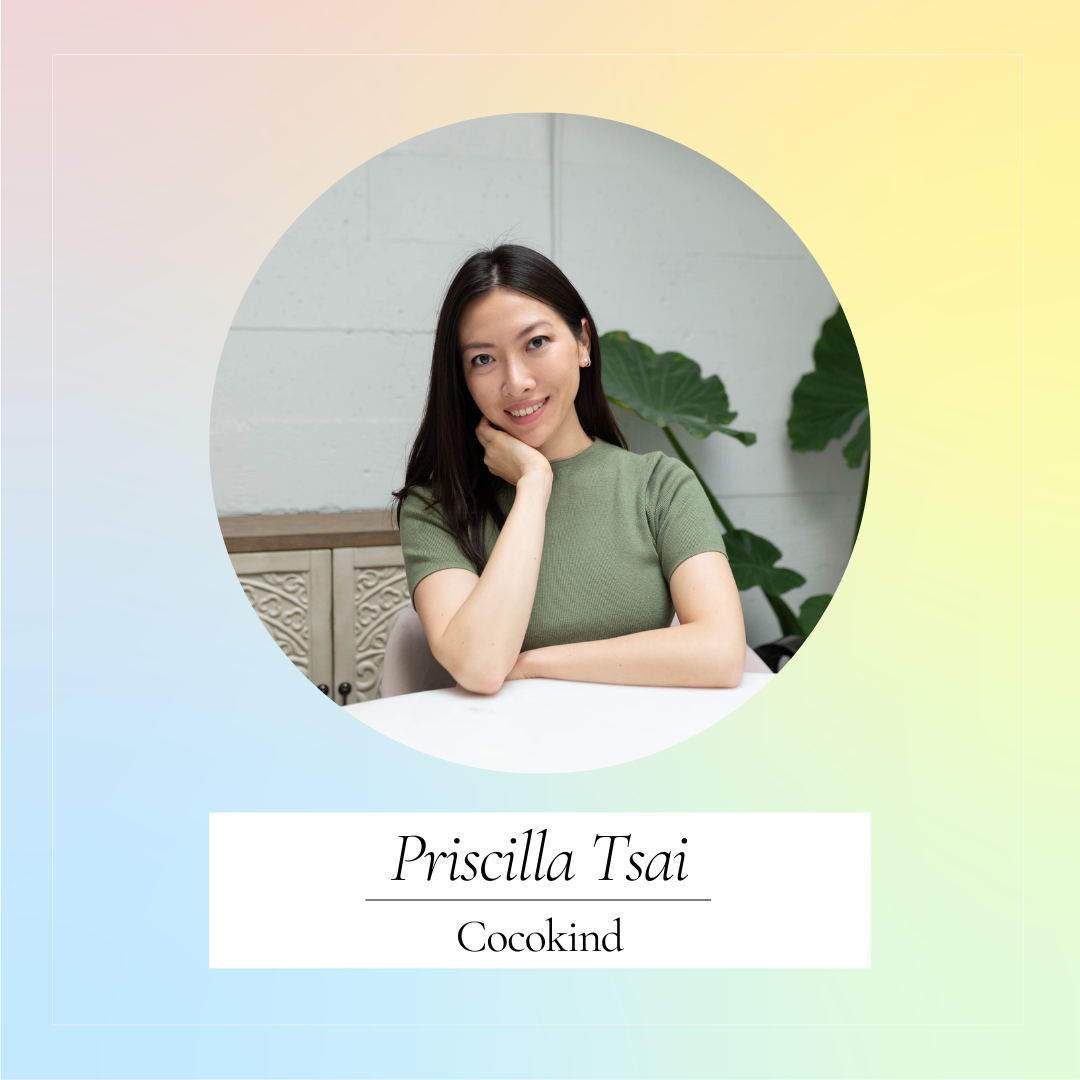 "As an entrepreneur, you have little and big things that make you feel discouraged almost on a daily basis. This is regular life, and you have to get used to it and learn how to build an insane amount of resilience. You overcome these challenges because you have no other choice, and of course, through it all, you maintain a passion for what you're bringing to the table.
The best ideas are nothing without someone behind the idea who has a bias for action and can get things done. Don't wait for perfect, get going and start learning.
The easiest part was the first year of the business. We had nowhere to go but up! We received a lot of nos but the yeses that we received were so meaningful and thrilling. The hardest part is learning how to compartmentalize work and life; I still struggle with that."
Making mistakes is a non-avoidable thing while building a business. You need to be humble and also give yourself some grace as no one has a perfect, straight-lined journey.
Melissa Medvedich of Supernal
Melissa Medvedich is the founder of Supernal, a small-batch botanical skincare brand inspired by Melissa's Chinese household growing up. They specialize in luxury products that combine her love for graphic design with well-considered skincare.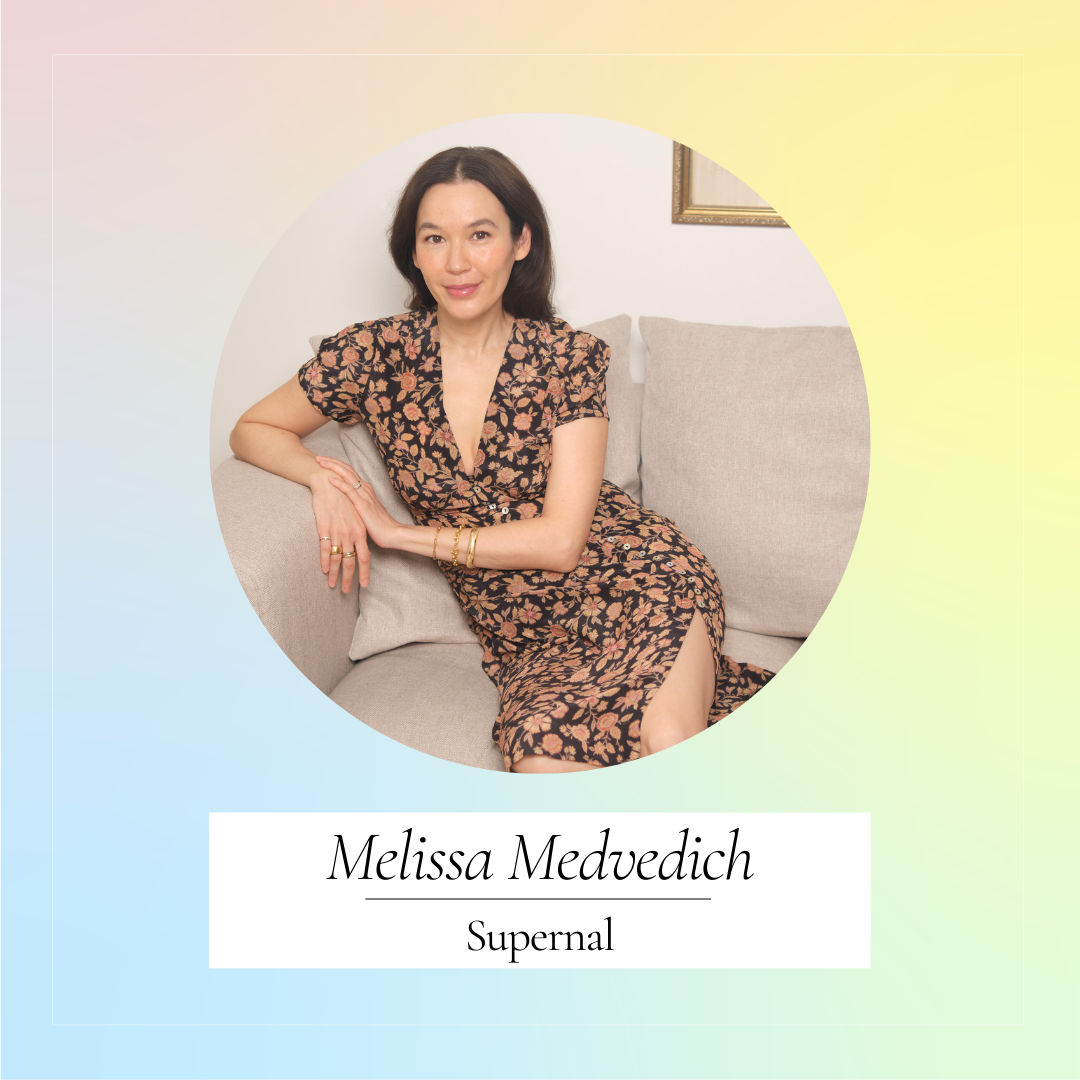 "After a few years of circling around the idea, I realized that putting aside the desire to start my own business was not exempting me from fear or guaranteeing me career stability. Fear of being in the next round of layoffs and the anxiety I felt to stay one step ahead had become a very regular feeling that I got used to but realized was not going away. Once this clicked, taking a chance on building my own business still felt scary, but a little less so.
Skincare was something that had grown from a childhood curiosity into a full-fledged passion and great love over time. Starting something related to my experience in design would probably have been the safest route but when envisioning my dream company and being completely honest with myself, I knew that I wanted to pursue building a beauty brand. I also had a tremendous amount of support in my personal life that played a huge role in taking the leap of faith.
Don't forget that you are the special sauce that makes your company unique, if you look hard enough, you can find the answer to any resource question you might have and if something is mission-critical — have a backup. When I bought my first proper laboratory scale, I asked the sales associate if he thought I might need two. He answered, 'If it's mission-critical then definitely.' This has always stuck with me as it transcends beyond scales. Shout out to Mark at Hogentogler.
Founding Supernal stemmed from a desire to create meaningful products — I think it's truly such an honor to help someone care for their skin. 'Female founder' is one of the many elements that is part of the unique make-up of myself and my brand. When I first embarked on this journey, being a female founder or an Asian-American founder was honestly not something I gave great thought to, but these personal characteristics are definitely part of the heart and soul of Supernal."
No matter how well prepared I think I am, unexpected challenges will still inevitably arise but most things eventually get solved. Patience and resilience are key.
Editor's addendum: Elizabeth Holmes of Theranos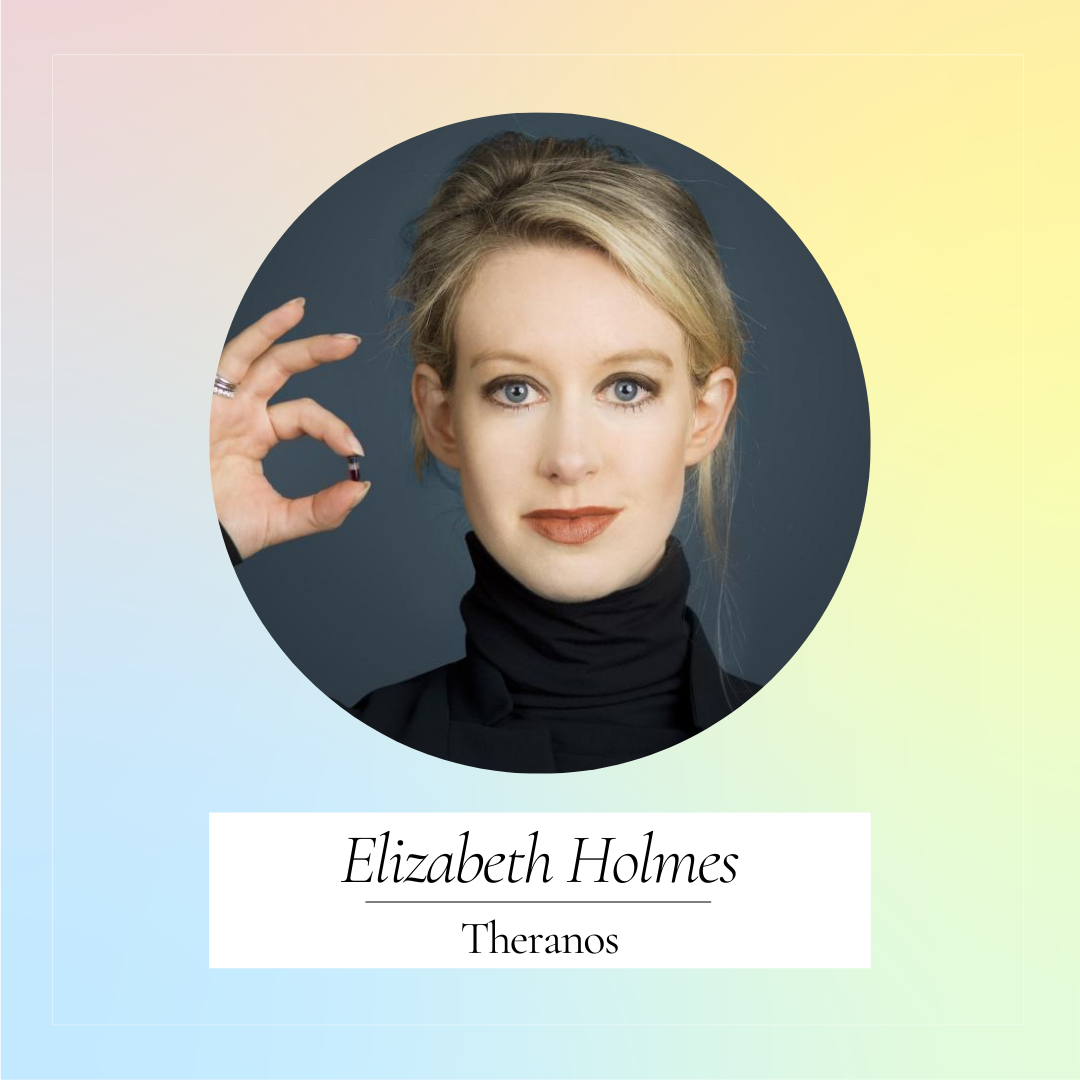 Just kidding.
Thank you to all of the female founders who participated in these interviews!
---
READ MORE LIKE THIS