As long as there are men on television, there will be people so horny, so down bad, that they send them into stratospheric levels of global desire. At one point, it was Stanley Tucci preparing a beverage. At another point, it was Christopher Meloni reprising his role as Detective Stabler.
(Open those links on your personal electronic devices in case your employer tracks your activity. You'll have a lot of explaining to do if you're flagged in their system for reading an article on The Cut titled "I Need an Adult Diaper to Watch Stanley Tucci's New Show.")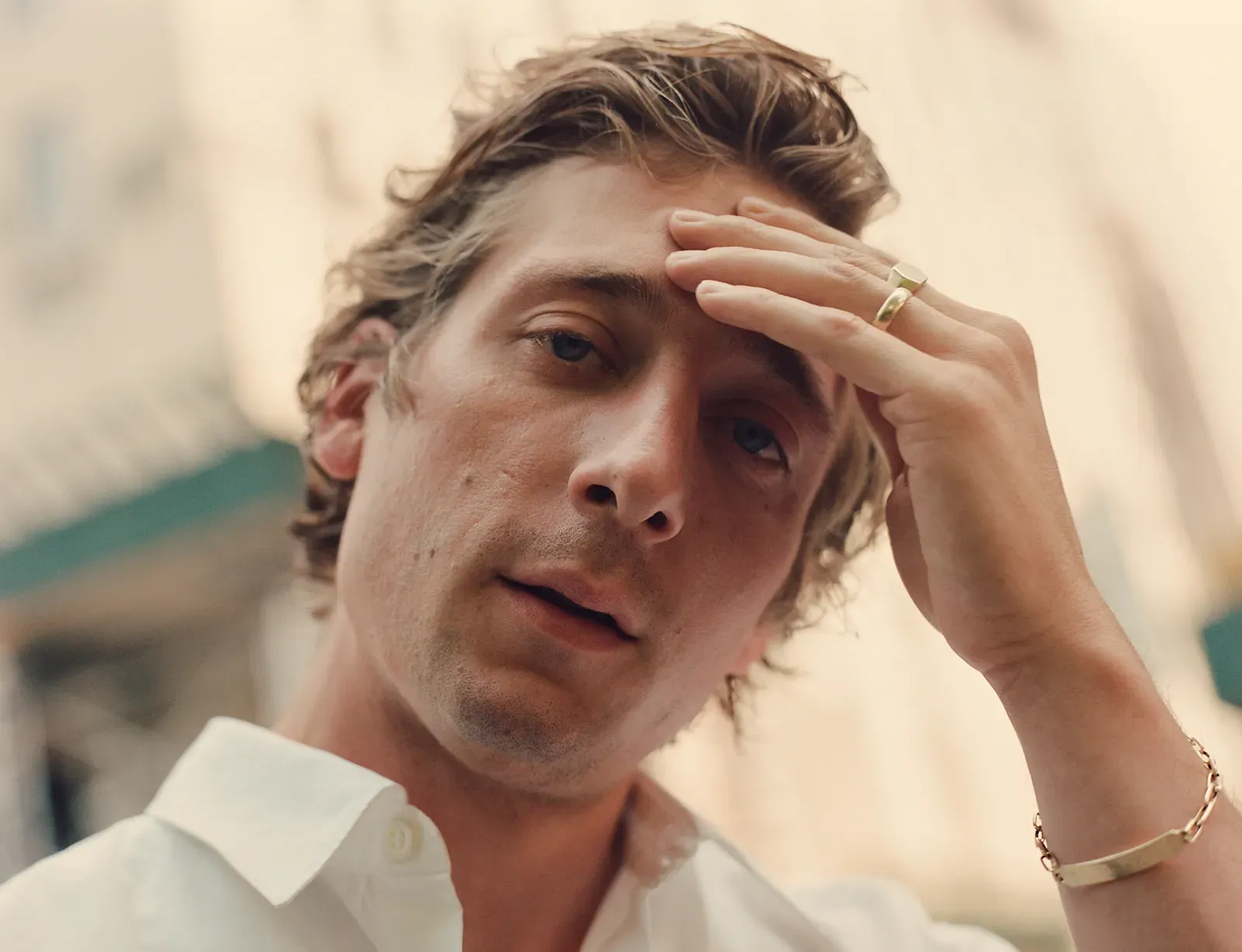 Here to knock them off their throne is Jeremy Allen White — star of Hulu's The Bear. On the show, he plays tortured chef Carmen "Carmy" Berzatto. He was met with universal, critical acclaim. For his nuanced performance, yeah, but also for his hair: A noteworthy mop of flaxen curls too brazen for a hair net.
We spoke with professional men's groomer Jessica Ortiz — who in real life, gets to play with Carmy's (along with a shocking amount of famous men's) hair — on how to nail his effortless mane.
---
Jessica begins by misting his hair and detangling it with a wide-toothed comb. Wavy to curly hair textures are best dealt with damp.
"Then I spray the damp, detangled hair with Authentic Beauty Concept Beach Texture Spray, a lightweight sea salt spray that adds texture and volume, and diffuse. Diffusing the product into the hair is what gives the defined waves that really hold. Don't move the hair while diffusing, just lightly finger curl framing the face and lift the front pieces around the crown to give the roots volume.
Once I get the level of texture I want, I gingerly scrunch Authentic Beauty Concept's Nourishing Hair Oil on the ends to smooth and boost shine.
To take the style to a more groomed but lived-in look after I add the oil, I shape up the more unruly texture with the Authentic Beauty Concept Shaping Cream, a styling cream with medium hold. What I love is that it contains shea butter and wax, which is what gives the product its shapeable hold. Then I use my wide-tooth comb to shape it loosely into place."
"It's loose and undressed, but the key is to let the waves do what they do naturally and embrace it! My goal is to reflect Jeremy's laid-back style and elevate it."

---
READ MORE LIKE THIS