Imagine being 16-years-old and waking up to an email from the trendy shoe brand Converse, asking you to shoot their next campaign.
This scenario is exactly what happened to now 19-year-old Alexsey Reyes back in 2018. Most 16-year-olds aren't sending many emails to begin with, and receiving full-blown business deals from globally recognized brands certainly isn't the norm for a budding teen creative. Alexsey is proving that teens are some of the most powerful creatives out there – and more importantly, that they should be the ones creating content for their own generation.
Alexsey's entire Instagram feed is truly something to marvel at. It's mix between campaign shots and magazine spreads for brands like Conde Nast, Tigerbeat, and Interscope Records but also, portraits of his closest friends and role models. People are his main subject.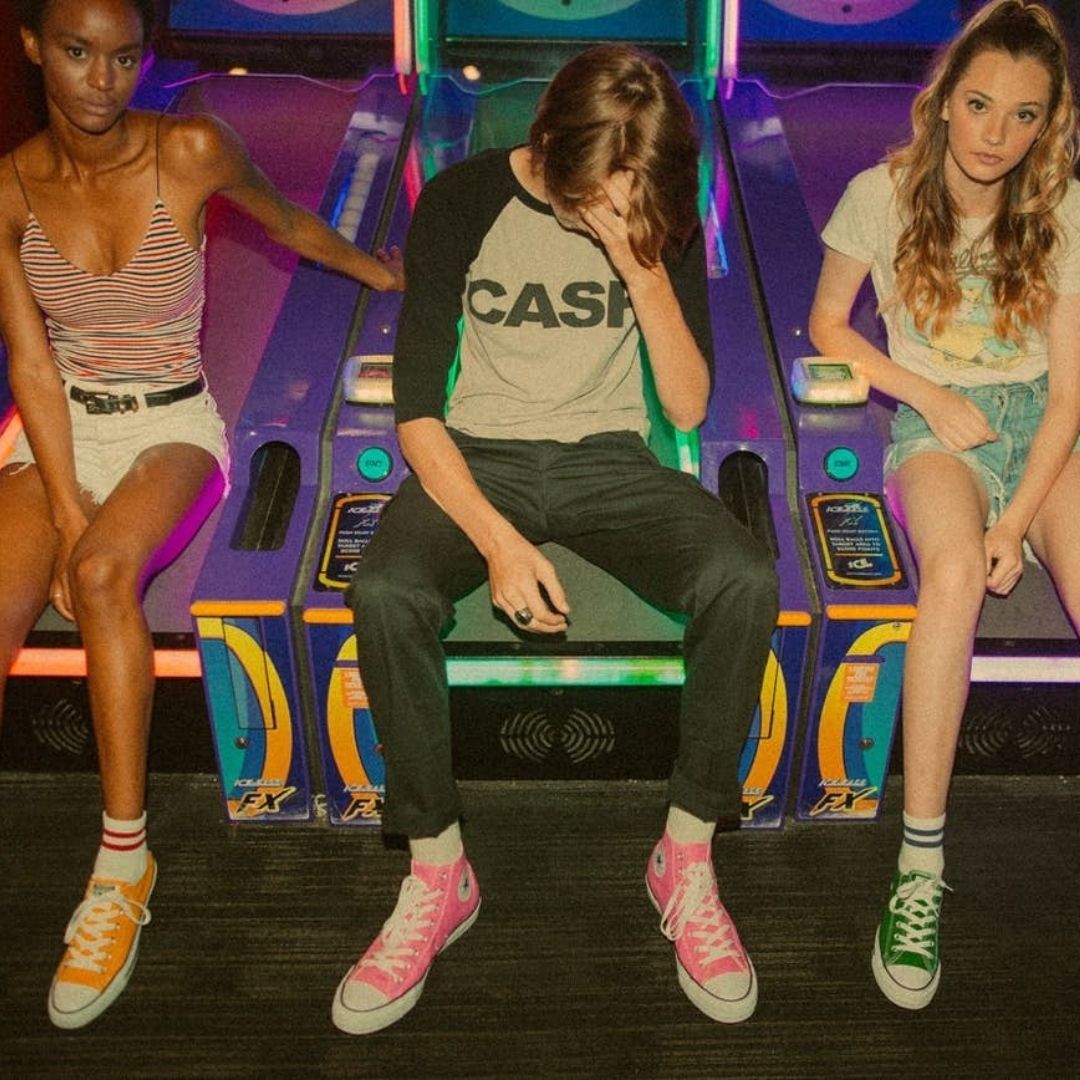 SEE ALSO: @juanskindiary is the self-taught photographer brands are literally fighting over
In just three years, the teen photographer has gained attention and booked back-to-back (and reoccurring!) campaigns with Instagram, FujiFilm, and Kinship. Alexsey even launched his own project called Teens Create, an online magazine and platform where submissions are always open. It's a space where imagination and creativity can run wild. And it's just for teens like himself.
We had to know, how does someone manage themselves at 16-years-old to the point where they're landing deals with Converse? How can you become so recognized and so highly sought after, booking gig after gig at such a young age? Read on to learn more about Alexsey's journey, how he navigates creative burnout, and what is still on his bucket list.
The backstory
Alexsey started exploring his love of photography when he was just 13-years-old, taking pictures of nearly whatever he could.
"I would go to these things called 'Instant Meetups,' where you go to a place with a whole bunch of other photographers and just practice," he says. He admits his photography skillset is entirely self-taught apart from a photography class or two in middle and high school.
Alexsey started out taking senior portraits for friends and family photo sessions for people in his community. At first, he didn't charge much, as he was developing his style and gaining experience. Even when brands reached out to him, he would just do a product exchange as a form of payment.
In 2016, his current agency, Adolescent Content, reached out and helped him gain new clients. It was then that he realized photography could be a real profession. Alexsey said he knew that if he just worked hard to build his portfolio, photography could become his full-time job after school.
Adolescent Content is an LA-based marketing agency that specializes in youth advertising and marketing, and nearly all their clients are Gen Z brands. After a deep dive on their website, it's obvious Adolescent Content wants to see more teens being the creators of the content they (as well as their peers) consume. Who better to market to Gen Z than Gen Z themselves?
"I started to just create more content that would align with brands, the brands that I wanted to work with," says Alexsey. "Brands like Converse started reaching out to my agency because they wanted to work with me. I think that was one of the first brands I was super excited about. It gave me a lot of reassurance because I love Converse, and it was going to be the first time I got to do something professionally for a major brand."
Becoming an Instagram Ambassador
Pairing up with Adolescent Content helped launch Alexsey's career, but it was becoming an Instagram Ambassador that helped him make connections with internet celebrities, ultimately paving the way for new collaborations.
He repped the app for about four years, which helped him gain access to big events like Vid Con. It was there he was able to bump into people like Nia Sioux from "Dance Moms" and Ricky Thompson, the Instagram comedian full of positivity, jaw-dropping outfits, and hilarious skits on current events.
"I just asked if I could take [Ricky's] photo. They weren't really my favorite at the time; kind of bland, not a lot of colors to them. But later on, I started to get more into multimedia work. I added some doodles and glitters, which is something that's more of my style now and I really love the photos now, " says Alexsey.

Launching Teens Create
"Growing up, I didn't really have any friends that were into the same things that I was. I would find those friends through these pages that are reposting photography and other artists. I think it's just super crucial for young artists to have people to bounce an idea off of," says Alexsey on why he thought creating a space for teens like himself to collaborate was so needed.
It's a space that many flocked to at the start of quarantine, as an attempt to connect with others and execute some new projects with all this newfound free time. The Instagram account alone has gained almost 40,000 followers, highlighting submissions from teens around the world monthly. The website, where Alexsey originally reposted content from his favorite artists and photographers, now takes rolling submissions and showcases the complete editions of the various 'zines' put together by the community.
"I've had a couple of messages from others telling me they found someone to look up to or just a friend. That's really reassuring and lets me know that [Teens Create] working," says Alexsey.
His generation as inspiration
If Gen Z wants something done, they'll go out and do it. This has been proved time and time again on social platforms like TikTok and by way of tweetstorms on Twitter. "If we want something done, we'll do it. There's so much creativity in that, nothing ever gets old. There's always something new, someone's coming up with a new idea," says Alexsey.
He's passionate about representation and seeing more people that look like him in media, and says his dream brand partnership reflects this for him.
"I grew up plus size and Hispanic, I never really saw a positive representation of myself. It's really affected my mental health, how I treat other people, and just everything about my life. I think it's so important for people growing up to just feel like they're normal.. to feel like they're okay. If you don't see a plus-sized person in life—ever—you're gonna think 'Oh, I'm ugly until I lose weight,'" says Alexsey.
He says he would love to eventually help shoot a TV show or champion a series of spreads for big-name magazines while keeping representation and diversity at the forefront.
Experiencing creative burnout as a teen
What started out as a hobby, this deep love for photography, ultimately led to Alexsey having to take a step back. He didn't realize at the time he was experiencing the beginnings of creative burnout.
"I just wanted to take a break from doing everything. Not just shoots or photo editing – everything. I think it's important to take time to just think over what you're doing, what your purpose is. That's how you recharge," says Alexsey.
He says he doesn't see anyone in his community as competition, rather as someone he can work alongside and create something amazing. But there is that pressure to keep moving forward at full speed ahead, constantly planning for new shoots and collaborations.
"My mission is to diversify the industry, and that's keeping me motivated. Looking at other artists and their work inspires me a lot. If I see my friend doing a cool photoshoot, it inspires me to do one. I love art. In the end, the possibilities of art motivate you too," says Alexsey.
READ MORE LIKE THIS