Hannah Harris, AKA @browngirlhands, has definitely influenced your social media feed, whether you're aware of it or not.
No, she's not dancing on TikTok to your favorite Damelio routine, or exposing her lavish lifestyle and beauty regimen for us to lust over; she's an atypical college student who is simply changing the world with one hand photo at a time.
SEE ALSO: 6 Black men and women on the first moment they felt beautiful
Hannah Harris is a 20-year-old Florida native, currently studying at SCAD, Savannah College of Art and Design, majoring in Business of Beauty and Fragrance. Since beginning her time at SCAD, she has excelled in every way possible. Recently, Hannah was the youngest honoree on Glossy's 2020 Top 50 Beauty and Fashion Change Makers list for her achievements in voicing the lack of diversity in the beauty industry, was a Top 4 Finalist in this year's Fashion Scholarship Fund competition, and was recognized as a Virgil Abloh Post-Modern Scholarship Recipient.
In short, Hannah Harris is an icon!
Among all of Hannah's achievements, the greatest accomplishment of all is her creation of @browngirlhands, an Insagram account "showcasing Black hands in aesthetic spaces through beauty." Hannah says that she created Brown Girl Hands in late June of last year "on a whim" due to the global pandemic, which left her with "plenty of time on [her] hands to start a new personal project."
The concept for Brown Girl Hands was inspired by Jessica Defino's article "Where Are All the Brown Hands" and her "unique fascination with hand photos." With the Instagram account, and subsequent brand photography studio of the same name, Hannah sought to create a brand that encouraged the representation that is lacking in the beauty industry.
Through beautiful product imagery featuring "brown girl hands" and the message she conveys regarding the lack of diversity in the industry, her success was inevitable. Within days of creating @browngirlhands, Harris' account was picked up and highlighted by multiple publications including Nylon, Dazed, and Hypebae, and her success hasn't stopped since. She is the voice of this generation and is a testament to pursuing your passions regardless of age. Read on to learn more about Hannah's success, and her take on the beauty industry.
On being a BIPOC Gen-Z content creator
As one could imagine, being a full-time student and content creator could be quite tricky, especially as you garner more success, and with that, more opportunities. Though Brown Girl Hands is still in its beginning stages of growth, Harris is already seeing how her influence is reflected in brands throughout the industry.
In collaborating and creating content for several brands like Glossier, Supergoop, Necessaire, and more, Harris is a leading figure in shifting towards a more inclusive beauty industry. When asked about what it's like being a Gen-Z content creator that is paving a path for representation and inclusivity, she says, "to be honest, it's a little bit unreal."
"In my head, I'm still the same person, but outside myself, I've had to shift my mindset," she tells Very Good Light. "It's a new responsibility, one I'm grateful to have, and I hope that it shows others that making an impact doesn't mean you need a million followers. It starts with you and a passion."
Hannah's emphasis on passion is ultimately what drove her to create Brown Girl Hands, and is what she hopes other Gen Z content creators will do as well. She describes that "the success of Brown Girl Hands was completely unexpected" and relays how it seemed to be a "culmination of many things crossing paths at the right time."
When discussing advice for up and coming content creators in the beauty industry, Hannah says that one needs to "have a niche and a vision."
"When I started Brown Girl Hands, I didn't do everything, and I still don't," she says. "I was very specific on the type of content I was producing and what differentiated me from others on the platform."
She continued to elaborate on the importance of declining opportunities and learning not to take up every project just because a brand reached out. "I wish I knew I didn't have to say yes to everything earlier," she says. "But I've learned to respectfully say decline when a project doesn't align with my creativity or time."
On brands and representation
Hannah is already witnessing a shift towards a more inclusive industry. In her words, Hannah says that she thinks "the beauty industry is well on its way to representation." In discussing specific brands that are doing representation and inclusivity right, she says, "Versed comes straight to mind."
Hannah states that Versed publishes "their diversity numbers, and posts a quarterly update with actual progress," and that "they also give Black creators a voice." In critiquing companies that are looking for improvement, Hannah says that companies should be asking themselves, Do I only care about diversity when it's trending? How can I embed diversity and inclusion into my brand?
Hannah also elaborates on the importance for companies to hire more minorities, but not just as a means to make a quota. Businesses should "build a sense of belonging" within their company culture, she says. "Consumer-facing, look at your marketing and your product: does it work for all skin tones?"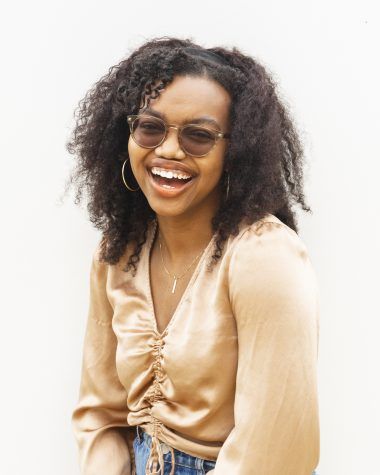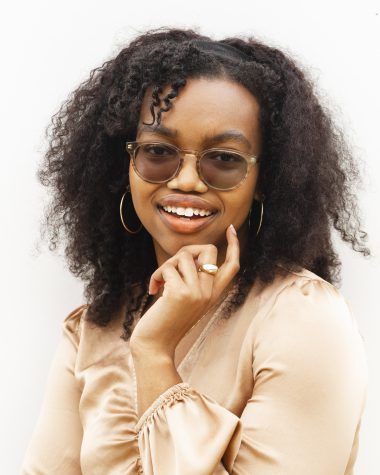 On social change in the beauty industry
Overall, Hannah is a content creator striving for representation in the industry. She is an activist paving a path for young girls who look like her to find success across sectors. In our world, everything is connected. When change occurs in one industry, it is bound to happen in another. For the beauty industry, this sector has an immense opportunity to create significant social change.
"The beauty industry controls society's perception of what we believe is beautiful," says Hannah. "When they expand that vision, they begin to empower all of those long left out of the conversation."
"It's also a ripple effect," she says. "We become what we consume, so the beauty industry must become what we want society to be."
In her words, Hannah states that when she graduates, she is "excited to work within the industry to create change from the inside out." Hannah's light shines so brightly, and we can't wait to see all that she does in the coming years through Brown Girl Hands and her activism.
(Photos by Lance Langel for Very Good Light)
READ MORE LIKE THIS