Let's face it, quarantine has made us the ultimate multi-taskers – from doing manicures in Zoom meetings and making TikToks during online classes.
But did you know that your skincare routine can be a multi-tasker too? Applying two different masks to targeted areas on your face can give it exactly what it needs in the areas that need it the most.
I discovered this multi-tasking skincare hack when I was craving a face mask but couldn't decide which one to use. I always have a variety of masks on hand to treat and tackle different concerns. At the time, I was experiencing an interesting case of dry chaffing on my chin from wearing a face-covering in public due to my local COVID regulations. However, my forehead and nose were producing a ton of oil from spending time outdoors.
I decided to focus my favorite Laneige Water Sleeping Mask on the areas that were irritated from the facial covering. Then, I applied a Tea Tree Clay Mask to the remainder of my complexion not covered in the sleeping mask. This duo worked wonders. Not only was I able to treat the different concerns on my skin, but I was also able to dip into two of my favorite masks!
SEE ALSO: The ugly truth about the fragrance hidden your skincare
Quarantine has left me seeking new ways to implement a spa-like experience into my beauty ritual. This multi-tasking hack has allowed me to optimize my masking sessions while being able to test out the different masks in my collection. Implementing this masking hack into your routine will allow you to get the most out of each of your masking sessions, while also giving you a zen-like experience. Because double the mask, double the self-love!
The collection bellow features duos that let you explore different styles of facial masks that can address unique individual concerns such as dryness, irritation, or texture.
In order to maximize your multi-tasking mask routine and increase product absorption, cleanse, and exfoliate the skin prior to masking.
If you want to treat active breakouts while also preventing new ones:
When your skin is acting up with congested pores, excess oil, and breakouts, it's crucial to address the overproduction of sebum. Multi-tasking masks is a perfect solution to heal active blemishes while balancing and clarifying the skin to avoid future breakouts.
The Combination:
Ole Henriksen Cold Plunge Pore Mask: Purify pores with clay while fighting acne-causing bacteria with lactic acid and salicylic acid. Apply this mask to your T-zone or directly to your active blemishes to soak up gunk and sebum.
Biossance Squalane + Glycolic Renewal Mask:  Refine skin with a dual powered acid complex packed full of glycolic acid, tartaric acid, malic acid, and naturally-derived AHA's while nourishing the skin with squalane. Apply this mask to areas of the face that needs extra polishing without over-drying.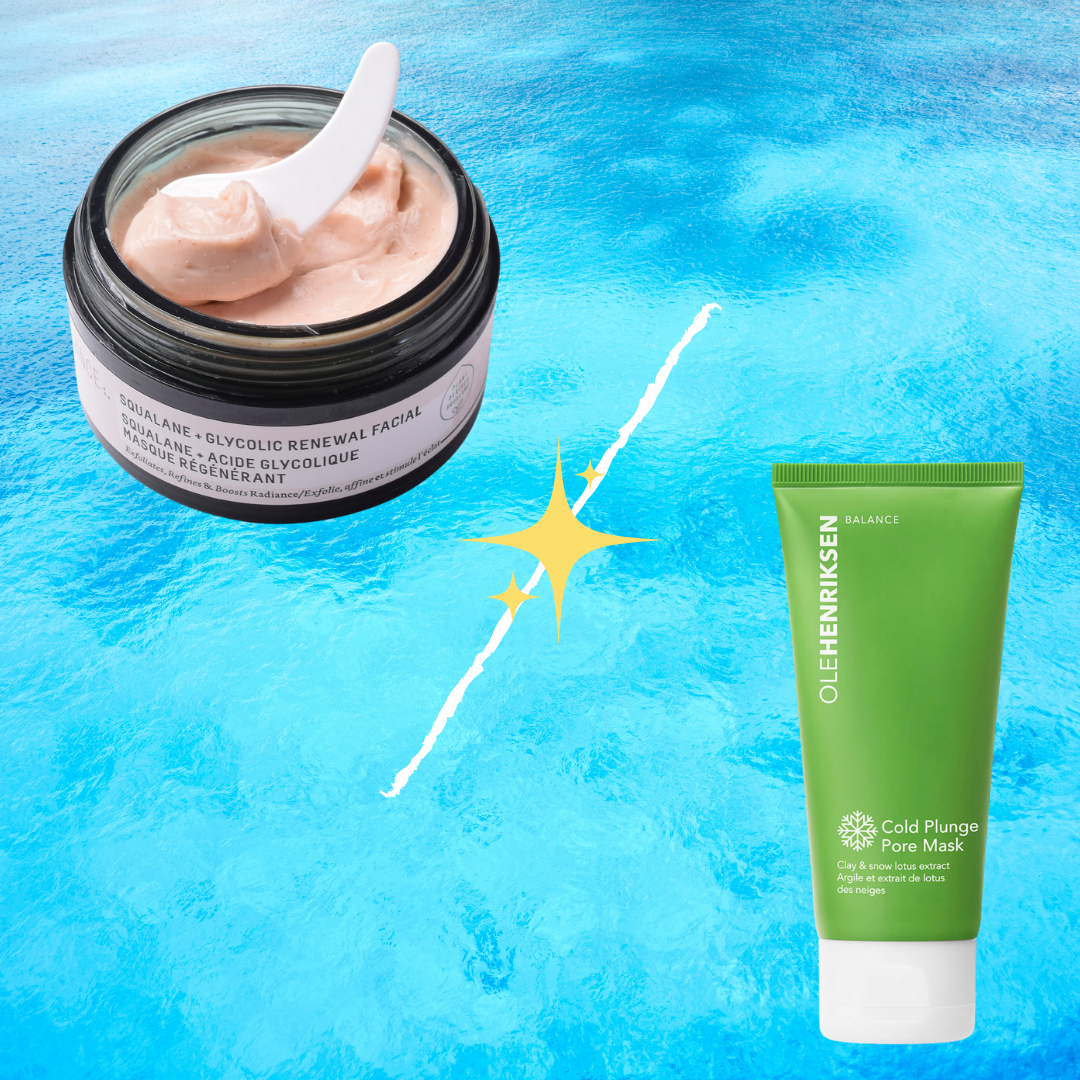 If you want to fight wrinkles while firming and lifting the skin:
It's true, you can never be too young to dive into anti-aging products. Firm and strengthen the skin with a multi-tasking mask to tackle wrinkles while increasing firmness and elasticity. Anti-aging products can be aggressive, but focusing a mask on specific areas can allow you to maximize the results while avoiding unwanted side effects like irritation and dryness.
The Combination:
Tatcha Violet-C Radiance Vitamin C Mask: Packed full of vitamin C and naturally-derived AHAS, this mask is best used on areas you want to brighten and strengthen like the under eyes, cheekbones, and forehead.
Peter Thomas Roth 24K Gold Mask: This luxurious face mask is formulated with Pure 24K Gold to help improve the appearance of wrinkles while firming and lifting. This mask is best on areas that are prone to wrinkles, such as around the mouth and neck.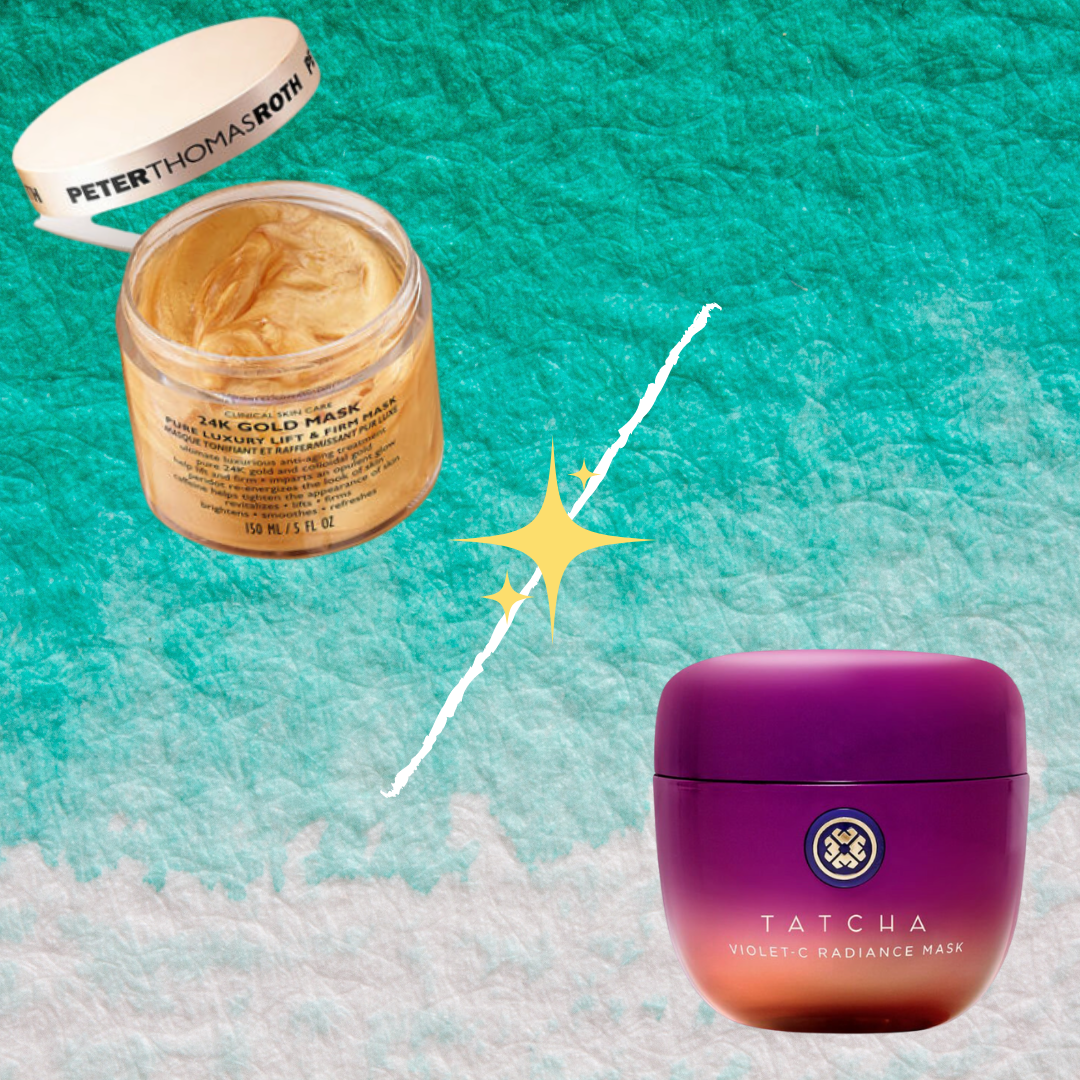 If you want to hydrate without looking/feeling oily:
Brighten and hydrate combination skin for a balanced complexion by doing a multi-tasking face mask duo! Hydrating face masks are great to increase overall skin texture for better application makeup and leave skin feeling soft and plump.
The Combination:
Florence by mills Swimming Under the Eyes Gel Pads: These fun eye gels are great to lock in moisture under the eyes while packing the skin full of energizing ingredients to soothe dark circles and puffiness.
Drunk Elephant F-Balm Electrolyte Waterfacial: This product is an innovative formula full of encapsulated vitamin F to deliver extra hydration to the skin to revitalize and awaken. Apply directly to areas you're experiencing dry, flaky skin.