A good trip to CVS doesn't just result in the world's longest receipt.
You might just come home with a bag FULL of dupes for your favorites makeup products. The beauty of drugstore makeup is you never know what you're going to get. Sure, you can watch viral TikTok reviews until your eyes hurt but YOU still have to try the product and decide for yourself.
SEE ALSO: Here's the correct order of skincare and makeup
On a recent weekend that's exactly what happened. Essence Cosmetics HAPPENED. I spent a day fawning over new finds after finally paying more than a second of my attention to the Essence Cosmetics section in my local Ulta and CVS. In every magazine I buy, I see their one-page ads of all their best selling Lash Princess mascaras. The popularity is undeniable and I swear a literal switch flipped in my head and I thought, 'Okay I need to buy and try it all.' Keeping reading to find out what you need from Essence Cosmetics because y'all are seriously sleeping on this crazy affordable brand stocked with dupes.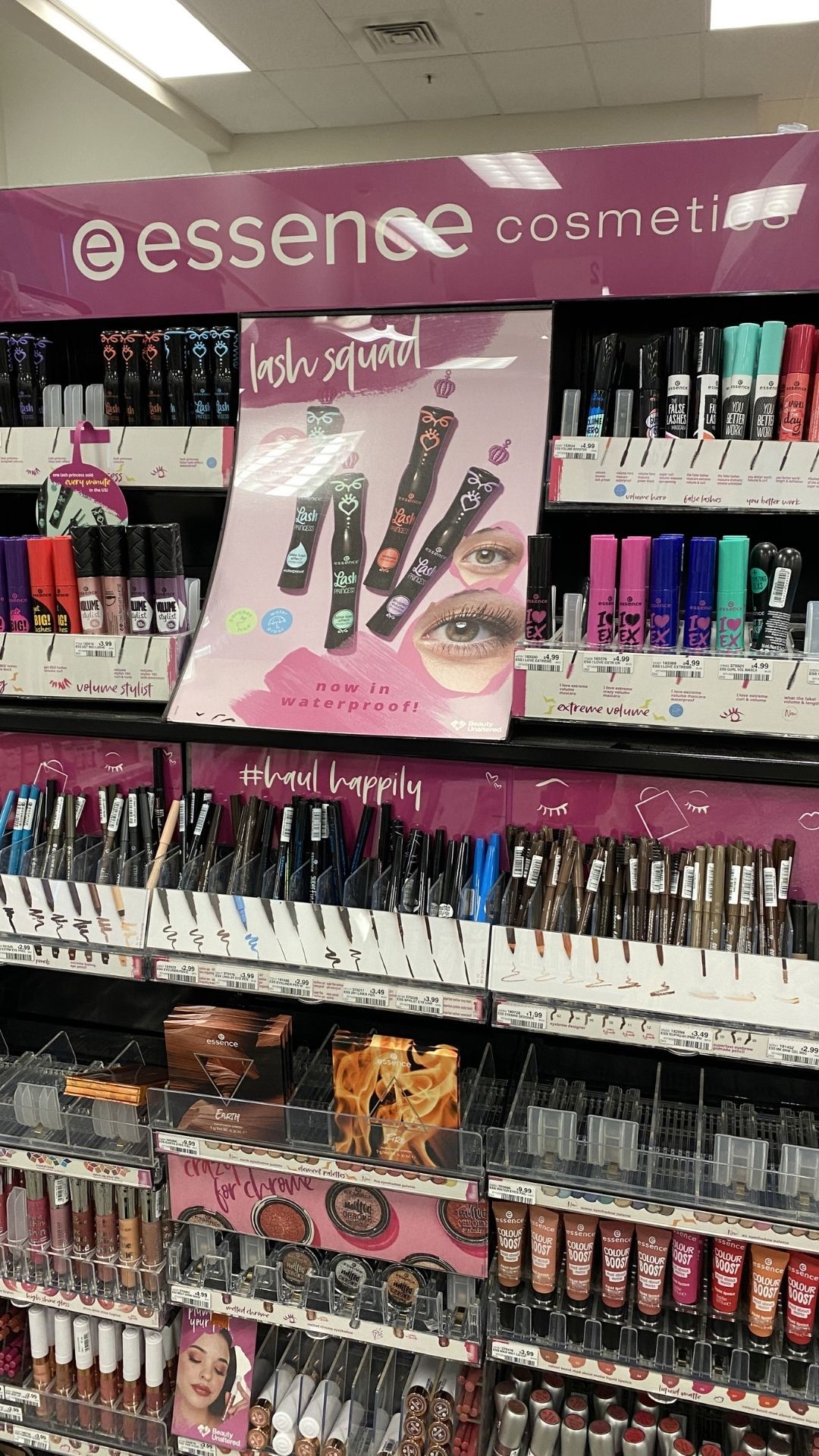 WTH is Essence Cosmetics?
Everything at Essence Cosmetics is insanely affordable with most products ranging from $3-$6. Their brand mission states: "Beauty doesn't have to cost a lot. We prove every day that excellent quality and innovation is not a question of price." We LOVE the cheeky nod to keeping makeup brands accountable in terms of price. What's your favorite makeup brand's excuse for being expensive? Because Essence is cheap AND good.
While they have their online site (where there is always free shipping over $20!), Essence is primarily sold in stores like CVS and Ulta. Walmart also carries a small selection online.

Nearly 100% of their products are made in Europe. Hooray for EU cosmetics standards! The entire brand has a strong commitment to zero animal testing and almost everything they carry is vegan (about 90%) with the exception of a few products containing honey and beeswax.
Lastly, they are very dedicated to giving back. As a brand that places such an importance on the affordability of the product, this is crazy commendable. Essence Cosmetics regularly gives back to Operation Prom, Feeding America, Dress for Success, and Family to Family.
The products you need
I scooped up a great variety from my local Ulta and CVS. For around $40, I bought three mascaras, a lash primer, foundation, blush, a concealer, an eyeliner, lipstick, and four eyebrow products. I was amazed at how many things looked interesting and innovative, and even more shocked at how many things I scored without breaking the bank.
HIGH BEAUTY Under Eye Brightening Concealer ($4.99)
This is the first thing I tried after racing home from Ulta. They offer two colors, Rosé Beige and Peach Beige, and I think anyone can use either of these shades. The product acts as a color corrector and immediately blends into your skin tone. I'm very pale, but I put it to the test on three other friends with much deeper skin tones and it checks out. This concealer is velvety smooth and prevents your under eyes from creasing even after 12 hours. It's infused with Sativa seed oil, which totally contributes to a lifted and awake look. It's vegan, paraben, perfume, and alcohol-free.
Make Me Brow Eyebrow Gel Mascara ($2.99)
My next sentence will be controversial: throw away your Glossier Boy Brow. Seriously, you don't need it anymore. I've been using Boy Brow for YEARS. But this? It's a perfect dupe for only $2.99. And I even think it's BETTER. My eyebrows look perfectly groomed for longer and my hairs remain much softer than when I use Boy Brow.  The difference is this contains tiny fibers to lengthen your brows and fill in any gaps. It comes in 5 different shades and really volumizes. Compare the two, I dare you.
Another dupe alert. Remember this review on Milk Makeup's Kush Triple Brow Pen? You know, the one that costs $22? Welp, here's a $3.99 option. The eyebrow pen from Essence has nearly the same triple felt tip. But I seriously think this tip is easier to master, as it's a bit smaller. It creates the same microbladed eyebrow hair look in any spots where you feel your brows might be lacking. With four colors to choose from, check out the pic below to see just how similar the two products are.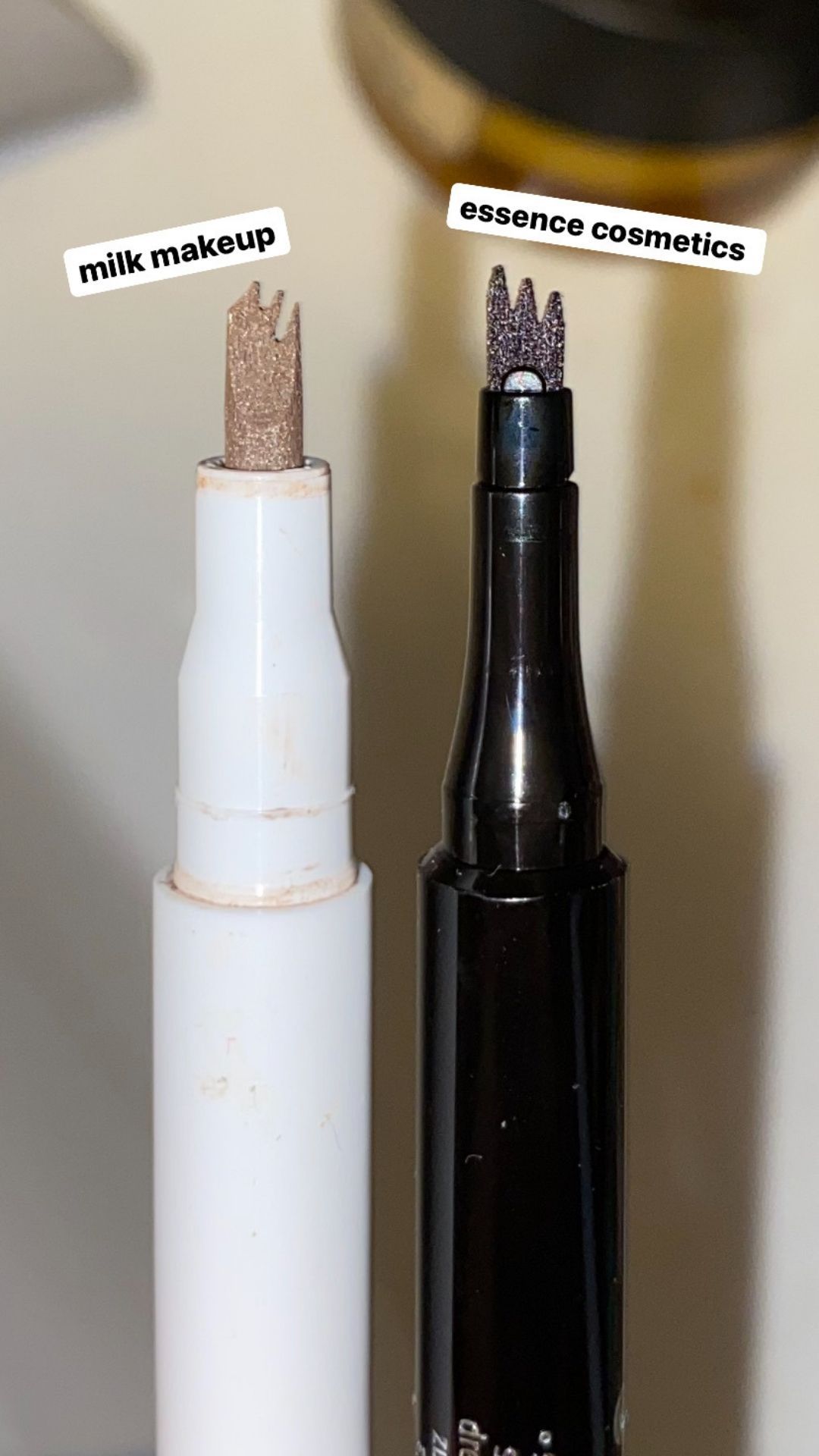 Lash Princess Sculpted Volume Mascara ($4.99)
Essence Cosmetics has four different Lash Princess mascaras within the collection. False lash, Volume, Waterproof, and Sculpted Volume. I decided to try out the sculpted volume one. My eyelashes are crazy long and often droop down into my eyes. I don't need more length, I need VOLUME. This mascara literally raised and plumped my lashes to the heavens. The brush is really nice and aids in the volume sculpt. Mascara kinda freaks me out when it comes to ingredients as it's a bit difficult to find a 'clean' one that also works. This one is vegan, paraben, and gluten-free.
Volume Booster Lash Primer ($4.99)
This is actually the first lash primer I've tried and actually continued using. Most of them I really hate and FAIL at their job, making mascara going on way worse than if I had just put it on without the primer. This one is not heavy and it doesn't feel like you're adding extra layers. It's infused with acai oil and mango butter, so you're also taking care of your lashes by giving them some moisture and nourishment! I'm still waiting to find a clear lash primer (the white color kinda bothers me) but this one does a great job of drying, losing some of the bright whiteness, and it's easily covered with mascara. Definitely saw an extra volume boost in the way my lashes looked.
I also became really attached to the Get BIG! Lashes Volume Boost mascara, and the False Lashes Mascara Extreme Volume and Curl. Essence does have a bit of an overwhelming selection of mascara, but I didn't mind trying a couple out given the amazing prices. With so many options, you'll totally find the formula for you.
TLDR;
– Essence Cosmetics is the drug-store brand we are all SLEEPING ON
– It's carried online and in many CVS and Ulta Beauty stores
– The brand is full of dupes for popular products
– It is insanely affordable with most products ranging from $3-$6
– They follow EU standards, are entirely cruelty-free, paraben-free, and almost entirely vegan
– It's cheap and GOOD.
BUY or BYE?
Essence Cosmetics is definitely a BUY. Check out all of it, try what intrigues you, and treat YOURSELF. It's affordable, quality makeup that more people should explore. Buy HERE on their website, or at your local Ulta or CVS. I'm thinking I'll try their nail polish next…
(Cover art by Alicia O'Brien)