Milk Makeup knows how to hype up a good launch, even in quarantine.
Known for being 100% vegan and all about self-expression, Milk Makeup works hard to put out nothing but the very best time and time again. Cult-favorite lip + cheek sticks, Hydro Grip Primer, and of course their KUSH line. They know what they're doing that's for sure.
Their latest launch expanded on their KUSH line and came right on time for 4/20. Though it could have been really difficult to create buzz around a new launch, Milk Makeup had no problem teasing their new KUSH Triple Brow Pen on Instagram and announcing a live tutorial just days before. But they didn't stop there, they also launched 3 color versions of their popular Kush Lip Glaze.
Was it VGL Approved? Read our thoughts!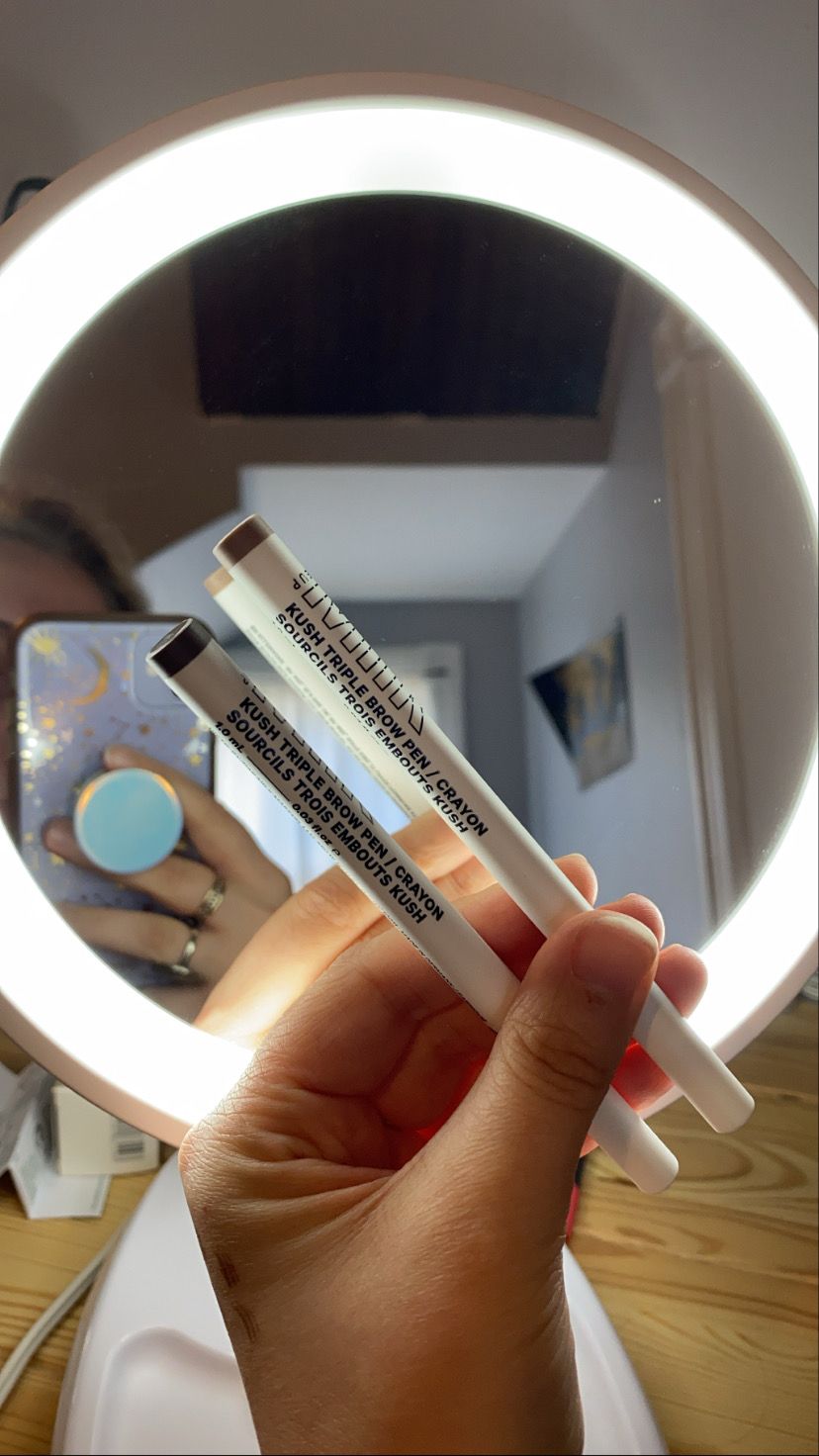 Featuring a triple tip like no other brow pen we've seen before and the power to fill, condition, and detail. The product comes in eight different shades and you can make your swipes as minimal or intense as you'd like depending on your preference. It's water-resistant and uses plant-derived and sunflower oil along with aloe to hydrate and condition even the thickest of brow hairs. The felt applicator is angled and triple tipped perfect for feathering in hair-like strokes. Milk Makeup says it best themselves, "the look of microbladed brows, no appointment necessary", and we can't disagree.
VGL's take
This pen was exactly what my untamed beastly quarantined brows needed. Usually, I skip filling in my brows because I'm both terrible & lazy about it. However, this pen has taught me it's easy and I swear, I have a new face now.
I must admit, once revealing the tip of the pen I was a bit intimidated. I wondered how a tiny tip resembling a crab claw could help me out. I wasn't sure how to start and I thought it would be best to practice on my hand a couple of times. When I was ready to commit to my brows, I tried to be as light as possible to create a feathered look. It's actually an incredibly easy-to-use pen and the triple tip actually acts as a guide when applying. Since it's waterproof, you'll need an oil-based makeup remover but it slides right off. Milk Makeup recommends you store it upside down or horizontally to take care of it.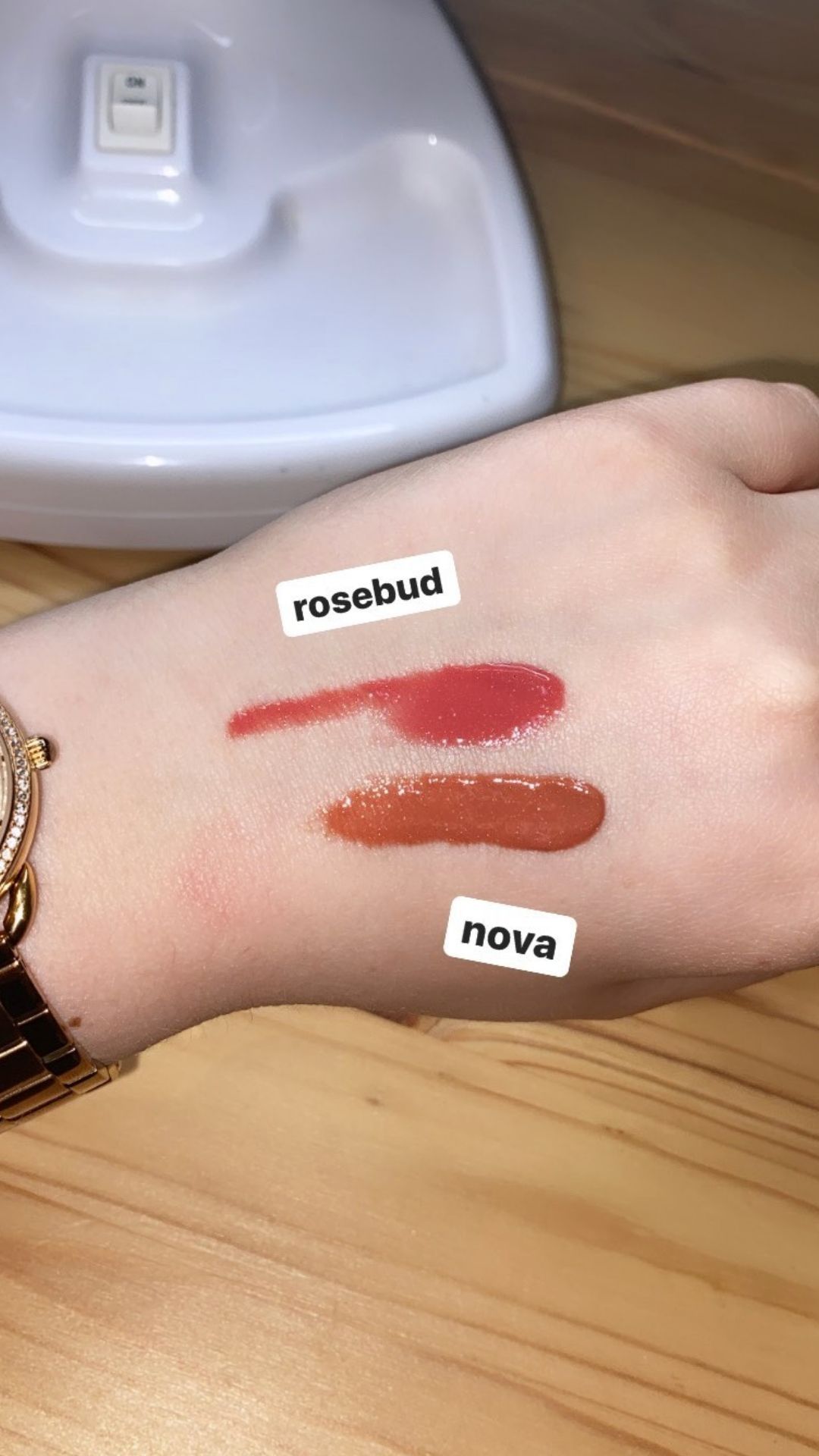 A high shine lip glaze with all the good stuff and none of the sticky sh*t. The launch included 2 new shades, Nova & Rosebud. The cult-favorite product only came in clear before these were released. These can be used alone for subtle color or on top of any lip color to add high shine and lots of pigment. TBH, I've been trying both ways. Plant-derived oils, shea, cocoa, and mango butters create the magic behind the hydration these glazes offer. Perhaps the best part is they taste like peppermint.
VGL's take
I've never met a shiny gloss that isn't sticky, until these. I usually opt for subtle lipsticks over glosses because I can't stand stickiness. I was unsure if the lip glazes would be sticky given the word ~glaze~ but both colors were too up my alley to not try. I'm bad at describing colors but I feel Nova is a subtle orangy nude while Rosebud is a dusty light rose. Both formulas are soy-free and gluten-free.
I'm pretty fair-skinned and my lip color already resembles something like Rosebud. But, after telling a few friends about these new lip glazes they wanted them too. It's clear these shades are universal and complement many skin tones and lip colors. Also, I tried them with a full face of makeup, and then on days when I went makeup-free…they just work for whatever vibe.
First thoughts: insanely pretty colors. If you're looking for a bold lip, these aren't it. But, if you're looking for a fancy natural gloss that can take you from a day of errands to date night…these ARE IT. Although they're considered 'high shine' I thought they offered an effortless, natural-looking sheen. They left my lips hydrated all day long and never once became sticky. Oh, and they taste good due to that peppermint extract.
TLDR;
Milk Makeup launched some awesome new products within their KUSH line
The triple brow pen takes some practice but your brows will never look better
Their new lip glazes are hydrating, never sticky
As always 100% vegan and cruelty, paraben, silicone-free
triple brow, $22…lip glazes, $18
BUY or BYE? For this one, definitely BUY!