Dandruff has been to blame for some of my worst hair days since I was a pre-teen.
Suffering from an itchy, inflamed scalp that feels impossible to soothe made me feel desperate for a solution. From prescription-strength treatments, over the counter products, all-natural claims, and even DIY remedies, nothing helped.
When I saw Harry's launched a new anti-dandruff and scalp care line, I was excited to see that they created a collection that seemed to zero in a problem that many people face but feel too embarrassed to remedy. From my own experience, searching for scalp treatments has always been overwhelming. If shopping for anti-dandruff shampoo wasn't awkward enough, the products that claim to work miracles are often formulated with harsh ingredients that can leave you more irritated and more helpless than before.
SEE ALSO: Scalp care is the new skincare
Harry's understands that all scalp conditions are different and should be addressed accordingly. With a line of three different strength 2-in-1 shampoo and conditioners—ranging from dry, anti-dandruff, and extra strength—this new collection promises to banish flakes for good, no matter how severe the case. I chose anti-dandruff because I was interested to see how this formula would hold up against the other competitors.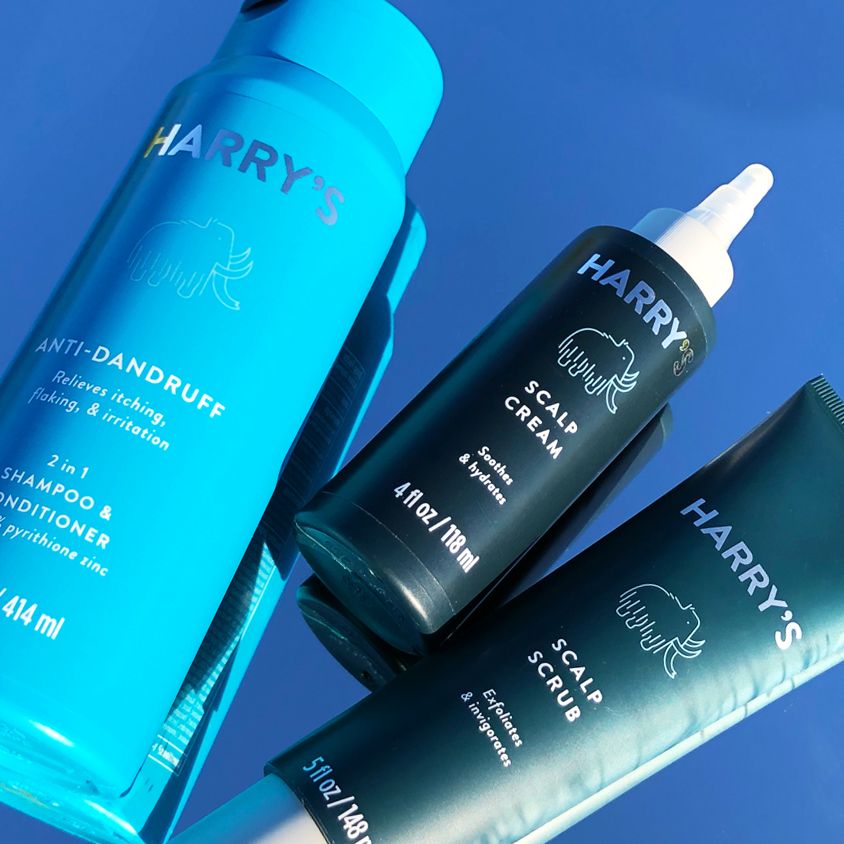 The sleek and sexy packaging totally blows any shampoo out of the water when it comes to shelf appeal. At only $7, it is a no-brainer to pick up. If you share a bathroom with a roommate or romantic partner and feel embarrassed about suffering from dandruff, rest assured that this shampoo absolutely does not look like a medicated shampoo.
What makes me really excited about this collection is that they have formulated each product with ingredients that are proven to relieve signs of dandruff, like zinc pyrithione, and combined them with natural active ingredients like jujube bark extract. The result doesn't leave your hair and scalp feeling stripped and overworked.
"This unique combination is very gentle on the skin for everyday use and incredibly effective as an anti-fungal to restore scalp health," says board-certified dermatologist Dr. Carlos Charles.
Very Good Light had the opportunity to speak with Dr. Charles about dandruff and the new Harry's anti-dandruff and scalp care collection. Dr. Charles says that dandruff is nothing to be embarrassed about, but something you absolutely need to address.
"While dandruff can be frustrating, it is a condition that is incredibly common and something that my patients frequently come to me with throughout the year," says Dr. Charles. "Dandruff is nothing to be concerned about, however, there are other conditions like psoriasis that mimic dandruff."
He also suggests that if you're treating yourself with an anti-dandruff shampoo and the symptoms don't go away, seek a professional to check it out.
The Review
Harry's Anti-Dandruff 2-in-1 Shampoo and Conditioner ($9)
Personally, my scalp changes with the seasons. In the summer months when I am spending more time outdoors and exercising, my scalp tends to be very oily. During the cold and dry Colorado winters, my scalp can get extremely dry. On top of that, I enjoy using styling products like gel and pomade which often result in excess product build-up.
This shampoo is formulated with innovative natural ingredients such as papaya fruit extract to naturally exfoliate dry flakes and aloe to soothe irritation. With Harry's 2-in-1, my scalp is hydrated, healthy, and flake-free. The scent is phenomenal, and I might even go as far as saying this is the best smelling shampoo I have ever tried. The tea tree and peppermint scent makes me feel like I just left the barber chair.
My scalp has experienced absolutely no dandruff or dryness for the past two weeks while testing this collection. My hair and scalp care routine consists of daily shampooing with the Anti-Dandruff 2-in-1 Shampoo and Conditioner, a weekly deep treatment with the Scalp Scrub, and a daily dose of the Scalp Cream.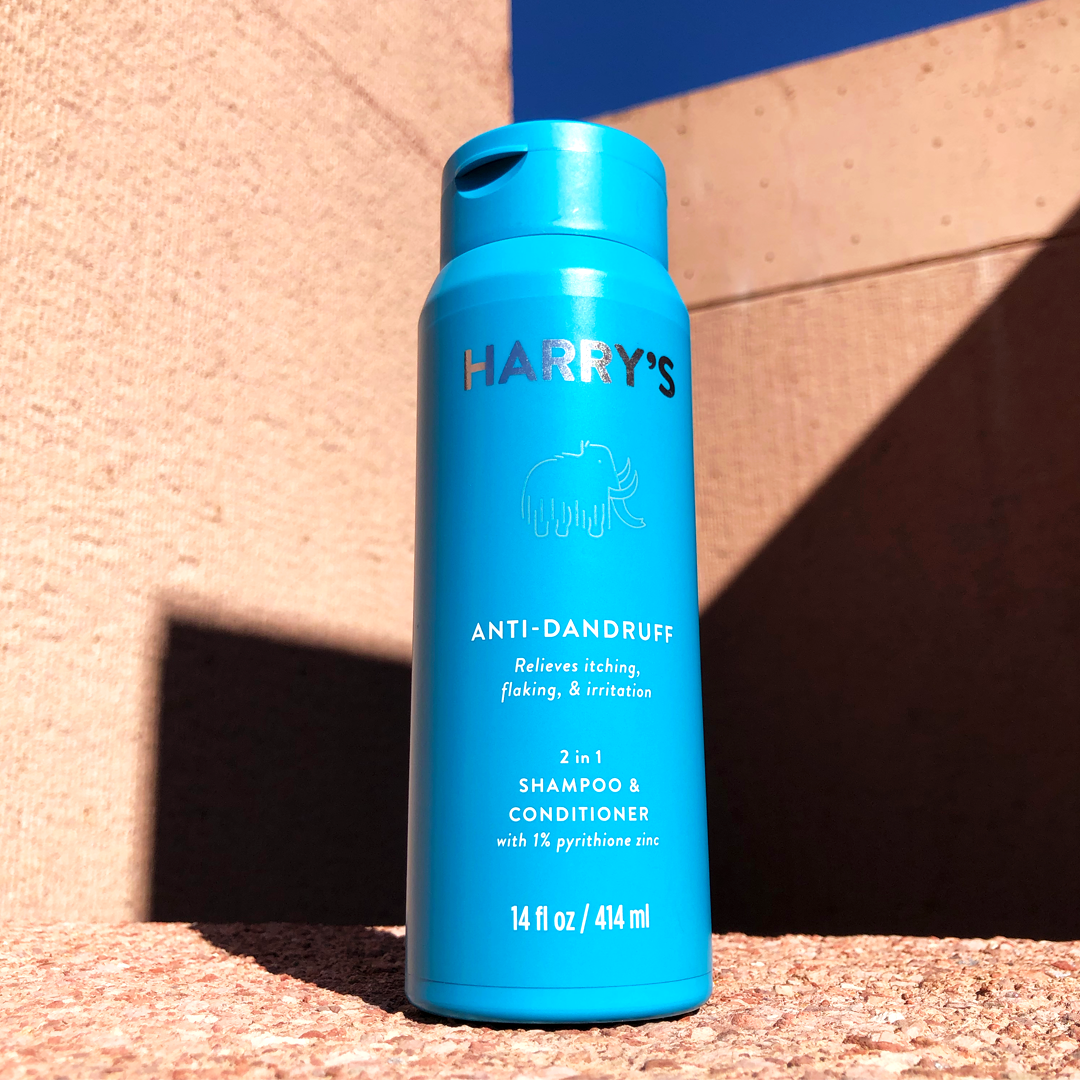 I have never tried a scalp scrub prior to trying this and I am now OBSESSED. The extended nozzle tip allows me to easily apply the scrub directly to my scalp which is amazing considering my hair is super thick. The salicylic acid, sugar crystal, and blend of natural ingredients help remove build-up and allows for the next treatment step to sink in a little deeper. The sugar crystals were a unique experience, but Dr. Charles recommends exfoliating your scalp just as one would exfoliate their face for optimal scalp health.
This is personally my favorite product from Harry's scalp care collection. If you're in between washes, didn't have time to shampoo, or just need a mid-day pick-me-up, the scalp cream will be your hero. I have truly never seen a product like this before. It's one of those products that you try and then immediately question how you've been living so long without.
Formulated with skin healing ingredients like aloe and squalene, this product is literally a moisturizer for your scalp. It's designed to hydrate your scalp so it doesn't shed those annoying white flakes. The scalp cream works wonders alone immediately after the shower and before styling. You can easily apply directly to your skin with the extended tip applicator. I tested it out under a pomade, gel, and hairspray and it kept my scalp healthy and flake-free throughout the entire day.
TLDR;
– Harry's launched a new hair and scalp collection aimed at treating dandruff
– The line contains three different strength 2-in-1 shampoo and conditioners—ranging from dry, anti-dandruff, and extra strength
– Prices range from $7 for the 2-in-1 shampoo and conditioner to $9 for the scalp scrub and cream
– All products smell incredible and come in chic, non-embarrassing packaging
– BUY HERE for $7-$9