Things have been a little bumpy lately.
On my face, that is. Staying inside, the rapid changes in weather and too much stress have resulted in some extra cystic acne flareups but also a really dull and rough complexion. For a while, I would find myself doing my skincare routine and wondering why there was such a disconnect between how my face looked and how it felt. Everyone wants that smooth complexion and whatever I was going through just wasn't it.
SEE ALSO: Your moisturizer is useless without using this.
I even booked myself a facial. My facialist suggested I get on a better double cleansing and toning routine. Okay, no problem. I wasn't shocked. As both a beauty editor and all-around skincare obsessed person, I try a lot of different products. I try my best to keep what I like to call a "core four" in my routine, but sometimes that falls through, too.
When I heard Freck Beauty had skincare, I was so confused. That brand known for its freckle pen has a skincare line? I had absolutely no idea they existed, and I was even more surprised to find that the products are nothing short of amazing. And I don't mean that sentence lightly.
Their Instagram is filled with beautiful people and the skincare line is rarely featured, so you really gotta go searching. After some digging, I also found a note from their founder, Remi. "Freck believes the beauty industry will not be a fair market until we are given the formulas we deserve: cutting edge ingredients, obsession-worthy packaging, honest prices, and chic branding that reflects our generation." Um, YES.
These products are absolute miracle workers. I've become hooked. They're complete complexion perfectors. I've redone my entire routine (including the core four) and my skin has never looked better. I've tried everything in the enture lineup, recycled the empties, and bought again…and again. I hope you're on the edge of your seat, and with that, please enter: a complete review on Freck Beauty.
The review
Lil Prick Cactus Seed Dry Serum ($40)
Since I have skin that sits more on the oily side, I knew I would know if this wasn't right for me immediately. The words "dry serum" confused me at first, but I had read some things about this product being the kind of facial oil that's ideal for oily skin. If you're one of those people who suspects their oily skin is actually from dehydration, you should definitely try Lil Prick.
Lil Prick is incredibly lightweight. It makes your skin bouncy and gives a light slip to prep for your moisturizer. Besides the obvious cactus seed oil, it has apricot, marula, prickly pear, and raspberry seed oils to make the perfect superfood blend. Prickly pear is the secret to the fast absorption of Lil Prick. It's rich in linoleic acid which helps it absorb quickly and leave nothing behind.
On Repeat PH Balanced Cactus Cleansing Gel ($32)
Cleansers can be so "meh,"…unless it's a cleansing balm, which are always fun. They're not on our faces for long, but we are literally counting on them to kick off our routines and do the dirty work! I'll be honest, On Repeat is the only thing that didn't make its way into my everyday routine. I opt for it like, three days a week.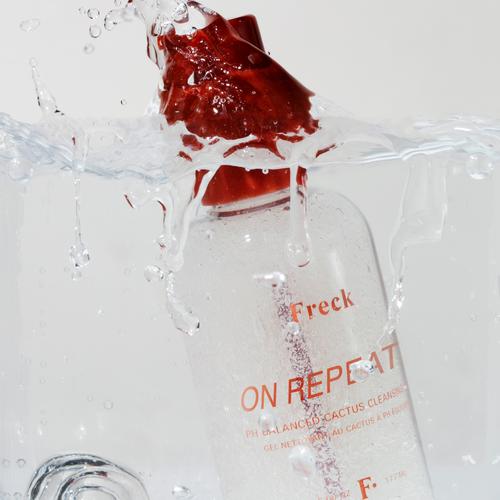 If you have sensitive skin that gets red immediately after cleansing, On Repeat is for you. It's very gentle and has a similar texture to an aloe gel. It can gently remove makeup and you can get it close to your eyes without worrying it'll sting. For a gel, it's actually mega hydrating! Again, we can thank cactus extract for that, which seems to be Freck's hero ingredient.
Alongside the cactus extract, On Repeat has plant collagen, allantoin (improves moisture retention), and quandong (a cool Australian fruit that has crazy antioxidant power). I love that it can remove makeup. It gives your skin a baby soft feeling and 20% of sales of On Repeat are donated to the Black Lives Matter movement.
Cactus Water Cleansing Lactic Acid Toner ($27)
You have no idea the power that this toner has to transform your skin. I'll advocate for this toner until the day I die. Freck Beauty, if you're reading this, one, THANK YOU, and two, I will totally be a legitimate ambassador for this toner.
I always say toning is the last step of cleansing your skin, and if you're wanting to improve skin texture, your toner can either make or break that process. Before Cactus Water, I was never loyal to any toner and it was always such a chore in finding one that I loved. But nothing makes me more excited than putting this on my face. I'm currently on my third bottle of it. I'm in deep, everyone.
The best part is that this toner doesn't sting one bit. Lactic acid can be pretty powerful, but this one is so gentle while still being a resurfacing wonder. My skin has become so soft and clear. Even some hyperpigmentation from cystic acne has finally made its way off my face. I've experienced no redness, itchiness, or dryness from this toner – all things I usually experience from a lactic acid treatment. The bottom line, if you buy a SINGLE item from Freck's collection, let it be Cactus Water.
Rich Bitch Cactus + Vitamin C Moisturizer ($32)
Have you always known you've needed a thicker moisturizer but everything was too rich for your skin? Me too. Freck has made the perfect middle ground rich moisturizer. They call it the "light yet rich ultra moisturizer of your dreams," and honestly, I can't explain it better than that sentence already does. This won't clog your pores or leave you looking like a grease pile. This is about NOURISHMENT.
It hasn't made me break out at all and paired with Cactus Water, it has cut the lifespan of any cystic pimples I've had since using IN HALF. It's one of those moisturizers that makes you excited to finish your routine. It's made with jojoba and prickly pear seed oils, kelp extract, and rosemary extract. The size is a mega value (3.6 oz) and the aluminum tube is so chic. Go be a rich bitch and soak up that vitamin C.
So Jelly Cactus Eye Jelly with Plant Collagen ($28)
So Jelly is SO nice. Thick but gentle. It's a very delicate eye cream that is very, very soothing. So Jelly is packed with plant collagen, prickly pear seed oil, vitamin K, cactus flower, and olive oil extract for hydration.
It's a perfect recipe for cell regeneration and improving the elasticity in the delicate eye area. And you can't skip your lips! So Jelly is so hydrating, it visibly plumps your eye and lip area after a solid week of use. I can see this being the ideal eye cream to head into the colder months with. Windburn, be gone!
Foreclay Cactus Clay Mask ($22)
I'm a lazy masker. I know I should mask often, but sometimes I just don't have the time. But this one, I'll make time for any day.
Despite containing kaolin clay, this mask is very hydrating. It gently cleanses and pulls out all the nasties from your pores while keeping redness at bay and bringing inflammation down. After four uses, my skin was both visibly softer to the touch. The breakouts on my cheeks were also nowhere to be seen and existing pimples were very, very calm. It's like an antioxidant shot to the face.
TLDR;
We've been keeping Freck Beauty's skincare line a secret for too long
All products contain some form of cactus
My complexion has never been better and my breakouts are healing faster
This collection is your new regimen.
If you had to pick three products, scoop up Lil Prick ($40), Cactus Water ($27), and Rich Bitch ($32)
This collection is a BUY and 100% VGL APPROVED!
Buy HERE on Freck's website.