I've always loved mixing my serums together.
I'm a serum person. I have almost too many within my skincare collection, but for me, they're like shoes – you need many on hand to be ready for any occasion. The only downfall to mixing or "cocktailing" serums is potentially introducing ingredients to each other that are NOT meant to be. Combinations like vitamin C and AHAs/BHAs, retinol and vitamin C, and glycolic and salicylic acid are non-negotiable no-gos.
SEE ALSO: Why is CeraVe blowing up on Tik Tok right now?
I'm always a stickler about checking ingredients before I go mixing around. After all, you never want to overdo it. Gotta keep that skincare barrier intact and HEALTHY, Lighters! I was instantly excited when I found out Fourth Ray Beauty launched three serum boosters. I felt like these were truly safe to be added to any serum.
If you haven't heard or are unfamiliar, Fourth Ray Beauty is the sister company to Colourpop and has super affordable skincare products that are rooted in great ingredient composition. It's clean, simple, wellness-inspired skincare that will never break the bank.
I was eager to try when the brand launched the serum boosters earlier this summer. They came out with three: Cactus, Blue Light, and Turmeric. Hopefully, these are the first of many. Read on for the full review and how to get BOOSTIN'.
Ingredients
Fourth Ray Beauty is 100% vegan, cruelty-free, and dedicated to botanical ingredients. They have a "skincare-first" philosophy and want you to have the best canvas to lay your makeup on each day.
Cactus:
Cactus Flower is a great hydrating ingredient that is totally on the come-up right now. But it's not just some trendy skincare ingredient – it has great skin softening and antioxidant benefits. Cactus Flower is full of antioxidants and it is rich in vitamins A, C, and D. If your skin is feeling dry, dehydrated, or dull, a product with Cactus Flower is sure to perk it right up and aide your skin in softness. Plus, it's ultra-calming, so say goodbye redness as well.
Blue light:
We can use all the blue light protection we can get our hands on. Our whole world revolves around technology and staring at screens until our eyes bug out of our heads. Blue light protection is important now more than ever, thanks to long WFH days. Fourth Ray Beauty made this pollution-blocking and blue light protecting serum booster possible with the help of lingonberry. Lingonberry defends and protects your skin from blue light before it reaches your skin. You can scroll in peace knowing lingonberry has your skin's back.
Turmeric:
Ahh, who doesn't love a good cup of turmeric tea? We often praise it for its anti-inflammatory and free-radical fighting properties. Turmeric gives your skin a special kind of glow due to phytonutrients. This superfood ingredient gives your skin some good defense in fighting free-radical damage and evens your skin tone. Perfect for working on texture and repairing your skin barrier from daily pollution exposure.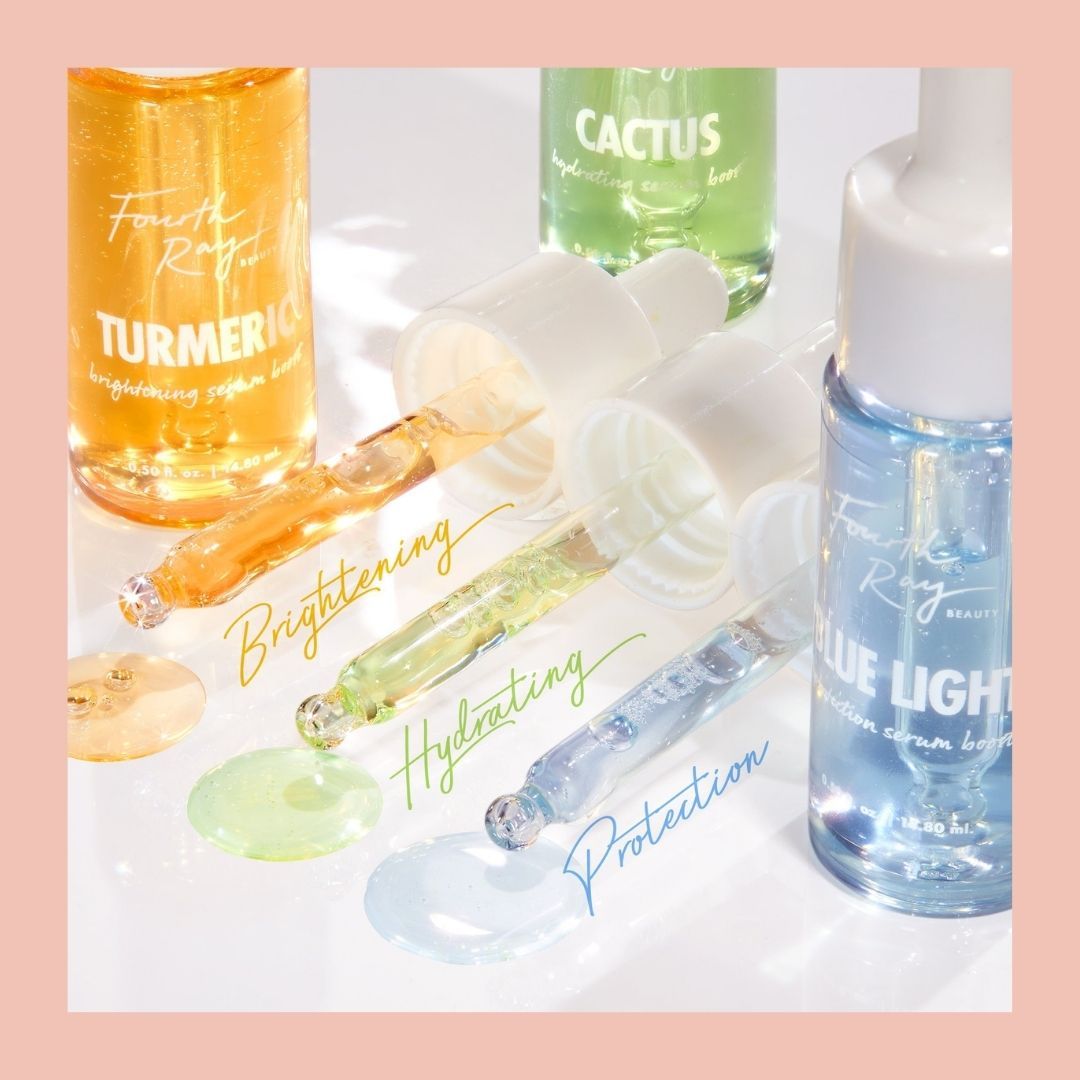 The review
I don't think Fourth Ray Beauty could have come out with better serum boosters right out of the gate. I'm really hoping there will be more down the road as well. While each has its own superpower when it comes to ingredients, I feel everyone can make a case for adding all of these into their routines one way or another. I'm actually completely out after almost two months of using them.
With that being said, my biggest takeaway is I wish they were bigger! I found these serum boosters to be incredibly versatile, which stems back to their unique properties and functions. I've added them into my morning skincare routine both mixed in with my serums and by themselves as well.
I rarely used them at night time but when I did I went for the Cactus Serum Booster for some extra hydration after a long day. Especially if I was out in the sun and needed a little reset. The most useful for my day-to-day lifestyle was the Blue Light Serum Booster. And when I felt like I needed a bit of a perk-up and my skin was looking a little dull and lacking glow, I reach for the Turmeric Serum Booster.
While I wish they came in a larger size, they are only $12 each for 0.5 ounces, which I think is pretty affordable for the results that they bring. All of them have a gel-like texture but are not too thick! They're very light since they are meant to be added to another product. Fourth Ray Beauty recommends only needing 2-3 drops (NGL, I went for the whole tincture… I suppose that's why I'm out) but I felt I needed more when I was just using them alone and not mixed with anything.
I was weary if I would see results quickly since I was adding these to other products, but sure enough, I started to see a change within my skin early on. With the Cactus Flower Serum Booster, I noticed my skin looking less dehydrated, and visibly more plump with moisture when I woke up. Especially if I had felt sun-drenched, it kinda brought the life back to my skin my like aloe-vera gel would do if you felt burned or stripped.
I added the Turmeric Serum Booster with my daily vitamin C serum and it REALLY worked. I noticed my skin looking brighter and some of my acne-prone problem areas were seriously revitalized when it came to texture. The Blue Light Serum Booster took a little longer to visibly see results. For a while, I just had to believe that the lingonberry was in fact protecting me from the harsh light my screens were giving off. But after about two weeks, my skin was looking so much brighter and full of life once 6PM rolled around. I looked less drained–like I had sipped on a green smoothie all day versus slaving over my laptop.
TLDR;
BUY or BYE?
100% scoop these up. Mix and match for whatever your skin needs if its hydration, glow, or blue-light protection.
Buy Cactus HERE, Blue-Light HERE, and Turmeric HERE, $12 each.