There are two things that spark infinite joy for me: oat milk lattes and lip gloss.
And, boy, did Tower 28's newest launch tug on my heartstrings. That, and caused me to wake up my entire apartment building as I screamed when I found out. Because yes, Tower 28 fused two of my passions together into one.
Enter, ShineOn Milky Lip Jelly Gloss.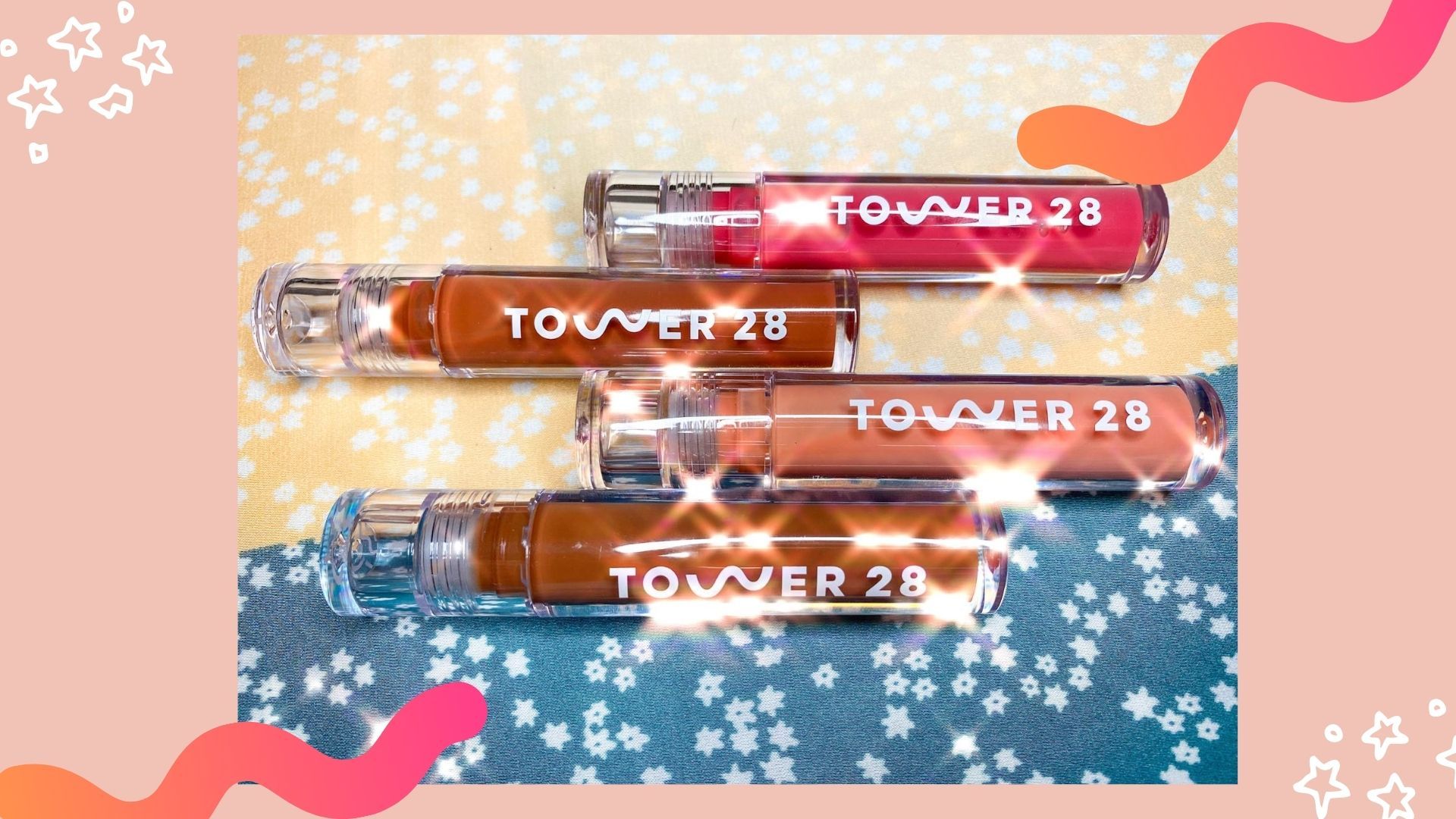 SEE ALSO: How I Made It: Tower 28's Founder, Amy Liu, on creating a clean beauty brand based on inclusivity, sustainability, and fun
I'm a diehard fan of the brand's ShineOn Lip Jellies as is, and was wondering when they would put out a new texture or sheen. More importantly, I was curious if nude colors were on the horizon. As much as I love the bright colors of Fire, XOXO, and Fear Less… they're totally summer lip colors. And as much as I want to rock them in the colder months, I'm just not that cool. It's kinda funny because the ShineOn Lip Jellies are the first bright shades of gloss I've ever owned. I usually always opt for a nude. Yes, you can say, Tower 28 has changed me.
Today the brand announced the addition of four new shades to the Lip Jelly collection, and are all inspired by alternative milks. This launch was clever and gave a nod to the brand's overall mission of living a clean and healthy lifestyle. Founder, Amy Liu, explains the expansion was inspired by alternative milks because she can't drink dairy due to its inflammatory nature.
It's this reason why I drink oat and coconut milk as well, despite not being lactose intolerant. Since dairy is inflammatory, it's a trigger for cystic acne, eczema, and redness. Regardless, everyone knows oat milk lattes reign supreme anyway. Now, onto the ingredients…
Ingredients
The Milky Jellies are made with apricot, castor, rosehip, avocado, and raspberry oils. It's the same formula as the OG Lip Jellies. Tower 28 places a big importance on creating products that hydrate and protect skin and, of course, are non-irritating. Color cosmetics are not often so clean and can be bothersome to those with sensitive skin or skin conditions like eczema. Like all Tower 28 products, the Milky Jellies are created using the National Eczema Association guidelines, are fragrance-free, 100% vegan, cruelty-free, and follow Credo Clean Ingredient Standards.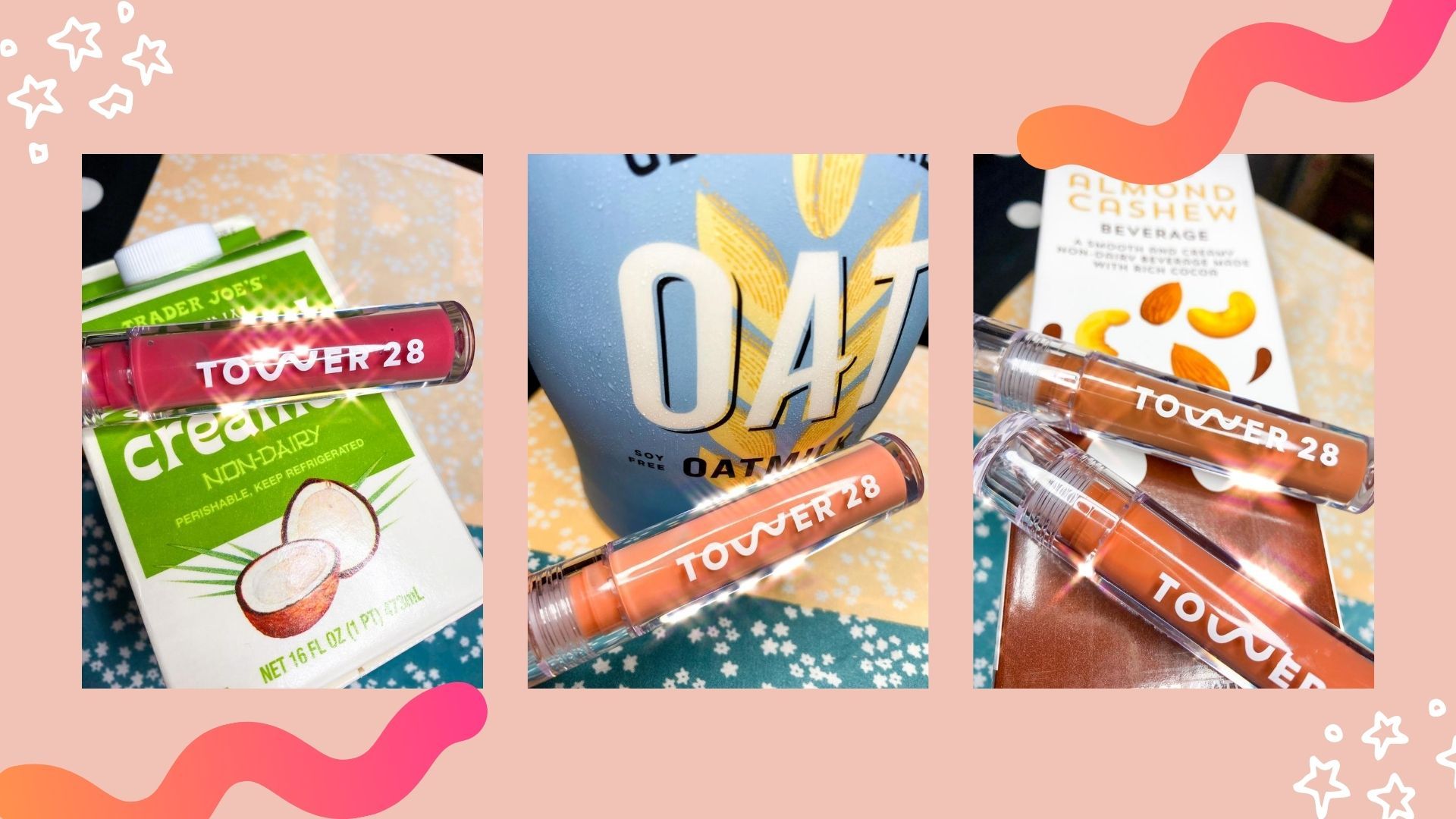 The Review
The Milky Jelly formula is super moisturizing and has saved my lips on their driest of days. Plus, it makes them look good, too. It has the hydration protection that we associate with balms but the fun and high shine of a great gloss. Everyone I've met who have tried Tower 28's Lip Jellies rave about how NOT sticky they are. They glide on real smooth and don't f**k with stickiness. It's a semi-sheer formula with high shine that you can't resist.
The milky shades come in shades of Cashew, Oat, Almond, and Coconut. No nut-derived ingredients are used in the actual formulations, so if you have a nut allergy like me, you can relax knowing that these won't cause a potentially life-threatening allergic reaction. To me, these feel a bit more creamy and less sheer than the originals due to their ~milky~ nature. TBH, I think it's the colors themselves playing tricks on my eyes because they're less opaque than the OG Lip Jellies.
I hate to play favorites since this launch was so iconic but I'm most in love with the shade Oat. It's a baby nude pink that looks undeniably natural but gives your lips some life! Coconut is a soft rosy color, Cashew is a light mauve brown, and Almond is a true brown. Basically, you can make a case for needing them all. I already did.
The great thing about these is they're enough of a showstopper to be worn alone, or you can layer them on top of lipstick for a little extra something. Besides looking great, I still think the best part is how they make your lips feel: taken care of, super-soft, and nourished.
I always drink my oat milk lattes in style, but from here on out, it looks like I'll be sipping while wearing Milky Jellies, too. Each gloss is $14, which makes it the perfect price to scoop a couple up at once. I've never been more loyal to a lip gloss than I have with these. They last a long while, too!
TLDR;
– Tower 28 blessed us with an iconic launch
– They announced four Milky Lip Jellies all inspired by alternative milks in a variety of flattering nudes
– Shade names include, Almond, Coconut, and Cashew
-100% vegan, cruelty-free, fragrance-free, follow Credo Clean Ingredient Standards, and meet the National Eczema Association guidelines!
– $14 per gloss
BUY or BYE?
A total BUY whether you're a longtime Lip Jelly fan or you're just getting started. Everyone needs some great nudes and we love the nod to all our favorite alternative milks. Buy HERE on their site or HERE at Sephora!