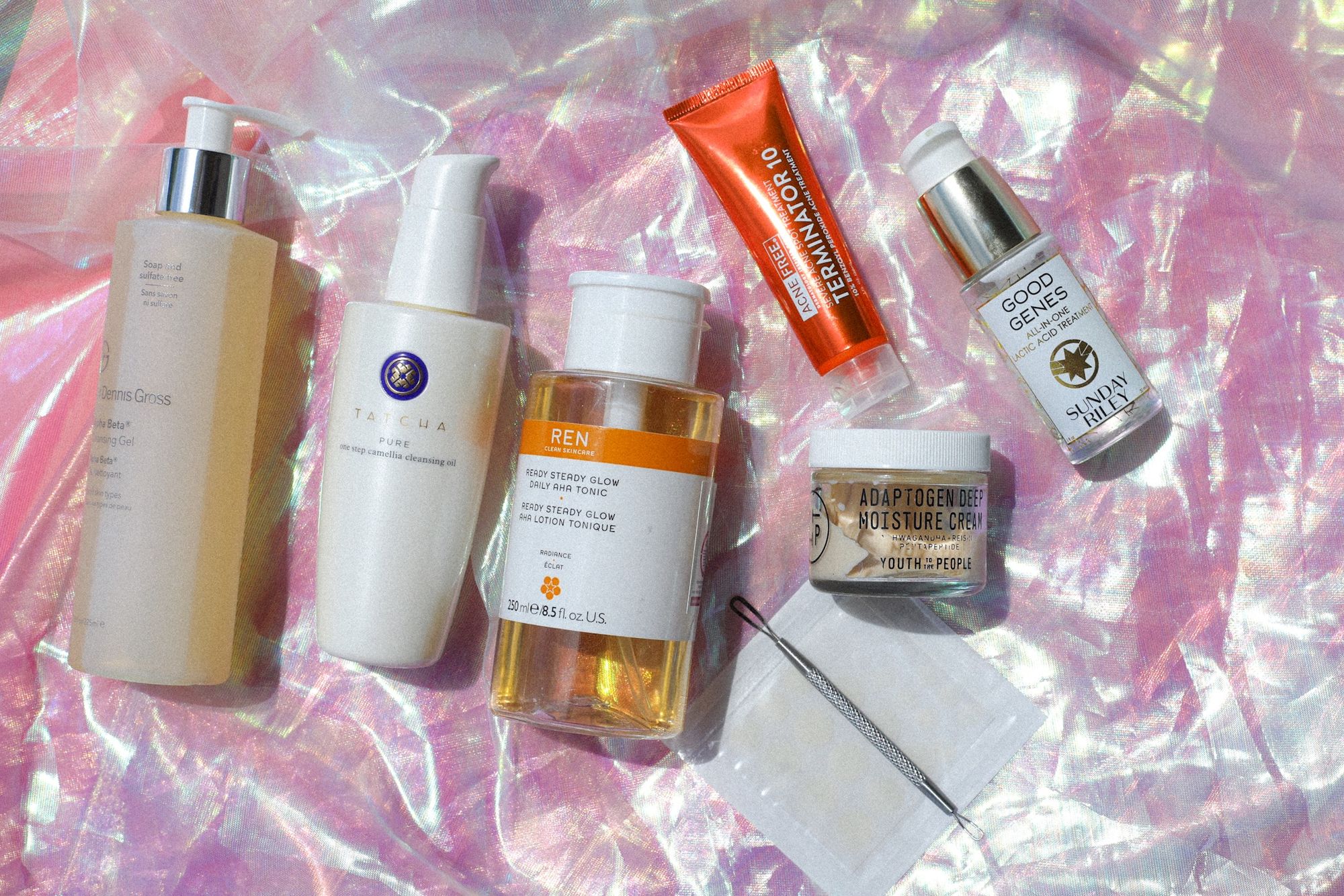 We've all been there before.
We're living our best lives and one day wake up to find there's something different about our complexions. Okay, that's an understatement. There's a lot different about it. For one, there's a Mars-sized bump in the middle of your face, one that's painful to touch, angry as all hell, and out to destroy your life for the next couple of weeks.
Yes, this is a cystic bump. It's different from a normal zit or pimple (aka a pustule). This one is deep, an overgrowth of bacteria from excess sebum, and usually leaves scars. So what do you do? How do you realistically get rid of it? Is there any solution?
SEE ALSO: I tried Differin for a month and immediately regretted it
There is. Other than seeing an expensive derm, who will undoubtedly dissolve the bump in minutes from a cortisone shot, you can succeed on your own. After three years of routines and my desperate attempts at home treatments, I've come across the perfect products to get rid of cystic acne fast. Let's get to them, shall we?
1 Ice, ice, baby.
I've realized that the biggest cause for any of my cysts, bumps, or pimples is due to inflammation of the skin. Usually, this is triggered from something in day to day. For me, it's dairy that always seems to sprout new bumps. When you wake up, instead of even touching your cyst, take some ice, put it in a zip lock, and ice your bump on and off. Five-minutes on, rest a minute or two in between, and ice back on. Do this for a good 15-20 minutes.
2 Oil cleanse or balms
How to truly get rid of excess oil? Try an oil cleanser. After all, oil traps oil. love Then I Met You, by Charlotte Cho, but since I was out, I used Tatcha's Camellia Cleansing Oil. I personally think it's effective as it's oil isn't too rich but is just the right amount to trap oil without stripping your face. It also has an amazing array of vitamins including: A, B, D, and E with Omegas 3, 6, and 9. AKA this is a powerful cleansing oil that'll plump your skin in the process.
How you use: I like taking an oil to dry face, massaging into my skin for a good 10 seconds because applying water and washing off.
3 Cleanse with acids
As we know, acids are our best friends. For cleansing, I love a good AHA cleanser to truly slough any dead skin cells or dirt that may be stuck in my pores. I used this one from Dr. Dennis Gross called Alpha Beta Pore Perfecting Cleansing Gel. It's great as it has multiple acids – like mandelic, from almonds and glycolic, from sugar – that seep into your pores to allow your skin to breathe. It also has farnesol, a natural alternative to benzoyl peroxide, which helps dissolve oil.
How you use: After you cleanse with oil, take this into your palms and massage over your face. Use water and pat dry.
BUY HERE
, $38
4 Tone it with, yep, another acid
During this period of crisis (yes, I deem a big, fat, angry bump as one!), you need to go all out with the weapons in your arsenal. For a toner, I'll use an acidic toner as well. This one from REN Clean Skincare called Glow Daily AHA Toner is very acidic and will sting your face if you're sensitive but it'll also do a great job at ensuring there's no dirt or impurity left over. It also is great from lactic and azelaic acids, which will brighten your skin tone as well as dissolving anything that may be clogging your pores.
How you use: Take a cotton round and pump three times (this toner comes with a pumping package) and swipe over your face. Use the front and back and dispose.
5 If you're feeling extra bold, use an acidic treatment
Usually, I wouldn't go overboard with acids, but we're going through a battle, people! So feel free to take that extra step and defend yourself. I love Good Genes by Sunday Riley because of how gentle it is but will only use this at night. In the morning, I feel it's fine to skin this step, but before your go to bed, you want a treatment to help prevent any missteps during the night. After all, when you sleep, you produce oils, skin cells turn over and you don't want anything to get stuck.
How you use: Pump once or twice and slather evenly over your face.
6 Time to calm TF down
After battle, you need to rest. For this reason, I always turn to a soothing cream that will truly make your skin chill out. During a cystic break, I'll take a cream like this one from Youth To The People to recalibrate everything. Your skin is on edge because of what it's gone through, and you want to seal it shut with ingredients that will calm it down. I love this Adaptogen Deep Moisture Cream because of its mushroom ingredients (ashwagandha, rhodiola, reishi, and holy basil), that truly do its job at pampering overstimulated skin.
How you use: Take a nickel-sized amount in your palms, warm it up, and evenly massage onto your face. Bonus points for anyone who gently slaps their skin to not only allow it to absorb better, but promote collagen production.
7 Spot treatments
The most important step? Spot treatments that comes in the form of 10% benzoyl peroxide. We already reviewed this one from AcneFree, one that's $5 and the most potent over-the-counter product we found. Use this at ALL times throughout the day. Tap it onto your cyst in the morning, in the middle of the afternoon and before bed. Trust. Benzoyl peroxide works because its entire purpose is to destroy bacteria and dissolve sebum. You'll soon see the bump shrink in the next few days. I saw my bump shrink by 25% each day until it was merely a small bump.
BUY HERE
, $5
8 Ready to pop? Use a comedone removing tool
I know this is sacrilegious to promote but hey, I'm human. When your bump comes to a white head (which it did for me on the fourth day), feel free to go in and POP THAT SUCKER. I know dermatologists will argue against this but I couldn't wait another few weeks for it to heal on its own. What I will endorse is a pimple comedone removing tool. It's made of steel, comes with a loop that's perfect for extracting blackhead or popping pimples, and is a wonder product.
How to use: Warning: this will be pus-filled and bloody. Cysts are filled with dead skin and white blood cells. So don't be surprised if things get messy. It's part of the process. Take your tool over the skin, try to flatten with your other hand, gently press and squeeze. Voila! It'll pop. Try to extract all white pus.
BUY HERE
, $5
9 Alcohol wipe
To prevent infection, swipe over with an alcohol wipe!
10 Use a pimple patch
Pimple patches will not work on cystic acne bumps. But what they truly are amazing at are being band-aids of sorts. I love CosRX's Pimple Patch, the OG of pimple stickers. For a pack of 24 it's only $6. These small patches are from hydrocolloid dressing, those used to heal wounds and are amazing. Stick one on at night over where your blemish used to be, and wait until the morning to remove. You'll realize just how amazing these stickers are. It will suck out excess pus and will heal your wound overnight.
How to use: stick over your blemish at night and remove in the morning.