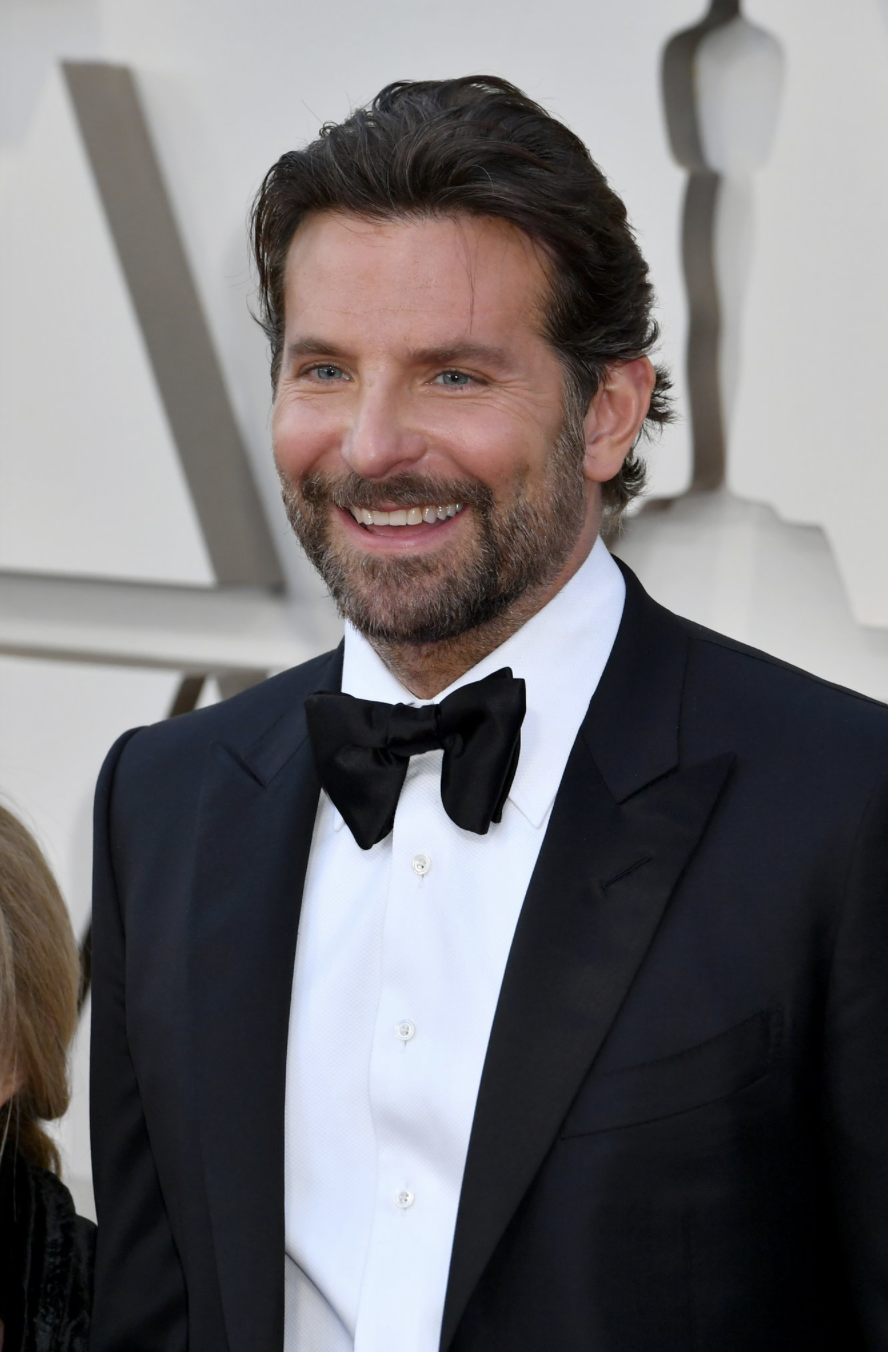 While Bradley Cooper may have looked like a piece of worn – and distressed – vintage leather in 'A Star is Born,' he looked like an entire buffet platter at Sunday's Oscars.
The star, who dazzled audiences with his directorial debut for 'A Star is Born,' is nominated for Best Actor and looked every bit an Oscar-winner. And can we talk about transformation? He went from playing a troubled country singer onscreen to poised director on the red carpet – and it's kind of unbelievable to witness IRL. With lightly tousled hair, a dewy complexion, a neatly trimmed beard and an even-toned complexion, he looked extremely dapper with a mix of Hollywood Handsome and laidback California cool.
SEE ALSO: Here's the correct order of skincare and makeup
While his look may have seemed seamless, behind the scenes, it took some work and a magical touch from celebrity groomer, Natalia Bruschi. The stylist took a quick photo of all of her magical supplies she used – all 12 products – to get Bradley's final look. That included Acqua di Parma's new Barbiere line (which doesn't even hit stores until March!), Peter Thomas Roth products ranging from the Max Anti-Shine Mattifying Gel to the brand's Hydra-Gel Eye Patches, Redken Brews' hair products, eye drops, to a de-puffing device.
Below, Natalia spills the tea on all things Bradley, shedding tips on how to use products for facial hair, the one product every guy needs, and how he luxuriated with a face mask for 10-minutes before heading to the award show.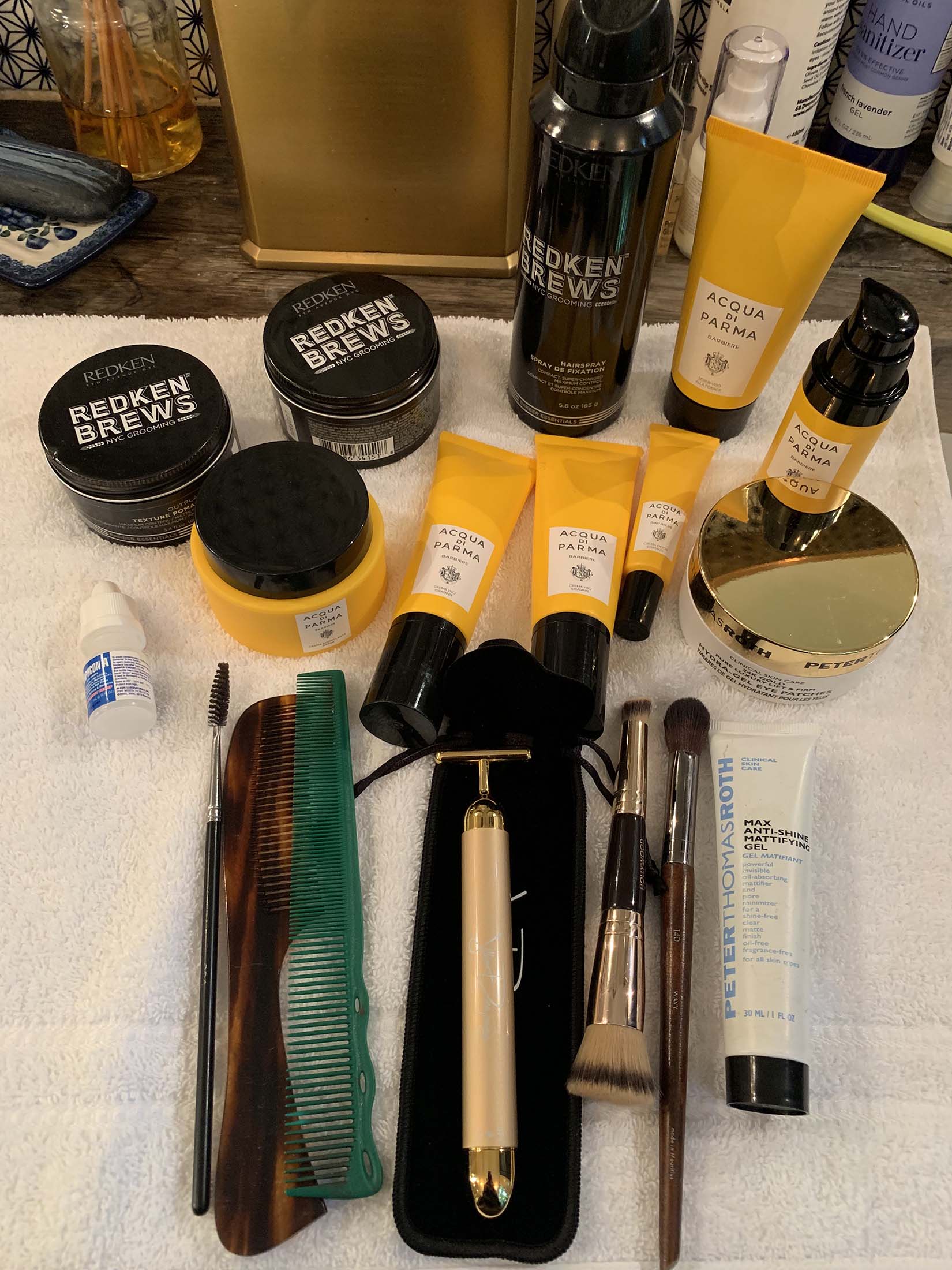 How did you prep Bradley's skin today for the Oscars?
For the Oscars I prepped Bradley's skin using the Acqua di Parma Barbiere Face Scrub.  I then applied the Clay Face Mask and left it on for 10 minutes. I used the Acqua di Parma Barbiere Moisturizing Face Cream for the SAG's but tonight Bradley wanted to minimize shine so I skipped right to the Moisturizing Eye Cream. The soothing roller ball on the end of the Eye Cream helped to depuff and minimize dark circles. It's also a nice relaxing moment during a pretty hectic day. To further define the face I use the Jillian Dempsey Gold Bar.
How did you style his beard and hair for the Oscars?
I used the Acqua di Parma Beard Cream on Bradley's beard – he really likes the scent.  I combined the Acqua di Parma Beard Serum with some medium texture styling cream to give his hair some subtle shine.
Do you have any at home/self-care suggestions for clients to help prep their skin in the week before a big event like the Oscars?  i.e., facial, refrain from shaving, peel or exfoliate?
In the weeks leading up to a big event, I always suggest clients minimize alcohol intake and double up on water. A consistent few extra hours of sleep and a bit more exercise can help up the glow. I recommend my clients book professional facial or laser treatments one week to 10 days before a big event. However, this isn't the time to try anything new. It's best to book a treatment that you've had before – one that's not especially aggressive.  You also can't do enough masking. I recommend hydrating masks 2 – 3 times a week.
Have you found any favourite Acqua di Parma products that work especially well on Bradley when he is clean shaven?
When Bradley is clean shaven, I use the Acqua di Parma Moisturizing Face Cream and Moisturizing Eye Cream. Before applying the Face Cream, I pat the Refreshing After Shave into the skin until it's fully absorbed. It's incredibly lightweight and the cooling formula helps combat any razor burn.
When he has stubble or a beard?
For looks that involve a beard or stubble I use the same hydrating Acqua di Parma facial products (Moisturizing Face Cream and Moisturizing Eye Cream), but swap in the Acqua di Parma Beard Serum to address any facial hair. It absorbs beautifully into the skin and the scent is smells really fresh – so good. I love using excess product on the neck and even in the hair for shine.
What are the must-have grooming products that every man should own?
Every man should own a quality razor.  In terms of grooming products the basics include face wash, face scrub, facial moisturizer and shaving cream. Eye cream and body lotion are also key.  I love the scent of a nice cologne like Acqua di Parma and recommend layering with a scented body lotion.  Hair product specific to a guy's hair texture is essential, along with shampoo, and maybe conditioner, depending on hair type.
What shaving tools do you think every man should own?
Every man should own a pair of clippers or trimmers and a good quality razor is a must-have.  I like the new Acqua di Parma razor and shaving accessories.  They remind me of what you'd see in an old school barbershop in Milan.
When you're creating a red carpet look for a client does their suit or wardrobe play a role?
I definitely consider a client's suit or wardrobe when we are choosing a grooming style. If it's a daytime event, I'll keep the hair loose, use limited product, and create something more fun and playful. If it's an evening event and my client's wearing a suit, I'll tighten up the look by adding more product so it's a bit more polished. For a black tie event, I'll create something more sleek.