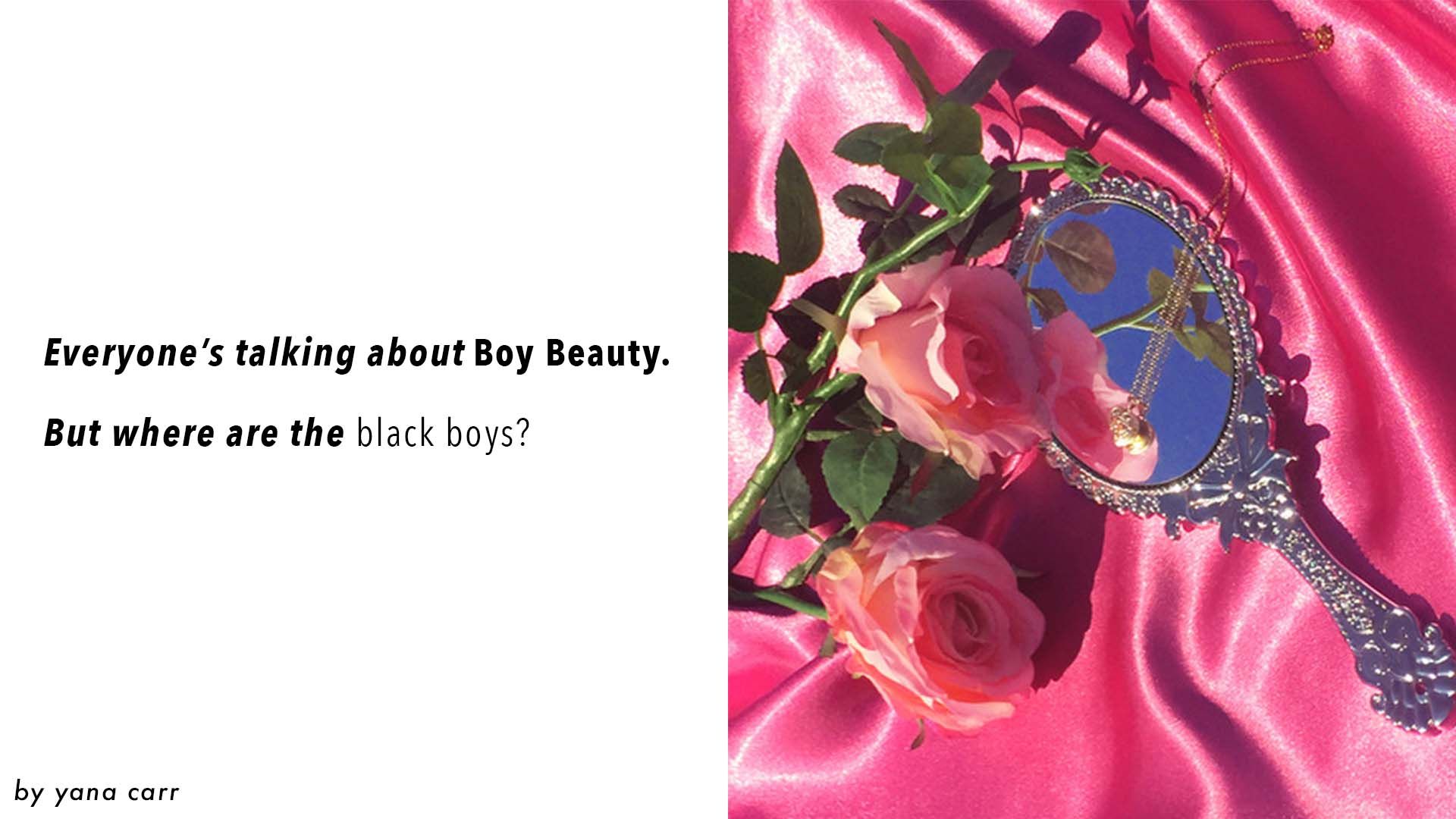 Since the rise of male makeup gurus on social media, seeing men in beauty campaigns is no longer a rarity.
Morphe tapped Jeffree Star and James Charles for collections, Manny MUA starred in a Maybelline campaign, MAC's new "it" star is Patrick Starrr, Bretman Rock joined forces with ColourPop and Gabriel Zamora is a spokesperson for ipsy. But, while brands are welcoming plenty of men – and even men of color like Gabriel, Bretman, Patrick and Manny – in their makeup campaigns, black men seem to be missing from this new landscape.
SEE ALSO: Black masculinity and when you don't fully belong
Arguably, being a black influencer of any kind comes with challenges, but being a gay black man working in an industry that constantly fails to be wholly inclusive is an uphill battle of its own.
Take Kameron Lester (@kam_lester), for instance. He's an L.A.-based beauty influencer with nearly 25,000 followers on Instagram and more than 40,000 subscribers on YouTube, but despite his talent and healthy following, Kameron tells Very Good Light that he feels invisible within the larger industry.
"(Companies) don't bother looking at you or supporting you. They just look past you," he says of the imbalance between black and white beauty influencers. "It's harder to get recognition from big brands being a smaller black talent. As black talent you grow a little bit slower and it's harder to get recognized."
According to Ernest B. James, founder of Noire Management, which exclusively manages black influencers, brands are hesitant to "pay what the influencer is worth." In fact, in Ernest's experience working with influencers and brands, though it wasn't confirmed, "influencers of color are regarded best for gifting or lower rates." If brands want to be inclusive, he adds, they have to be willing to pay.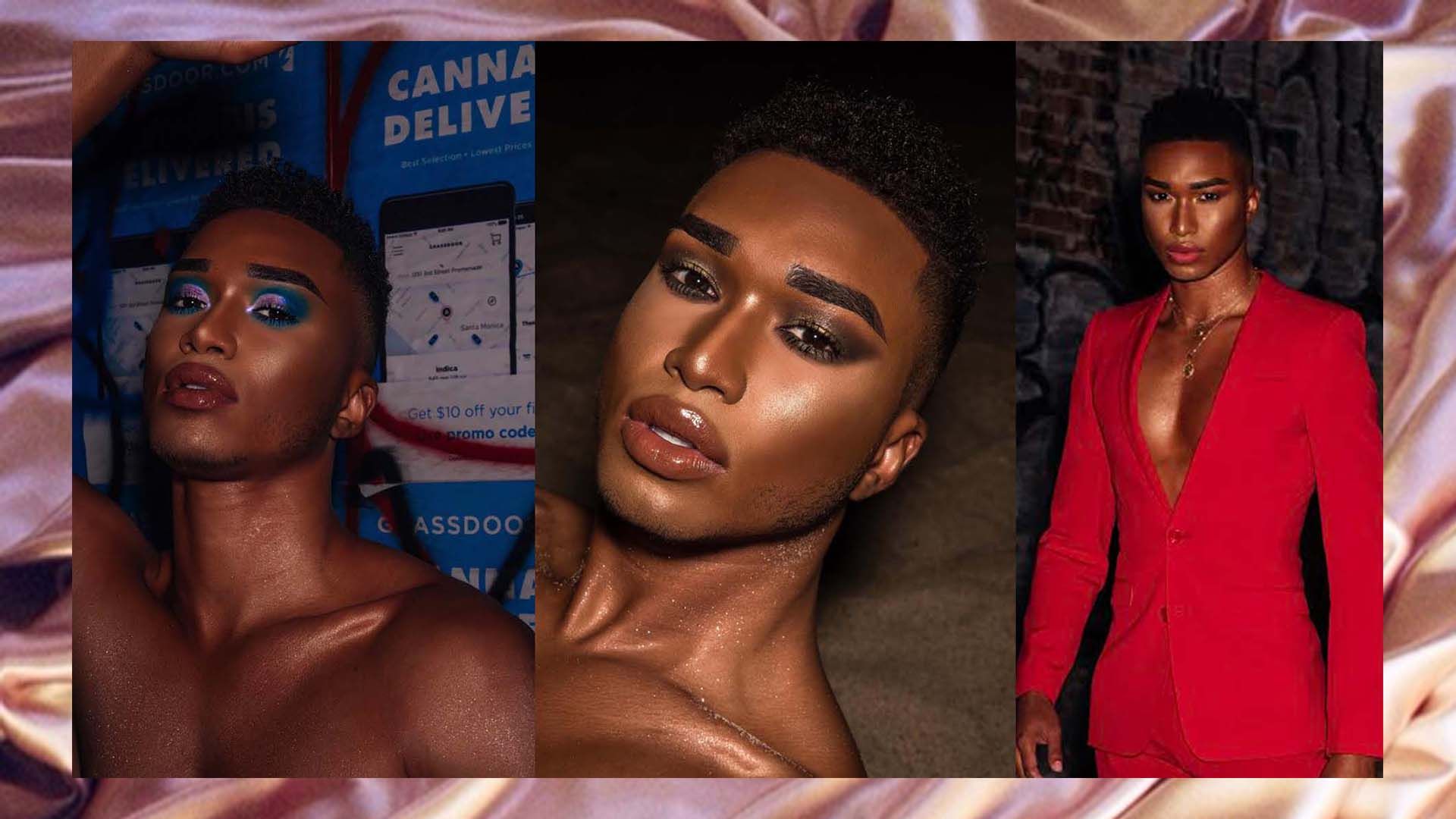 The struggle to be acknowledged extends beyond getting paid. Kaliff Jones (@makeup.messiah), 21, says that people of color have to work ten times harder than other influencers for a brand to like or repost a photo.
L.A. influencer Victor Ramos (@vicmram), 22, who was featured in a Make Up For Ever Campaign, says the industry's exclusion of people who look like him is obvious.
"There's tons of brands that know who I am," he says. "There's tons of brands that are fully aware that I and other people exist, but they still don't invite (black) influencers to events. People are so conditioned into thinking that black influencers don't bring in the same amount of dollars."
Inclusive brands achieving sold-out status proves black faces do sell
This notion that black faces don't sell isn't new, of course. Former Vogue UK editor-in-chief Alexandra Shulman told The Guardian in 2017, after standing down from her position, that her "chief remit was not to show ethnic diversity as a policy." In other words, putting black faces on her covers meant "you would sell fewer copies. It's as simple as that."
But launches like Fenty Beauty's stunning, inclusive foundation range and Jackie Aina's (@jackie_aina) Born this Way x Too Faced Cosmetics collaboration – both quickly achieving sold-out status – prove Alexandra's assumptions wrong. Black people want to see themselves and they will pay.
"I see brands make excuses such as, 'Oh, no one would buy this,' or 'That's not our audience,'" blogger Alissa Ashley (@alissa.ashley), who collaborated with NYX on an inclusive foundation line, told Refinery29 in 2018: "But when brands do provide these (darker) shades, most of them end up selling out."
According to a 2018 Nielsen report, black consumers spend nine times more on beauty products annually than any other ethnic group. Cheryl Grace, Nielsen's Senior Vice President of U.S. Strategic Community Alliances and Consumer Engagement commented in the report on the power of the black consumer: "Our research shows that Black consumer choices have a 'cool factor' that has created a halo effect, influencing not just consumers of color, but the mainstream as well."
'We're conditioned to think that there's only one spot for a black person'
Being overlooked and feeling undervalued has created an environment of tokenism and competition between black men in the influencer industry, says Victor. "I think that we're just conditioned to think that there's only one spot for a black person."
Justin Marcus (@jay_lindoo), a 21-year-old influencer from New York City, agrees. "A lot of male influencers in the community don't like to see others win. People will love you until they feel like you're so successful they can't reach you anymore, and start bashing you."
Victor had a similar experience when an influencer with a large following "publicly told me they didn't support me because I already got PR and went to events, but they were outwardly supporting huge white influencers who are damn well getting more than I am. It just goes to show how we pick and choose and put each other on a double standard."
Though the feeling of competition can divide, coming together is more important, says Charlotte, N.C. influencer Tavaris Jefferson (@varijstylez), 24. "I wasn't looking for people higher than me. I was looking for people around me who could build with me. We forget that there are other people around us that are in the same predicament we're in. If we lift each other's brand and build up, it'll be a better look."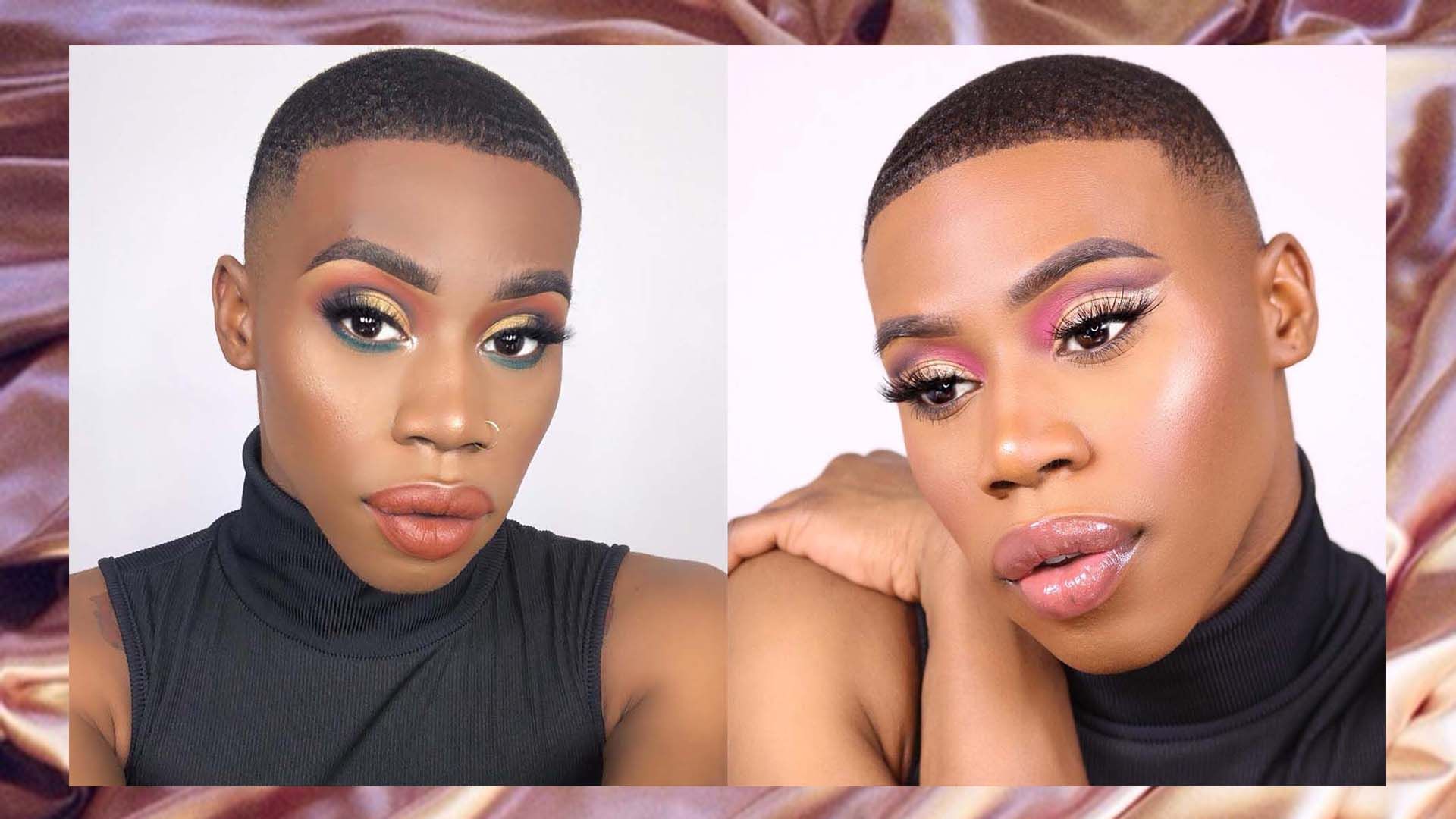 And, throwing sexuality into the mix adds another dimension to black influencers' fight to be seen. Despite the glam lives they promote on social media, being visibly queer can have repercussions.
Just existing as a gay black man can be life threatening, but wearing makeup pushes that even further
"Black men are fighting so many battles," says Ernest. "Not only are they fighting people who see them just as black men and as a threat regardless, they're also fighting their own people who don't accept them because they're gay and play in makeup. Within an already marginalized group, they're marginalized even further."
Dr. Pamela Valera, lead author of a study examining the relationship between police violence and media portrayals of black men, says that portraying black men in positive spaces can possibly banish negative stereotyping.
"We need to provide more positive spaces for people of color and for black men to be themselves and show all of themselves in a space that's not going to assume they're hypersexual or hypermasculine."
The recent alleged hate crime against Empire star Jussie Smollett shows just how vulnerable gay black men remain in today's society – even as they put on a brave face. "I'm always discriminated against in public – in or out of makeup – but I never let the negativity take over my mind," says Kaliff, who lives in Mississippi. "I just smile and wave."
But the beauty industry that has the ability to normalize portrayals of black men in cosmetics by utilizing the power of black beauty influencers to make cultural change.
Brands have the power to make the beauty industry a safe space for black men
"(Brands) definitely made it more of a safe space for me," says Kenneth D. Senegal (@heflawless), an L.A.-based influencer featured on Fenty Beauty and MAC's social channels, among others. "Brands have the power when it comes to making a space acceptable for a creator. The more they share my posts, the more it makes it acceptable to an audience in general."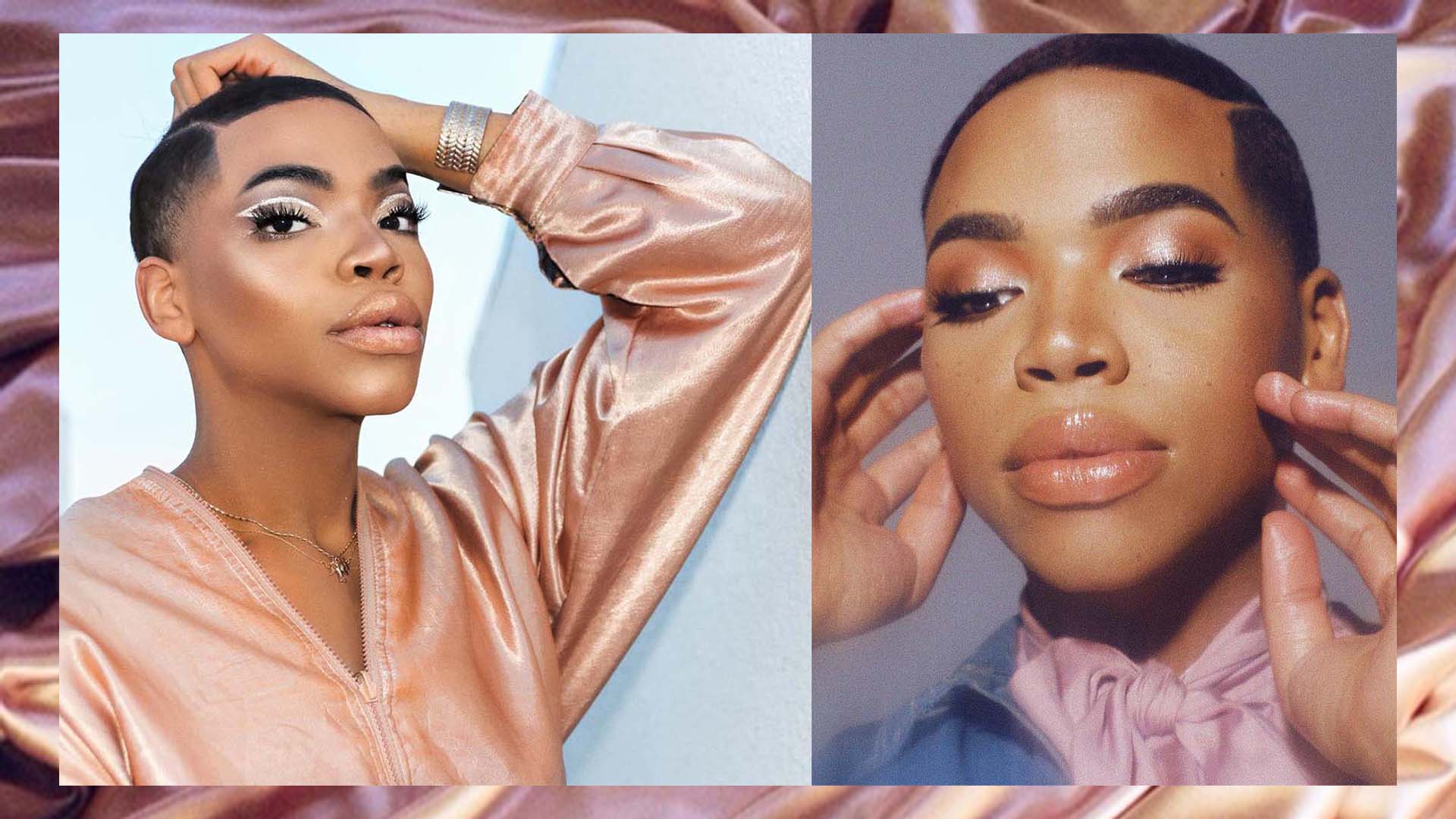 But, inclusivity must be authentic, says Kenneth. "You can always tell who's being fake. If I was messy I would just name brands, girl."
"You have these companies who never made shades for black people, and suddenly Fenty Beauty came out and it's like 'Oh we're seeing how much money Fenty Beauty made with all these darker shades, let's get on it and expand our brand,'" adds Markevious Harris (@poetic_drugs), a 21-year-old influencer from Lagrange, GA.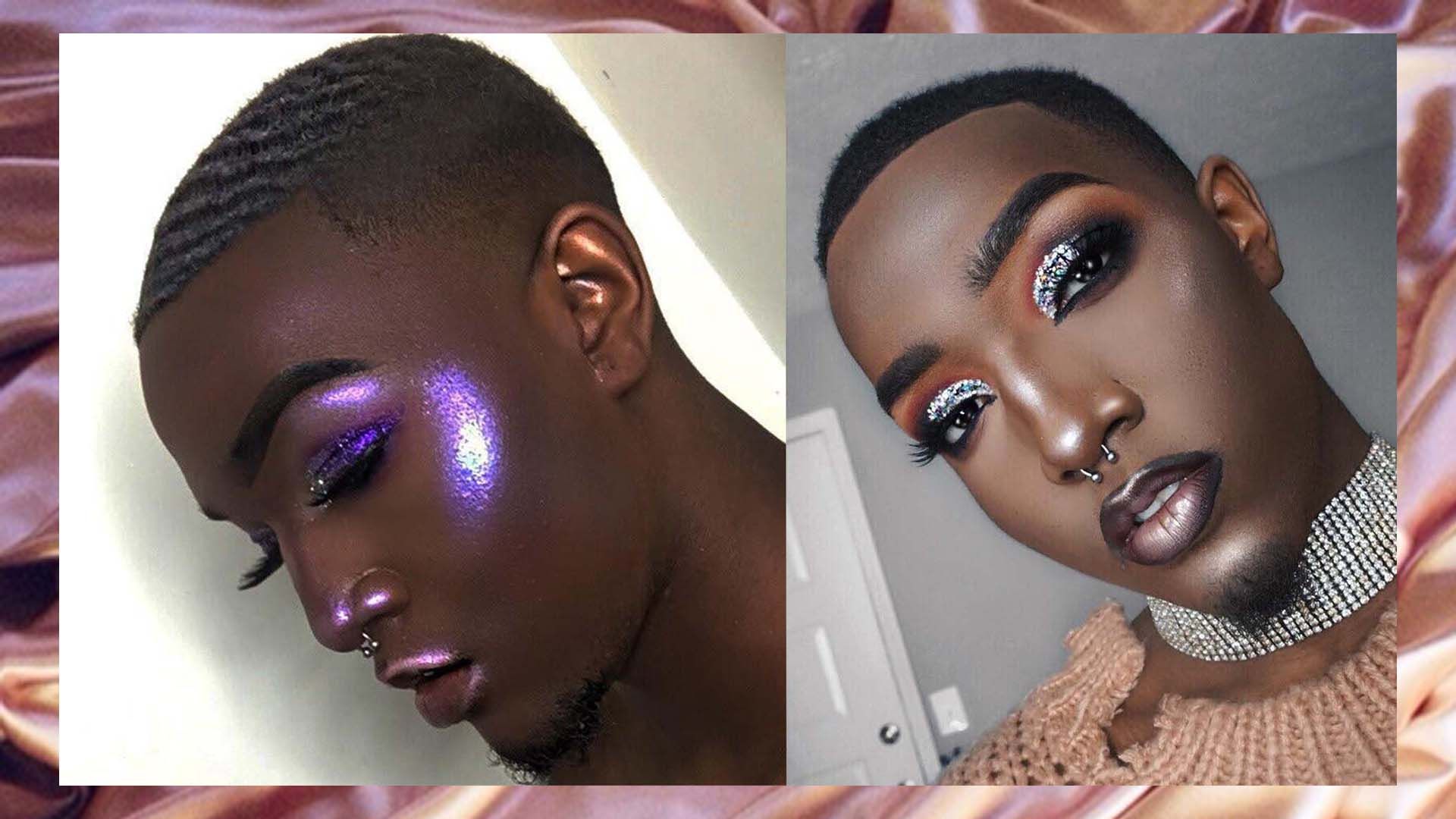 Tavaris agrees: "A lot of beauty brands think diversity is a trend, and think it's cute to put darker complexions in a campaign for shits and giggles. It's not funny. It's pandering," he says. "Work with more people of color, and don't work with them by just sending them products. Work with them by asking, 'What could I do to help make our brand more diverse? What could I do to make a product not so ashy or not so orange?' I think brands need to take into consideration that in order to make a change, you need to talk to the people that are affected."
Fortunately, black beauty boys aren't waiting around for corporations to finally get "woke" and make sweeping change a priority. They are more than prepared to take on the industry and speak up for themselves and their community, says Kenneth.
"The world might not be ready for black boys to forefront makeup campaigns, but black boys are."